You may not consider yourself a true horse-human, and even if you do, you may be in complete denial about falling into one or more of the following categories. Whatever the state of your introspective evolution, I'll hazard to guess, if you've been in or around the horse industry long enough, you'll have encountered or become at least one of the following characters.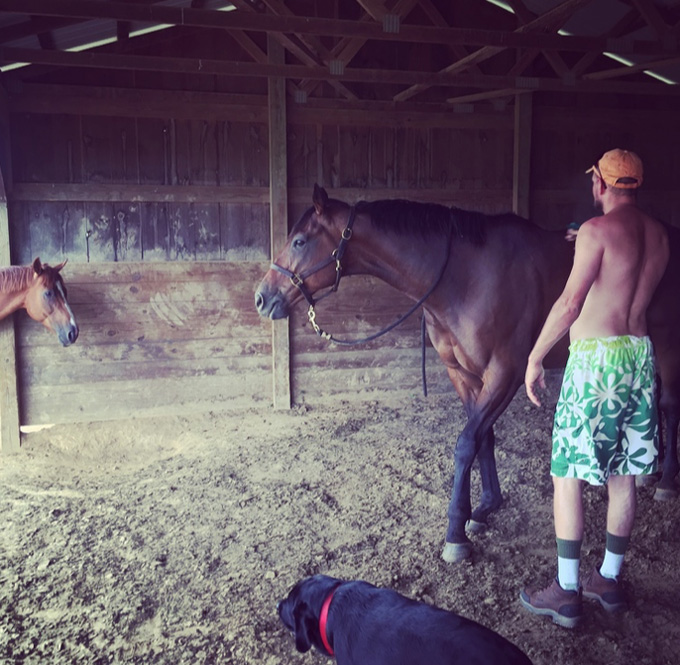 "The Old School"
Her name is Donna; she drives a manual 1982 Ford F-250, and you can hear her classic rock mix cassette crackling as she rumbles down the barn drive in a plume of clay-colored dust. The shocks of the old Ford squeal in protest as she navigates in and out of pot holes like a ship on high seas. A cigarette is dangling from one side of her mouth, and she's singing along with Billy Gibbons out the other.
Steel gray roots have taken over her wild hair nest, thirsty from years of bad perms, wind and sun. Her skin is leather, and her voice sounds like a freight full of gravel. She has done it all, seen it all, and has zero time for your bourgeois BS. She staggers down from the truck, arthritic knees popping in yesterday's acid-washed jeans. She's probably wearing a wind breaker won at a horse show in '92.
She looks to be in her late 60s, but she just turned 49. If you were to ask (you should never ask) over a lifetime with horses, she's broken her pelvis twice, both ankles, shattered a femur, sustained numerous head injuries and has three crooked fingers on her left hand from some incident in the '90s involving a farrier, a cattle guard and a salty alpaca named James.
She's competed professionally in barrel racing, saddle seat, western pleasure, English equitation, hunters, jumpers, second-level dressage, eventing and a brief foray in vaulting during the late 1980s when she "looked good in spandex."
Presently she makes a living teaching riding lessons to wide-eyed children who will someday appreciate all they dared to learn when they had a riding coach more terrifying than any triple oxer or naughty lesson pony. "Oh you think you're going to fall off?" Think again. Every survival instinct in their tiny bodies will be thrown into service as they claw their way back into the tack after Miss Donna flicks her cigarette in the sand and hisses, "YOU STAY ON THAT PONY, ASHLEY!" Miss Donna WILL teach you how to ride. Miss Donna is a classic.
"Insta-Equestrian"
Her name is Carrisan James, and she drives a BMW 1 Series coupe that her father bought her for St. Patrick's Day. She weighs roughly the same as her Italian greyhound Thomas who is cowering in the passenger seat, shivering to the rhythm of "X Gon' Give It To Ya," frantically gnawing on a melon-scented air freshener. She screeches into the barn parking lot, retrieves a can of hair spray from the floorboard, and secures her platinum tresses. Thomas huffs at the aerosol fumes determinedly.
Her horse Jonathan cost her father more than all the other horses boarded in the stable combined. It's common knowledge that Jonathan is the horse equivalent of a self-piloted vehicle. Don't be fooled by his dull, lifeless eyes and vacant stare. Jonathan eats grand prix for breakfast and poops golden flakes of excellence.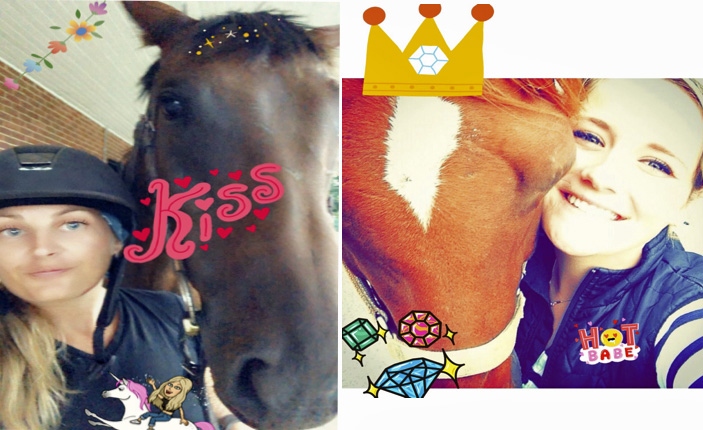 When Carrisan is finished taking 12-3000 "candid" selfies of her and Jonathan, #myhearthorse #lovehim #barnlife #farmgirl #blessed, she skips out of the stall, letting it slam shut behind her, and returns to the aerosol chamber of death, where Thomas is sulking.
Carrisan knows all she has to do Saturday morning is show up late with iced chai skim mocha latte and look expensive. Eventually someone on her father's payroll will hand her a fully tacked and warmed up Jonathan, and together they will beat the brakes off of the other competitors who have sold eggs, kidneys and souls to be there. #CHAMPION
"Barn Candy"
Brad, 33, is an impossibly attractive and devastatingly talented equestrian Adonis who looks like the progeny man-child of "General Hospital" George Clooney and David Beckham. In the rare instance of even being interested in the opposite sex, he usually has a dance card so full it hardly seems worth signing up.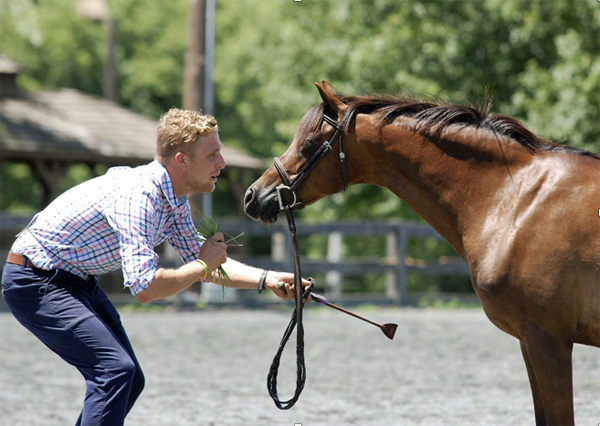 You know in your heart if you were to somehow capture and Stockholm Syndrome a Brad, you'll most likely spend the majority of the relationship instilling fear into the hearts of your romantically aggressive horsewoman peers and side eyeing the hell out of your man candy. You accept that cave man clubbing Bradley and spending the best years of your life bearing teeth at anything with a ponytail is probably more trouble than any Brad is worth. You settle instead to join the throng of mouth-breathing revelers ringside and watch this man on a horse.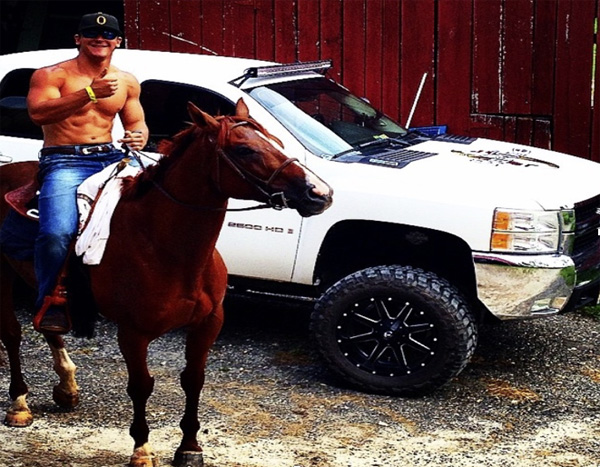 "The Life Sentence"
Alice just turned 30, but judging from the sounds her body makes as she slithers from her bed, she could easily be anywhere from 65 to 93 years old. She pulls a piece of straw from her hair as she blindly fumbles around with coffee. Her dust-encrusted contacts have fused to her corneas and will take a few minutes to loosen before her vision is restored. It's another day in paradise as far as she's concerned, even if it's -4 outside and the Labrador just ate her left glove for breakfast because she gets to spend the day with a barn full of horses. She's tried college and trade schools, apprenticeships and office jobs.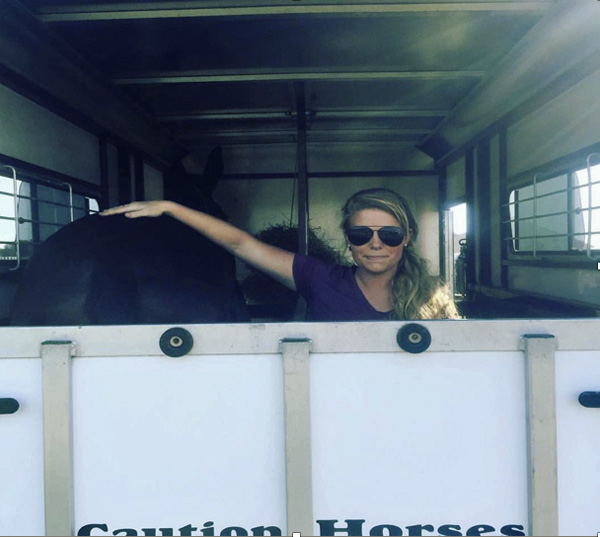 Her friends and family insist she's selling herself short by choosing a career in crap-management, but the truth is she's virtually unemployable anywhere else. She's cared for horses since she could walk and will continue to do so until the day she can't. The folks at her last office job grew tired of being brushed and force fed. Her supervisor chose to ignore her laps around the cubicles, rinsing and filling water cups, deworming interns, and rationing out gummy vitamins. The final offense came when Patricia from accounting sprained an ankle, and Alice gave her a pat, straddled the injured limb, pressure bandaged it with cotton and pink vet wrap all the while cooing, "Gooooood Patricia, easy big girl."
Some people have to stick to what they know and love despite a bleak, leathery-faced future. She secretly fantasizes about going out in a freak horse accident and expiring before she has to come up with an actual retirement plan. But for today, she'll get up, drink 3-7 cups of coffee, and gimp out to the barn. Muck, water, feed, ride, eat, sleep, drink, repeat.
"The Queen"
Rachel has a tack room that you may not enter unless you have removed your boots. The glistening saddles beckon from the floor to ceiling racks, but you dare not answer their sweet siren song, because each is probably worth more than your life. There is a wall of polished bits you could check your makeup in, across from a wall of well-oiled bridles, leather like butter. No one is really sure who cleans all that tack, but you're convinced an oompa loompa-esque man lives in the tack room crawl space and emerges under cover of darkness, boot polish in hand.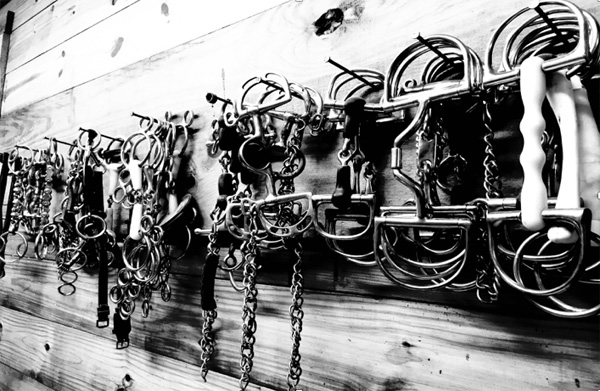 There is a full kitchen and bathroom, but Rachel never does anything as undignified as eating or pooping. She resembles a Bond villain—lean, impossibly clean and consistently poker-faced. Most remarks are met with cold blank stares, and you're unsure if she still has the muscle memory left in her face to form a smile. The footing in Rachel's indoor climate-controlled dressage arena is a combination of sand, unicorn fluff and what could only be bits of wood chipped memory foam mattress. You want to throw yourself from your horse and roll around in it. But her cameras are forever watching…
"The Competitor"
Courtney events. She is the most competitive human you have ever met. She only eats and sleeps out of sheer necessity, going through the motions of survival until she can get back to the barn. She trains eight days a week. She has more energy than a Jack Russell post baby rodent murder raid.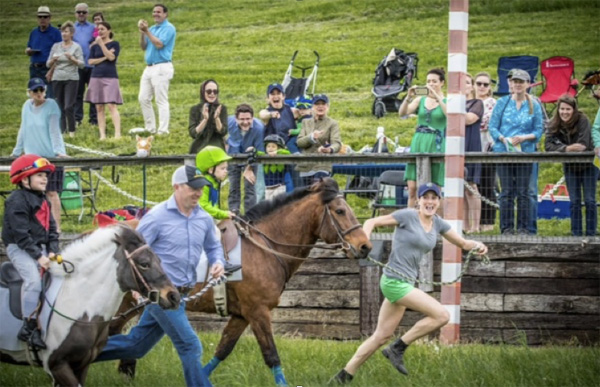 Do NOT play games with this girl, not even Monopoly. She almost died in high school playing Chubby Bunny and had to be resuscitated via Heimlich maneuver in order to dislodge the 32 jet-puffed marshmallows from her airway. "But did I win?" was all she wanted to know after regaining a pulse. She will race you to the car, to the barn, to the bottom of a pint. Everything is a competition, and she was born to win or to literally die trying.
"The Horse Boy"
His name is Kyle, and he's a sophomore in high school. Kyle takes a lot of $#@% from other kids in his class about being an equestrian instead of joining the lacrosse team, but Kyle knows something all the other jocks don't: He is a minority among vast herds of hormonal horsey she-teens, and Kyle? He's the belle of the ball. Not only does he have the pick of the litter for homecoming, but his date will also be a senior from another school whose father owns a Chilean soccer team and already has body parts made of plastic.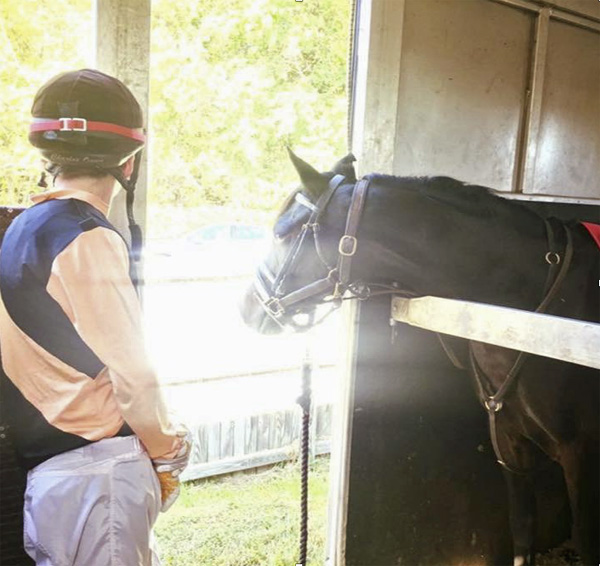 We can't blame Kyle for the man-monster he may become; he enters the show ring to a chorus of sighs and leaves with a coat bag of ribbons. The competition may chalk it up to shameless judge-directed winking and boyish charm, but the truth is the kid can ride, and he also has the face of a Zac Efron-esque boy angel. Kick on, Kyle, the world is a circus, and they're already calling you the ringmaster.
"The Mystic"
Her name is Sheena, and she's a primate psychologist from Portland. She's 42 years old and just bought her first horse. No matter she's only been taking riding lessons for 2 1/2 weeks, it's been a lifelong dream to be a horse owner, and what better horse to start with than a 3-year-old ungelded Friesian crossbred, who's 17 hands and "green broke to drive." She's unfazed by her trainer's pleas to reconsider the purchase of Thor or the crowd gathering ringside, fingers hovering over the emergency icons on their phones.
Sheena is convinced Thor won't harm her, and despite his lack of training and frantic compulsion to procreate, she is adamant she and Thor share a mystical connection. Thor promptly connects her with the dirt. Training is put on hold while the fractures heal. When she recovers, there's a chance she will make better choices and become a great horsewoman. But probably not. Stay in the middle of 'em, Sheena, it's never too late to become a horse-human. Just listen to your coach occasionally; it's what you pay them for.
"The Country Gentleman"
Rudyard Griphon Michael III, 65, paid big money for an elderly Jonathan when Carrisan James went off to college. That animal would jump a car wreck full of flaming alligators tangled in sparking live wires if you were to ask it of him. If you were to ask Rudyard, he would tell you it was his skilled horsemanship what saw them through the harrowing feat. In truth, he closely resembles Mr. Toad's Wild Ride when spotted in the hunt field, elbows flapping like a young pterodactyl attempting flight, coat tails billowing behind him like the crimson sails of a poorly-manned sloop.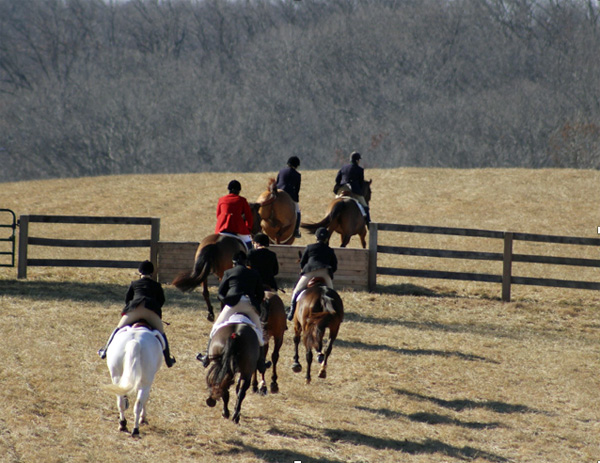 He speaks elegantly about nature's grandeur, while patting out the smoldering hand-rolled cigarette ashes from Jonathan's smoking plaits. Rudyard has more money in the back pocket of his breeches than you will earn this year. Rudyard can do whatever Rudyard wants. Kick on, Rudyard, kick on.
"The Underestimated"
Her name is Becky, but not one person in the barn seems to remember her name, so she's learned to answer to Barbara, Brittany, Bob and servant child. She isn't old enough to drive, so she walks a few miles to the barn after school every day. She doesn't own a horse, but she mucks stalls in exchange for lessons. It's difficult to cash in on those lessons when no one remembers you exist, but Becky perseveres in the face of pretension and mucks on.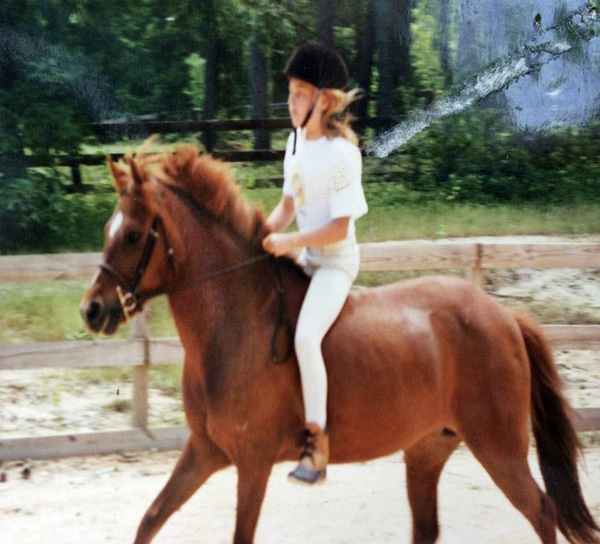 When she can't get a lesson, she'll sit ringside, watching the other students ride, taking mental notes. She breathes, sleeps and dreams in horse. Her parents can't afford to care for a horse on their salary, but Becky has learned how to work hard for the things she needs and knows she will own a stable full of Jonathans one day. If you are a Becky, keep after it, I promise your hard work and determination will pay off in unexpected ways. You may even wake up one day grateful that you weren't handed every opportunity in life and that everything you have, you built for yourself.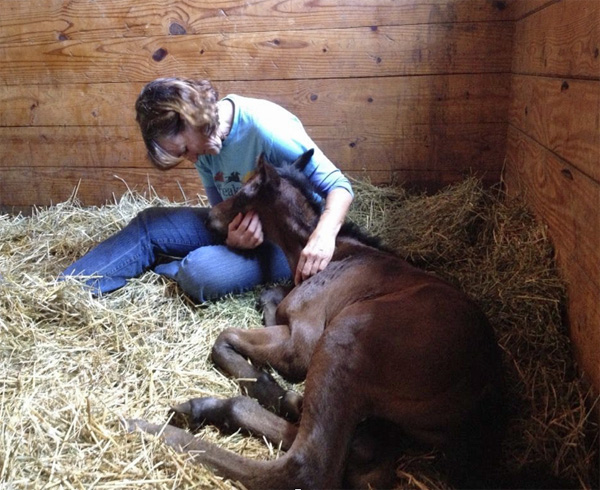 No matter the type, we are all drawn to the industry for the same love. A love that demands personal sacrifice, hard work and the steadfast conviction to see us past the highest of highs and gut wrenching lows that accompany a life spent with horses. We all need to remind ourselves more often, that no matter shape, size, discipline, income, talent, ridiculous good looks or lack thereof, we are all horse-humans. We all started from that same place, that familiar flicker, dim at first, bursting into flames the first time we sat upon a horse.
---
Alice Peirce was raised as a self-described "feral horse farm child" in Howard County, Maryland. She's made efforts to leave the horse world over the years but always comes back and has worked for a number of people in various disciplines. Currently she's working for the Maryland Horse Breeders Association, attempting to teach her draft Mule Olive how to jump, and training foxhunters in Monkton, Maryland, where she hunts with the Elkridge-Harford Hunt.