I'm not a fan of "summary" blog posts. That said, Azul and I recently had a big first for any young horse: Azul went to her first show. So in that spirit, here's my attempt to distill the good, the bad and all of the in-between.
The Show: I decided to do the 2' special hunters at a schooling show hosted by the place where I train—an opportunity to show in her home ring, with no shipping involved. For me it was great because there also was no packing or getting up at 4 a.m. involved. Hurray for real coffee before a show!
The Prep: After some puzzling issues with Azul, things recently took a turn for the better. Her canter transitions were increasingly less problematic, and she even began offering flying changes and getting them consistently over poles. Her trot started to become elevated and light for longer periods of time, and we started to put small courses together. I could see glimpses of the amazing horse she will one day become.
The Friday before the show, Azul and I did our first official "show school"—and she was brilliant. She walked into that schooling ring, trotted around once each way, cantered around once each way, and proceeded to do the entire course like a short-stirrup packer. We came out of the corner, I softened, and she stayed straight as an arrow down each line, landing on each lead.
There's even video evidence:
Show Day: I arrived at the show with plenty of time to watch and see how the lines rode for everyone else. Originally the show was to be in two rings, but some scheduling changes moved everything into one. That meant that my classes, originally going around 9 or 10 a.m., were now going closer to 2 or 3 p.m. OK, no worries. I would use the extra time to give her another bath, as she managed to get too dirty overnight for my taste.
We began her bath, and she very suddenly decided bath time was no longer fun. In the drama that happened after, the crossties snapped, her halter came off, and the middle finger on my left hand was almost dislocated. Azul stood there looking as cute as ever in the aisle when it was done, and I put her halter back on and once again went into the wash stall. This time, a lovely fellow barn mate held her as we continued the bath with no drama but also with little use of my left hand.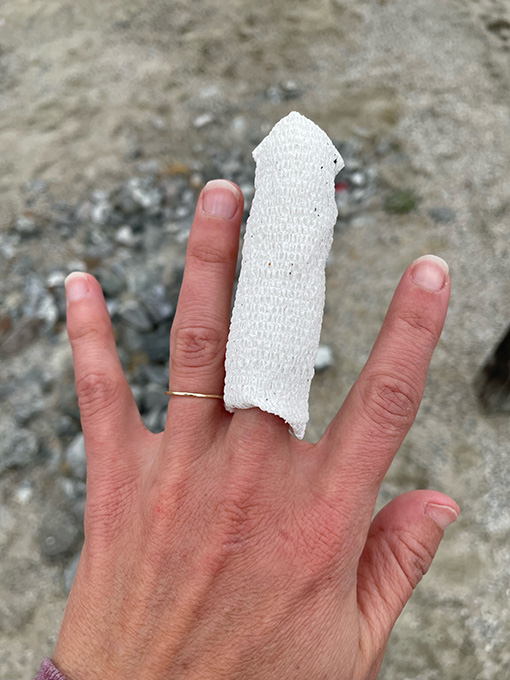 Once Azul was back in her stall, I assessed the damage to my finger and decided it was nothing a Vetrap splint couldn't handle. I also had flashbacks to my 20s, when that sort of "medical care" was definitely the norm.
First Class: This originally was supposed to be a warm-up class, but as the day dragged a bit due to a condensed format and some extra entries, they announced right before my division that the open warm-up was no longer happening. This was a double oops for me, because I hadn't gotten her into the ring at all, even to walk around, during the schooling break for fear that I would run out of gas come show time.
In my head, I expected the show environment to light her up just a bit, so I was ready for a little stronger, more reactive version of Azul. I was quickly humbled and relearned the lesson that horses rarely give you what you expect. Azul's showtime nerves made her slower, less reactive and less responsive that normal, and since her normal is pretty laid back … well … you see what's coming.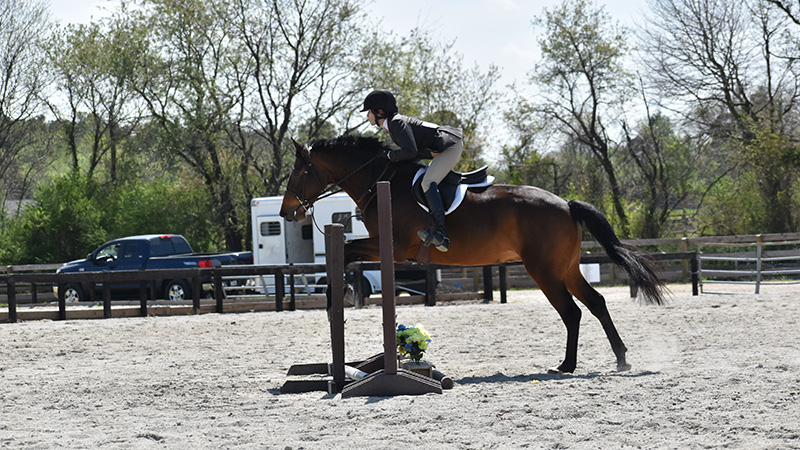 The jumps? No problem. One was a bit short, but other than that and some wiggliness, it was easy-peasy. The in-between the jumps? Not as good. We had to circle twice when a simple change turned into a much longer ordeal due to her forgetting there was a person on her back as she said hello to her friend Prissy or stared at the people in a gazebo. Once I got her attention again, she said, "Oh, canter? OK, sure, we can canter. Why didn't you say so?"
Oh, baby horses…
The Second Class: Loads better. I mean, wow. Night-and-day better. The only mistake was pilot error, when an ill-timed attempt at a flying lead change turned into a late simple change instead. The jumps were lovely, her stride was huge to the point where I accidentally did the regular step in one of the diagonal lines instead of the add, and her attention was 90% on the task at hand. Was it as brilliant as our schooling? No, but I'm reminding myself that had we been able to do a warm-up round, this would have been our first actual round. We pinned sixth out of 11 entries:
The Under Saddle: With so many horses in the division, I debated trying a crowded under saddle or calling it a day. Given her chill attitude, I decided to go for it, and into the crowded ring she went. If I was ever worried about a show lighting her up, that experience put it to bed. Not only was she a bit lazy ("I'm tired, Mom!"), but even 11 horses couldn't propel her into the final canter without a touch of "Ugh, do we have to?"—right in front of the judge, of course. Facepalm.
The Aftermath: At first, I was pretty disappointed in myself. I so wanted the brilliant baby who schooled flawlessly to show up the next day, and I felt like my riding and decisions prevented it from happening. As I gained some distance, though, I realized that's not what happened at all. Figuring out a horse show routine is as unique as figuring out any routine with a new horse, and doubly so when your horse is young and still figuring out what horse shows are. Azul improved tremendously from her first to her second class, and I still have that magical schooling day as a reminder of what's possible down the road.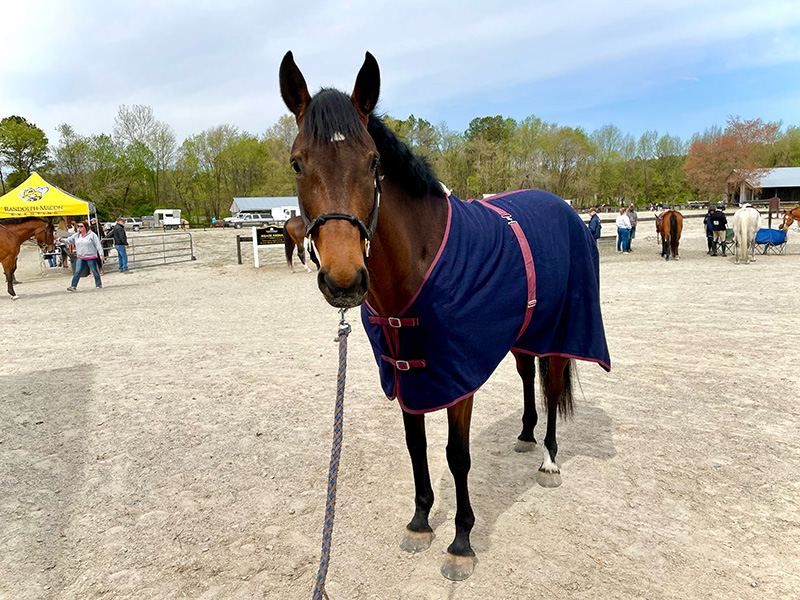 With all of that in mind, here is what I'll take with me into the next show:
1. I will definitely get into the ring during the open schooling on show day, even if just to let her walk around and see things. I thought she would be very familiar with the ring, but the extra-ness of the day meant that she noticed every teeny change.
2. I'm going to try the schooling hunters, which goes sooner in the day. It's at 2'6", but for a horse that height is still extremely low, especially one as scopey as Azul. Also, the jumps themselves weren't a problem at all.
For now, I have two more weeks to practice, ponder and plan. The Band-Aid has been ripped off. Azul is officially my show horse.
---
Sophie Coffey grew up riding by the seat of her pants in Virginia hunt country, and she took a flying leap into the top levels of the sport through sheer will and luck after a cold call landed her a job at Hunterdon, Inc. She continued freelancing as a jack-of-all-trades through her 20s for some of the top names in the industry, getting the best education possible in horsemanship and larger life lessons. After leaving the sport to pursue a career in marketing, she returned in 2018 as an adult amateur, and is currently teaching her baby warmblood mare Azul the ropes. She resides in Richmond, Virginia, with her fully indoctrinated horsey husband and several kitties. Follow her adventures between posts on Instagram @coffeyinthesaddle.