Somehow (and ridiculously!) summer seems to be more than half way over. Well, maybe not to me. Since I am a devoted Mainer, in my world, summer lasts until Thanksgiving.
Despite the frantic pace of the season, I have been making excellent use of my time. I went into this year with some serious determination and dedication to improve my riding skills as much as humanly possible. Yes, I have been at this for quite some time. And when you are a lifelong rider, you actually know how much you need to improve to be (closer) to the top of your game!
Thanks to the New England Dressage Association Scholarship that I was awarded in the spring, I have been able to increase my training time with my longtime coach Susanne Hamilton. In June, I was able to indulge in FOUR CONSECUTIVE days of coaching from her, when our paths crossed at the Centerline Events show at HITS in Saugerties, New York. To say that this was a true luxury is the understatement of the century. I locked her down for pre-show coaching on Thursday and warm-up for ALL of my tests. I felt so spoiled and indulged and "bougie" as kids these days say. (Which, for those of us of a *certain age* means high class, elite, rich and, my favorite, ballin'!) I was totally ballin'!
HITS is a legit big showgrounds, and I have had young horses straight up try to kill me at this venue, due to overwhelming terror reactions to the monsters behind the berms. Dubbie indulged in no such nonsense, and despite the hurricane-like winds, noisy hidden excavation in the woods, and warm-up arenas with 200 horses in them, he behaved like a pro. By the end of the weekend he felt a full year wiser, and so did I.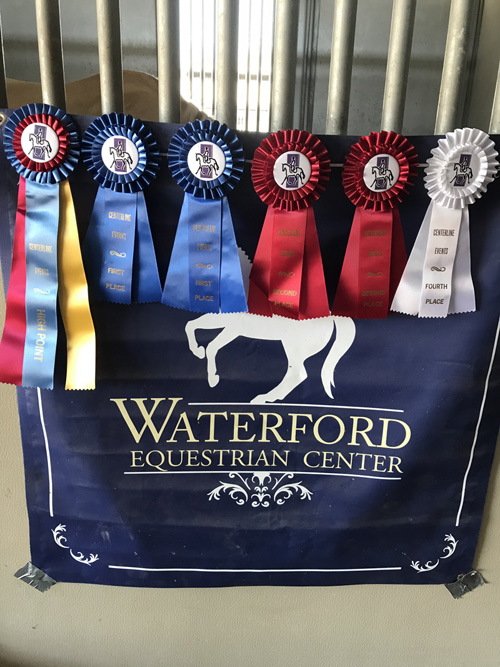 In addition to his adult behavior, we also pulled off a few solid tests. While his desire to drunk-stagger was waning from our previous show, it still cropped up on occasion but did not negatively impact our scores. He nabbed a 75 percent and a sweet high-point ribbon in training 3 on Saturday, which was a highlight!
We took a crack at the 4-year-old tests as well. We had an energetic (possibly out of control?) ride on Friday, during some raucous and hidden excavation by "A" (well, in the woods actually but amazingly loud!). He kept it together terrifically well, and the judges loved him. I was delighted! After a much more organized effort the next day I thought we had it in the bag. It was (in my opinion) his best test to date. The judges did not entirely agree, and that's OK. I was sad for a hot minute, but I follow my own rule. You get five minutes to moan, and then you get on with it! And get on with it I did. What matters the most right now is giving him good, varied and positive outings, and this show more than accomplished that. (And he went on to handily win his next test, so that was cheering!)
The most amusing part of this outing for me was certainly the mysterious excavation behind Arena 1. It was probably an excavator eradicating boulders from the area, but occasionally it sounded much more catastrophic than that. As I was in my final warm-up for my first 4-year-old test, the excavator was working at FULL BORE. I looked at Susanne and asked, "WHO does this happen to? This is why I can write about my adventures. They are always xx@@xx ridiculous! I AM GOING TO DIE!" She low-key waved her hand at me and said I would be just fine. Which I actually knew, but it is still nice to hear it from your expert.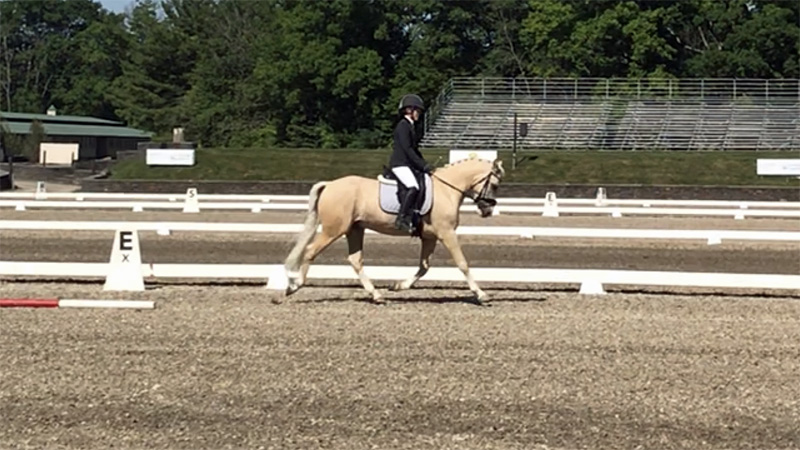 We came home from that show ready to party!
We spent a few days cantering about in the garden and then got back to the kind of work that one does with a baby genius.
He got to meet all the summer campers. (I teach riding for a girls' camp, and run several co-ed day camps. This is great summer entertainment!) He loves the children; they love him and bring him bananas daily. I have actually suggested that the banana parade ends at some point lest he turns into one. Both the campers and the pony disagree.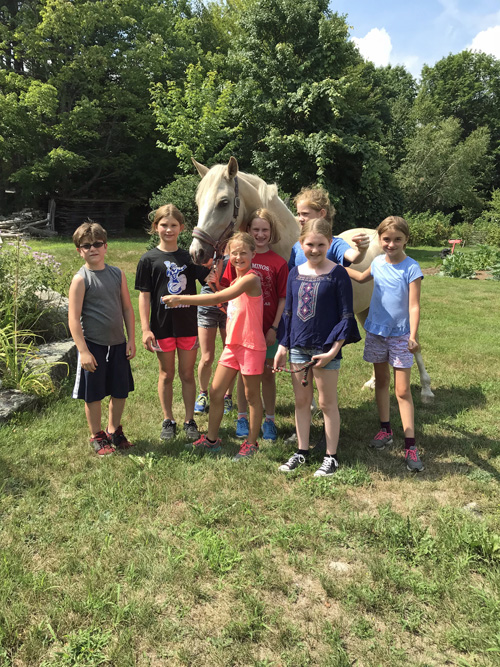 He also got a new saddle! I was determined to avoid a saddle purchase until he was 6 or 8 or 14. However, it became unavoidable when my current ride began to bother my back on a daily basis.
We enlisted the help of the truly fabulous Andrea Palumbo, from Custom Saddlery. She made the very long trip to my barn on a 95-degree day and spent hours with me finding the perfect option. She really went above and beyond, giving me so many choices and extra time to pick the correct model. Over the years I have become pretty decisive about what will work for my horses and me, and she went the extra mile to make me feel comfortable with a big purchase. And I have to say, the two of us had a great time (despite the heat!) and had a lot of laughs and great conversation. I'm thrilled to be properly outfitted, and I feel that the significant tack upgrade has made my "riding better" goal a lot easier. I feel entirely spoiled by her amazing customer service, and I simply cannot recommend a better person for your saddle needs.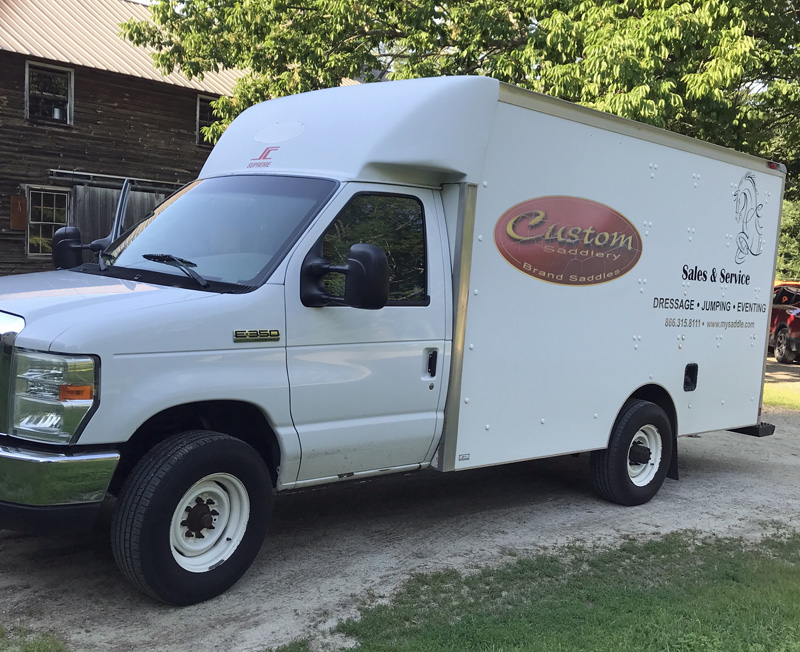 I was also delighted to take advantage of a clinic opportunity with Shannon Dueck. I have been lucky enough to ride with her before, but this was Dubai's maiden voyage. I never go into a clinic with an agenda, so I am totally open to new/better ideas and methods. We had a very successful training session and came away with bolstered confidence and improvement. And (yet again) Dubbie proved himself to be a perfect child, with no shenanigans and such a willing attitude. I love him.
He has had a refreshing break from the show arena. He seems to love going places, and I want to keep him curious and fresh, so I have done zero summer shows. At this point we are getting ready for a couple more competitions to round out his big exciting 4-year-old season. While he has more than proven himself to me at this point, my other horse is having a training year, so I have the time to take the kid out on adventures. (And he loves it, so why not?)
I'm looking forward to the next month of training and competition and (honestly here) hopefully some cooler temps. I'm not wishing for snow, but we Mainers are not built for 95-degree humidity!
---
I'm Sara Bradley, USDF bronze and silver medalist, young horse trainer extraordinaire (today anyway) and owner of Waterford Equestrian Center in Maine. When I am not wrangling 4-year-old horses, I am wrangling 4-year-old children and attempting to teach them to focus and ride ponies. (I also teach adults, who occasionally require less in the way of wrangling.) I also enjoy long walks (runs, let's be real), my giant hairy dogs, horse showing with my mom Linda, who everyone calls "Sara's Mom" and adventuring with my excellent horse husband, Eric.  Read all of Sara's COTH blogs.