When we buy a horse, we don't just welcome that animal into our lives, we also become part of a universe created around it. Horses are like hubs of sorts: Every connection they've had with other owners, trainers, riders, caretakers and friends along the way becomes a spoke extending outward, and when those spokes are joined, a unique circle of human connections forms that shapes the horse's experience. Whether a horse spends its whole life on the farm where it's born or is imported from abroad, its connections create a powerful force with the potential to shape the lives of the humans within that little universe.
My family didn't know that on Dec. 24, 2019, when we gave our 12-year-old daughter Sophie a surprise horse. We knew we were creating a magical Christmas experience; we didn't yet realize we were becoming part of this animal's special circle of connections.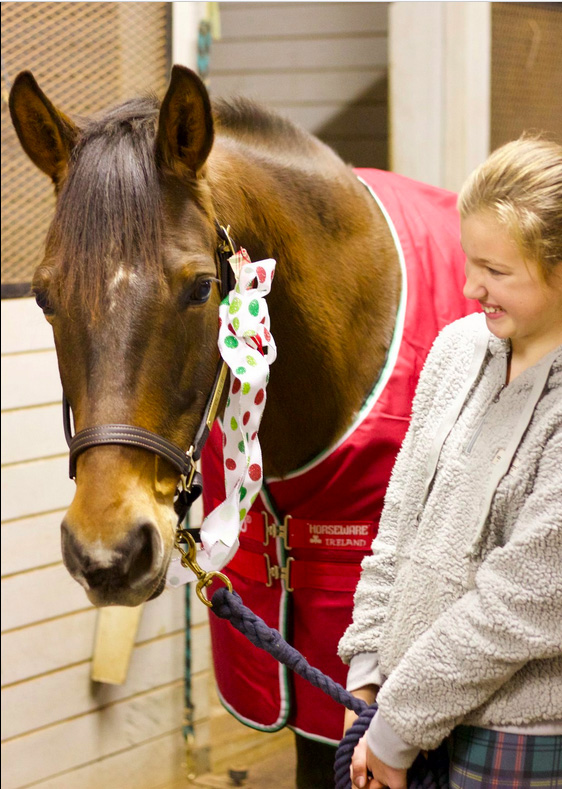 Rock My Socks—"Oliver" to his friends—is a 15.3-hand, bay Quarter Horse-Paint cross with some very distinctive features: flashy chrome, a very round rump and ears that are about two sizes too large for his sweet face. These traits add up to make him adorable in a Disney sort of way, especially when a peppermint wrapper rustles. He was 16 years old that Christmas Eve, and we had chosen him because we'd been told that Oliver "had seen it all," with nothing but glowing reports from his previous owner, who wanted to ensure he was moving into good hands. Our trainer felt great about matching Oliver and Sophie, excited for all our kid could learn from him, and my husband and I did, too.
Oliver was the Christmas gift who kept giving. He exceeded our hopes and expectations daily, proving to be equal parts wise teacher, babysitter and Barbie DreamHorse to our completely smitten daughter. Though he is happier putting seven strides in the six and prefers the art of the skip change to the flying change, we never doubted his commitment to his most important job: taking care of our child. Having confidence-building experiences for Sophie was the goal, and Oliver never put a hoof wrong in that regard.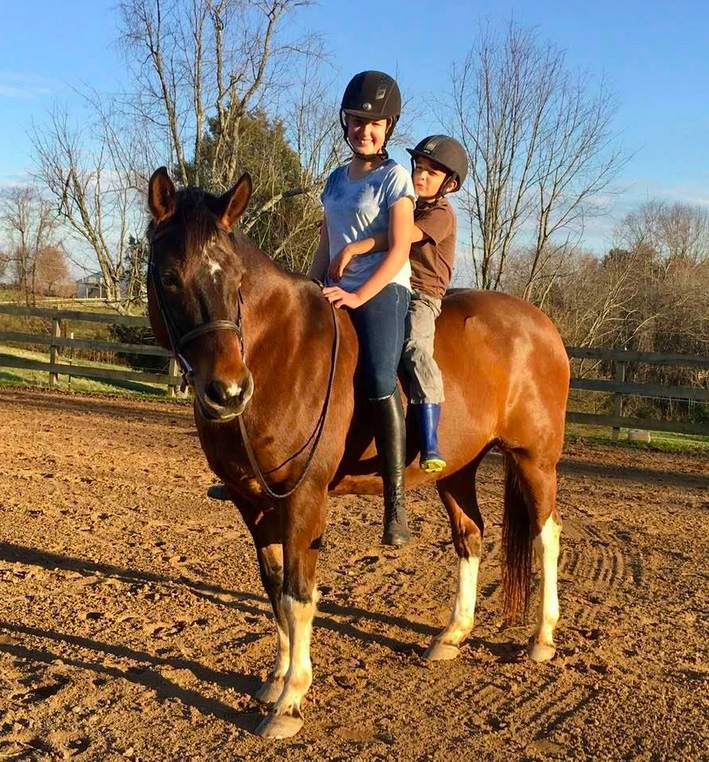 Sophie's relationship with Oliver was just solidifying when COVID-19 took over our lives and our plans in March 2020. Their "getting to know you" period ended up lasting nearly a year, serving to distract our eighth-grader from the frustrations of virtual school and time separated from friends. He was her peace in the midst of much uncertainty.
When normal-ish showing resumed in 2021, Sophie and Oliver focused on the 2′ beginner equitation division within the Southwest Virginia Hunter Jumper Association circuit. I will never forget their first outing that March: We were running uncharacteristically late to meet up with our trainer at the show, and Sophie missed the opportunity to school in her ring—not the best start for a kid who gets nervous and hadn't shown in over a year.
Sophie was trying to learn her first course from the rail, and as our wonderful trainer reminded her to breathe, a kind woman I didn't know came over and told my daughter, "You don't have to worry about anything with Oliver, dear. He's going to take care of you."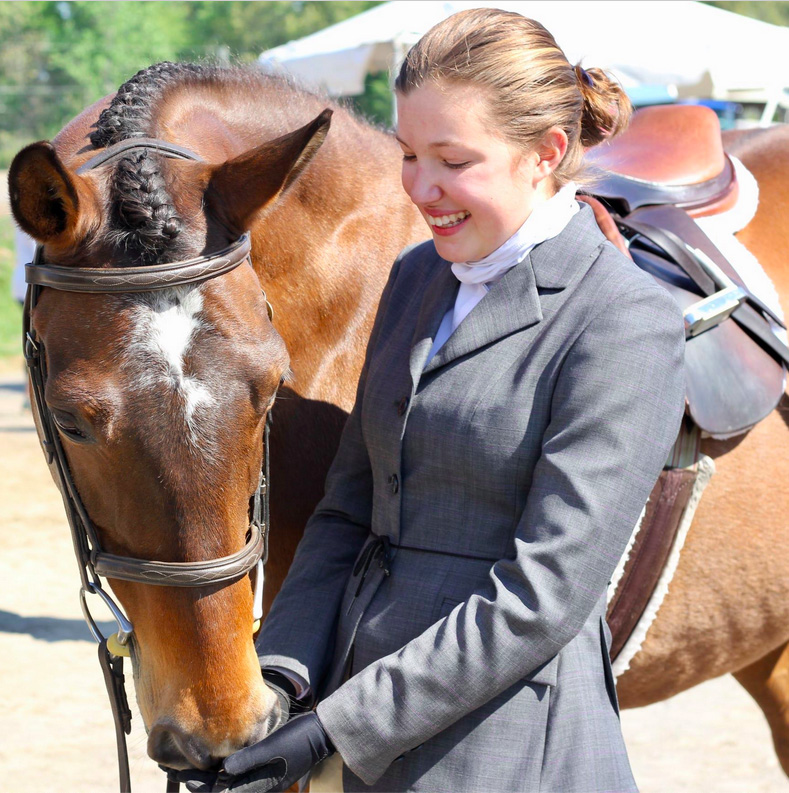 Of course, this old friend from Oliver's past was right. He went around that day doing the careful add so Sophie could compose herself and learn to trust him in an unfamiliar ring. (Well, unfamiliar to her, as there probably isn't a show ring within 100 miles that is unfamiliar to Oliver.)
As the months and shows went by, we met more of Oliver's old friends and heard more endearing stories about him. From warm-up rings to Pony Club summer camp, we stopped being surprised when a judge or clinician recognized our sweet horse. Knowing there was a friend around every turn at a SWVHJA show gave Sophie the confidence she needed to have fun and worry less when she competed. And through the magic of social media, we were even able to connect with one of Oliver's original owners, who shared some of his "baby" pictures and stories with us, so glad she could once again follow her old friend's adventures.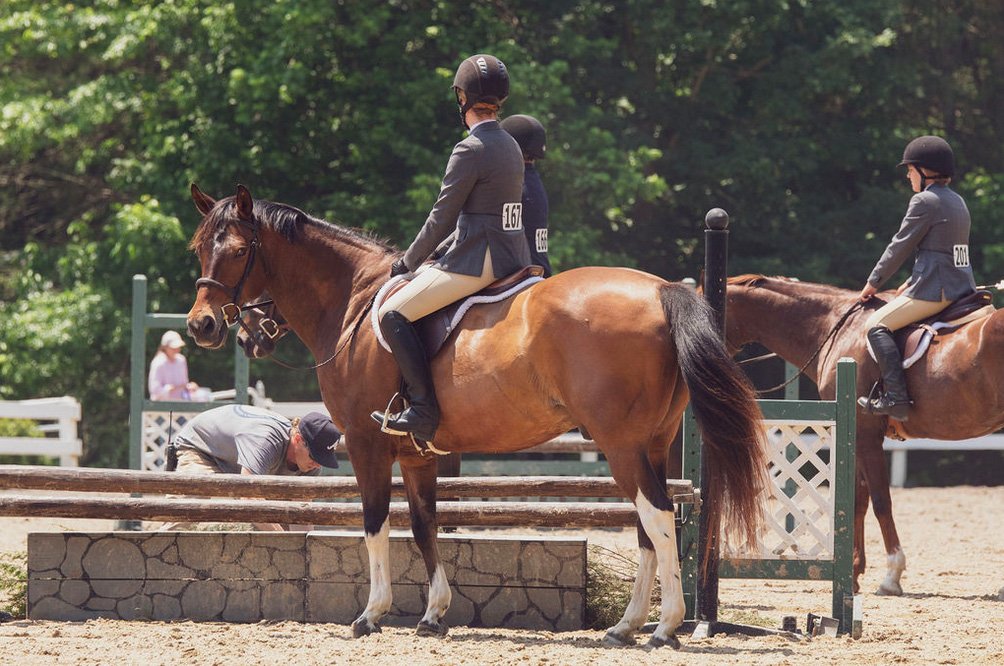 When it comes to a horse's universe of connections, I can't imagine a more special one, for both the animal and people involved, than the network of relationships surrounding a regional show association celebrity like Oliver. It's a powerful affection that trainers, parents, owners and riders hold for the horses that stay in their area, taking such good care of kids, doing their jobs so very well, and working with a dignified, joyful sense of purpose. Along with his role as a show ring confidence-builder, Oliver is also a specialist in getting girls through those challenging middle-to-high school years. No price can be put on that type of expertise. It's an innate gift that can't be trained.
Because Oliver knows this job so well, I am pretty sure he realized when it was time for him to move on to his next girl. It was a few weeks ago when he left our farm, just short of three years (and 5 vertical inches) since Sophie started riding him. Though there were a lot of tears, Oliver's circle supported us once again.
He's now teaching Alexis Hinds, the sixth-grade daughter of a fine horsewoman who actually showed Oliver herself in SWVHJA recognized events back when he was a green 5- and 6-year-old. When he is finished teaching his current middle-schooler the ropes, he will retire with his previous owner, the one who reconnected with him via our trainer's Facebook posts.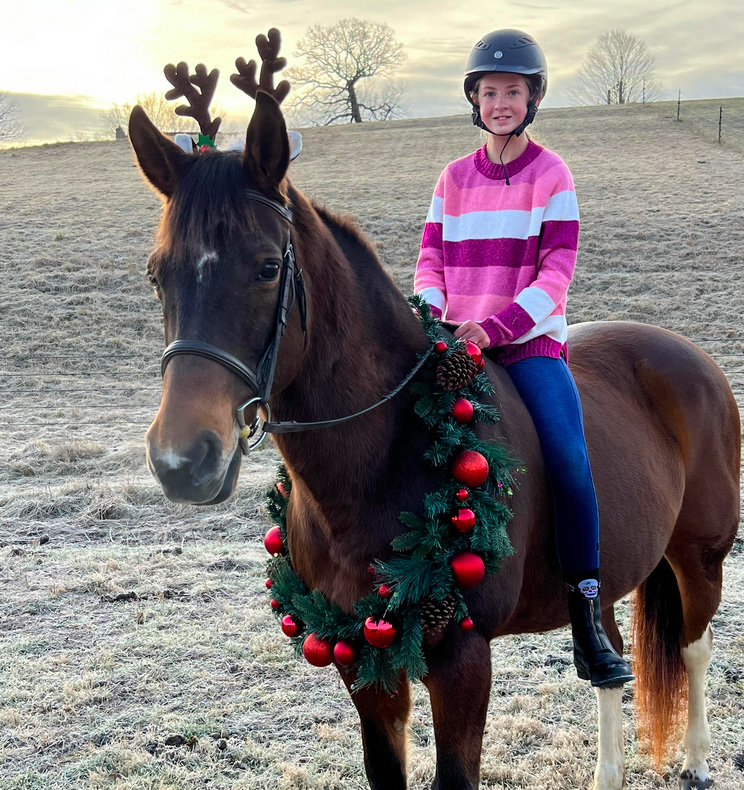 It's a beautiful, overlapping circle of connections for a very special horse who has been loved throughout our region and who has helped many young riders gain confidence and poise while viewing the world from between his adorable, oversized ears. He's a lucky horse for sure, but our whole family received the greater gift when we became a chapter in Oliver's story. We're fortunate to have learned so much from him and that we will always be included amongst his circle of people.
---
Mimi Csatlos grew up as a Pony Clubber in Connecticut and now lives on a small horse farm in Bedford County, Virginia. Though she aspires to return to competing as an amateur on the SWVHJA circuit, these days her time is more often spent fixing fences and managing mud with her husband, Erno, and dividing her weekends between being horse show mom to Sophie, and soccer mom to Sawyer. She is the Director of College Counseling at Virginia Episcopal School and currently owns three horses: two perennially green chestnuts and a charming POA. You can follow Mimi on her blog, Longstocking Farm Moments.