Folks, it's crazy time. Autumn is always a little nuts, but… well, let me show you.
Let us begin in OCTOBER. Activities include the GAIG/USEF Regional Championships (amazing and educational); a clinic at my farm with my fantastic friend and biomechanics expert Suzanne Galdun (amazing); and attending the U.S. Para-Dressage National Championships (educational).
My assistant trainer, who is newly engaged, gives me her notice—a surprise, since we'd originally planned on her departure after Florida— leaving me scrambling. It's OK; I'm at my best with my back against a wall. And sometimes the universe hands you what you need: Three days later I've hired Sam, who's both a beautiful and experienced rider, and while she's never taught before, she's got the right temperament and intellect for the job. And I like teaching, so I'll teach her how to teach. 
It remains a good thing I'm at my best with my back against the wall, because I also get fantastically unloaded off a young horse and earn myself my first concussion. Naturally, I do not tell anyone and just casually teach in sunglasses for the next few days. The timing is good because everyone hits pause on their lessons this time of year. I'm fine. Everything's fine.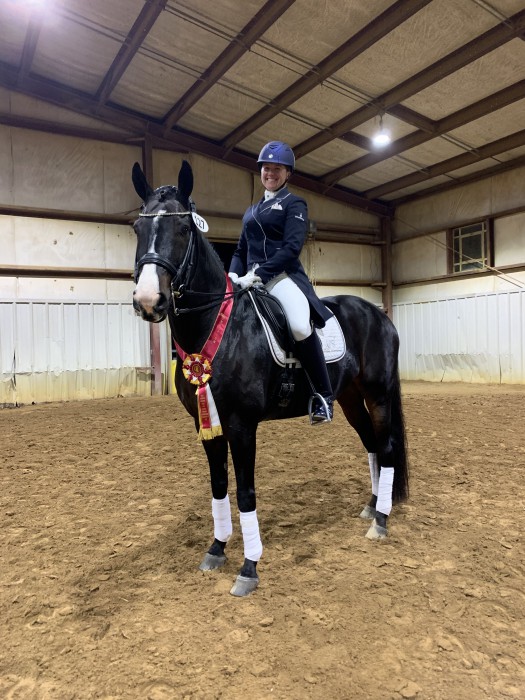 Mercifully, my horses are all good. Puck, who had a rough show at the Regionals, sees the saddle fitter and the dentist, who make all of my Regionals-related problems disappear. Maybe one day I will actually close the book on "when good horses start doing weird things, call your experts," but it is not this day.
He and Helio earn a little down time, Elvis builds well toward the U.S. Dressage Finals, and the baby horses are working like geniuses. And I get my booster shot. Yay, science!
Thus begins NOVEMBER. Two horses in my program—wonderful animals who've served their riders faithfully and well but who have been experiencing the inevitable declining health that comes with age—are sent to retirement.
This is also the first year where I'm going to close my Virginia barn for the winter, rather than try and operate in two locations while most of us head to Wellington, so the outgoing trickle of the handful of horses not heading south with us begins, and the barn gets pretty quiet. This is, in its way, a blessing, because my most experienced working student also gives me her notice, as she's received an amazing opportunity to head back to college cost-free. Of course I'm always proud to see my charges spread their wings and make their way unto the world with success. But there's also always that little part of me that hopes that maybe I can Stockholm Syndrome them into staying forever, especially the good ones.
And it also means that I'm taking a relatively rookie crew to Florida with me this winter, with no institutional memory on the subject. That's OK too, as we'll be at a new farm this year—Perfect Cadence Farm, an amazing new facility that belongs to my longtime clients and friends—so I don't really have any institutional memory either. And it means that I have to hire in the worst hiring economy I've ever seen in my equestrian career. I'm fine. Everything's fine.
The month's activities include the U.S. Dressage Finals (educational, to say the least), a clinic in Austin, Texas (always a favorite group to teach), and Thanksgiving (a joy—I am thankful for so many things, but especially the science that let us gather together safely).
Which brings us to DECEMBER. Sam arrives and is even more wonderful than I'd hoped. And the universe also sends us new working student Paige, who is a joy. Puck and Helio start ramping back up to work and feel amazing. Elvis gets a week to fart around, but since his body doesn't totally love downtime, I modify his path to instead play a game for a few weeks called "how long and low can I put your neck and still half-halt and piaffe." I'm nowhere for a while, until I'm somewhere, which is pretty much how everything works in the making of good horses.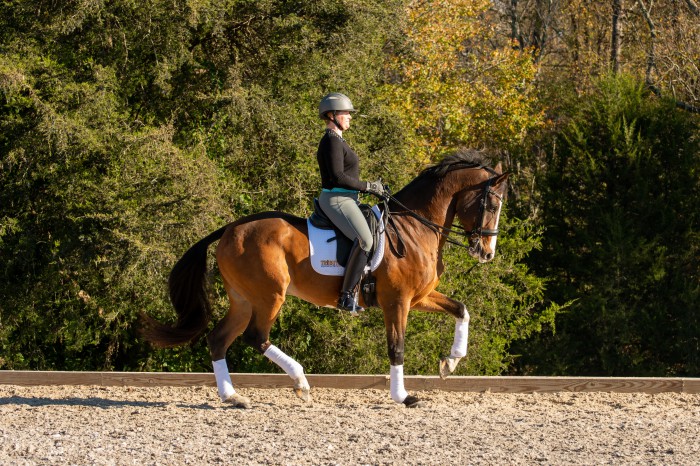 The weather is stunning. Then, the weather goes to hell in a handcart.
The month's activities include the final departures of the few horses not wintering with us in Florida—sad and scary, but I am cautiously optimistic they'll all come back in the spring. The planning for the departure to Florida. The changing of the planning of the departure to Florida. The changing of the plan again. And again. It's Tuesday. Now it's Monday. Now it's either Monday or Tuesday, and we won't know until next week. So I'm sending myself and half my staff down on Saturday and saying screw it, we'll figure it out. (Don't worry, it'll change again three more times between now and then.)
And looking ahead to the rest of the month: a clinic in Arkansas (new people—very exciting); everyone and their mother signing up for lessons at home because "OMG, you're leaving!" (This happens every year. No lessons in October, ALLLLLL of the lessons in December. I've just accepted it as fact.) This means doing a lot of my packing at 4 a.m. every day, because there's no time the rest of the day. Then the trip to Wellington, getting settled rapidly, and immediately turning around for a clinic in Ocala, Christmas, and then hitting the ground running for a whirlwind season.
And, oh yeah, Mondays? My days off? I will spend them doing the last bit of wedding planning I have left, because I return home from Florida mid-April, and I get married April 30. No big deal. I'm fine. Everything's fine. 
---
Lauren Sprieser is a USDF gold, silver and bronze medalist making horses and riders to FEI from her farm in Marshall, Virginia. She's currently developing The Elvis Syndicate's Guernsey Elvis and her own string of young horses with hopes of one day representing the United States in team competition. Follow her on Facebook and Instagram.