What started as a way for teenager Grace Koepke to pass the time when her state went into pandemic lockdown last year has become a growing home-based business that supports local animal rescues.
Koepke, 15, sells homemade horse treats and ear bonnets online through Possum's Pastries, a company she created during the pandemic and named after her first miniature horse, Possum.
"It's hard to balance school, riding and having your own business but I think I make it work pretty well," said Koepke, who lives with her parents and six horses on a farm in Warrenton, Virginia.
Koepke has two horses of her own, Sember and Apple. She originally intended to use her earnings from Possum's Pastries to support them and save for her next horse.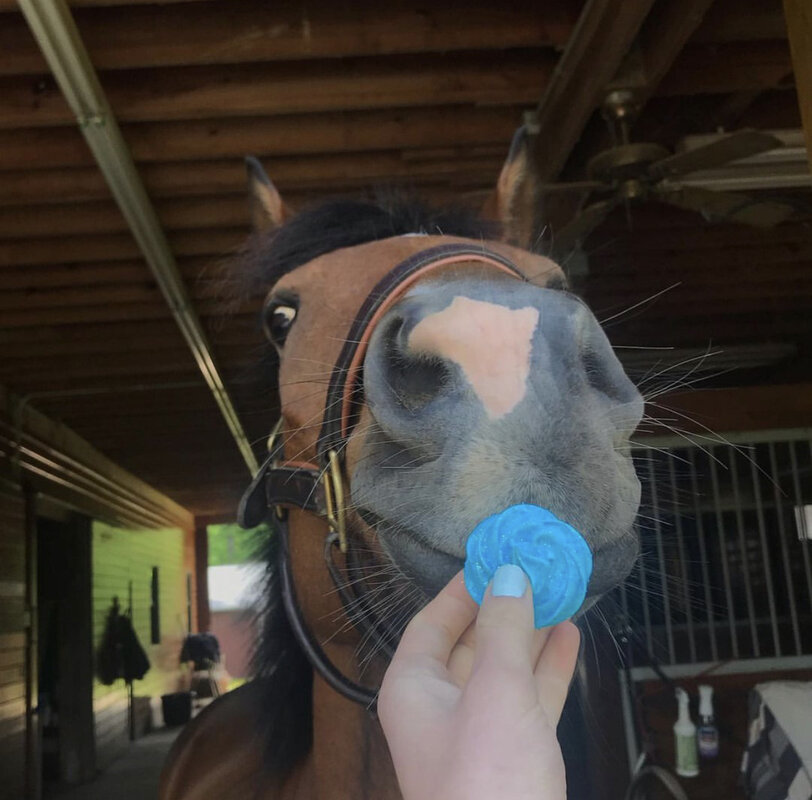 But when her company began growing in sales and social media followers in August 2020, Koepke decided she wanted to do more with the earnings. She first began donating a portion of her profits to her local animal shelter, the Fauquier SPCA. Then she began donating $1 from every order placed to Colby's Crew Rescue, a recently established nonprofit focused on saving horses from slaughter. Between these two rescues, she has donated approximately $500 so far.
"I volunteered at the Fauquier SPCA, and I love them so much. We adopted both of our cats from there, and I love everything they do," Koepke said. "I found Colby's Crew on Instagram one day, and it turns out that they're a mile or two down our road, which is so cool. I love following all their horses' stories. They go from abused horses to eventers."
Koepke does all of the baking, packaging and shipping for her company by herself. As her business has grown, she's expanded her workstations throughout her home. Her parents have supported her every step of the way.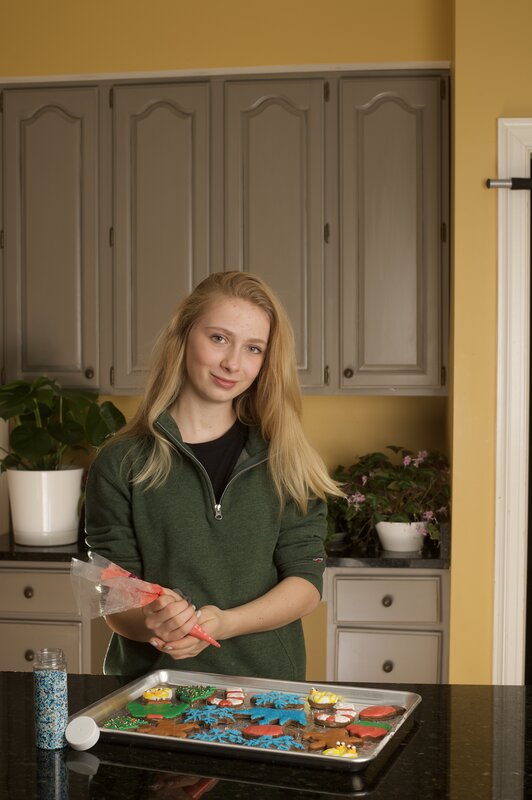 "I started my business upstairs in our dining room, but after a while, I expanded from that, and I moved to the basement. They're very kind to let me take over their house and use all their space for my business," Koepke said.
Allison and Olivia Smith, the founders of Colby's Crew Rescue in Warrenton, found out about Possum's Pastries when Koepke offered to send them treats for their rescue horses. Their partnership began soon after they realized they lived near each other and shared a dressage trainer.
"We appreciate it so much that she has chosen to support Colby's Crew Rescue with her treats," Allison said. "They are adorable, well-made, and the horses love them. Each donation directly helps care for the rescue horses."
Koepke has long enjoyed baking, for humans and horses alike. She researched and used trial and error to create the perfect recipe that uses horse-friendly ingredients for her cookies.
"I always try to find yummy things to make in my free time for people. Half my family is gluten-free, so I also create things that everyone can enjoy," Koepke said. "I use flour, molasses and water for the base of the treats. For the icing, I use meringue powder, powdered sugar and water. I did a lot of research on what ingredients would work best for the horses."
Koepke recently added horse ear bonnets to her online store. Koepke buys the ear bonnets and then customizes them with iron-on designs like rainbows, fruit and even unicorns. The bonnets complement her original horse treats, she said.
"I wanted to sell something along with horse treats that would take less time to make and still make a profit," Koepke said.
For now, Possum's Pastries products can only be shipped within the United States. Koepke's goal is to grow her online business and expand to selling in retail stores. She's working toward that goal by going to few horse shows and setting up a booth to sell her products.
"I'm close to being able to expand, but since I'm so young and I can't drive yet, that puts a limit on how much I can expand for now. I hope to continue to grow it little by little," she said.
Koepke uses social media—mainly Instagram and TikTok—to spread the word about Possum's Pastries. She has several ambassadors to help promote her products, and she credits her success to social media advertising.
"On Instagram, I love seeing people share their horses with my treats," she said. "Seeing my treats go all around America is so cool."