Upper Marlboro, Md.–Oct. 3
Many top amateur riders are quick to thank the team of trainers, barn managers and grooms that helps them fit riding and competing into their busy lives. And usually those team members don't need an explanation of how a hunter round is judged or which finals take place at which venue.
But Los Angeles-based Jaqueline Attwood-Dupont has to translate horse show technicalities to her cheering section of coworkers at ICF Next, the global marketing agency where she's a partner. "I have a great team, both [at the barn] who take care of my horses, and my team in the office!" said Attwood-Dupont.
The 32-year-old, who won the World Champion Hunter Rider Amateur-Owner Challenge at Capital Challenge Horse Show on Thursday, credits her supportive office staff for giving her the flexibility to travel and compete—even if they don't always understand why she's going to so many finals.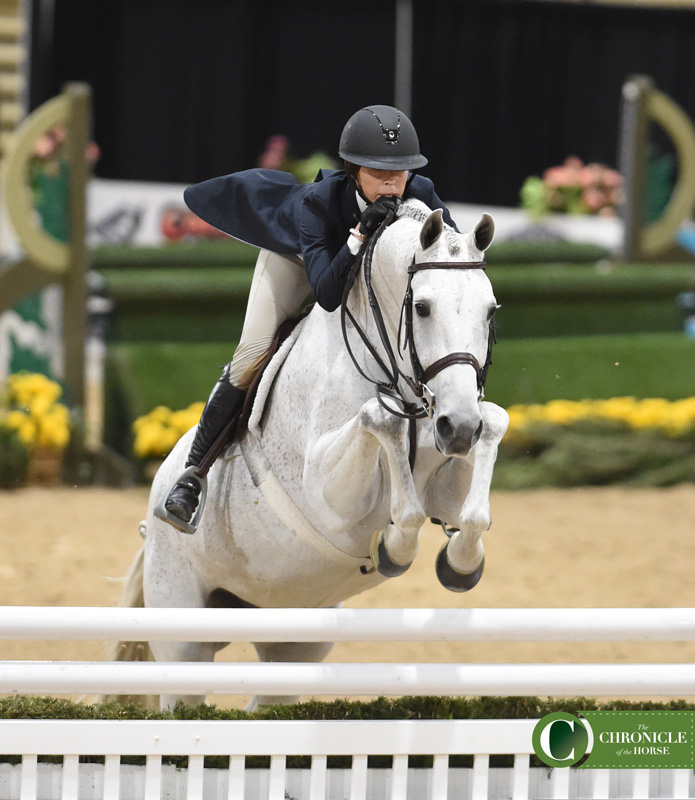 "They have no idea [about horses]," Attwood-Dupont said. "They ask me the rules all the time. They don't understand why I'm going to nationals—they're like, 'But there are three of them?' Because I'm doing Harrisburg [for the Pennsylvania National Horse Show] and Kentucky [for the National Horse Show] after. [I tell them ] 'Yes, there's three of them, they're different, like the U.S. Open, Australian Open!"
Atwood-Dupont, who specializes in change management strategies for companies undergoing mergers and acquisitions, was able to balance work and riding to pull off a spectacular week at Capital Challenge. She won the North American Adult Equitation Championship the first weekend aboard Black Label, Dorothy Attwood's 13-year-old Irish Sport Horse gelding, and then won the WCHR Amateur-Owner Challenge on her Spotlight, a 13-year-old Dutch Warmblood gelding (Tjungske–Karoly M).
"For this horse show in particular, I got here on Friday, and I stayed through the week and worked remotely so that I could be on the horses every day and see how they're doing, how they're feeling," Attwood-Dupont said.
Even on the day of the WCHR Challenge, she couldn't entirely escape office obligations.
"I got a lot of emails that I ignored!" she laughed. "I got some text messages about urgent stuff and I dealt with that."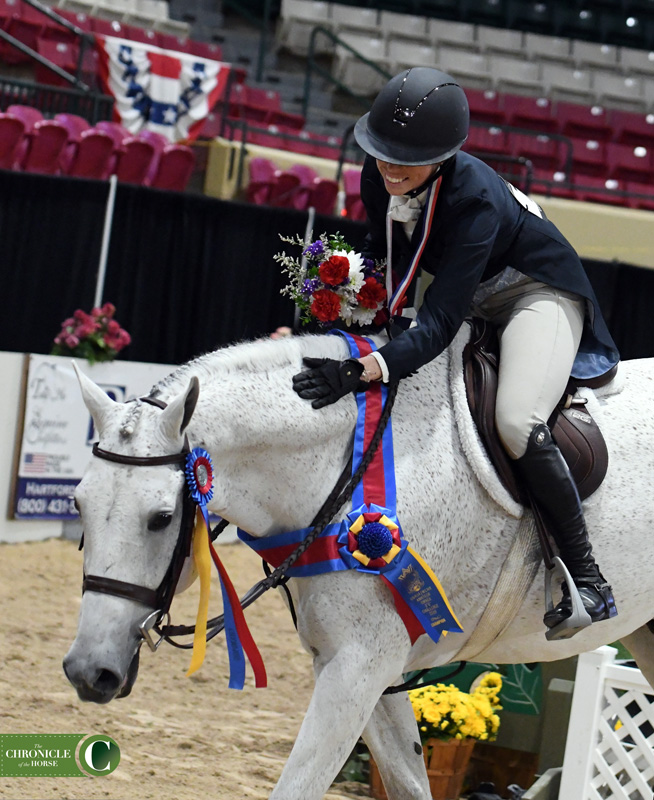 The veteran competitor, who placed second in the equitation championship and third in the WCHR Challenge last year, praised her barn team for getting Spotlight ready to win in just his second year as a hunter after a previous career in the jumper ring.
"Erin Duffy Show Stables has done so much to help him make that transition and make him into the horse he is today," she said.
Recognizing her non-horsey team was at the top of Attwood-Dupont's list, too.
"I'm going to send them pictures of my horse with a blue ribbon, like, 'Look what you guys helped do!' " she added. "Because it matters, that team that you have back home."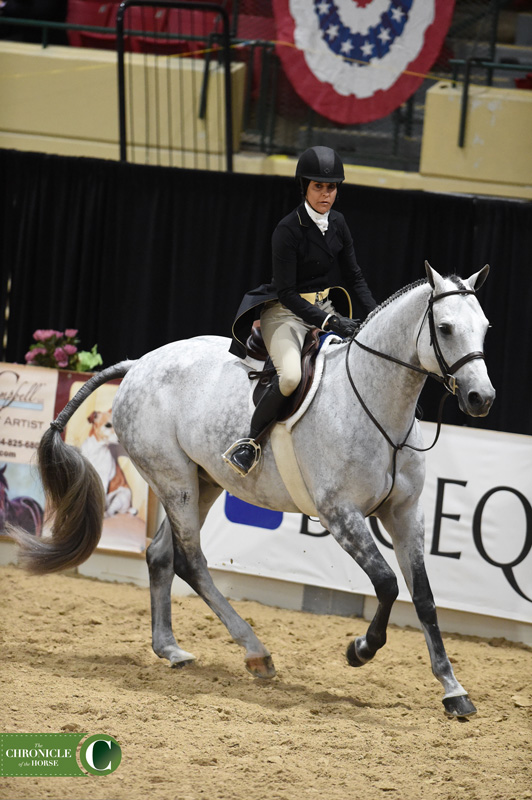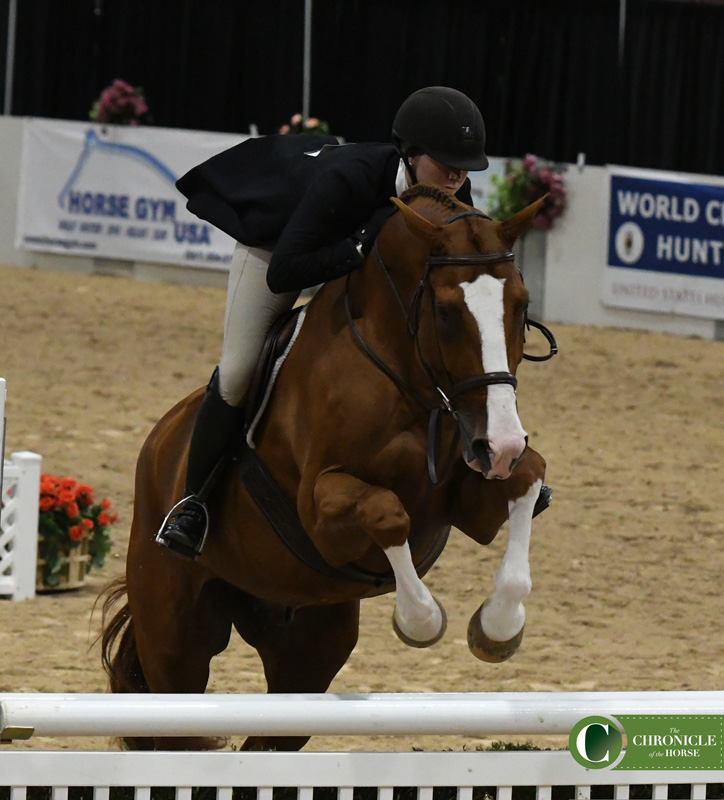 Ingram Earns Her Own Capital Challenge Trifecta
Something's brewing in that Tennessee air this 2019 to bring the year of the lucky threes for John & Stephanie Ingram LLC and company. First, rider Tori Colvin became the first rider to win the USHJA International Hunter Derby Championship on three different horses three years in a row. But at Capital Challenge, Martha Ingram continued the trend, winning the $2,500 WCHR 3'3" Amateur-Owner Challenge for the third year in a row.
"I feel like Tori Colvin a little bit!" said the 22-year-old.
In 2017 and 2018, she rode to the tricolor on Lyons Creek Bellini. But with him retiring, she grabbed hold of the reins on Airport 48, her father John Ingram's amateur-owner mount.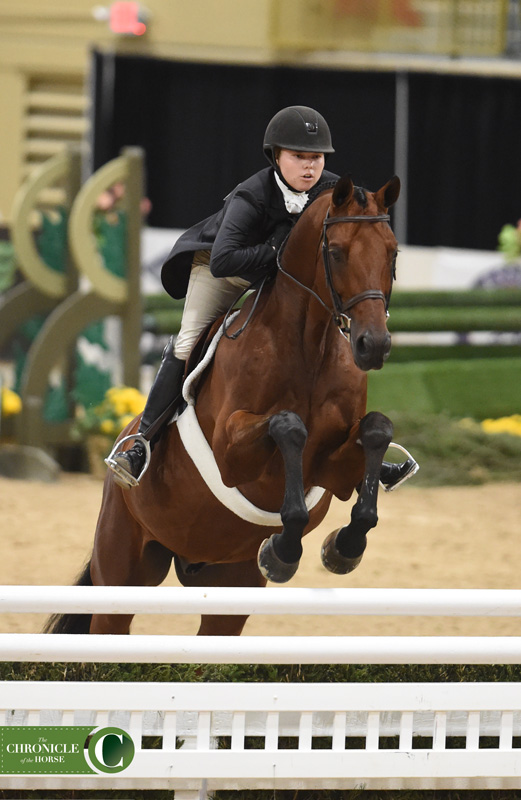 Exactly a year ago, Martha was looking for a horse to compete in the adult equitation finals at Capital Challenge. The horse she was initially planning taking got hurt at the last minute—so she turned to Airport.
Although they'd competed in only one class before heading to Maryland, she and the now 16-year-old Holsteiner gelding of unrecorded breeding topped the North American Adult Equitation Championships and the Ariat National Adult Medal Finals. And save two instances, Airport's been hers to campaign ever since.
"My dad let me take over the reins now since he's getting older, and we're trying to keep him sound," said Martha. "Just throughout his whole career we've had to be really smart about what we're going to do and what classes we're going to show in—especially with my dad in bigger heights. Now he's just getting older, and he's just loving his job—I think he's fitter now than he's ever been. It's more fair to get him to stay sound and to do this."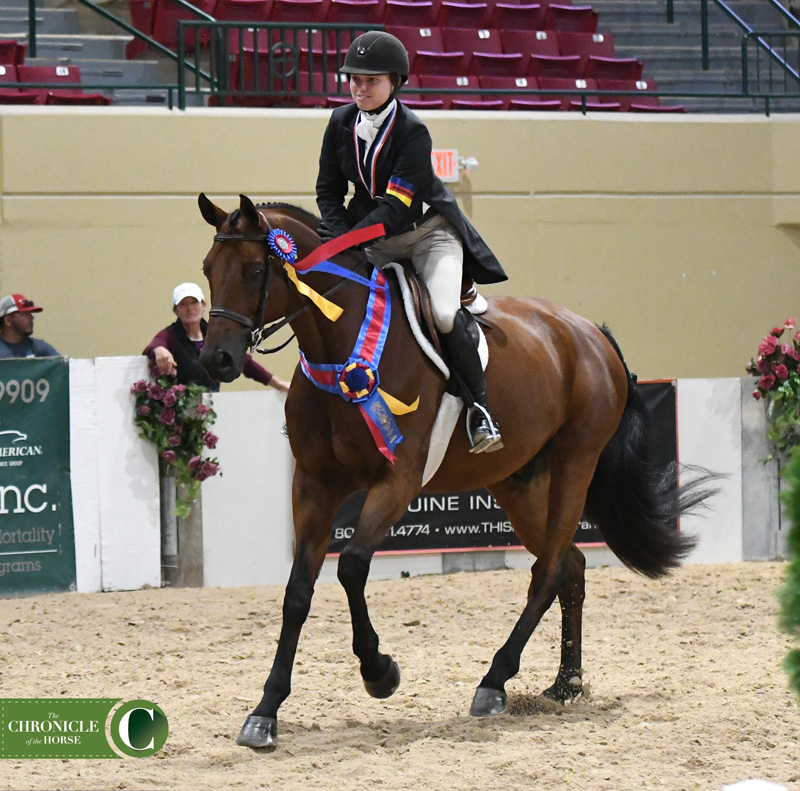 And for Martha, this win means more than just a blue ribbon—it represents consistency and a confidence she's gained after her 18th birthday.
"It's really surreal because as a junior and a pony rider, I really wasn't very consistent," she said. "On my medium pony I won the first class here and then kind of didn't ride very well after that. As a junior, I'd have like a good round, and I'd be like fourth or something. When I turned an amateur, I just kind of hit the stride. Now that I've been able to win some of these classes, I think that's built up my confidence. So I know that I can do it even if I get a little nervous. I still make mistakes. I still get nervous, but I think just knowing that I can do it and that the best that I can do is good enough has really helped."