Lima, Peru—Aug. 6
By the time anchor rider Beezie Madden stepped into the ring on the first day of show jumping competition at the Pan American Games, the United States already had three riders near the top of the leaderboard. So she decided to take all the chances she could—regardless of the consequences—and go for broke.
"Due credit to all of my teammates because our plan was to make a strategy after they went, and they all went so well that we were going to be either really close to the lead or just out," said Madden, Cazenovia, New York. "So between [Chef d'Equipe] Robert [Ridland] and [trainer] John [Madden] and myself, we came up with to just try to go and try to beat Alex [Granato], at that point, so we could either be in the lead and have a little leverage, and if it didn't work then we were still in a great position for tomorrow."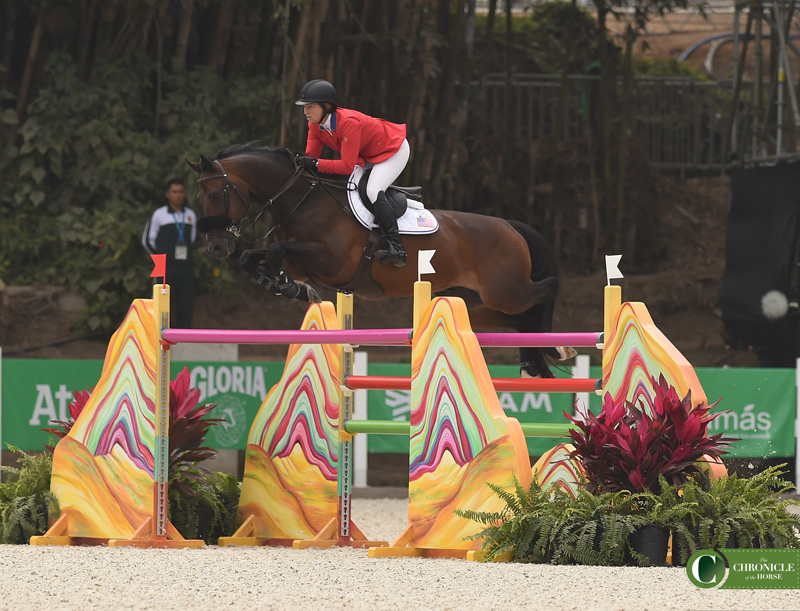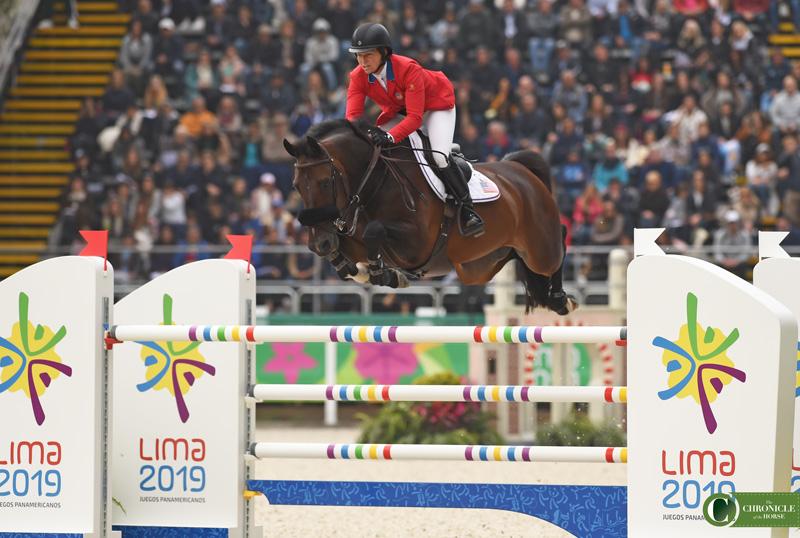 But Beezie being Beezie she laid down a foot-perfect round aboard her FEI World Cup Final-winning partner Breitling LS, zipping around Guilherme Jorge's speed course to finish the day at the top of the individual leaderboard. All four riders left the rails in the cups and finished in the top eight, with Granato sitting third on Carlchen W, Eve Jobs sixth with Venue d'Fees des Hazalles and Lucy Deslauriers eighth on Hester.
"I know him well," said Madden of the 13-year-old stallion by Quintero. "We've had him since he was 7 years old, and so we've grown a little together. He's 13 now and had quite a lot of experience and actually experience with this format cause he's done the World Cup finals twice, and he won it one year, and I think was sixth or seventh this year. I felt confident that I didn't need to nurse him around today because he's already done this format and done it well."
That puts the United States in the lead, 1.2 points ahead of Brazil, with three riders in the top seven. Canada sits third, despite Lisa Carlsen being eliminated for blood on her horse Parette's side after her round. She'll return tomorrow for the Nations Cup team competition, but she's out of the individual championship.
"My horse got a minor rub today, and when the stewards looked at her during the post-round check, they made the call to eliminate us," explained Carlsen. "The wellbeing of my horse is my number one priority, and I would never do anything to jeopardize that. Rules are rules, but I would never intentionally harm my horse. Parette has been carefully checked out and cleared by vets for competition tomorrow and I look forward to continuing to do our best for the team."
Granato laid down a great round in his first international championship and held onto the lead for most of the class until Patricio Pasquel and Babel bumped him down to second.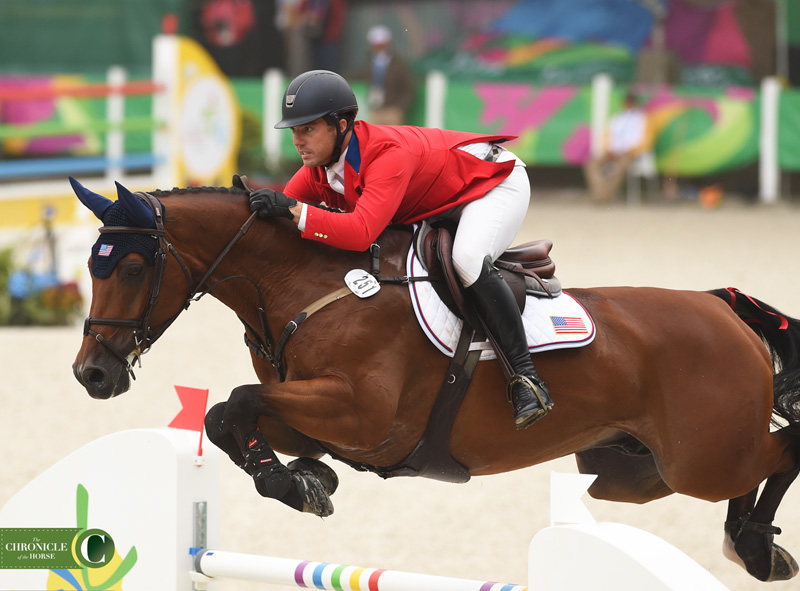 "Being the first in for our team I just wanted to really carry a strong pace but focus more on a good result, and my horse felt fantastic," he said. "Even in the warm-up, he's felt good all week, relaxed and feels really ready, so I wanted to have him carry a natural, quick pace and just focus on a solid result."
Deslauriers, who is competing here against her father, Mario Deslauriers, on Team Canada, credited her long tenure with Hester with helping her go clear.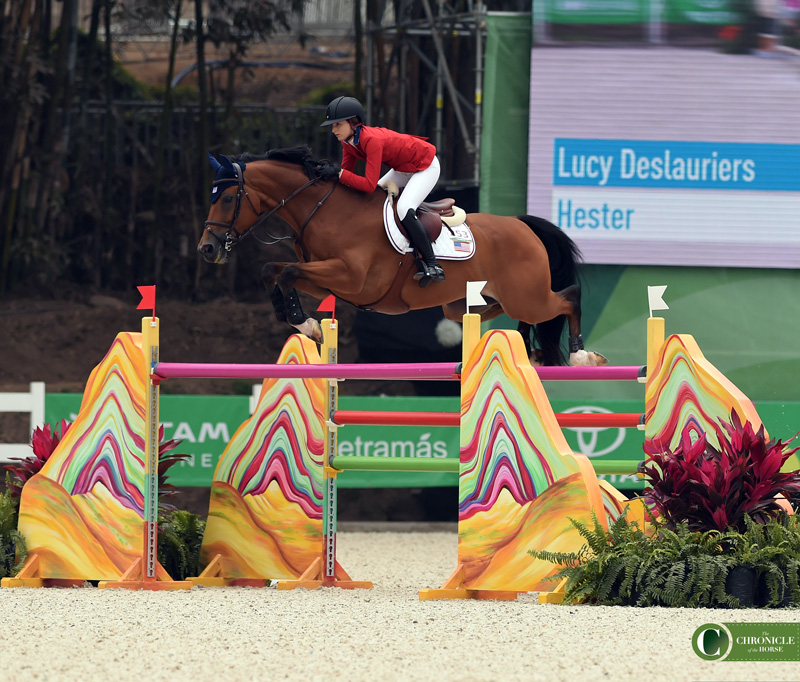 "I really just wanted to use my horse's stride to my advantage," she said. "I know, the first day, I just had to get on my pace at Fence 1 and just sort of stick to my plan, and it pretty much went that way, so I'm really happy.
"Luckily I've had some practice with him in those situations, and he's so game that if there weren't distances that I was planning or things came up a little bit differently I knew I just keep kicking, and he'd be right there," she continued. "He absolutely was, so I'm very happy."
Jobs is also making her championship debut.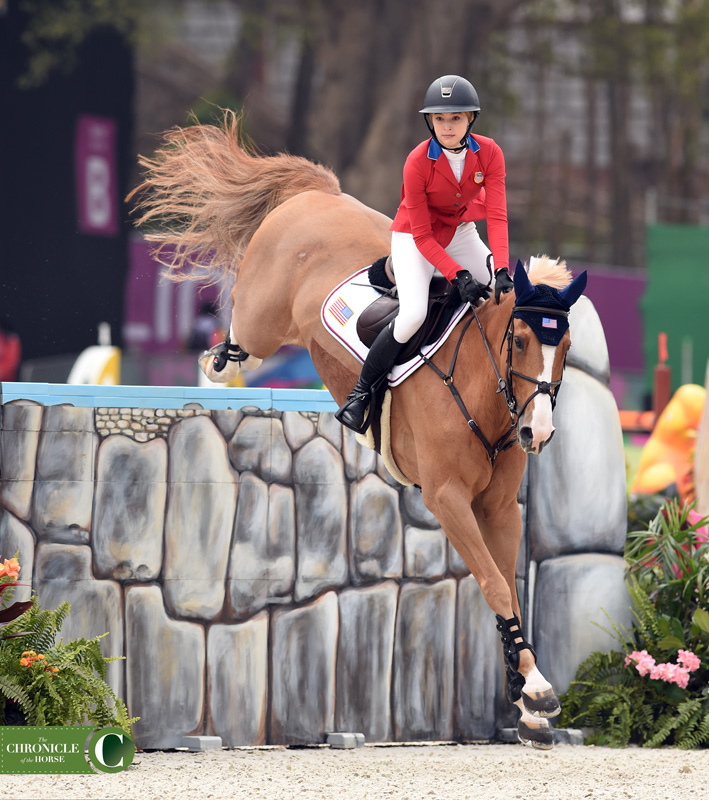 "She was amazing," said Jobs of her 14-year-old mare by President. "I had a little bit of nerves going into the first day; I think I just wanted to perform well for my team and for myself. My horse jumped amazing. I couldn't be happier with my round."
The United States is the only country here that's already qualified for the Tokyo Olympic Games.
Pedro Veniss sits fifth in the standings behind his teammate Eduardo Menezes and HF Chaganus.
"So I'm very happy with my horse," said Veniss of Quabri de l'Ise. "He was amazing today again. It was a very nice course, it fit very well for him. So I'm happy with my round today and the first Brazilian was also very good so we'll keep on fighting.
Championship debutante Nicole Walker sits highest in the Canadian standings at ninth aboard Falco Van Spieveld.
"Lots of pressure the first day," she said. "We've been gearing up for this for more than a year when you add up a lifetime of practice. For me I don't get so nervous, I just really want things to go well. I'm very disciplined and focused leading up to it. Now I'm happy I'll get to breathe for a bit and tomorrow it'll be the same feeling again."
Today's results coupled with tomorrow's Nations Cup will determine the team medals. Competition starts at 10 a.m. Central time, and riders will come back for a second round at 2 p.m.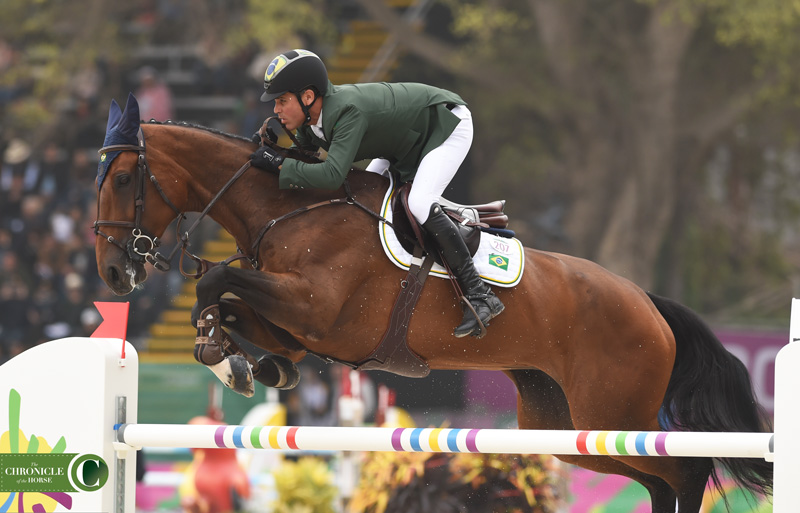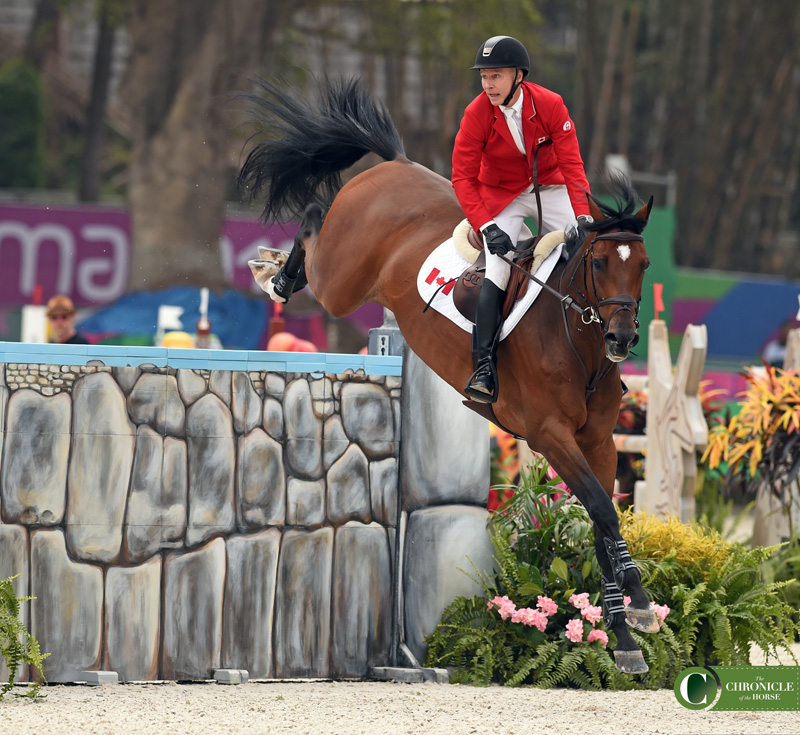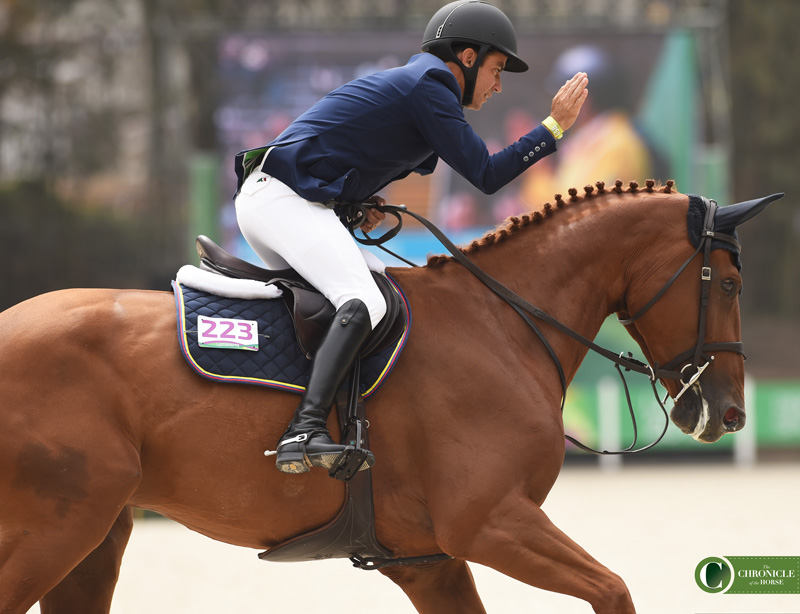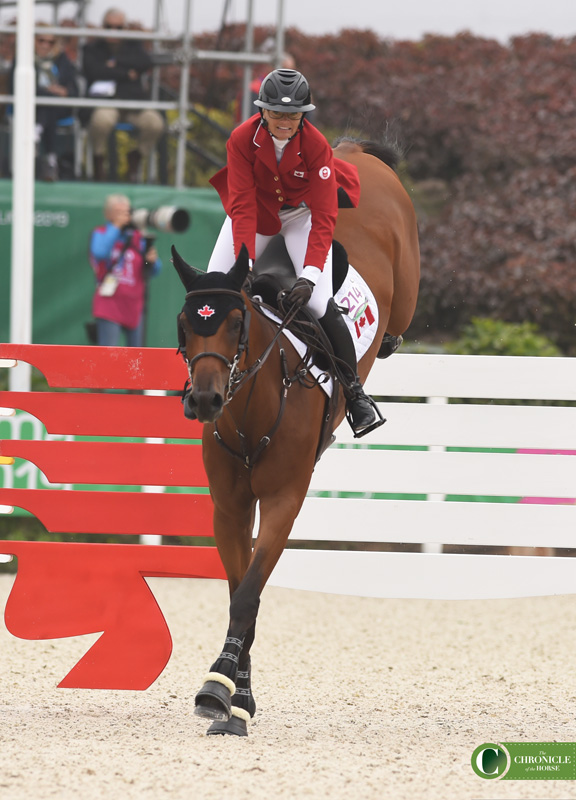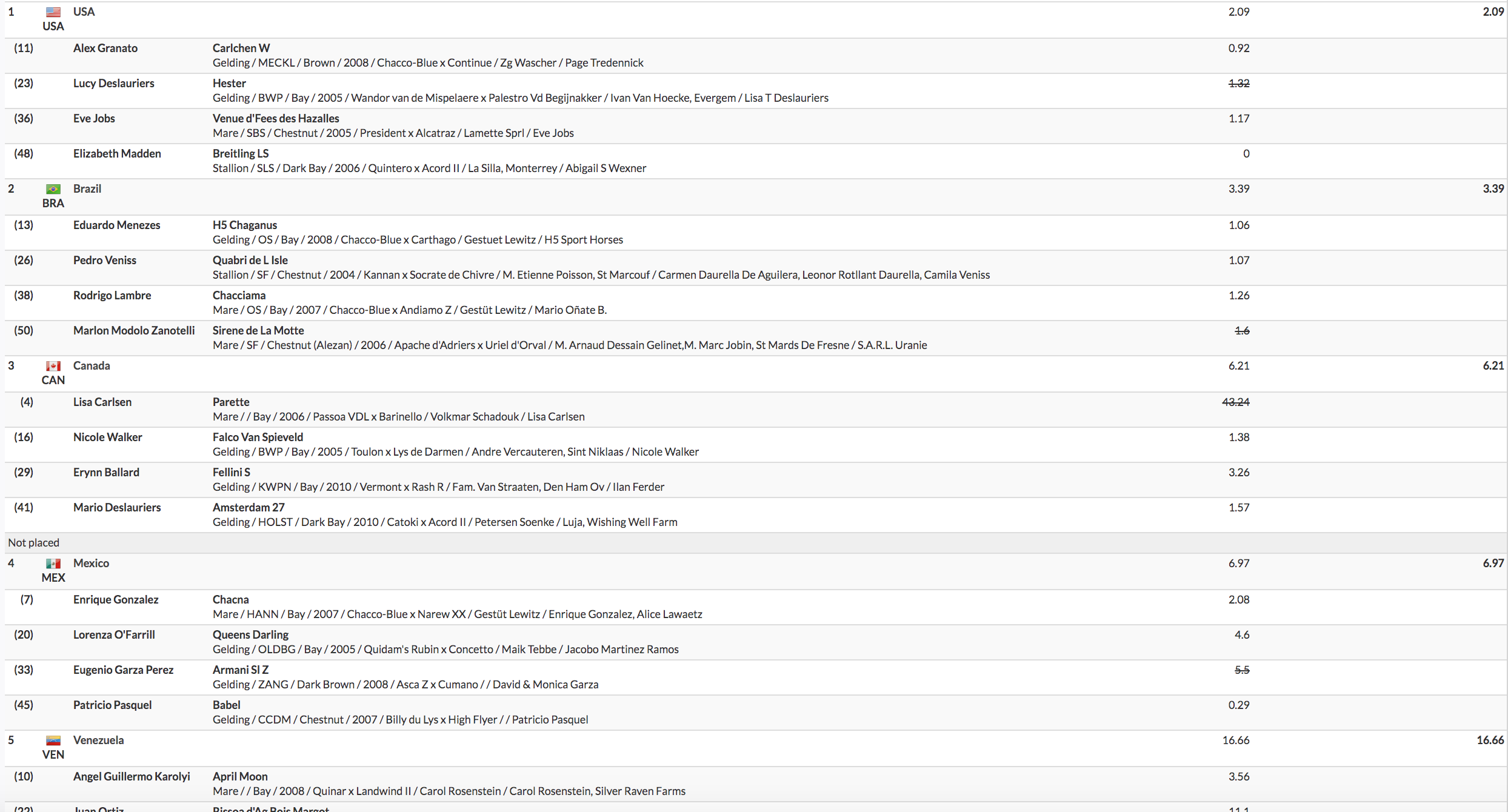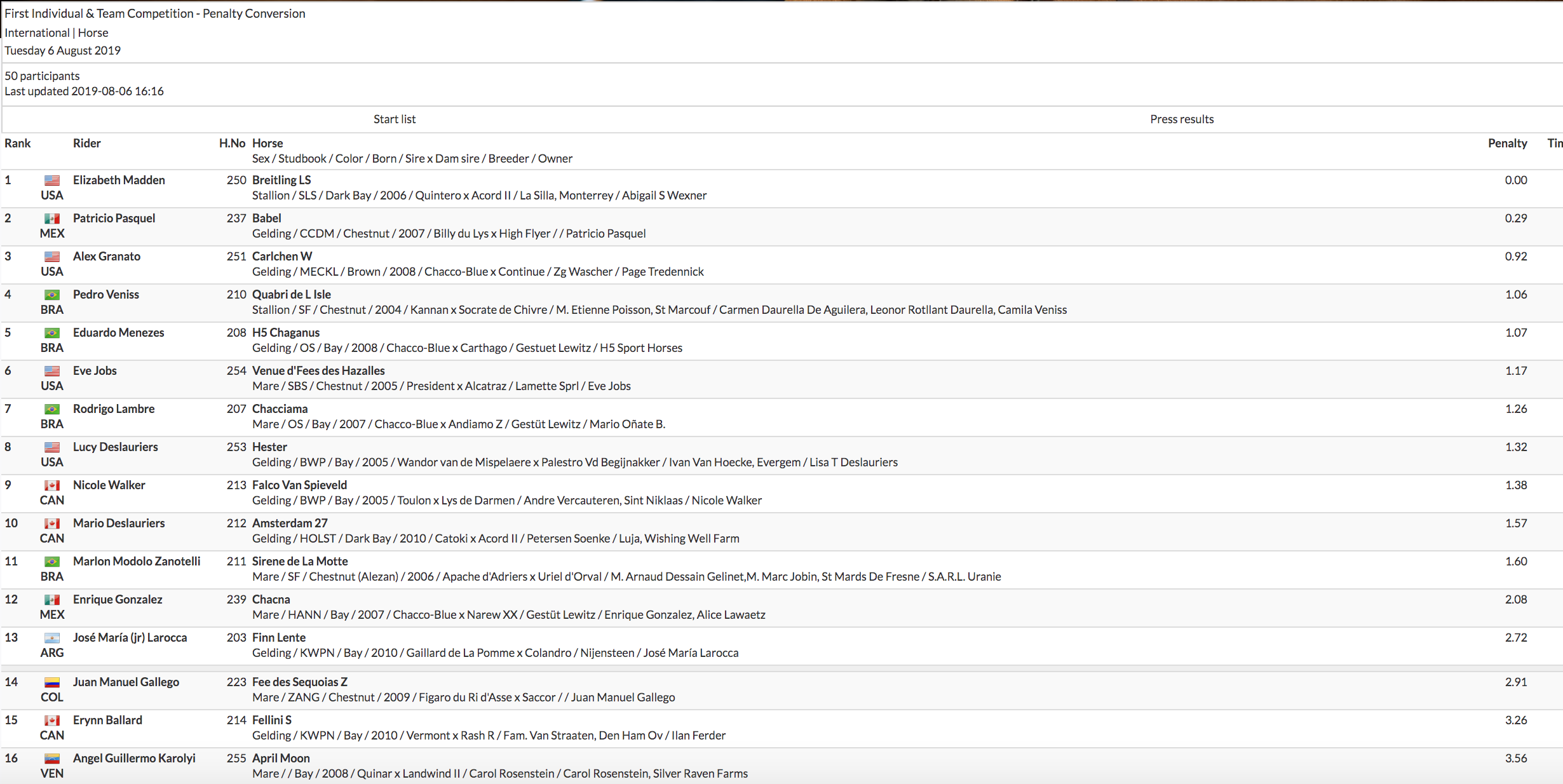 Have questions about the Pan Am Games? We've got answers. Follow along with the Chronicle as we bring you stories, news and photos from the Pan American Games. Check in at coth.com and make sure you're following us on Instagram and Facebook. 
You can find full results by clicking on equestrian on the official Pan Am website.
Check out our July 22 issue of The Chronicle of the Horse magazine, our Pan Am preview issue, for more information about the competitors, and be sure to read the September 2 issue to get full analysis from the Games. What are you missing if you don't subscribe?