Lima, Peru—Aug. 3
The United States sits on top of the eventing leaderboard after cross-country day at the Pan American Games. Bookended by double-clear performances by Lynn Symansky on RF Cool Play and Boyd Martin on Tsetserleg, the United States has three riders in the top four, with Martin on top, Symansky in second and Doug Payne sitting fourth on Starr Witness behind Brazilian Carlos Parro on Quaikin Qurious.
"The time was a lot harder to get than I thought it would be," said Martin. "My horse is quite fast, but he's not very good at turning or slowing down. My plan was to set out a little steady and build up. I set up a little too steady, and [I was down on my minute markers], but luckily he's got speed. There's a couple good gallops out the back there that picked him up. He's very fit, just a little bit hard to control sometimes."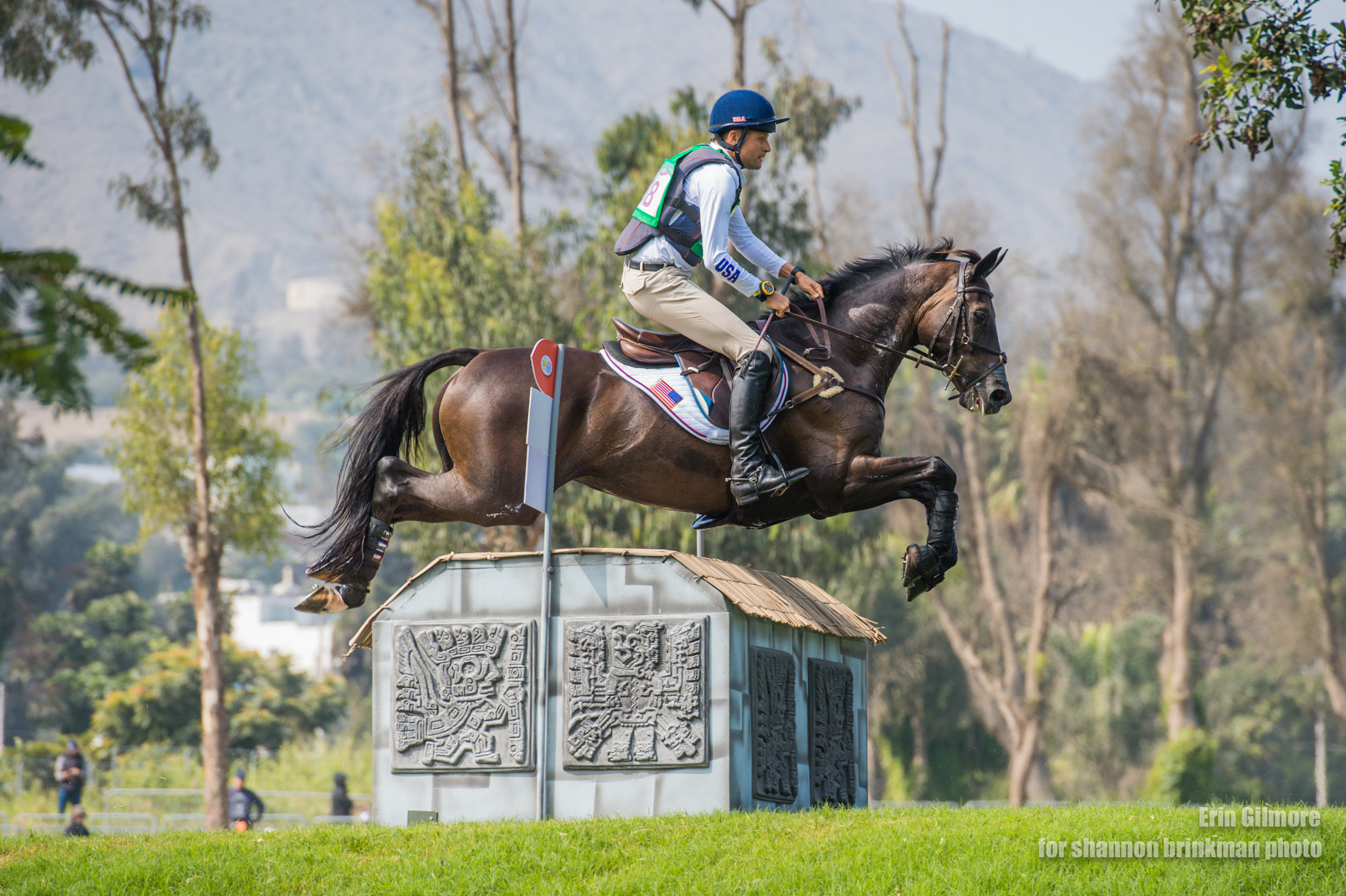 Catch up on the day with a play-by-play of all the competition with videos and interviews with riders.
Symansky was thrilled with RF Cool Play's performance.
"Everything went very according to my plan," said Symansky. "The first water jump did not go according to plan, but we fought hard, and he jumped it well. But everything else was very good. He's a very good cross-country horse [with a] strong gallop and finished easy within the time."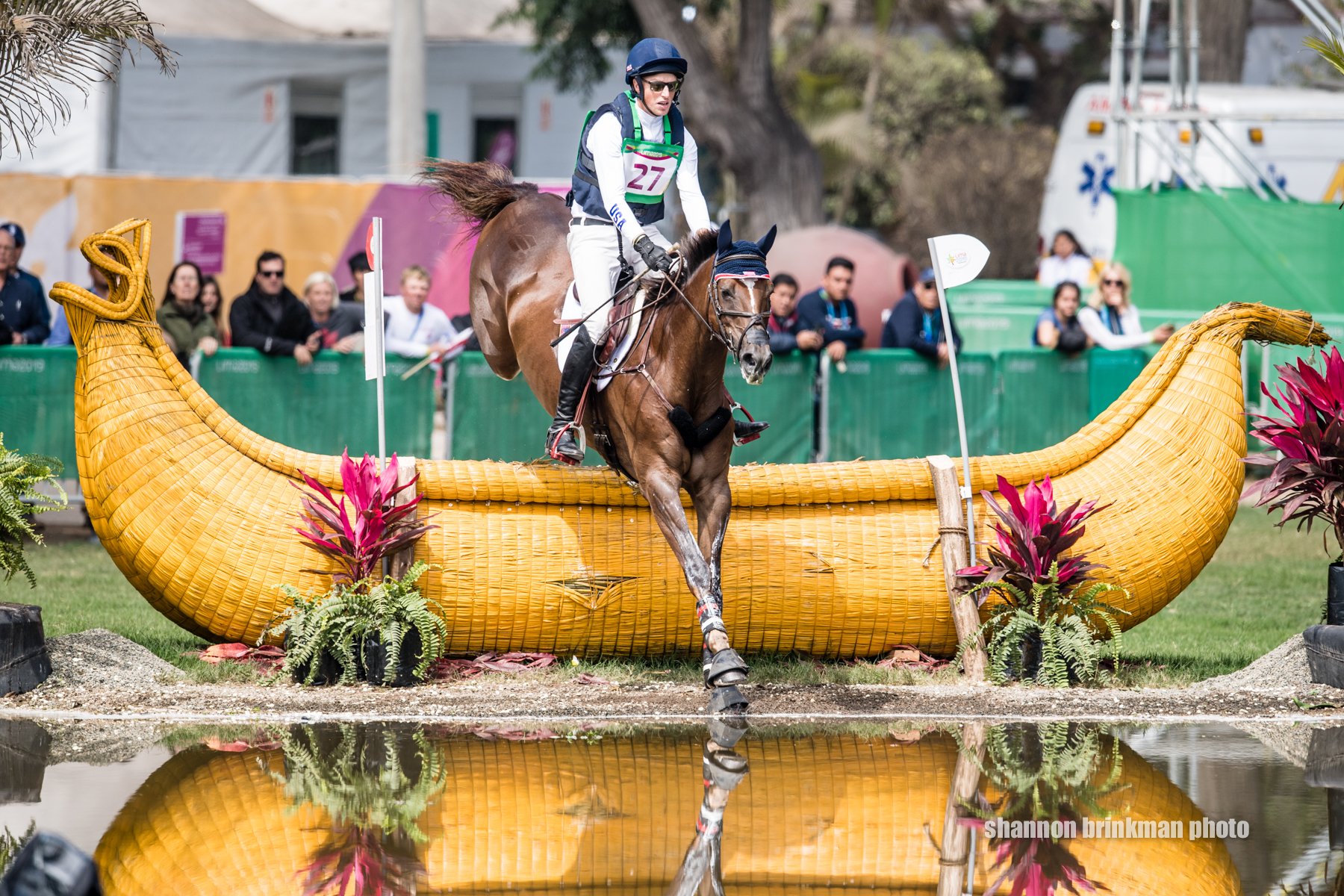 Overnight leader and U.S. rider Tamie Smith had a disappointing day when Mai Baum ran out at a corner midcourse. She also crossed her track at fence 23. Coupled with time faults, she finished with 54 penalties to drop down to 19th.
"Obviously I'm disappointed because I had a run-out at the corner, [Fence 16]," she said. "It all rode a bit rough and scrappy. I just tried to give him as a strong of a ride as possible; he's a good horse. The flag [at 16] was pointed kind of the wrong direction, I don't know if it like blocked his vision, it was almost like he didn't really read it until the last second. We were all worried about that, wondering what they were going to do about it."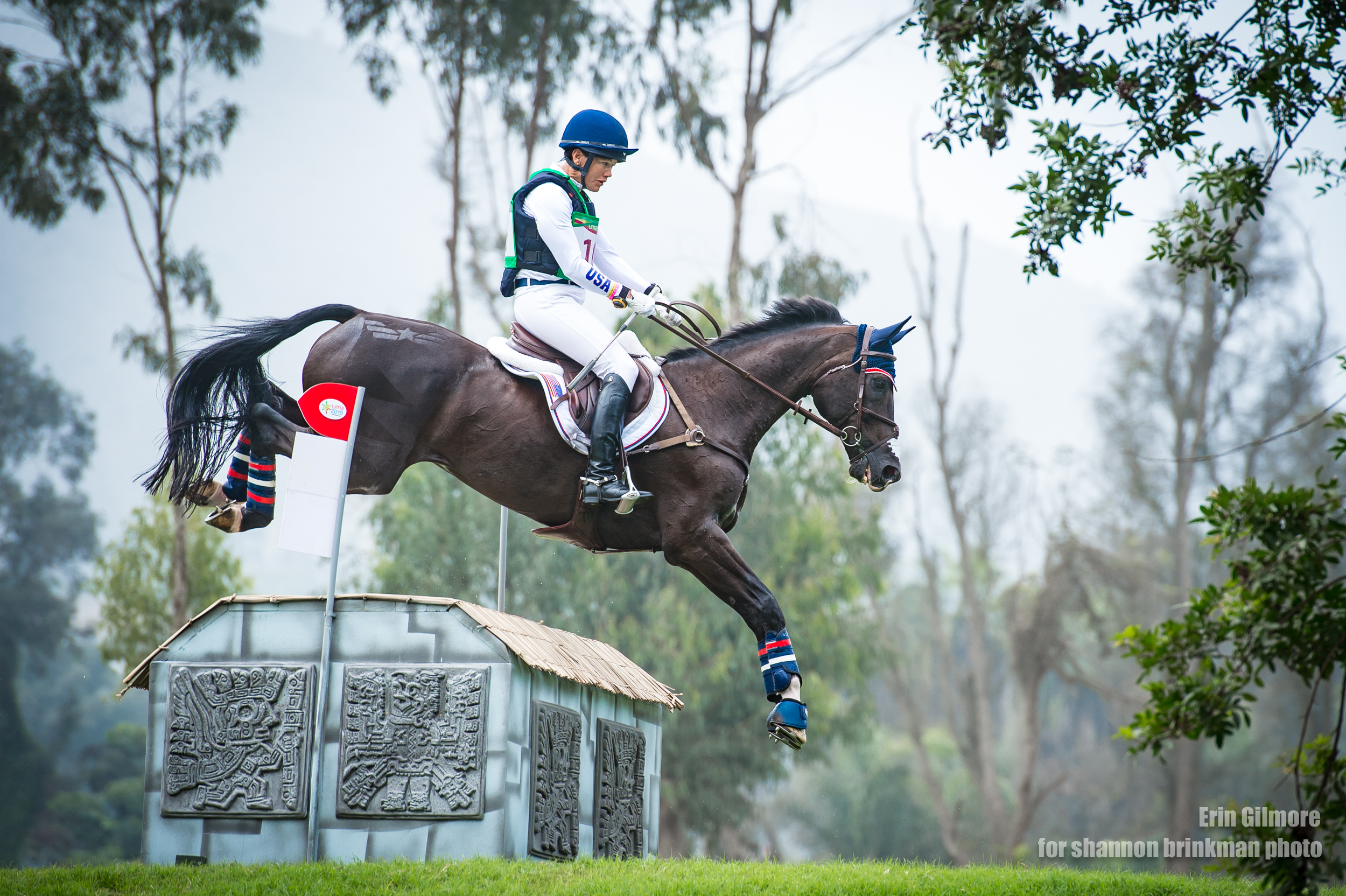 Brazil sits second in the standings, despite their pathfinder, Ruy Fonseca, suffering a rotational fall off Ballypatrick SRS at Fence 7. Ballypatrick SRS walked away unhurt, and Fonseca incurred a broken left humerus and three broken ribs.
"We were just unlucky," Fonseca said from the hospital. "I have fractured my left shoulder and a couple of ribs. The horse is OK, and I'm OK; everything is fine. All the medical team, the organizers and the Brazilian Olympic Committee doctor did a really great job. The [Brazilian] team did a really great job, and I wish I could be with them tomorrow."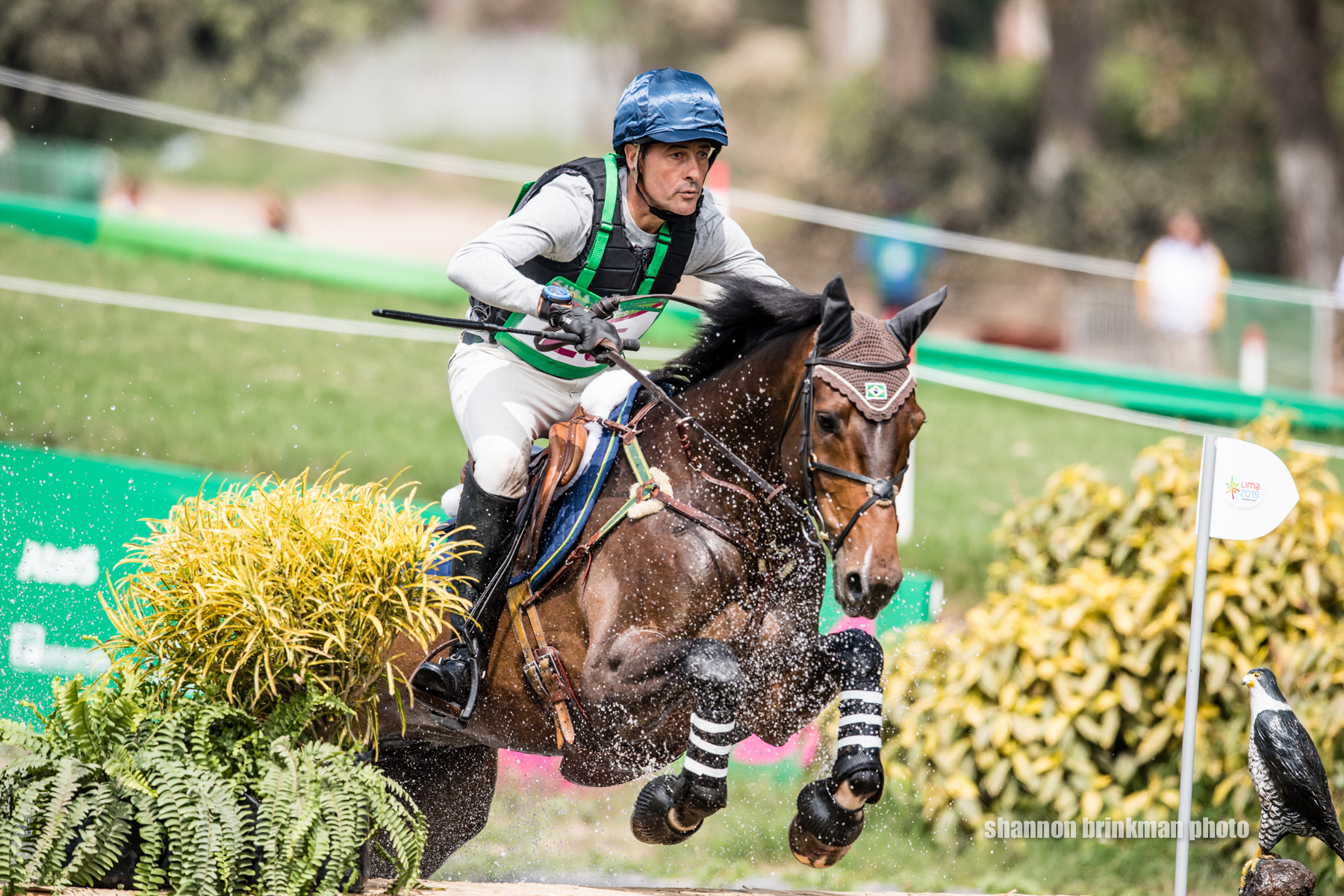 Canada lies third, led by Jessica Phoenix on her three-time Pan Am partner Pavarotti, who added just a few time penalties to hold on to her fifth-placed ranking after dressage.
"That was his best cross-country ever. I am so incredibly proud of that horse," she said. "He was smooth; he stayed rideable the whole way around; he was confident the whole way around. Just everything about it—I couldn't be more proud of that horse today."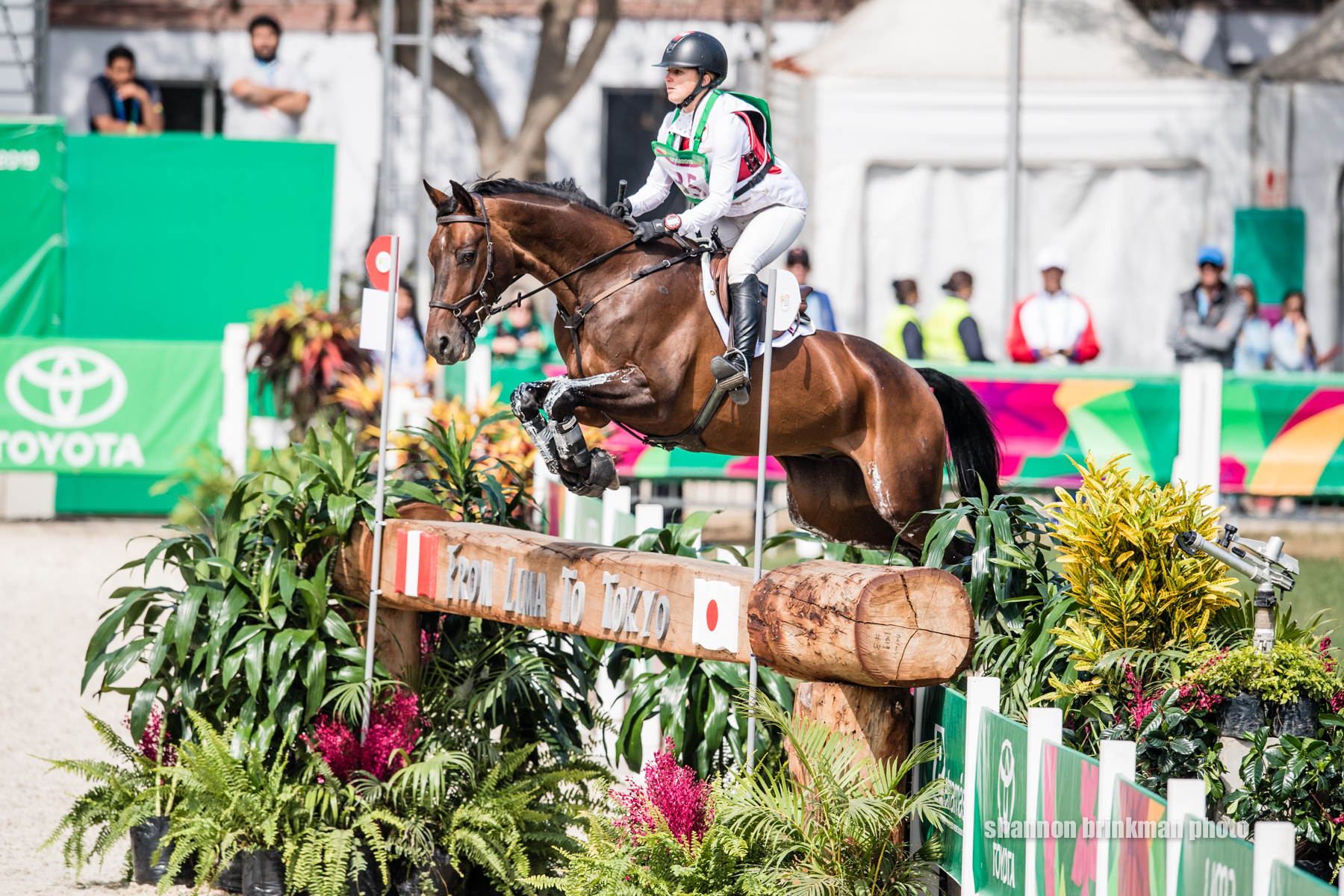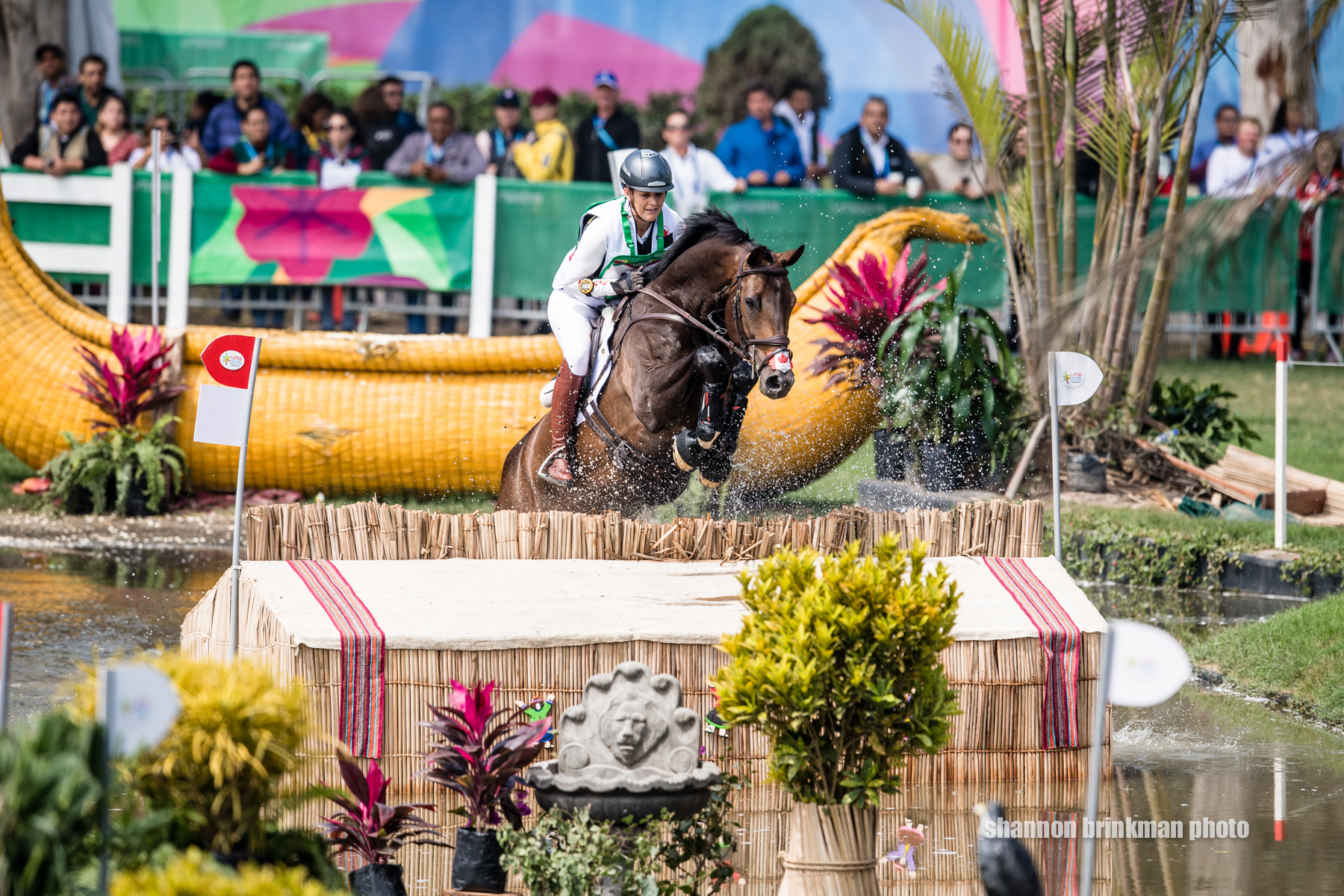 But perhaps the biggest winner of the day was José Ortelli's testing track. Only six of the 10 teams finished at least three riders. Of the three individuals in the competition, only Honduran Pedro José Espinosa on Hipolita finished. All in all, 25 out of the 42 riders completed the track, with one rider retiring and the rest eliminated on course, a 59.5 percent completion rate.
Tomorrow's horse inspection starts at 8 a.m. Central, and show jumping to determine team and individual medals starts at 10 a.m.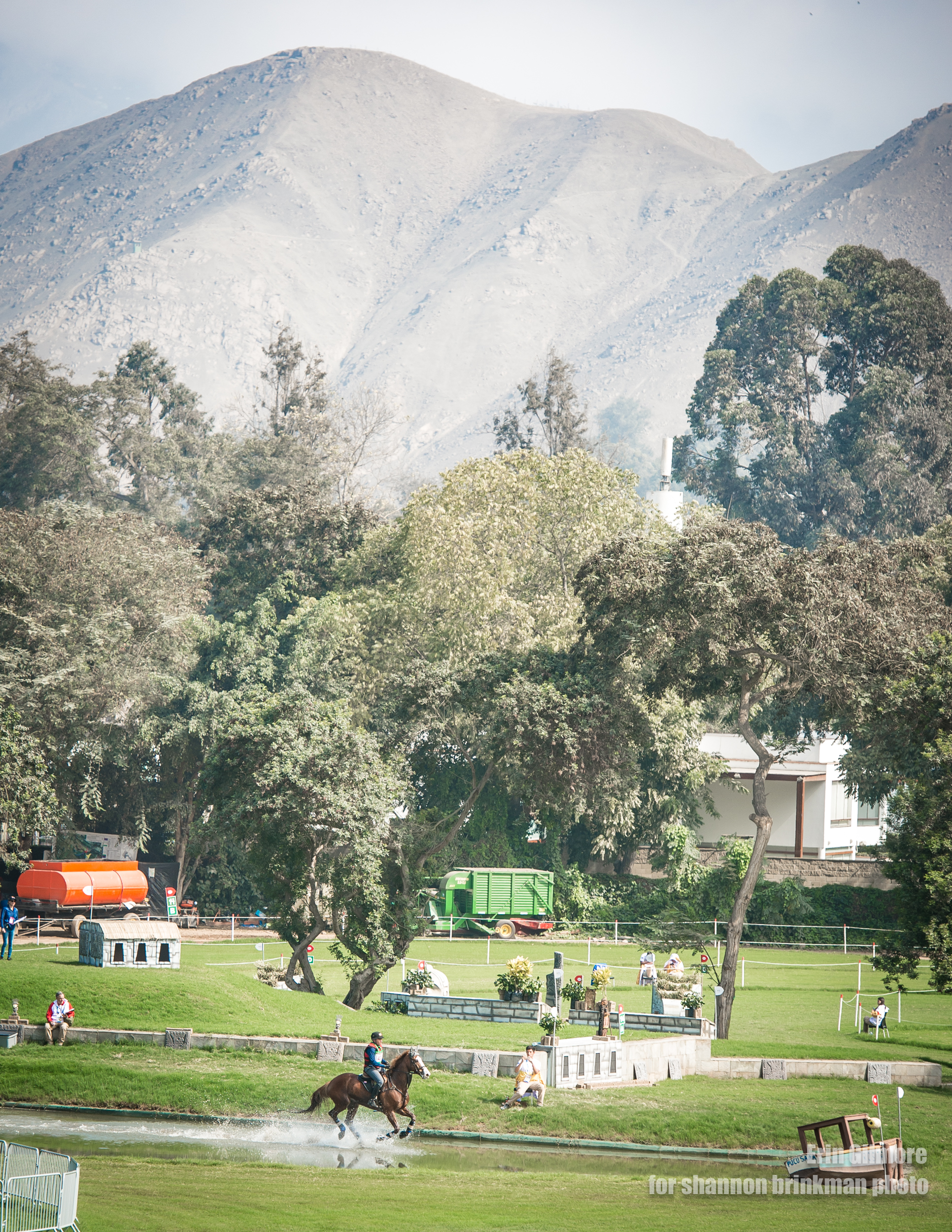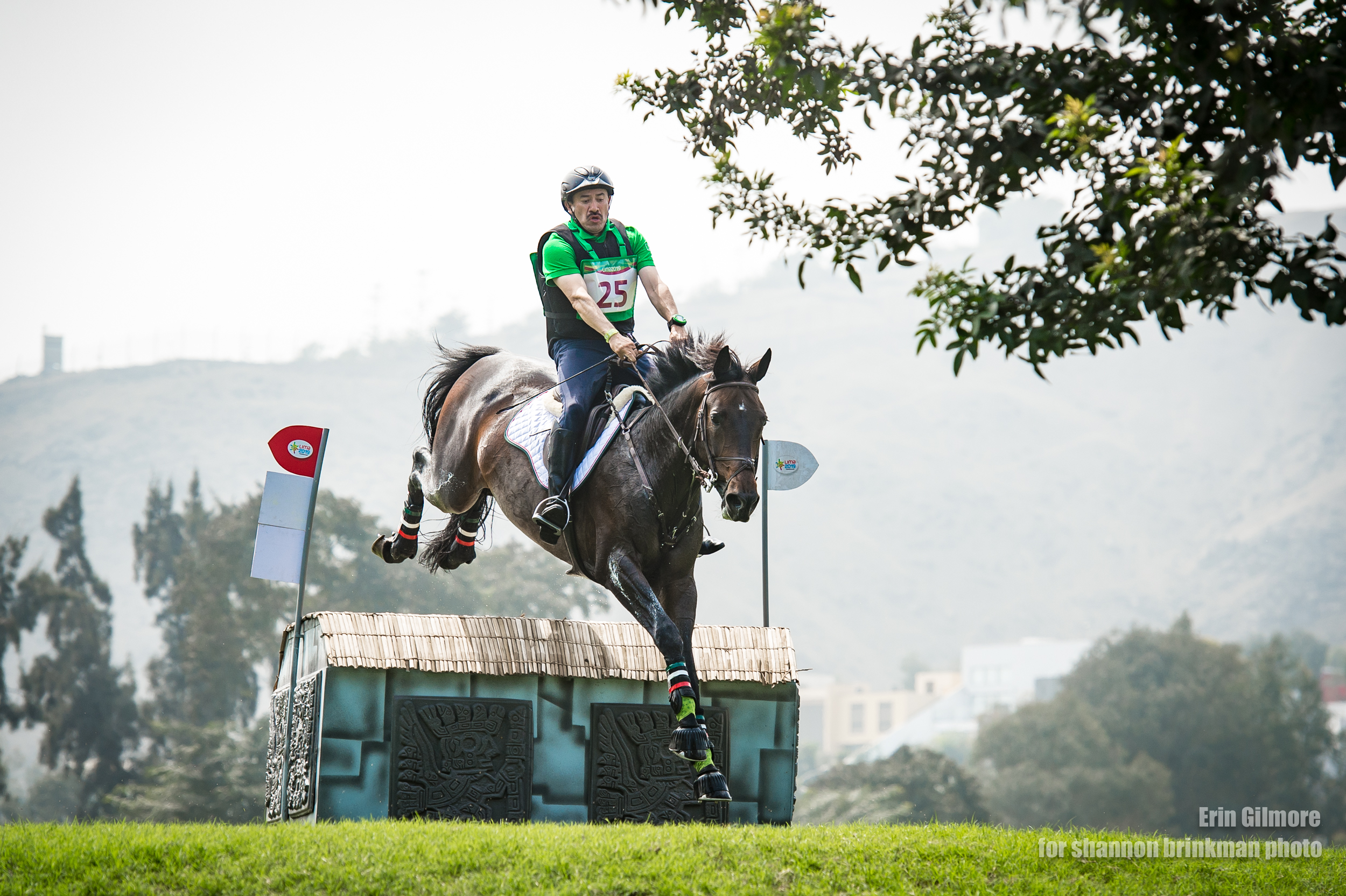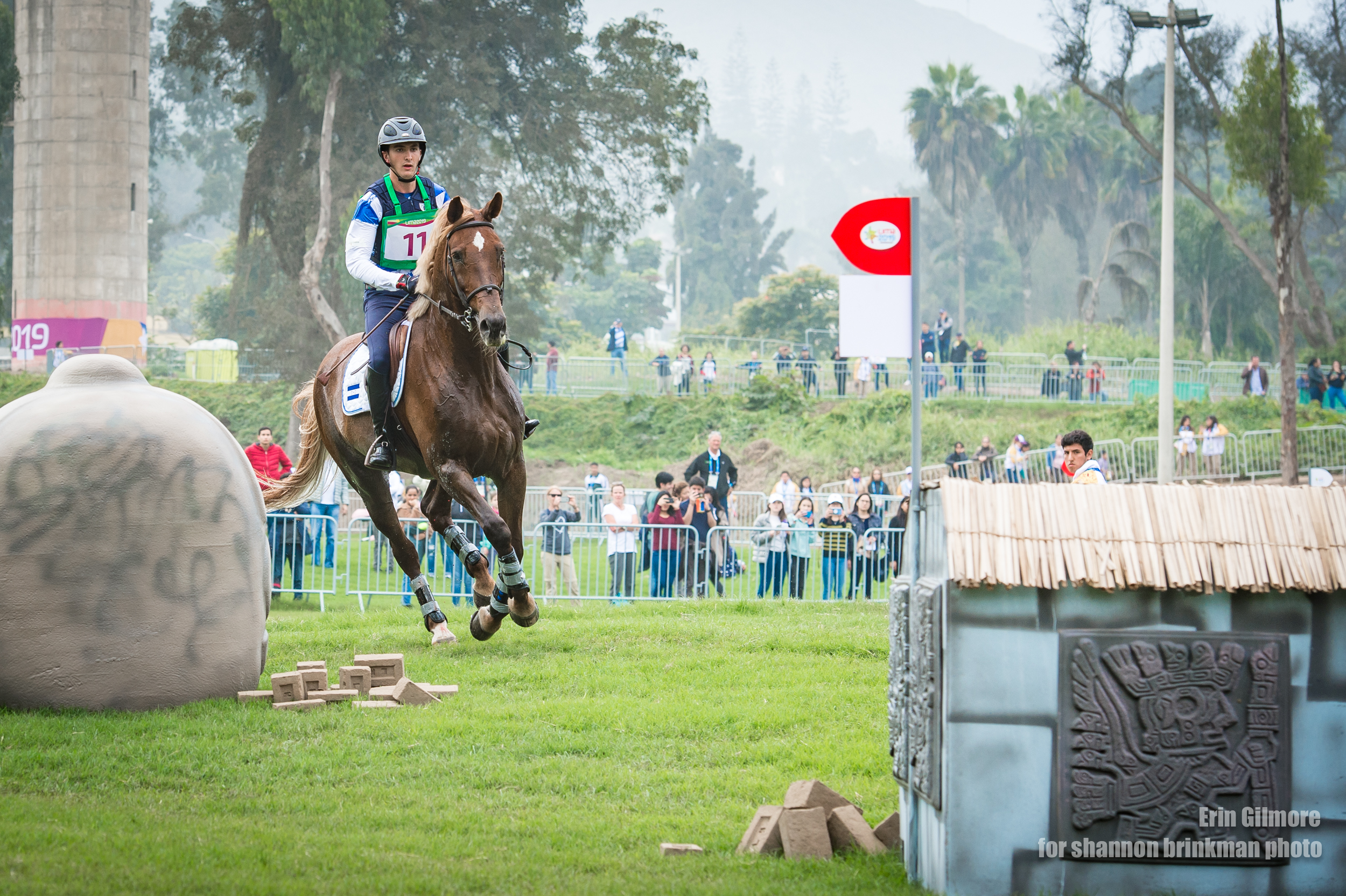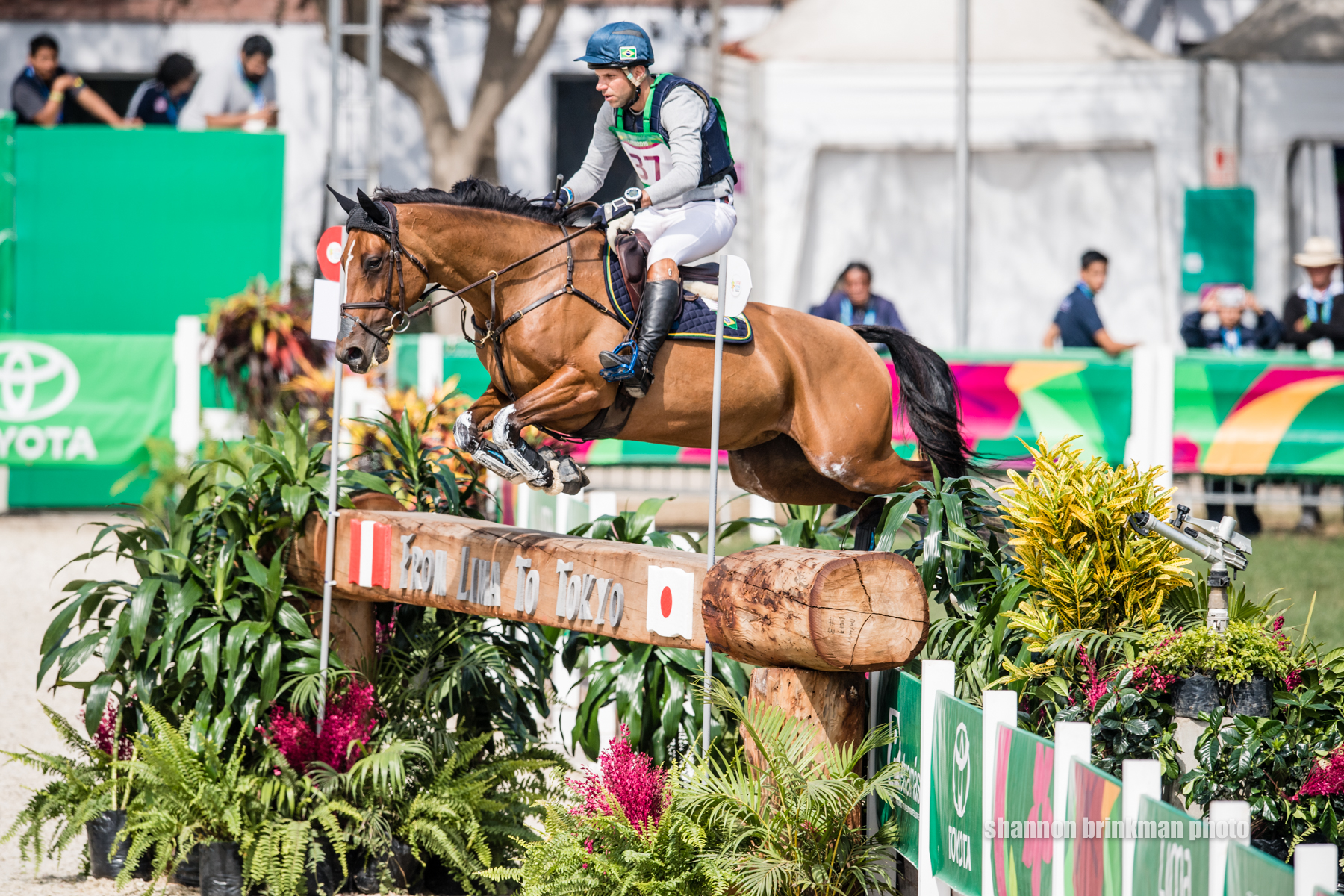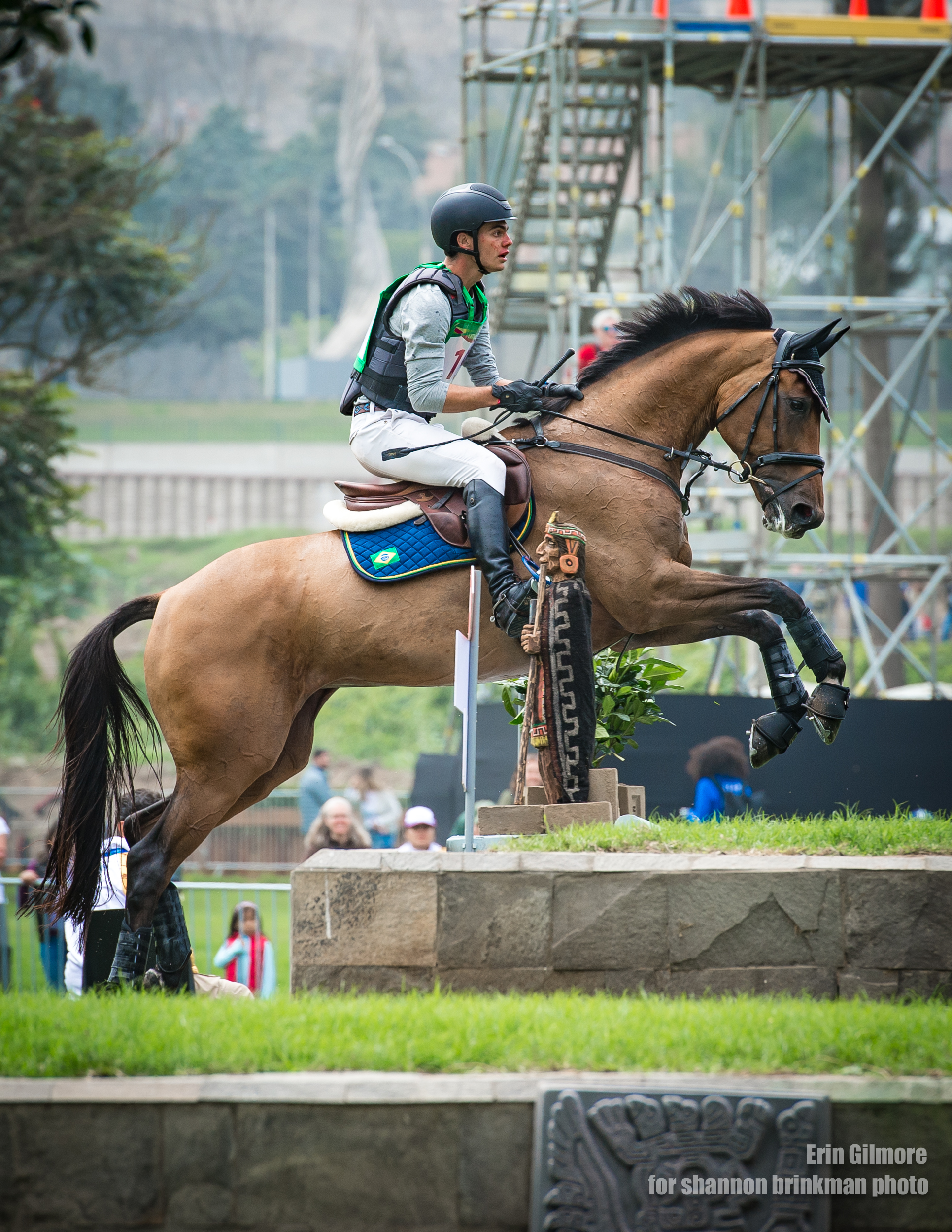 Check out our live blog of all the action with videos and interviews with riders.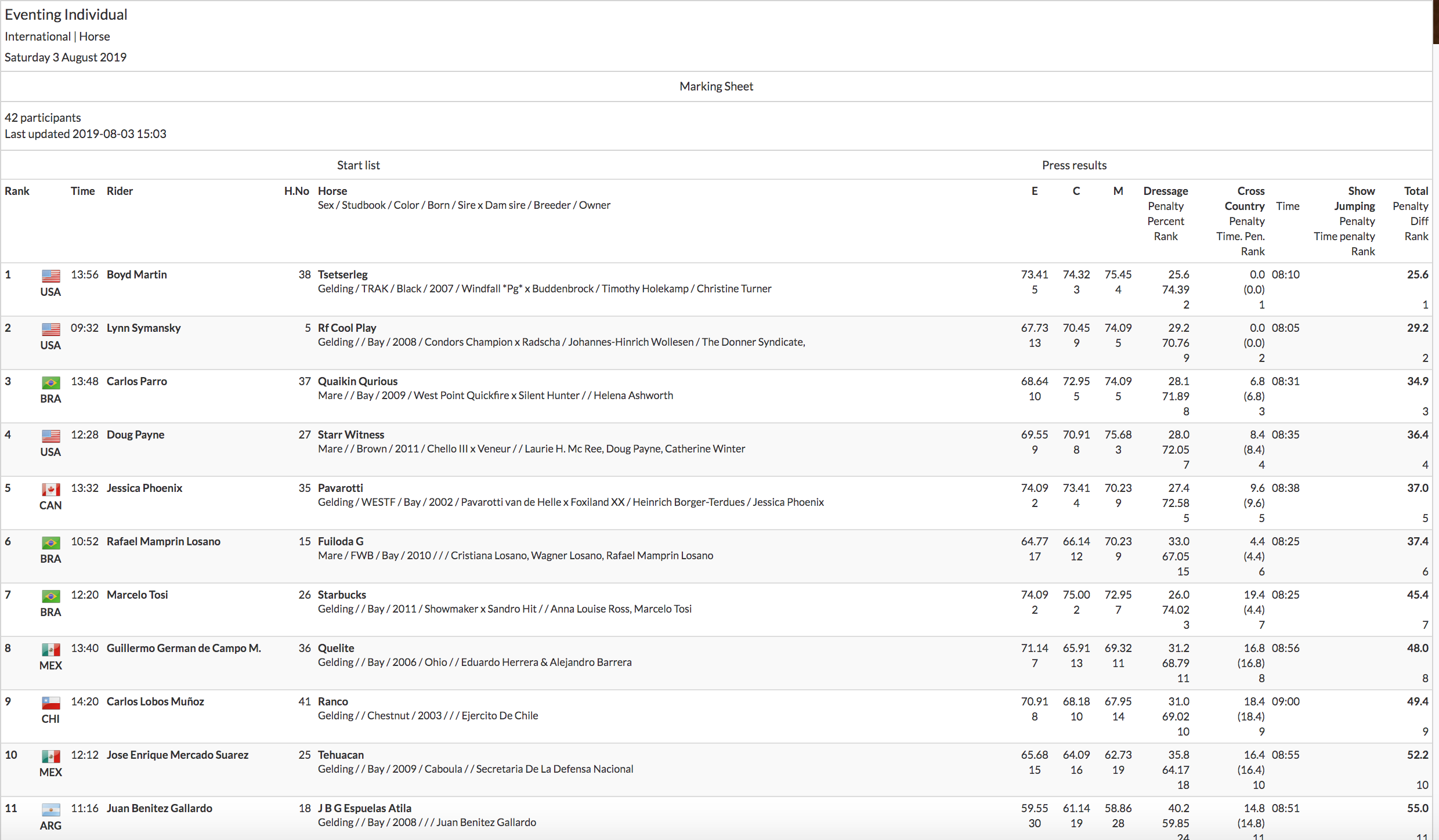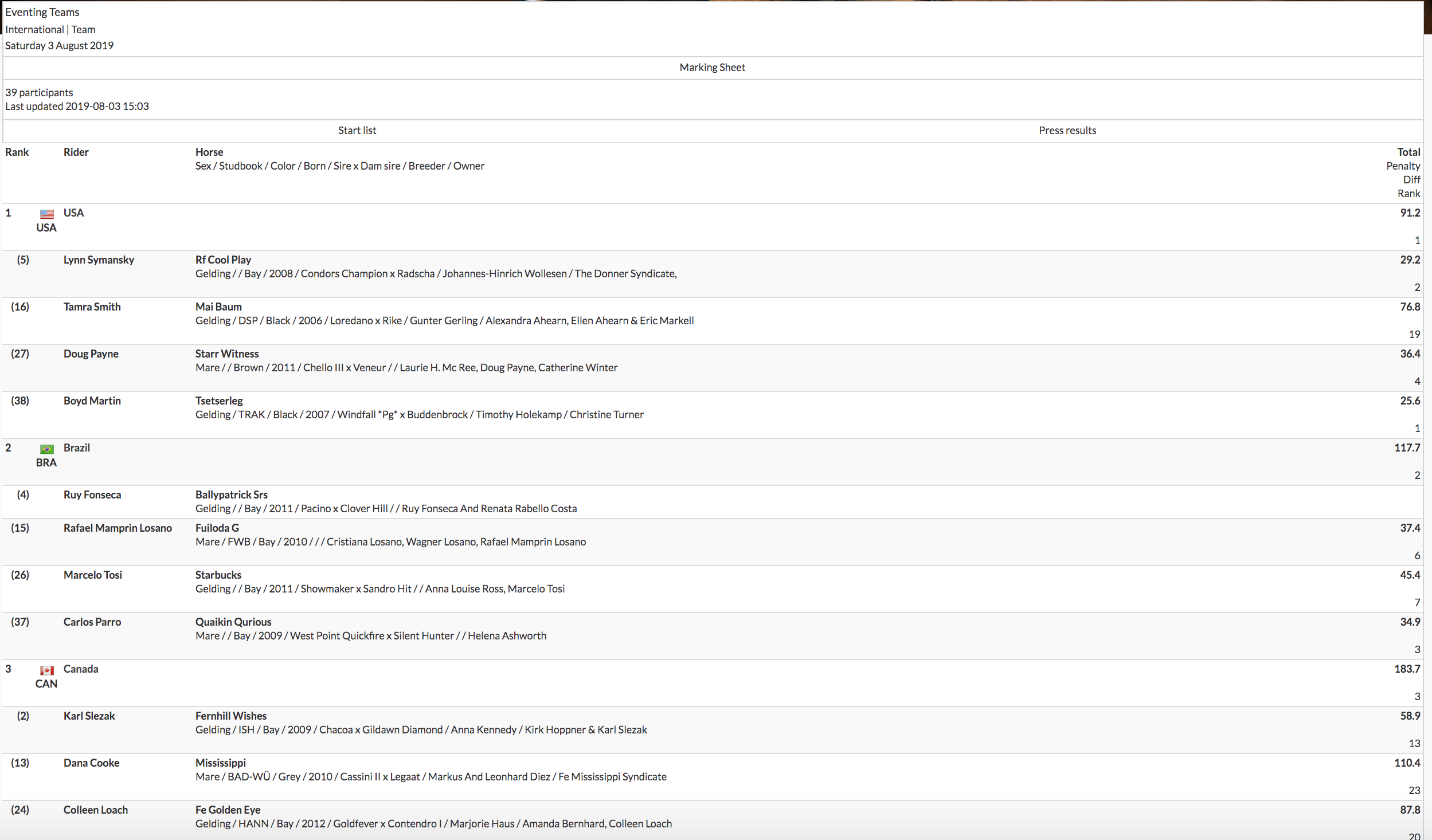 Have questions about the Pan Am Games? We've got answers. Follow along with the Chronicle as we bring you stories, news and photos from the Pan American Games. Check in at coth.com and make sure you're following us on Instagram and Facebook. 
You can find full results by clicking on equestrian on the official Pan Am website.
Check out our July 22 issue of The Chronicle of the Horse magazine, our Pan Am preview issue, for more information about the competitors, and be sure to read the September 2 issue to get full analysis from the Games. What are you missing if you don't subscribe?