Earlier this week rider, trainer and course designer Anthony D'Ambrosio was inducted into the Show Jumping Hall of Fame, along with Linda Allen. In honor of that recognition, we're taking a look back at this 2014 article about the time he set the indoor world puissance record at the Washington International Horse Show riding a rangy gray Thoroughbred called Sweet'N Low. Their 7'7 ½" record still stands today, 40 years later.
---
"Anthony and his handsome gray were not only congratulated with a standing ovation, but a cheering and general uproar that might have been heard at the White House, 10 miles away," read the Chronicle's coverage of Anthony d'Ambrosio's capturing of the indoor world puissance record.
In 1983, d'Ambrosio and the 17.1-hand Thoroughbred Sweet'N Low jumped 7' 7 ½" to win the puissance in front of a crowd of 15,630 at the Washington International and set the record.
"It was so exhilarating, knowing that we did it and won and set a record," d'Ambrosio said. "It was a huge adrenaline rush. It's a great feeling of accomplishment. It was something I had hoped to be able to do at one point in my life. I had set the record in Madison Square Garden in 1973 [with Sympatico], and it had been broken several times between '73 and '83. I felt like I had a horse that could help me get the record back, and I was very happy that I did."
Fittingly, d'Ambrosio is the jumper course designer at this year [2014]'s Washington International, so on Friday night he'll be supervising the setting of the bricks in the massive wall for those competing in the puissance. And at the end of the evening, he'll join Sweet'N Low's owners, Donald and Barbara Tabor, in presenting a new perpetual trophy for the puissance class winner, the Sweet'N Low trophy—a bronze of d'Ambrosio and the gray gelding clearing the historic wall.
"I feel it's a distinguishing mark in my career," d'Ambrosio said. "I never expected the record would hold as long as it has. Records are meant to be broken—I'd love to see someone jump higher than me this week. But it's been a long time and it was a real feather in my cap as a rider."
How did d'Ambrosio celebrate his enormous accomplishment way back in 1983? According to the Chronicle article about the win, he said, "My wife and I are going to bandage the horse, put him away, return to the motel and try to find some dinner."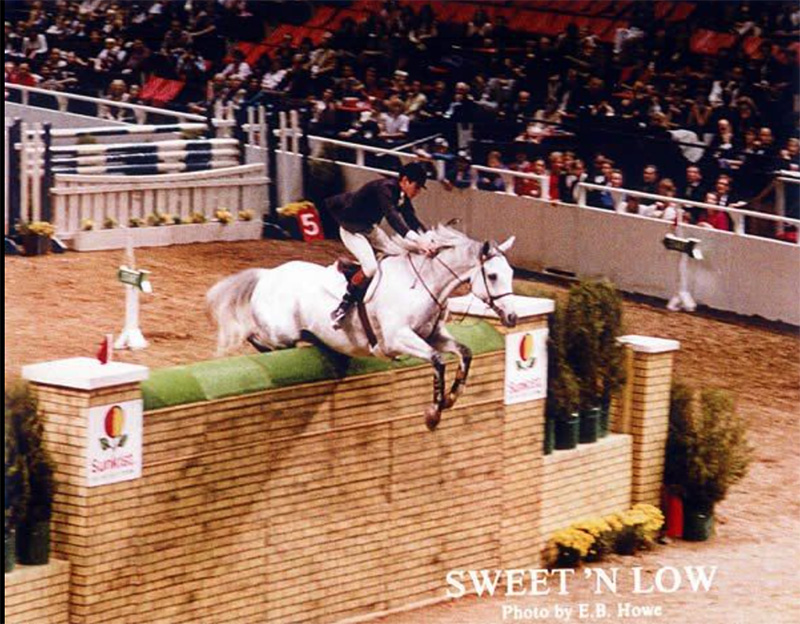 Sweet'N Low was a 9 at the time of their puissance victory. He'd come off the track in Pennsylvania as a 3-year-old, bought by horseman Jack Rockwell and then sold to Donald and Barbara Tober, who owned the company that made Sweet'N Low artificial sweetener. Sweet'N Low's Jockey Club name and breeding have been lost over the years—the Tobers renamed him after the brand. The Tobers foxhunted, and bought Sweet'N Low as a way to enjoy another aspect of horse sports.
"He was a grand prix horse and a good derby horse. He wasn't extremely fast, but he could jump very big courses very easily. He was a little bit on the nervous and hot side, but very brave and powerful," d'Ambrosio recalled of the gray.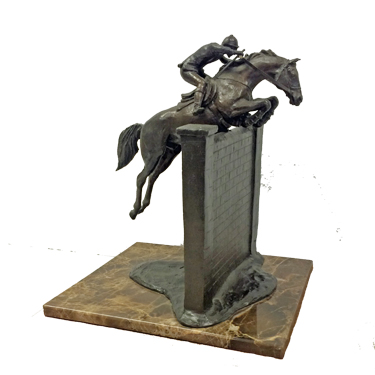 The Sweet'N Low puissance trophy, which
is presented to the winner of the puissance
class at the Washington International.
"The puissance isn't for everybody and it's definitely not for every horse. It's a special type of animal that has that type of jump in it and would want to do it. They can't see to the other side and they know from jumping it before that it's a very big effort, and it just keeps getting bigger. They have to have their heart in it," Anthony d'Ambrosio said of a horse who jumps in the puissance class.
And what does it feel like to jump that big? "It's a different feeling because it's quite long time in the air from take-off to landing. It usually feels like the blink of an eye over normal fences, but over a wall that big, there's a lot of time," d'Ambrosio said.
"It wasn't a surprise to me because I'd jumped in puissance classes often enough, but it's a strange feeling because the time from take-off to landing is quite long and the descent and landing is very steep. To me, that's the toughest part of jumping a wall that big—executing the landing well and getting the balance on landing to recover and canter away.  You end up feeling like you're driven forward when they do land, but you try to stay very balanced. On the approach, you have to be confident and find the optimal distance with the right impulsion. It's in a sense, the same as riding to any other jump, but just bigger than you've ever jumped before."
The Chronicle article about the 1983 class had some fantastic descriptive details. Apparently, d'Ambrosio was almost eliminated in Round 2 of the four-round puissance class for going off course. (The puissance course has a few simple jumps before the wall it to get horses jumping well.) D'Ambrosio had thought the first jump was optional. "He protested to the jury, and due to the poor photocopy quality of the posted course, they decided the he should return and jump the whole course again. Horse and rider did it again, cleanly," the Chronicle's Marilyn Cole Finley wrote.
At that point, Barney Ward held the indoor puissance record after jumping 7'6 ¾" at Washington on Glandor Akai in 1982. That year, Ward was competing on a horse he'd only ridden for three weeks—a horse he named after his son, McLain, who was 9 that year. The horse McLain would go on to win the FEI World Cup Final in 1986 with Leslie Burr Howard riding.
But Ward and McLain had the wall down in Round 3, and by Round 4, at 7' 7 ½", just d'Ambrosio and the German rider Michael Ferves were left. Ferves toppled the wall with Hypo-Sport and d'Ambrosio and Sweet'N Low jumped it cleanly, leaving them with the purse for the $15,000 class and the world indoor puissance record.