Missing the Devon Horse Show this week? We are too, so we're traveling back in time to bring you some of the highlights and our favorite moments from this historic show. This staff blog was originally published in 2016.
Sitting here this morning, in the bright blue Devon Horse Show press room looking out over the Dixon Oval, I teared up again at the memories of a Thursday June evening in 2012.
Four years ago in this ring, I got to witness one of the most amazing nights of show jumping I think we'll ever see. From McLain Ward's heartfelt tribute to his retiring great mare, Sapphire, to his amazing win in the grand prix just a few months after breaking his knee, it was the kind of night that defined the description "fairy tale."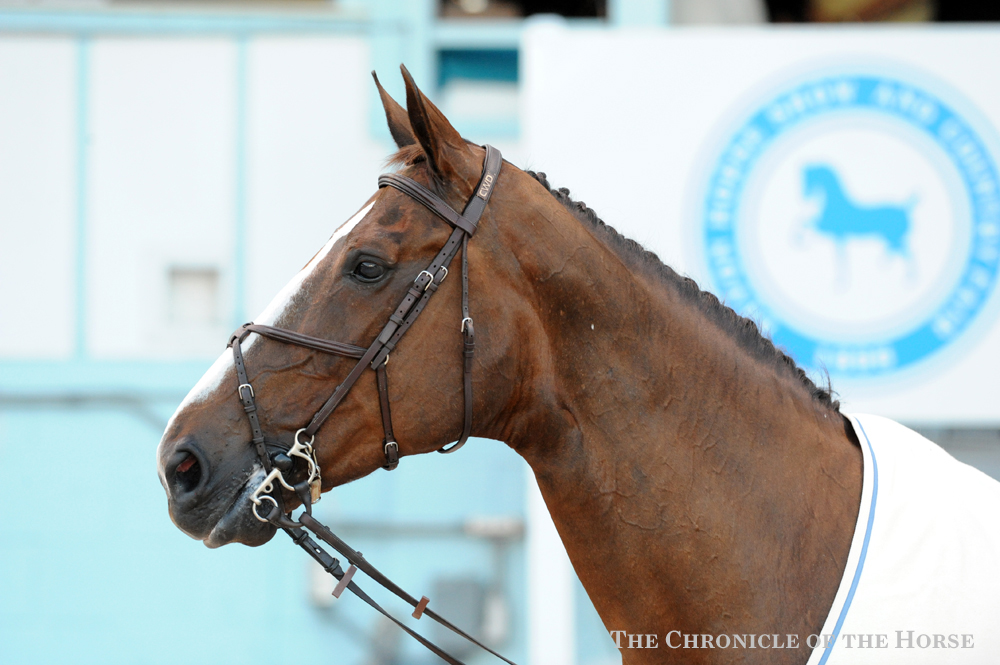 Sapphire during her 2012 Devon retirement ceremony. Molly Sorge Photos

This is what I wrote that night in the COTH online coverage:
As the crystal-clear skies over Devon slowly darkened before the class, the sell-out crowd of thousands focused on center ring. Ward and Sapphire walked in one last time. She cavorted a bit, showing everyone she's got plenty of fire left. And as Ward rode her around the ring a few times, she'd occasionally pause and gaze out over the crowd. She owned the night and the moment. Children gazed up at her in awe, wearing their commemorative Sapphire retirement ceremony t-shirts and clutching their Sapphire Breyer horses.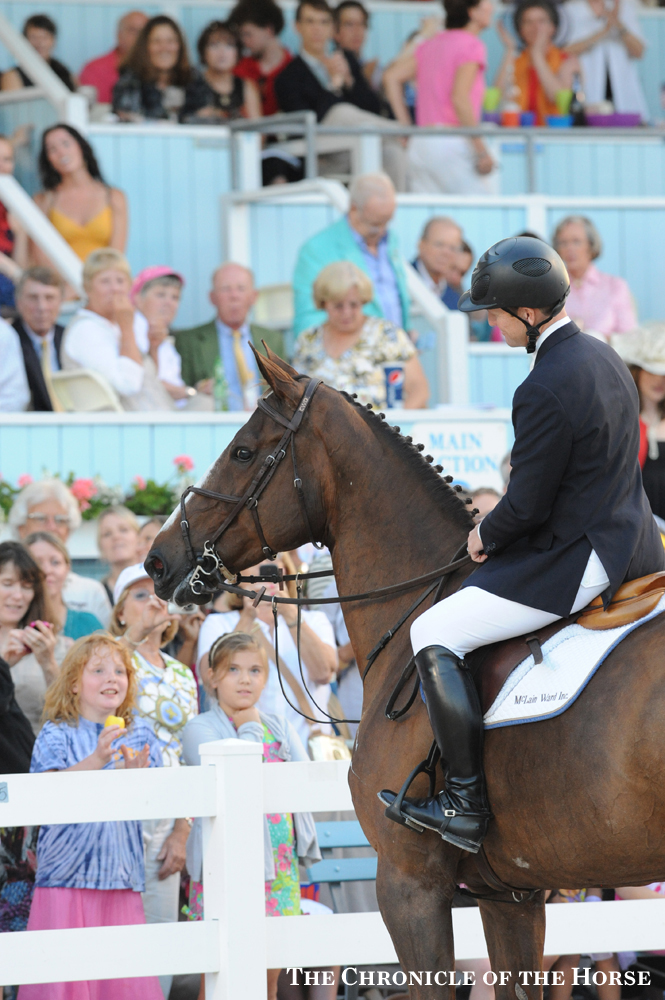 Sapphire's family, Ward's team, accompanied her en masse, their eyes teary. Sapphire was having none of the sorrow, however. She danced around with each smattering of applause. Her coat gleaming with dapples, she was the picture of health and happiness.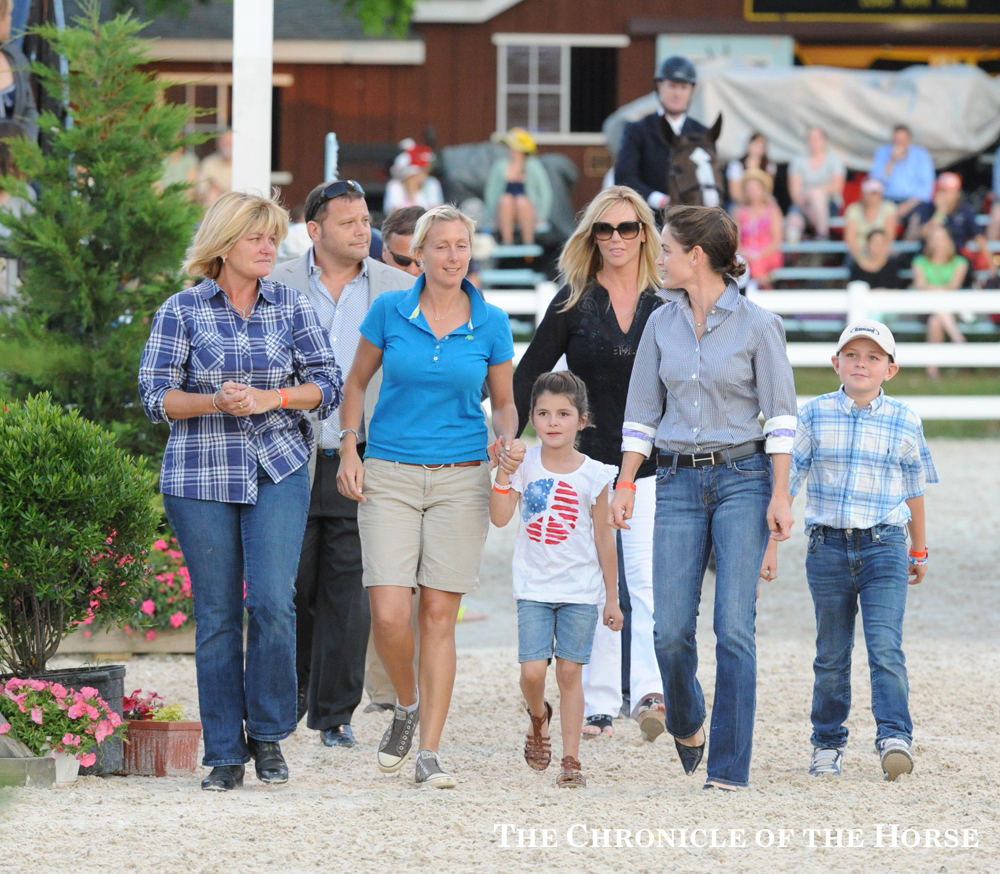 The entire team behind Sapphire's success accompanied her for her retirement ceremony, including (from left) barn manager Erica McKeever, owner Tom Grossman, groom Carrie Stanton, Baylee McKeever, Chris Sallee, Lauren Ward, and Bradley McKeever.
Two Olympic team gold medals. A silver team medal from the World Equestrian Games. Second place at the FEI World Cup Final. Big win after big win in the world's greatest grand prix classes. Sapphire's accomplishments go on and on. Fans will miss seeing her wise white face canter into the ring, her effortless jump and her incredible poise.

After Ward dismounted from Sapphire, 17, for the last time, he took the microphone. His heartfelt words took the crowd along with him on Sapphire's journey. Ward, ever the master of self-control, choked up a bit, his voice cracking slightly. He said his thanks yous and steeled himself for the long walk back out of the ring with his now-broodmare.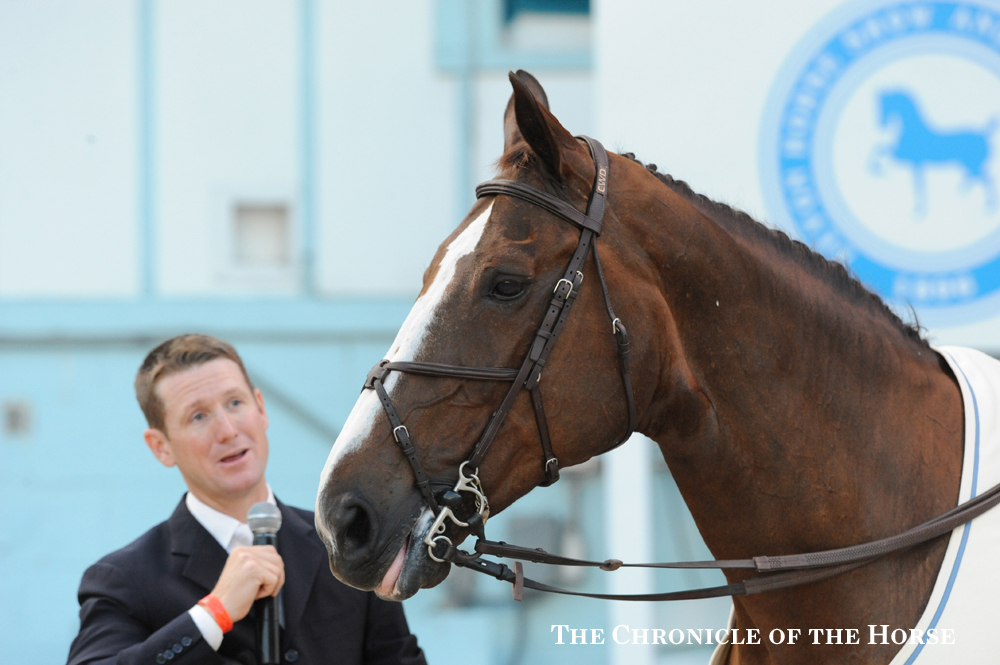 Here's a video shot of the night's ceremony…
And here's an excerpt from the commentary I wrote for the Chronicle's print magazine coverage four years ago about the night:
Sapphire stood in the corner of the Dixon Oval, staring off toward the amusement rides in the country fair. Ears pricked, she seemed to study the Ferris wheel and the hordes of people. If you didn't know better, you'd think she was a green horse seeing the sights for the first time. And, in a way, she was. Every other one of the dozens of times Sapphire had toured that ring, she'd been going to work and focusing on the jumps in front of her. Like the professional that she was, she'd kept her big chestnut ears trained on the course before her.

But this night, she got to see the crowd. This night, she was a tourist of the grand prix ring instead of a worker. It was as if during her retirement ceremony, for the first time, "Sara" noticed all of those people watching and cheering. Small children hung over the rail, gazing up at her adoringly, soaking in her presence. Sara took it all in, celebrating with a few antics.

During McLain Ward's emotional speech commemorating the great mare's career, the depth of his feeling for her overflowed. When Ward rides, he's composed. He's not prone to demonstrative, jubilant fist pumps or overt emotion. Like Sara, he's a consummate professional from the moment he steps into the ring. But when he was center stage, on foot, and speaking of his time with Sara, he spoke from the heart.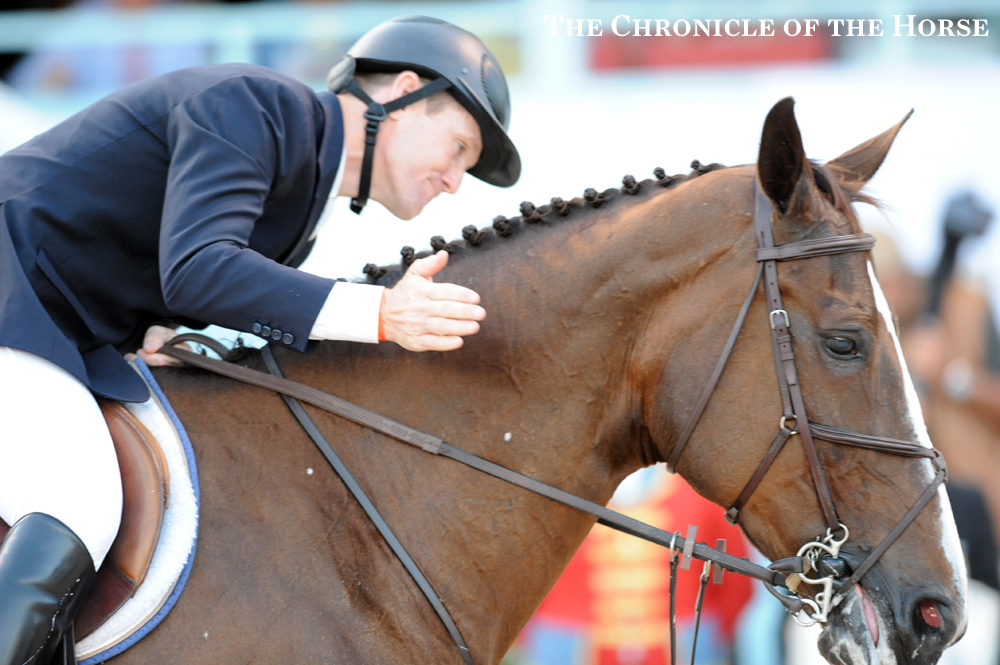 His voice caught, and for a few minutes, he wasn't McLain Ward, professional grand prix rider and team gold medalist. He was just another rider, immensely grateful for his horse's generosity. Every person in that Devon audience who had ever loved and appreciated a horse knew exactly what he was talking about. Ward gave them a rare window into his relationship with Sara. He introduced the crowd to Sara's behind-the-scenes family. He let them see that behind all the great performances was just a horse and her people, and a lot of love.

For a few brief moments, Sara got to look out, and the crowd got to see in. It was a fascinating capsule of time.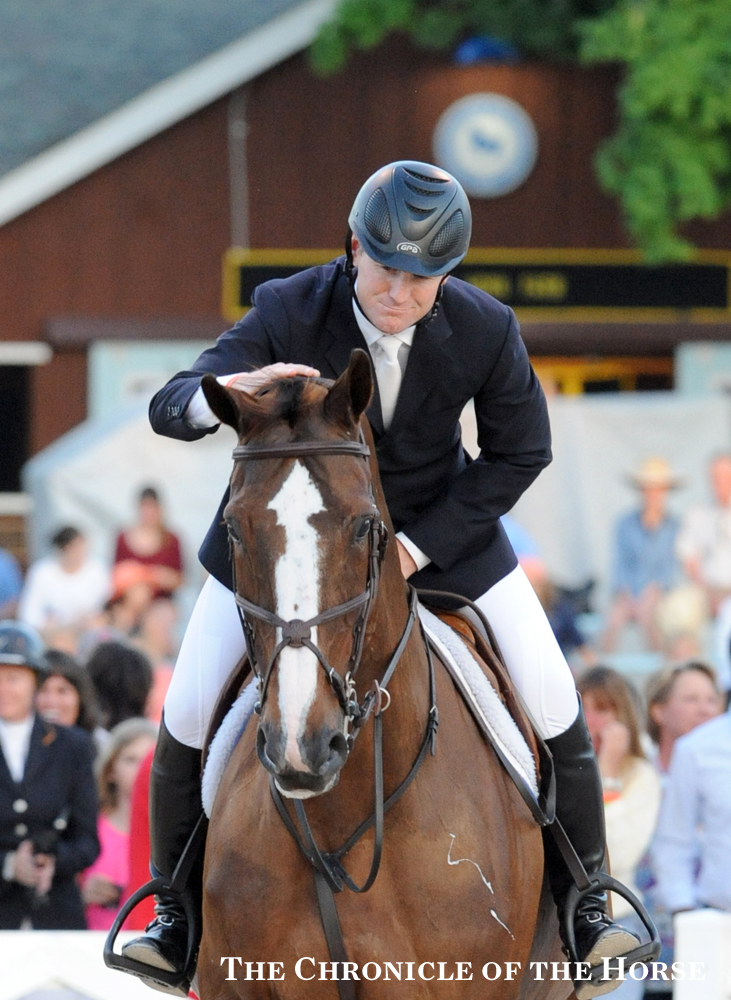 McLain Ward (right) tugged the saddle off Sapphire one last time as Erica McKeever (left) held her, and Ward's wife, Lauren, prepared Sapphire's cooler.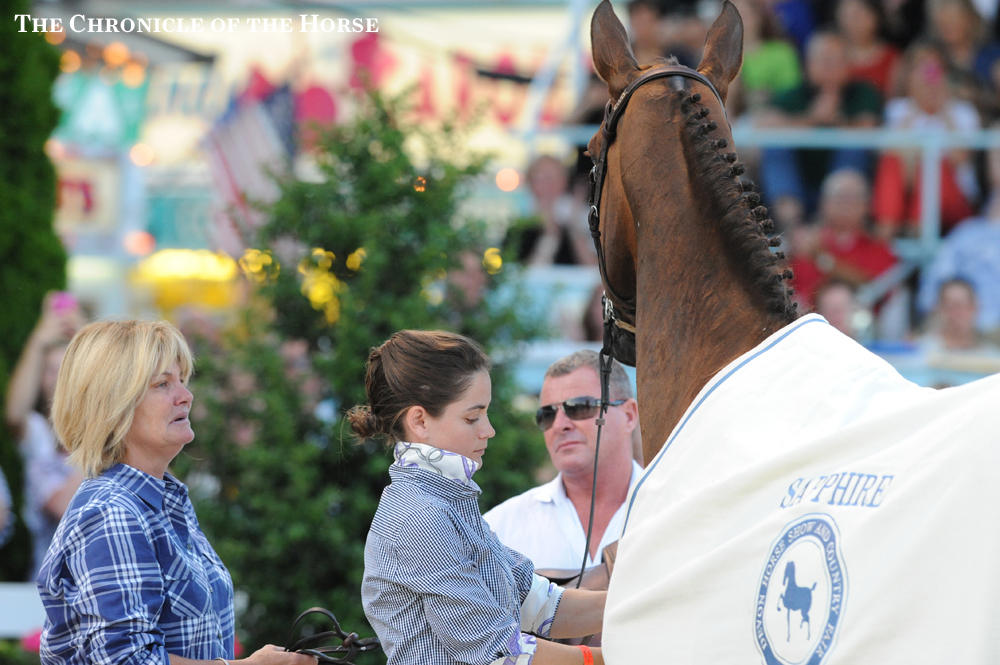 Lauren Ward (center) fastened Sapphire's commemorative cooler as Lee (right) and Erica (left) McKeever looked on.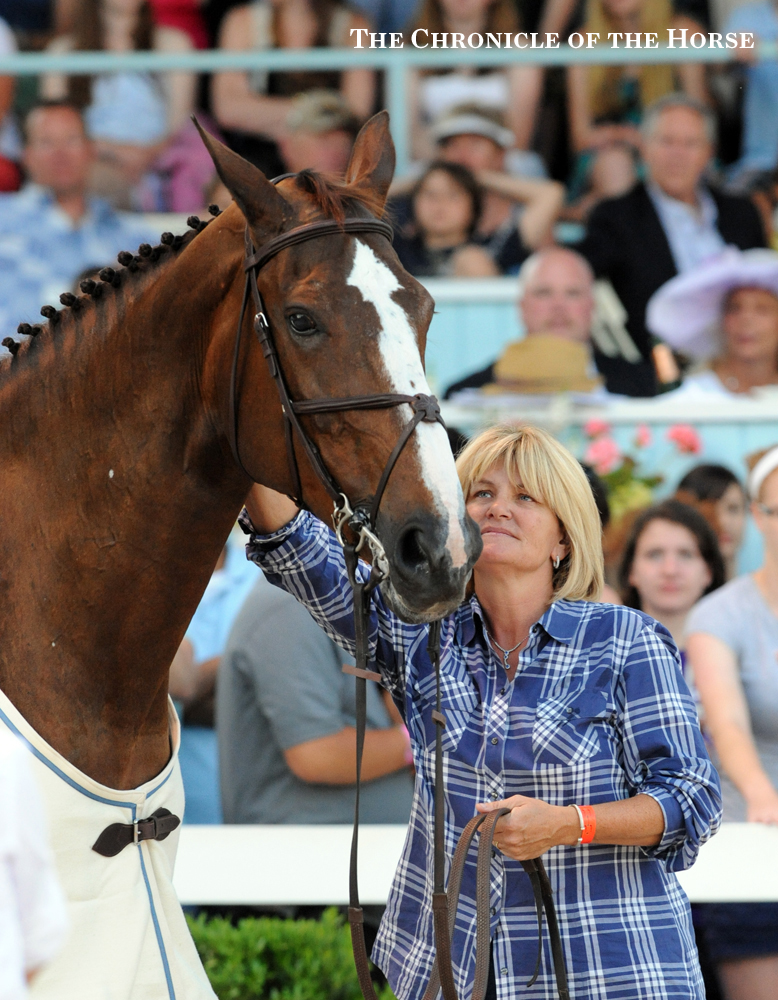 Erica McKeever was by Sapphire's side for her entire career.
Sadly, Sapphire passed away from complications of colic just two years after her retirement.
Want to read the online coverage of that night eight years ago? Click here for "Ward Rides An Emotional Rollercoaster To Top At Devon."