Having grown up with professional horsemen as parents and having trained and shown some really nice ponies and horses in the 1960s, '70s and '80s, one would think that a horse or pony from our own farm would be my "horse of a lifetime." But, no.
That title goes to one that I didn't even own and that I only showed at 12 shows—Isgilde, owned by Sallie and Kenny Wheeler's Cismont Manor Farm.
Long before warmbloods were the norm in this country for show hunters and jumpers, the 15.2 bay Hanoverian mare had been imported to North America from Germany. Once on this continent, Isgilde showed as a part of the Canadian Equestrian Team with Jimmy Elder, won working hunter classes at the Pennsylvania National with 10-year-old Natalie Pawlenko, was Virginia Horse Shows Association amateur-owner horse of the year with Sallie Wheeler, and was AHSA working hunter horse of the year with Kenny Wheeler (with some top lady riders helping out in the "Ladies To Ride" classes including Kathy Kusner, Betty Oare, and Joan Boyce, to name a few).
Her record was incredible. Isgilde was champion many times at all of the major A shows, including Devon (Pa.) and the National Horse Show at Madison Square Garden in New York City. She was one of the top working hunters in this country for many years.
You can see an lovely photo of Sallie Wheeler riding Isgilde at Upperville (Va.) from the article "Throwback Thursday: A Classic Photo Of Two Legends."
When I was 13, in March of 1967, I had a really bad fall from a 3-year-old horse that caused me to be unconscious with a very bad concussion, in the hospital for two weeks, and not allowed to ride for six weeks.
I started riding again in late April, and even though, from the age of 6, I had shown horses in addition to ponies, after the fall my mother was afraid for me to ride horses. She didn't mind ponies, but me on a horse terrified her. The whole Virginia horse show community knew of my fall, and knowing my mother, she had conveyed her fears to her friends, which included Sallie and Kenny Wheeler.
I'm just guessing the part about my mother "conveying her fears," but I think I'm right because the day before Virginia's first A show of the year at James River started (the second weekend of May), as Mr. Wheeler and I walked from the barn to the ring, he said to me, "I've got this ol' mare I want you to show." (Can't you just hear him now?)
I did a lot of catch-riding back in those days, so even though I was thrilled (the more I could ride at a show, the happier I was), I didn't think anything about it. I gladly told Mr. Wheeler that I'd be happy to ride a horse for him and then asked, "Who is it?"
When he replied, "Isgilde," I was so excited that I couldn't stand it.
I was going to get to show one of the greatest horses in the United States! We had a good school that day and a good show over the weekend, ending up reserve champion in the junior hunter division.
Isgilde was a dream to ride, and I was happy to have had the opportunity to get to show such a great mare at one show, but the dream continued. The Tuesday after James River, I got home from school and my mother said that Mrs. Wheeler had called and asked if I would show Isgilde at Keswick that weekend (as if I was doing them a favor). Wow—I was going to get to show one of the best horses in this country a second time!
Isgilde and I were junior hunter champions at Keswick. When we went in for the presentation, I took a piece of sugar. Mrs. Wheeler had told me that was the trick to getting Isgilde to shake hands. She shook hands with the presenters of the championship trophy.
I, of course, loved the trick, so I gave Isgilde lots of sugar over the summer, to the point that when she saw me coming, she would just stick her leg out to shake hands with me!
After Isgilde was champion ladies working hunter at Devon with Betty Oare riding, Mrs. Wheeler asked me to ride her at Upperville. We were champion there, too. I thought that was the end of my career on Isgilde, because the Wheelers went to Detroit to show soon after Upperville.
But being the wonderful people that the Wheelers were, they shipped Isgilde back to Virginia with one of their top grooms, Archie Bowler (of the famous duo of grooms, Archie and Leroy), for me to continue to show. I showed Isgilde at a total of 11 shows that summer and was champion at all but the first one, at James River, where we were reserve. After every show, Mrs. Wheeler would send me a thank-you note and a present for showing Isgilde for them, as if I was doing them a favor.

Showing Isgilde at the Washington International. Photo by George Axt
When I asked Joan Boyce about her riding Isgilde, she replied, "Isgilde was to die for. She did it all. All one had to do was to steer her in the right direction!"
That was very true—"steer" being the operative word. I found that out the hard way when I jumped into the one-stride in-and-out on the outside course at Blowing Rock (N.C.) on a bit of an angle. Being the smart horse that she was, Isgilde thought I meant to do that and went right around the out. I jumped straight over every jump ever jumped from that time on.
Mr. Wheeler was at Blowing Rock. It was the first time he'd been at a show since Upperville. Isgilde knew his voice. As we cantered around the ring in the under saddle, Mr. Wheeler said "just like that," to me. Isgilde, being German, must have translated that to mean "stop," because as soon as she heard Mr. Wheeler's voice, she tried to pull up to a walk. I felt it and kept her cantering, but I don't remember Mr. Wheeler ever standing on the rail saying anything to me again as Isgilde went past him.
Isgilde was broke to death on the flat, long before hunters and jumpers in this country knew much dressage. With a light touch, she would do a turn on the forehand or turn on the haunches. She did lead changes on a straight line.
Back in those days, the VHSA Medal Finals required a lot of flatwork that we didn't get asked to do any other time of the year. I knew how to execute all of it, but I didn't have a horse of my own that knew it. That year, 1967, was going to be my first VHSA final, so Mrs. Wheeler offered me Isgilde to ride in them.
That was a particularly tough year to be in the finals. People like Matt Collins, Joe Fargis, Kevin Maloney and Courtney Dittrich were all there to compete. After the jumping phase I was in good standing, as I'd had a really good trip.
Isgilde was a blast on the flat, doing all of the fancy stuff they asked of us with ease. My downfall that year came when I got switched to a hot horse to ride on the flat without stirrups. I still ended up fourth overall—quite an accomplishment for a 13-year-old in her first finals and in that company, but I couldn't have done it without Isgilde.
At the end of the summer, we were close on the heels of the horse leading the VHSA for the year-end title in the junior division, so because the Washington International (D.C.) was a VHSA-rated show, I got to show Isgilde there. We weren't champion or reserve, but we got ribbons in all four classes.
After Washington, Isgilde was 18 points behind for VHSA champion in the juniors. She left Washington and shipped to New York to try to retire the working hunter champion trophy at the National Horse Show, but there was an A show in Norfolk, Va., the same weekend with eight junior hunter classes and a judge that loved Isgilde.
So plans were made for her to show in a few classes in the working at the Garden and then leave on Thursday to ship to Norfolk for me to show so that we'd win the VHSA high score for the year. Good plan, right? Right—but good plans don't always work.
On Thursday morning as Isgilde and Archie were driving down the Eastern Shore toward Norfolk, I was at the doctor's being diagnosed with mononucleosis. I would not be able to show that weekend, plus, as all of this was going on, a hurricane was heading toward Norfolk, and the show was canceled.
Somehow my mother was able to reach Mrs. Wheeler in New York to tell her all of the news from Virginia. Phone calls from both my mother and Mrs. Wheeler to the State Police in Delaware, Maryland, and Virginia enabled them to find one weigh station on the Eastern Shore that Archie and the Cismont Manor van carrying Isgilde had not reached. The State Police stopped Archie to tell him to turn around and go back to New York.
Isgilde missed one class in the working at New York which caused her to be reserve instead of champion. We lost the VHSA junior horse of the year by 18 points.
That year, 1967, the VHSA convention was held in Virginia Beach. For some reason the Wheelers hadn't been able to come so they asked me to not only pick up my ribbon for being reserve with Isgilde but also to pick up Showdown's ribbon for being green conformation champion of Virginia. Very cool for me!
At Christmas, I got a big package in the mail from Mrs. Wheeler. It was a Christmas present of a 16" x 20" green-matted and framed hand-colored photo by Marshall Hawkins of me on Isgilde, in the hay field beside the ring, after the appointments class at Upperville­—the same photo that had appeared in the Chronicle after the show.
The photo hangs on the wall in front of my computer today (49 years later), and every day I relive the year that I got to show Isgilde with very fond memories.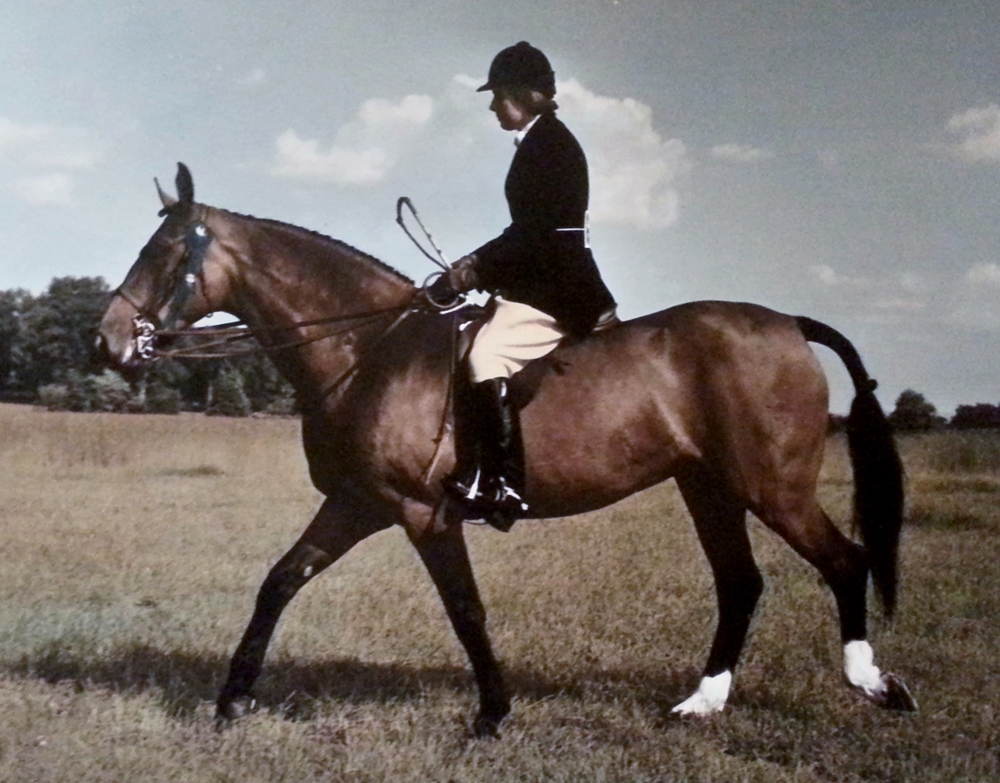 My hand-tinted print of Marshall Hawkins' photo of me riding Isgilde.
Isgilde was retired from showing after 1967. She was formally retired at the National Horse Show, at Madison Square Garden, in 1970. As always before, Mrs. Wheeler treated me as if I was doing her a favor by coming to New York for the ceremony.
She paid for my roundtrip plane ticket, took me out to dinner every night, and paid for my room. At barely 17, in New York without my parents, I was living large!
The afternoon before the ceremony would take place in the evening, while everyone else was at the hotel getting ready in their formal clothes, I asked Archie if I could braid Isgilde for her last time in the ring, and he said yes. I was thrilled. I laid a mane and tail job on her that would rival the best of today then dashed back across the street to the hotel to dress.
As Mr. Wheeler rode Isgilde into the ring at the Garden for the last time, I stood in the ring with most (if not all) of the people that had showed her. It was a who's who of riders. I stood beside Jimmy Elder (of the Canadian Equestrian Team who had won an international jumper class on Isgilde at the Garden in 1959) with tears running down my face. It was a wonderful ceremony, and true to Mrs. Wheeler's nature, she took us all out to the 21 Club for dinner afterward.
Isgilde lived out her retirement in the front field, by the house, at Cismont Manor. Every time I was in Charlottesville, I would go to visit her to feed her sugar and she would shake my hand. The great mare lived to be 31.
Although I didn't own her, only showed her at 12 shows, and rode many other wonderful horses and ponies in my career, Isgilde will forever be the greatest horse that I ever rode and knew. She is my "horse of a lifetime."
Isgilde has been inducted into the National Show Hunter Hall Of Fame and the Virginia Horse Show Association Hall Of Fame.