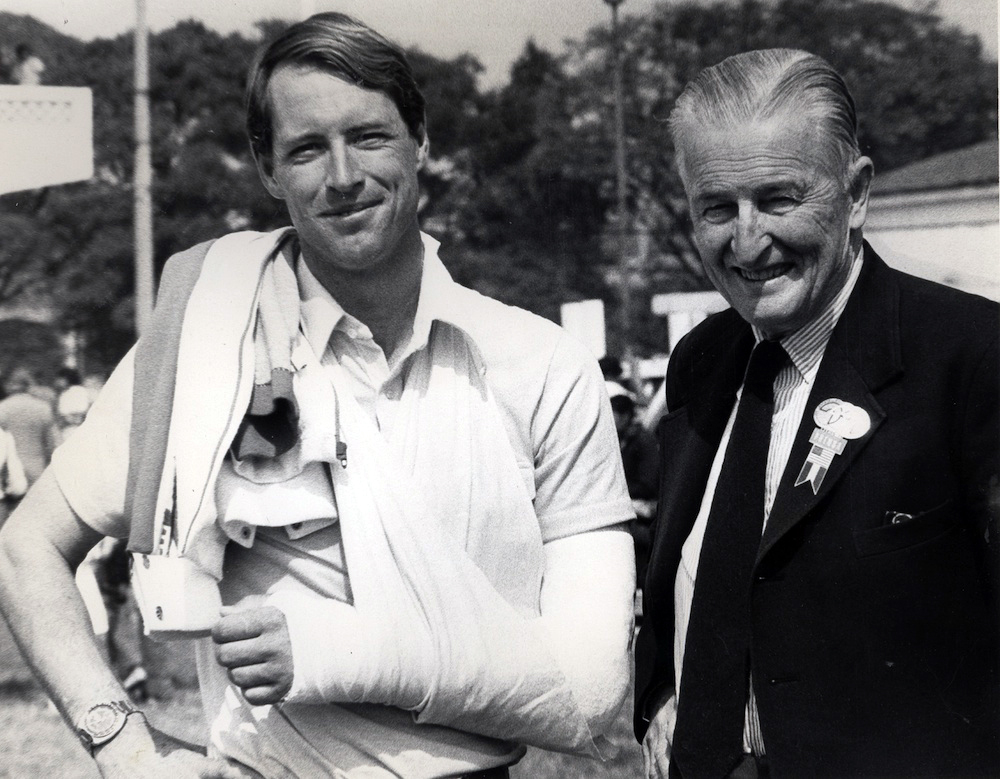 This photo ran in the 1975 Chronicle coverage of the Pan American Games
with the caption: "Ian Millar, Canada, whose arm was broken by a
falling pole while schooling, and Alexander Mackay-Smith of The Chronicle
of the Horse—Mr. Millar lent his mount, Dwyer Hill Farms' Count Down,
to Jim Elder who had the only clear round of the Prix Des Nations Team
Event and finished second overall."
Flipping through an issue of The Chronicle of the Horse from 1975, we found a picture of Canadian rider Ian Millar, his arm wrapped in a sling, at the 1975 Pan American Games.
According to the caption, while schooling a horse at the games, a bad fall left Millar with a broken arm, just 24 hours out from the start of the team competition.
But one man's bad luck was another rider's lucky break—Canadian rider Jim Elder got to switch off his less experienced mount and ride Count Down in Millar's place, and piloted the horse to the only clear first round in the team championship.
"I just had a hunter, a conformation hunter that I turned to jumper that year, and I thought he would be all right, and he jumped clean in the warm-up [class], but when we went to the individual before the team class, he didn't go so well," Elder, now 81, recalled with a laugh over the phone.
Elder still planned to ride his hunter-turned-international jumper in the team class when Millar had his accident.
"The horse stopped, and he went off and the pole fell on his arm," Elder said. "It was only about 3'6" I think, but we all fall off that way. It's the little falls that hurt you."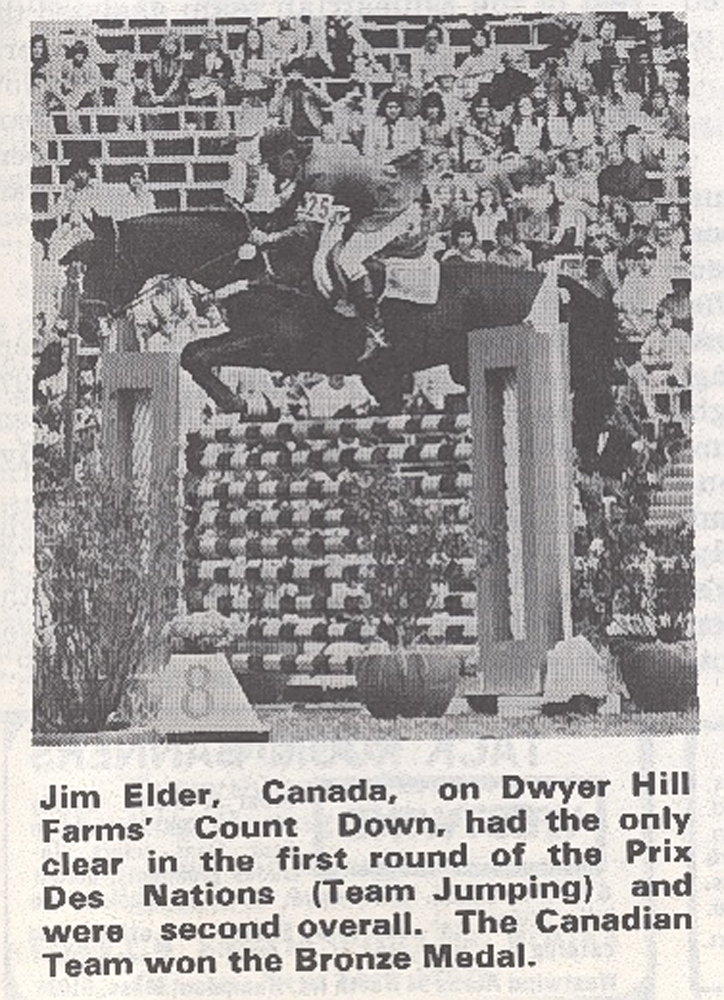 The photo of Elder and Count Down that ran with the
1975 Pan American Games story in the Chronicle.
So there Elder was, being offered an admittedly better horse, but one he had never sat on, to compete over an international track. Reflecting back on the memory, Elder did not seem nearly as intimidated by those circumstances as one might expect.
"I had ridden a lot of horses, they had these FEI friendly competitions where you fly to the country, and you represent your country, but you ride their horses, so I was used to riding different horses," Elder explained. "I had also seen the horse go with Ian several times."
The Pan American Games were held in Mexico City in 1975, and the show jumping events were held in a massive soccer stadium.
"One of the things that you find out, I don't know if you've been to Mexico, or a soccer game in Mexico, but the Mexican fans are animated, a lot more than they are here and in Europe," Elder said. "They're animated all the time, and in the big stadium there seems to be that noise, and you can feel the sound waves almost pounding off of you.
"That's one thing and I remember, standing there watching Buddy Brown go, I think the second round, and he jumped clean and my horse was standing there by the entrance and all I could feel was his heart just pounding, you could just feel it," Elder said.
Elder and Count Down pulled off the only clear round over the course in the team championship. A caption from a photo in the 1975 Chronicle reads "During the two days of the Grand Prix Individual and Prix des Nations (Team) jumping events, October 23 and 26, at the Campo Marte polo grounds and at the gigantic Stadio Azteca, on the outskirts of Mexico City, the contestants were required to jump, during the four rounds, a total of 64 fences, which came crashing down with such frequency as to keep a large jump crew almost constantly on the move."
Elder and Count Down helped the Canadian team to a bronze medal finish that year. Millar recovered and rode Count Down in the 1976 Olympic Games (Montreal), while Elder went on to compete in the alternate 1980 Olympic Games (Canada, like the United States, boycotted the 1980 Moscow Olympic games).
"He was a big Thoroughbred horse, 16.3 anyways, maybe 16.3 plus, and you know Ian had him going very well," Elder remembers of Count Down. "He had a bit of a high action, not like your regular Thoroughbred, but one of the older types of big boned Thoroughbred. Nowadays they mostly breed rabbits, they want something to run a sprint."
When all was said and done, Elder competed in seven Olympic Games, five Pan American Games, and three World Championships (he went to the Olympics on Canada's three-day team early in his career, before switching to pure show jumping in the 1960s). Elder retired from international competition in the early '80s, and dedicated his time volunteering with the Canadian Association for Riding of the Disabled and Big Brothers. He was named an Officer Of The Order Of Canada in 1983 for his contribution to Canadian sport and the community.
At 81 years old, Elder may not be competing anymore, but he still has about four or five horses keeping him busy at his farm in Schomberg, Ontario.
"My daughter and son-in-law, they're trainers at the track, so I get the discards and try and give them another job," Elder said. "Usually they work out. I mean they may only jump three feet, but some of them jump six feet, so you never know. Not too many people use them as hunters, but the right kind make good hunters. They're great horses; Thoroughbreds are great athletes."
Not everyone would agree with Elder on that last statement, a fact he readily admits to.
"Nowadays people don't want to take the time, especially if they've been on the track, to retrain them. Everybody wants to buy a horse and go to the shows the next weekend, instead of having fun," Elder said. "Part of the fun of it is training the horse.
"It's enjoyable to see how a horse progresses, and sometimes regresses, and then you have to progress them again," Elder continued. "Take them down a notch, bring them back up, and that's the interesting part of our sport. That's probably why a lot of us have been in it so long; it keeps it interesting."