A few weeks ago, I was flipping through bound volumes of the Chronicle from 1965, looking for a few photos to feature in this Throwback Thursday column. And I found this one, of the legendary George H. Morris on a chestnut mare named Triplicate.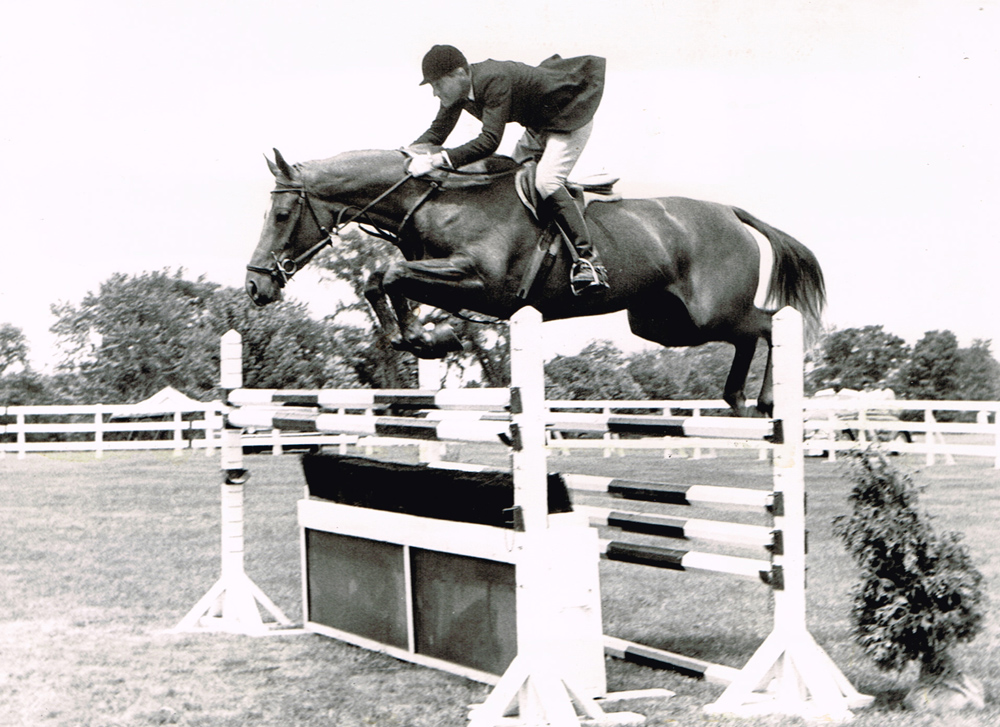 George H. Morris on Triplicate. Photo by Tarrance Photos
These days, it's rare to see George pictured on a horse and competing, as he's made a career of teaching. And this wasn't a photo from his glory days on the U.S. team showing in Europe or a top show. This is a photo of him showing a prospect in the green jumper division at the Ox Ridge Horse Show (Conn.) in 1965, five years after he won team silver at the Olympic Games and two years after he came back to riding from a hiatus from the sport.
I happened to speak to George on the phone recently about something else and asked him about the photo. True to form, he knew exactly the horse I was asking about, including the details of who he bought her from and sold her to, and remembered her very fondly. Here's the story of Triplicate, in George's words…
"Funnily enough, I saw that horse and [the famous jumper] Sinjon at the North Shore show. I bought both of them out of the hunter division to be jumpers. Sinjon was never meant to be a hunter, he was just showing in that division to get to horse shows and go around courses, which we used to do with young horses," George said.
"Triplicate was 6 or 7 at the time, but she didn't move well enough to be a hunter. She jumped the best. She was maybe not 100 percent Thoroughbred.
"She looked very careful so I bought her from Chucky Graham as a jumper. I showed her with great success in the green jumper division, but I didn't think she had the scope for the wide jumps in the open jumper classes, which was the next step.
"So at the end of the year, I was teaching a young kid from Texas who was very small at the time, Conrad Homfeld. He was looking for an equitation horse for the finals, and I told him, 'Let's use Triplicate.' The Medal and Maclay finals were both at the National Horse Show at Madison Square] Garden then.
"I liked her to go in a big, fat snaffle, and he couldn't really hold her in that bit, so he was having a perfect round in the Medal and then ran past the last fence! So we put a pelham on her the next day for the Maclay and he was fourth in it, at a very young age.
"So that started the partnership of Conrad and Triplicate. Suddenly, with Conrad, she started winning in the hunter division. It was so funny, because the reason I bought her was that she wasn't a good enough mover for the hunter division. But with Conrad, who was so soft, the judges started ignoring the fact that she wasn't the greatest mover.
"When Devon came around in 1966, Conrad had a broken arm and his arm in a cast. He was showing Triplicate in a big working division over a very difficult outside course, with a bank and a ditch. The Wheelers had never seen Triplicate and Conrad was sailing around Devon with a broken arm on this beautiful chestnut mare, doing very well. I heard that they wanted to buy her, but I didn't want to sell her at that time.
"I went to Ox Ridge a few weeks later, and Mr. and Mrs. Ferrell had to have her. They were friends of my mother's and they offered me an outrageous price—at the time—of $15,000. It was 1966 and then that was a very big price for a horse.
"They had Patty Heuckeroth ride her and she ended up a superstar hunter of the country and won the under-saddle at the Garden.
"It's so funny how the horse world is—she won the hack at the Garden from not being a good enough mover to be a hunter. Patty won everything on her. You couldn't get a bad picture on her. She jumped so perfectly and carefully every time."