This hilarious, ever-popular piece by humor columnist Jody Lynne Werner originally ran on Dec. 1, 2014, on www.coth.com. 
The question of whether or not to blanket your horse arises frequently this time of year. The temperature is prone to unexpected dives, and many horses are sporting some sort of body clip. You may have seen the wonderful When-to-Blanket flowchart posted on the Facebook page of The Equine Program at Auburn University that's been making the rounds of social media. The intentionally convoluted diagram illustrates the volume of information that horse people must consider when making the blanketing decision. The answer is less black-and-white than it is furry shades of gray.
It seems simple enough: Do I need to put a blanket on my horse today, or not? Yes or no?
To answer, the first thing we need is an accurate weather forecast. That can be a lofty goal, since despite all the advanced technology and colorful, swirly-whirly diagrams of snowy-blowy, rainy-wainy stuff, weather forecasting is fundamentally a guessing game. It is the only profession I can think of where one can literally be wrong all of the time and still keep their job. That's why forecasts are expressed using percentages. Percentages predict the likelihood of something happening while absolving the predictor from blame if it never happens at all.
Even if we could get a minute-by-minute guarantee of temperature, it's not just about that. And it's not just about wind, precipitation, intensity and duration. There's a whole thought process that plays out in a horse person's mind when the "should I blanket?" question is broached.
It's an aggregate of every scenario we've ever experienced with any horse and any blanket. Auburn's When-to-Blanket flowchart provides a good abridged methodology. But logic isn't always the means to our end. Our process often consists of mental twists and turns, which lead us to more questions, rather than answers.
Below, I've illustrated a little of the madness that goes in to our method: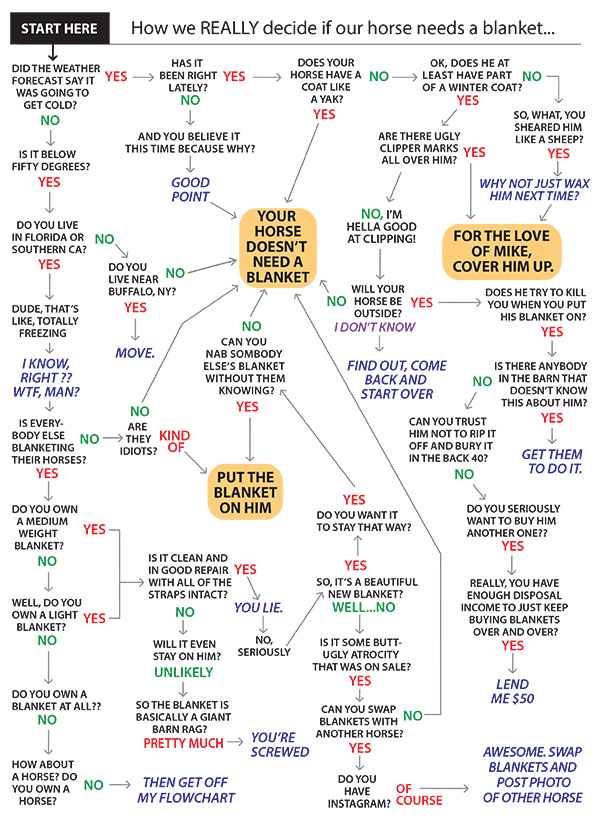 After years of trying to fit in with corporate America, Jody Lynne Werner decided to pursue her true passion as a career rather than a hobby. So now, she's an artist, graphic designer, illustrator, cartoonist, web designer, writer and humorist. You can find her work on her Misfit Designs Cafepress site. Jody is one of the winners of the Chronicle's first writing competition. Her work also appears in the Dec. 2, 2013, Amateur Issue print edition of The Chronicle of the Horse.