Not many professional jumper riders would take the chance on a horse who didn't even know how to canter, but in the mid-1970s, grand prix rider Susie Hutchison and her famed trainer and mentor Jimmy Williams did when they took on Bionic Woman, a failed Standardbred trotter.
With patience and time, Williams trained the mare to be a jumper and Hutchison took over the ride as a 20-year-old, winning numerous grand prixs on the West Coast and representing the United States twice at the Nations Cup at Spruce Meadows (Calgary).
Bionic Woman (Addio Byrd—Bonbon Lobell, Overtrick) was close to being kicked out of a Standardbred track in California for being unruly when she was traded by her trainer to pay his farrier bill.
Williams, who was known to take on projects that no one else wanted, eventually bought her from Pete Pinza, who'd acquired her from said farrier.
Hutchison vividly remembered the first time she saw the mare. "Jimmy and I went over to his place and they had her on the lunge line and were cracking the whip at her trying to make her break into a canter to a cross rail, and she would break into a fast running gallop and go to the jump and it was kind of scary, but needless to say, we bought her," she said.
Bionic Woman was delivered to Williams during the Del Mar Horse Show (Calif.) to begin her jumping career.
"I remember him leading her to her stall and she jumped way up over a hose on the ground—she really could jump, but because of the way she had been started, Jimmy rode her for probably six months just trying to get her to walk and trot to a pole on the ground," said Hutchison. "She would see the pole on the ground and jump or just take off and try to run to it. He had to teach her how to canter. She didn't know how to canter."
After slow and steady training, Hutchison purchased the mare and began showing her in the preliminary jumpers under the name Bionic Woman.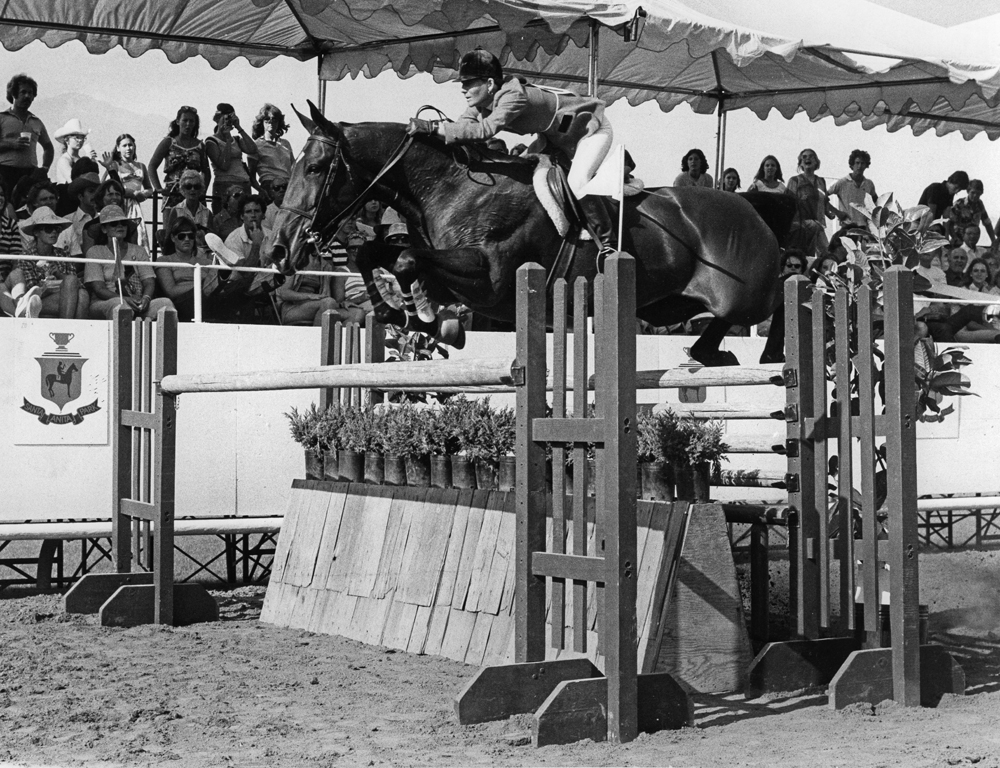 Bionic Woman and Susie Hutchison won the $10,000 Santa Anita Jumper Classic at the
Santa Anita National Horse Show (Calif.) in 1979. Photo by Jane Goldstein
"When we first got her, she was so ugly Jimmy called her 'The Stripper' and then a girl who was grooming for us, Willa Weller was taking care of her at Del Mar and trying to lead her between the barns. Willa was being led by [the mare]. She said she should be called Bionic Woman. 'I can't hold her!' Then we changed her name."
Bionic Woman was known for her unique jumping style, but Hutchison, 61, remembers her most for her character and big heart despite her lack of tremendous scope.
The pair helped the U.S. team to a third-place finish at the Spruce Meadows Nations Cup in 1978 and second place in 1979.
"In order to teach her to canter, Jimmy taught her this kind of almost like a bunny hop," she said. "She would gallop like normal and in front of the jumps she would hop up and down and then she would jump. We didn't have that many open water jumps in the '70s and so the first year we went to Spruce Meadows, I think all of us on the team had a water fault. We would have won the Nations Cup class had we been able to delete our water faults. Bionic Woman was so used to galloping, galloping then bounce, bounce, bounce, jump, and she went bounce, bounce, bounce, and she jumped the brush box and cantered through the rest of the water. She didn't really understand the water jump!"
Hutchison, of Temecula, Calif., also contested puissance and six-bar classes with Bionic Woman throughout their career.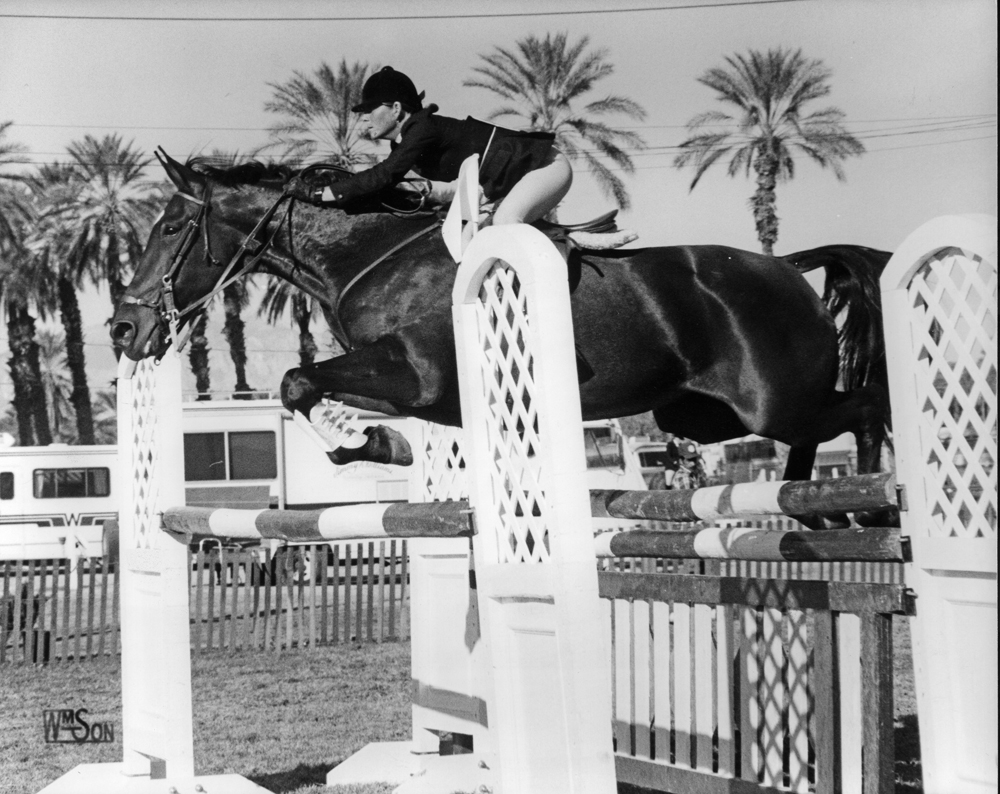 Bionic Woman and Susie Hutchison were the open jumper champions at the
Desert Festival Horse Show (Calif.) in 1984. Photo by John H. Williamson Sr.
After Bionic Woman's competitive career was over, Hutchison bred her six times—three of them to the Hanoverian stallion Largo Z.
A few of the foals ended up being successful low-level jumpers, and only one couldn't figure out how to canter—his sire, Caracas, also had Standardbred in his lineage.
Bionic Woman lived out her days in a field at Hutchison's farm and she remains one of her most memorable mounts.
"She was a character—a good character," she said. "I've had my ups and downs with having grand prix horses and not and she was one that was competitive but difficult to ride in that she was so unorthodox. [She was] a crowd pleaser."