Devon, Pa.—Sept. 28
As she cantered down centerline tonight in the Grand Prix CDI-W at Dressage At Devon, J. J. Tate sat a little taller, thought a little more positively and had a ride to remember.
Tate hosted the U.S. dressage team at her farm in Landrum, South Carolina, in the weeks leading up to the FEI World Equestrian Games (North Carolina) earlier this month and just being around the country's top riders was enough inspiration for her own riding to kick it up a notch.
It showed as she and Elizabeth Guarisco's Faberge topped the Grand Prix with a 67.13 percent.
"It was incredibly inspirational to have hosted the team at our facility right before the WEG," she said. "I was honored to be able to watch excellent riding, so I was really inspired by that. Being able to watch all those great riders that were in Tryon was just amazing, so I tried my best to really channel that as much as possible."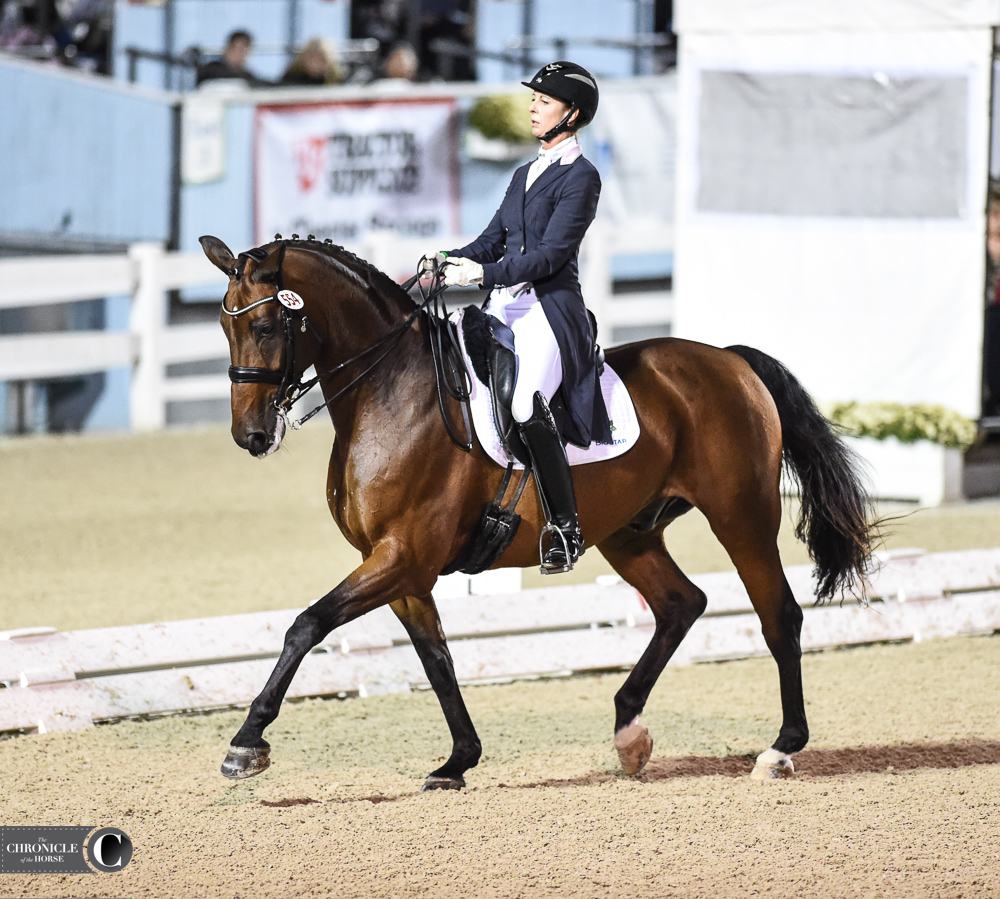 Tate's had Faberge, a 15-year-old Westphalian gelding (Florestan I—Baroness, Brentano II) in her barn since Guarisco bought him for herself.
They shared the ride for the first five years, with Tate showing him in the U.S. Equestrian Federation young horse classes. He was reserve champion in his 6-year-old year and was consistently a top-five contender in the Developing Prix St. Georges championship.
"For this horse it's been a long road," she said. "I've been with him for 10 years and to be able to go in there and just ride for the love of him and his tremendous heart; he's amazing. He just tries so hard for me. It's everyone's dream come true to win the Grand Prix at Devon! To come home with the victory tonight, especially on a horse I've trained and had for 10 years—he went through an injury, so to come back and just give me everything he's got really means the most to me."
Faberge was injured as a 9-year-old right before his Grand Prix debut, so Tate diligently rehabbed him.
"We have a wonderful program," she said. "This is our first full season of the Grand Prix [CDIs], so to start with this coming into Florida feels really terrific. I'm just thrilled with him. It's really fun to feel like he just gets stronger and still loves to do it and still tries his heart out."
Tate, 40, is looking forward to the Grand Prix freestyle under the lights on Saturday night.
"There's no place better than Devon to show," she said. "It'll be a lot of fun. Winning here as a wonderful surprise, and I'm looking forward to dancing tomorrow night."
For full results, click here.
We're on site at Dressage At Devon to bring you news and tons of photos. Check back all weekend at coth.com, and check out the Oct. 22 print edition of the Chronicle for much more.
2018 Dressage At Devon - Friday
Lindsay Berreth / Sep 29, 2018 12:17 pm