Leipzig, Germany—Jan. 21  
In the days prior to the Longines FEI Leipzig World Cup qualifier, German rider Christian Ahlmann posted a heartfelt missive on his Facebook page. He was planning to ride Taloubet Z, the horse on which he'd won the FEI World Cup Final in Leipzig, in the qualifier as the stallion's final competition before retiring immediately afterward.
"It's time. You jump your last tournament in Leipzig, where you won the World Cup Final in 2011, and won two more big prizes," Ahlmann wrote.
"I am very pleased that we can make you top fit and still at the highest level. It was a joy for me, though not always easy to go with your way. All these years it was always fascinating to feel what's inside you. Your ability, speed, fighting spirit and quality are just abnormal. But your balanced, loving way is absolutely unique.
"I am very grateful to the Stud Zangersheide and the family Melchior for entrusting you to me. I was always allowed to use you as I thought it was right. I would like to thank everyone who took care of you all these years, and ensured that you were always healthy and happy.
"I very much hope that we will have a nice finish on Sunday and wish you to enjoy your pension on the pasture in Lanaken for many years and also have many children in the world who possess your genius. Thank you very much Taloubet Z."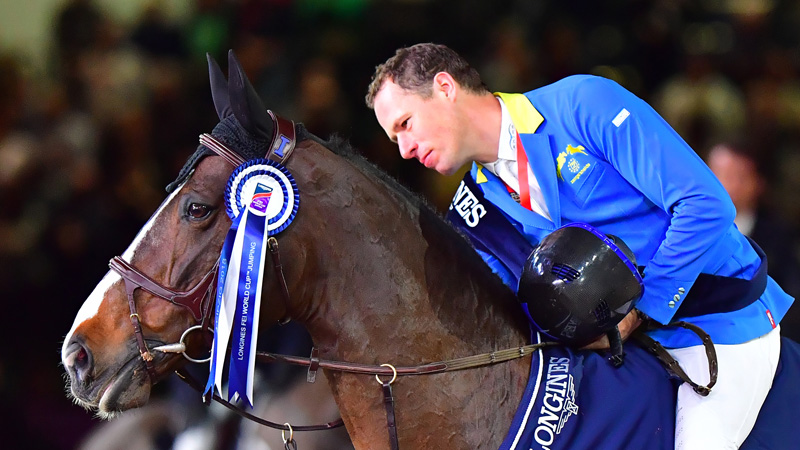 And then, in a fairy-tale finish to his fabulous career, the 18-year-old super-stallion Taloubet Z carried Ahlmann to victory in front of their home crowd at the 10th leg of the Longines FEI World Cup™ Jumping in Leipzig, Germany.
Watch their jump-off round:
Last to go in an edge-of-the-seat 15-horse jump-off it seemed it would be almost too good to be true if they could beat the rest of the world-class field at a show where they enjoyed so many successes over the years. But they did it and, in his usual style, the extraordinary Taloubet made it look like a walk in the park one last time. There was hardly a dry eye in the house during the prize-giving ceremony in which the German duo took center stage ahead of runners-up Carlos Lopez and Admara from Colombia and Dutchman Harrie Smolders with Zinius.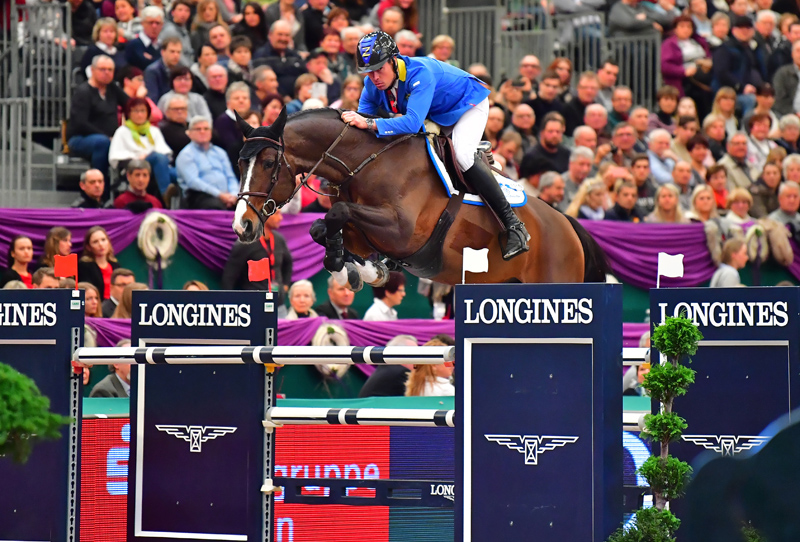 Ahlmann isn't normally one for big emotion, but the 43-year-old rider's voice kept breaking when he tried to talk about the horse that was such a prolific winner, and that carried him to four World Cup Finals, who claimed the FEI World Cup™ Jumping title at this very same venue in 2011 and who was so tough that he was still capable of claiming team bronze and individual ninth place at the Rio 2016 Olympic Games. The German star admitted that he felt under incredible pressure this evening.
"I really didn't want to mess it up for him! This was just a normal World Cup, like we have every week. But it was very special because it was the last class for Taloubet, and we took the risk to jump him so he could say goodbye, here where everyone knows him, and leave the sport in great shape," said Ahlmann. "So to have a good result and to finish with a proper round like that under pressure, it makes me so happy! It's the greatest day of my life for sure, not for the points or for the money, it's much more than that. It's because this great horse who still has all this power even at this age is ending his career in a great way, with a great win!"
"Yes for everyone else today was a dream, but for me it was a nightmare!" said course designer Frank Rothenberger after 15 horse-and-rider combinations made it into the jump-off. It was a cracker however, and Lopez appeared to have it in the bag when scorching through the finish in 43.39 seconds with the gelding Admara who seems to have found his perfect "other half" since partnering up with the Colombian rider two years ago. Smolders and Zinius, winners at the previous leg in Mechelen (Belgium) last month, gave it their best shot but fell short by 2/10 of a second when second-last to go.
The arena fell silent as Ahlmann and Taloubet set off on their final adventure together, but it exploded with sound when, turning to the last full of running and at a flat gallop, the German duo broke the beam 2/10 of a second quicker than Lopez for the win. Even the Colombian runner-up wasn't disappointed—"today is all about Taloubet anyway," Lopez said.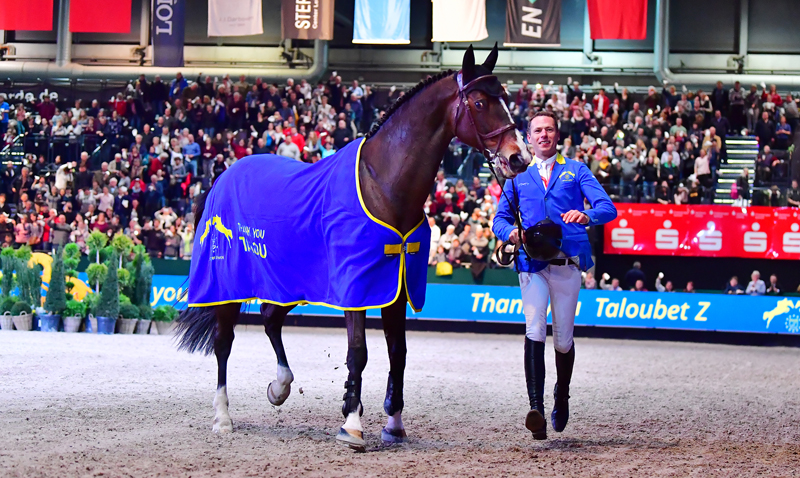 See full results of the Leipzig World Cup qualifier.