Mill Spring, N.C. – Aug. 30
While we love talking to the winners at the U.S. Eventing Association's American Eventing Championships, every rider has a story to tell about their journey. Read on to learn about four riders making their dreams come true this weekend, and stay tuned to coth.com for more featured riders.
Hannah Herrig and Zach Ketelboeter (preliminary amateur)
It's not often your partner shares your exact interests, but for Hannah Herrig and Zach Ketelboeter, eventing is a shared passion.
The engaged couple, who've been together for two years, are competing in the preliminary amateur division at the AEC.
Herrig and Ketelboeter met while training with Brad Hall. One night Herrig was parking a truck and trailer and Hall asked Ketelboeter to help. They talked late into the night over a bonfire and have been attached ever since.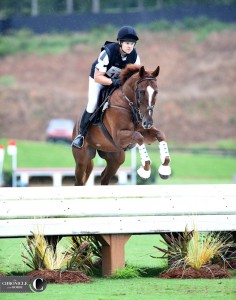 Now based in Sarasota, Fla., they're hoping to start their own eventing barn together in the near future.
Herrig, 22, is riding Don Bosco, who she found through Clayton Fredericks about a year and a half ago. They did training level at the AEC last year.
"'Crunchy' is 15. He's a Hanoverian," she said. "He's a bit more experienced. He did [NAJYRC] with his last rider. He's been a really good confidence-building ride for me."
Ketelboeter, 28, brings That Hit The Spot, a 7-year-old Thoroughbred.
"My horse is 'Chester.' I bought him as a 2-year-old turning three. He'd never been sat on. He chilled for the first year, and then I broke him," he said. "Dressage isn't exactly his forte but he will jump anything."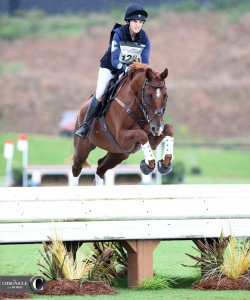 So is there ever any competiveness between the two?
"We both have different strengths and weaknesses that even each other out. We're rooting for each other in different ways," said Herrig. "We haven't been in the same division too many times, which is nice because we can watch and help each other a little more, and it's not so crazy. When I first started dating Zach and [my mom] wasn't sure if we were dating or not, at shows she was like, 'You've either got a boyfriend or a groom!' I wouldn't have been able to make it to this point without him for sure."
"We root for each other. I always kind of hope she beats me, and she usually does," said Ketelboeter.
The couple has also found a system that works during competitions. "Hannah braids all my horses for me and makes sure I'm looking clean and presentable," said Ketelboeter.
"We have a trade off—I'll braid all the horses if he does all the studs," Herrig added.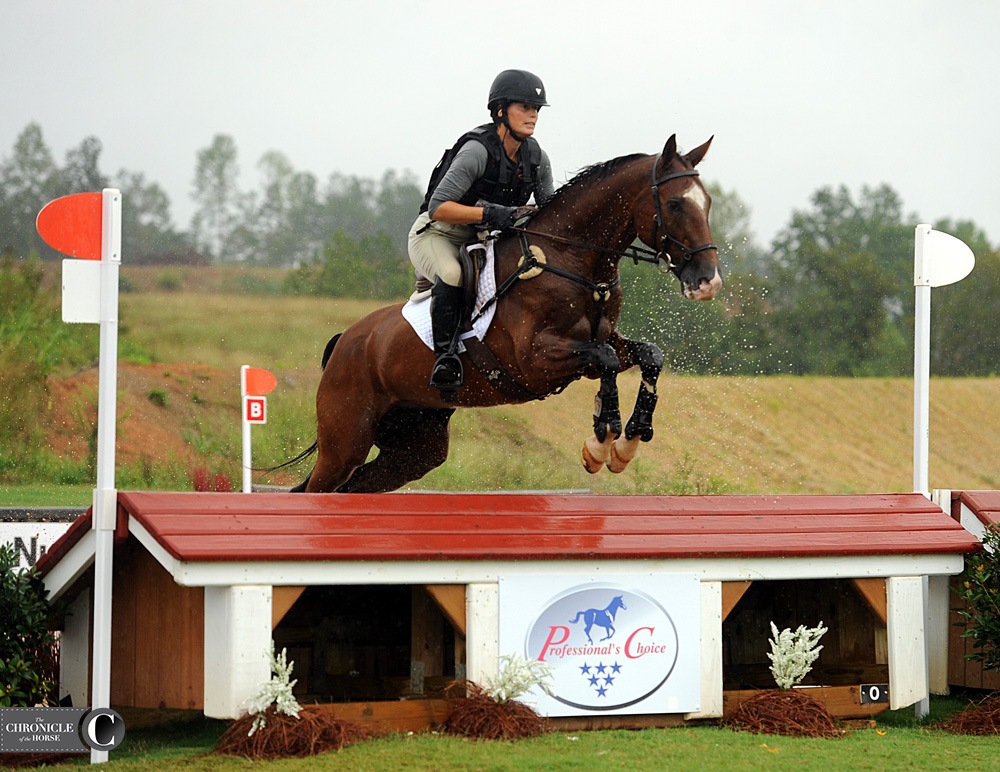 Sabine Desper (training horse)
Sabine Desper, 46, is the barn manager at Shenandoah Farms in Staunton, Va. She and her partner Adamek are making the journey to the AEC to compete in the Professional's Choice training horse division. Although Shenandoah Farms is named for the region of Virginia it calls home, its equine residents hail from Turkmenistan, a country in central Asia.
Adamek is an Akhal-Teke. This rare breed is known for its athleticism, wiry build, and the unique metallic quality to some individuals' coats. Shenandoah Farms has been breeding, training, and competing Akhal-Teke horses for 30 years. Desper, a German native, has been riding since she was nine and came to the United States in 2000. She was managing another barn when the job opened at Shenandoah in 2009.
"When I heard they needed a manager I jumped at the chance," Desper said. "I wasn't looking to work with Ahkal-Tekes specifically because it's such a rare breed, but I was intrigued by the horses and their abilities. They're agile and have beautiful gaits, they're very easy to manage and easy to ride. There's a willingness to go forward over jumps. I really enjoy working with that kind of horse."
One may assume that Ahkal-Tekes have similar temperaments to other finely built, hot-blooded breeds like Thoroughbreds, but Desper offered a different perspective. She's been working with 12-year-old Adamek for four years and spoke highly of his rideability, especially over jumps.
"I've noticed the Akhal-Teke's have the forwardness, willingness, and athleticism of the Thoroughbred without the hotness or nervousness," Desper said. "They tend to be just a little more levelheaded and not quite as reactive as the Thoroughbreds I've known."
Some people notice that Adamek is a unique competitor at events but most can't pronounce his breed or even know what it is. More often, people comment on Adamek's markings or his stallion status.
"People usually don't think he's a stallion at first because he's very easygoing," Desper said. "He's one of the barn favorites. He's easy for a beginner rider but he can handle more challenging skills. He can be studdish but most of the time he's very manageable. This is his first time at the AEC but I'm confident in his abilities."
Elaina Anglin (preliminary amateur)
"He's gone beyond my wildest expectations," said Elaina Anglin of New Florence, Pa., about her 13-year-old Appendix gelding, Wingman. Anglin bought "Junior" as a 2-year-old with hopes of making him a barrel horse. Anglin grew up in the Unites States Pony Clubs program and fell in love with eventing early in her riding career, but in 2006 she took a break from competing and decided to give barrel racing a try. She bought Junior from a breeder in Ohio and trained him herself, but he struggled in the barrel racing arena.
"He was mediocre at best," Anglin said. "He could do it, and he did do it, but his heart wasn't in it so we stopped."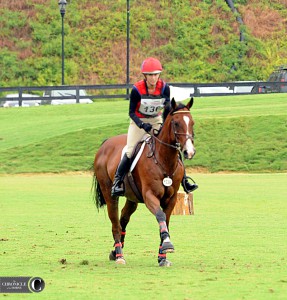 Junior enjoyed a brief stint as a trail horse while Anglin returned to eventing with a different mount. When that horse was injured in a pasture accident Anglin turned back to Junior and started teaching him to event.
"I'd only ridden him Western but he took to jumping like he'd been doing it all his life," Anglin said. "He did jump out of the pasture when I first got him, so I probably should have taken that as a sign of what he actually wanted to do for a living."
Anglin expected Junior to be a fun, easy ride to fill her time while her other horse recovered, but he turned out to be much more.
"Everything I asked him to do he just acted like he'd been doing it his whole life and was ready to do more," Anglin said. "We did our first prelim last fall and a few more this summer. He's a blast to jump, very forgiving, and he loves his job. When we start jumping his little ears come up, and he's just happy as can be. He's so much fun, he's a horse I can just go out and enjoy competing on him."
Anglin and Junior are competing in the preliminary amateur division, and this will be their first time at the AEC. When Anglin isn't riding she works as a flight rescue nurse, riding in rescue helicopters and assisting patients. She recently completed her MCAT and is in the process of applying to medical school.
"I started as an ICU nurse, and I like aviation so I just combined those things," Anglin said. "It's a pretty interesting job. It can be stressful and hectic but I enjoy the work. The horses have always kind of been my passion though. It's a way to have my own activity outside of work that I can set goals with."
Important links:  All the COTH coverage of the 2017 AEC  |  full results  |  live streaming