Ireland's Shane Sweetnam guided Main Road right to the top of the podium in the $132,000 U.S. Trust & Bank of America Merrill Lynch Grand Prix CSI***, the week's highlight class at Tryon International Equestrian Center after speeding through the short-course timers in 44.67 seconds. Juan Andres Rodriguéz Silva piloted his own Bugatti, a 12-year-old Royal Dutch Sport Horse gelding (JPC Modesto—Versinaa, Emilion), to second after a fast 44.86 second clear jump-off round, while third-place honors went to Hunter Holloway and Hays Investment Corporation's Eastern Jam, a 9-year-old Dutch Warmblood gelding (Lexicon—Salana,Monaco), blazing to a fast 39.93 second trip but finishing with four faults.
Thirty horse-and-rider combinations tested the first-round course designed by Anthony D'Ambrosio, with four pairs returning to prove themselves around the short track. Sweetnam and the 10-year-old Swedish Warmblood gelding (Heartbeat—Main Mirco, Irco Marco) owned by Sweet Oak Farm & Seabrook LLC, were last to go in the jump-off round, and Sweetnam said his mount was feeling fresh to contest their second trip.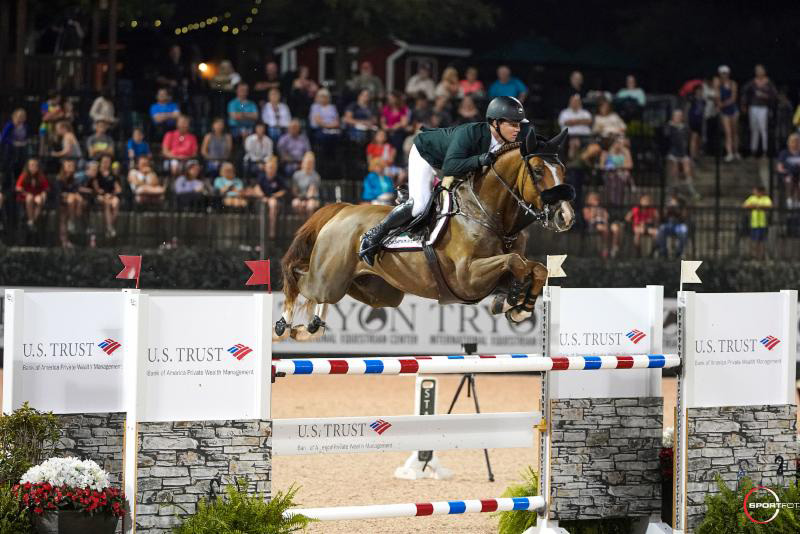 "I've had him since he was 7, so I know him really well," Sweetnam said. "He's had good results everywhere. He's placed in the Dublin Grand Prix [Ireland]. He was good in Mexico City earlier this year. I went to Europe recently to compete and didn't bring him with me because he couldn't travel due to health restrictions for the U.S. horses coming back from Mexico. This is his first show back since I got back into town, so we were a little wild in the first round, but the second round was better."
Using his draw order to his advantage, Sweetnam mentioned that he cut it close with the time, but successfully opposed Silva's large-strided mount. "I watched on the screen when Juan went, and he's got a bigger mover and a different type of horse than me. He was actually quicker than I thought he was, and it was tight," he explained. "I was lucky and dodged a bit of a bullet there because my fella is a very quick horse, so I just kept it kind of even and did the turns and the numbers, but it was a bit close."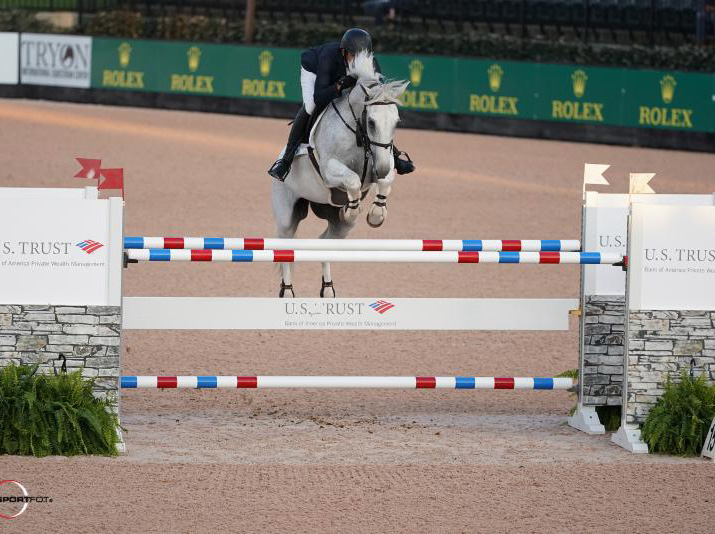 Sweetnam plans to spend another week competing at the venue before continuing on with his summer schedule, which includes CSI***** appearances in Belgium, Germany and Ireland, as well as a host of other top competitions abroad.
Following his win, Sweetnam climbed atop the podium surrounded by his three young children. "It's great to have my family here," he said. "They enjoy it as well, and it's a lovely show for that. We're here for two weeks and the whole family is here. My daughter is showing in the pony classes, and the other two are roaming the place. There's a good group of kids here. Jimmy Torano's kids are here, too, so it's a great place to have them with us. We love coming here."