Herning, Denmark—Aug. 10
Reigning Olympic champions Team Sweden came to the Agria FEI Jumping World Championship as the heavy favorites, and after two days of competition they've shown exactly why. The Swedes kept a clean sheet Thursday with three clear rounds from Peder Fredricson (H&M All In), Jens Fredricson (Markan Cosmopolit) and Henrik von Eckermann (King Edward), with Malin Baryard-Johnsson (H&M Indiana) serving as the drop score with 4 faults.
But France is hot on their tails, with clears coming from Julien Epaillard on Caracole De La Roque, Simon Delestre on Cayman Jolly Jumper and Kevin Staut, who rebounded from a fall off Scuderia 1918 Viking D'La Rousserie Wednesday to leave all the poles in the cups today. They are less than a rail behind Sweden thanks to the faults converted to points from Wednesday's speed round.
The German team is more than 6 points behind France in third.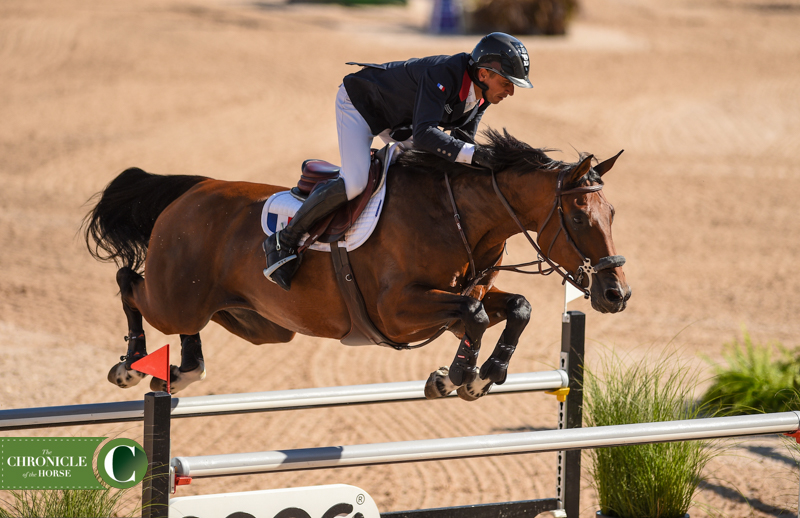 Despite leading the individual standings after topping the speed round, Epaillard still sees room for improvement with the 10-year-old mare.
"It was not exactly like I want," he said of his round. "The mare was a bit fresh today. I didn't have the best control. But she's amazing. She jumped super, so without the best precision she still has the best quality. It was not easy to find a good decision before the triple combination. I decided finally to make seven [strides], but [I decided] inside the ring, not before going in the ring."
Great Britain's Scott Brash sits second after another clear on Hello Jefferson, the horse 2016 Olympic champion Nick Skelton reportedly said was the only mount who could tempt him to come out of retirement.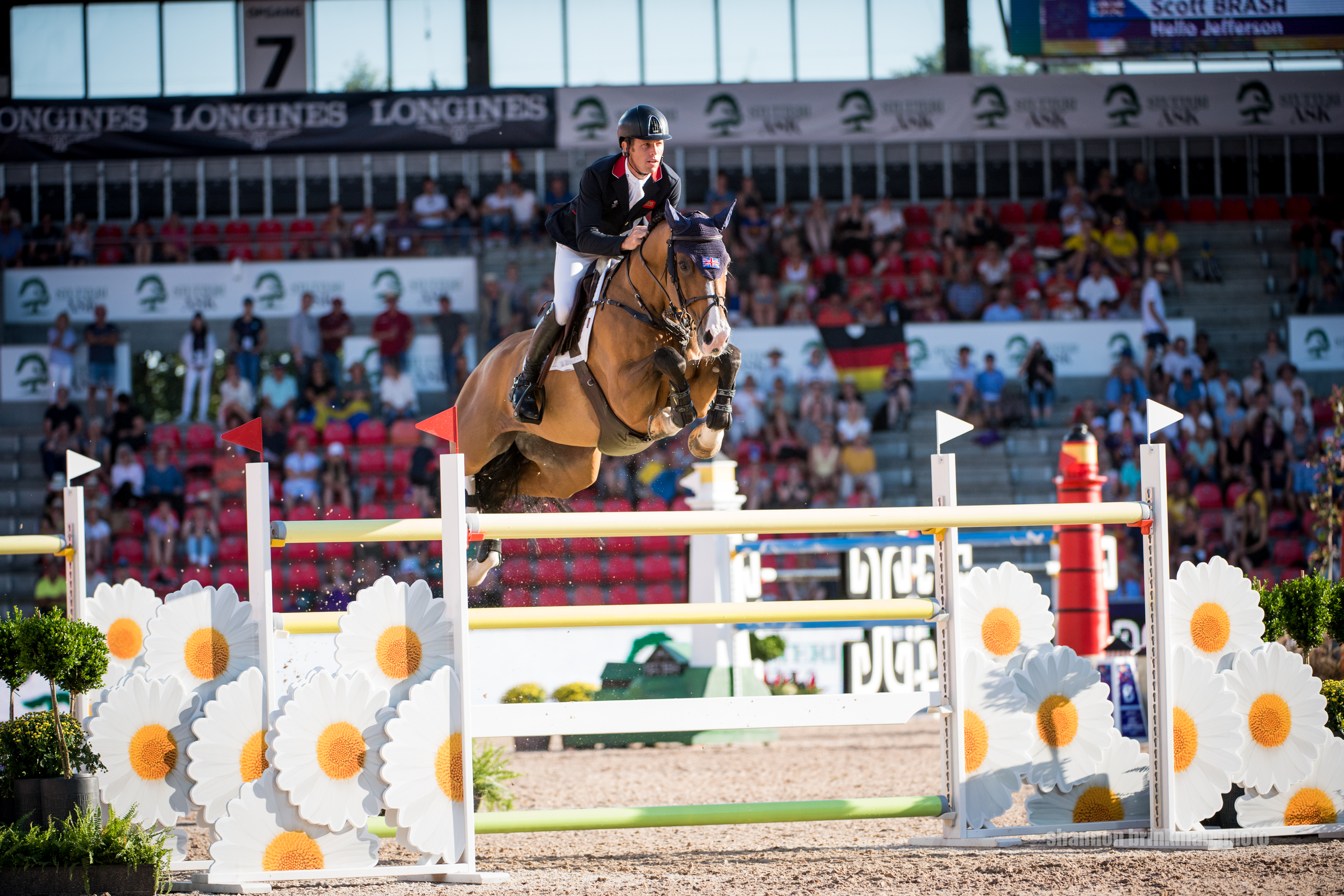 " 'Jefferson' feels good," he said. "He's full of running, and he jumped great, so [I] felt very good at the end of the course. I'm delighted with him.
"[Coming here] I felt that he's in really good form," he continued. "He jumped amazing [at CHIO Aachen (Germany)], and he feels like we can do anything, so I was pretty confident coming here that he was in good shape. But to come and to go well the first day, to keep all the poles up every day inside the time allowed is so demanding, so you need a bit of luck along the way as well. You never know what can happen, but I was very happy with where he was at in his fitness and our partnership leading into the championships."
Peder lays third with his veteran championship partner H&M All In. This world championship is extra special for him, he said, as he's on a senior championship team with his brother Jens for the first time.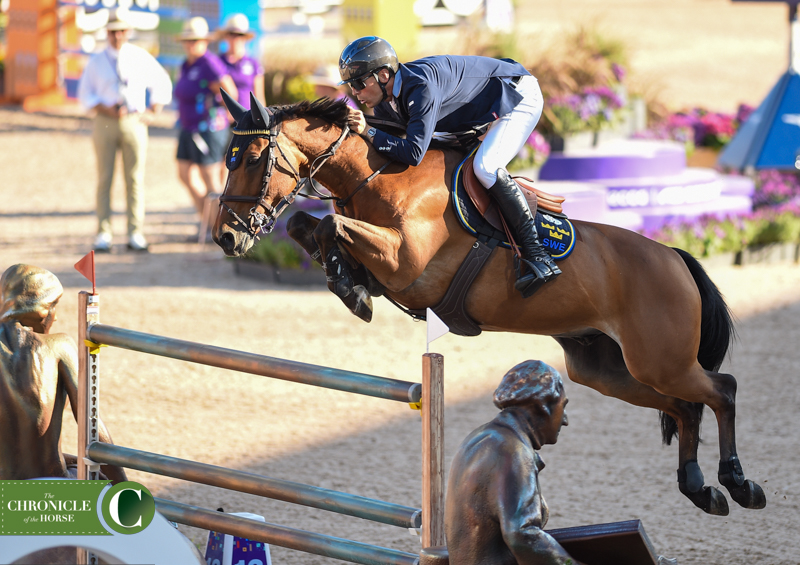 "It is fantastic," he said. "We've been riding together since I was 3. We've done a lot of other competitions together, and I've done a few championships, and he's been with me at the championships just to help, and I've been with him to a lot of shows, but this is the first time we'll ride together [on a championship team]."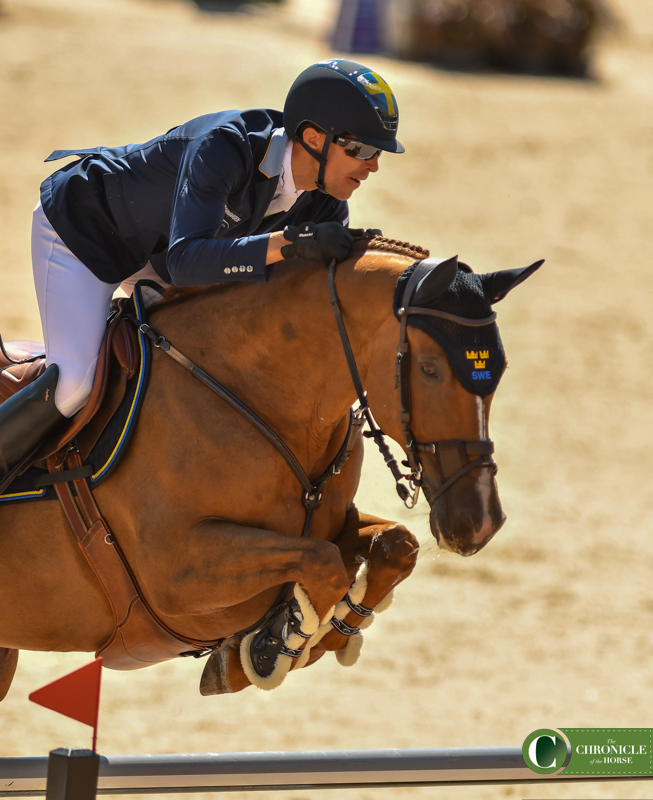 World No. 1 von Eckermann was today's lead off rider for Sweden, and his clear round held onto his fourth-place position.
"He just feels confident and really relaxed," he said of King Edward.  "Then you can go in and do that job, and he comes out hardly breathing not sweating. So it's definitely an advantage. He makes it looks effortless. He makes it look so fantastic."
Team USA Out
The top 10 teams after today—Sweden, France, Germany, the Netherlands, Belgium, Great Britain, Switzerland, Canada, Ireland and Brazil—advance to the final round of team competition, as well as the top 60 riders in the individual standings.
The United States just missed the cut, finishing in 11th. This means that the United States will not qualify for the Paris Olympic Games here—the teams who finish in the top five will secure their Olympic berth—but two U.S. riders will advance as individuals: McLain Ward and Brian Moggre, who is making his championship debut. Less than a rail separates the top 14 riders in the individual standings.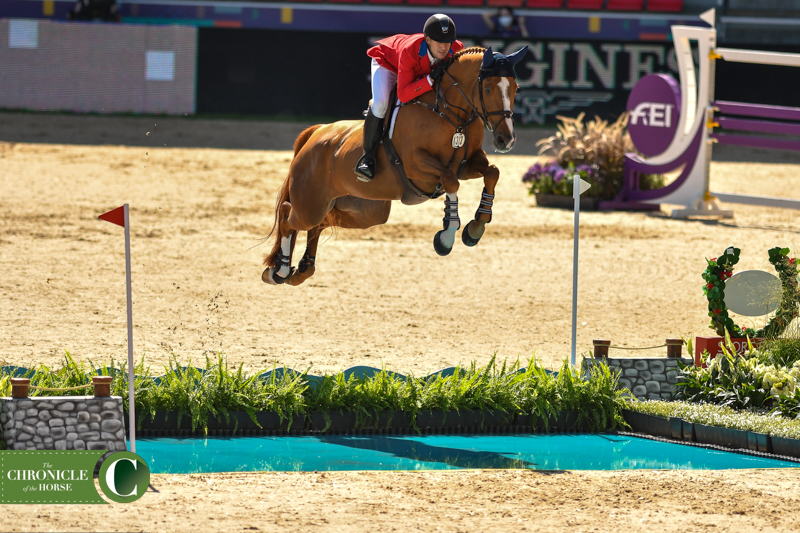 Ward moved up in the order, riding first so that Contagious could ride on the freshest footing possible, which suits the German Sport Horse. After ticking one pole Wednesday, they got things started Thursday with a clear round and sit 12th in the individual standings.
"Yesterday I wasn't pleased; it was a long night," he said. "We had a mishap happen at the fourth jump, which I overanalyze why that happened, but certainly it didn't feel like the strongest performance we could give. Also, there's always a little unknown. He felt great in the warm up today, and after the third jump I felt he was in different form than yesterday."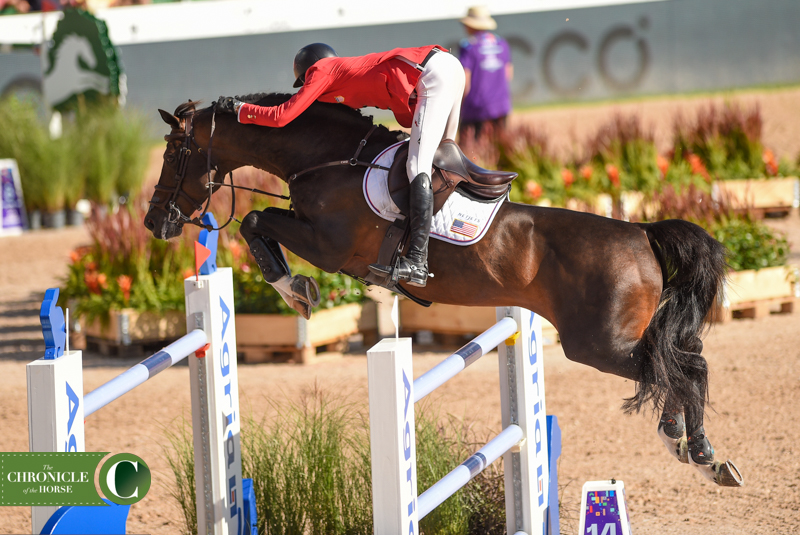 Moggre followed up Wednesday's clear round on Balou Du Reventon with a rail down Thursday, but he finished in good spirits.
"I was very happy with my round today," he said. "One fence down. Ideally, we would've jumped clear, but my horse tried his hardest. He always does, so I was super happy with how he performed.
"He's amazing," Moggre continued. "He's the most gentle, kind stallion. When we go in the ring, though, he changes into kind of a powerhouse horse. To be on him for my first championship is really special. I know he's going to take care of me, and it's great."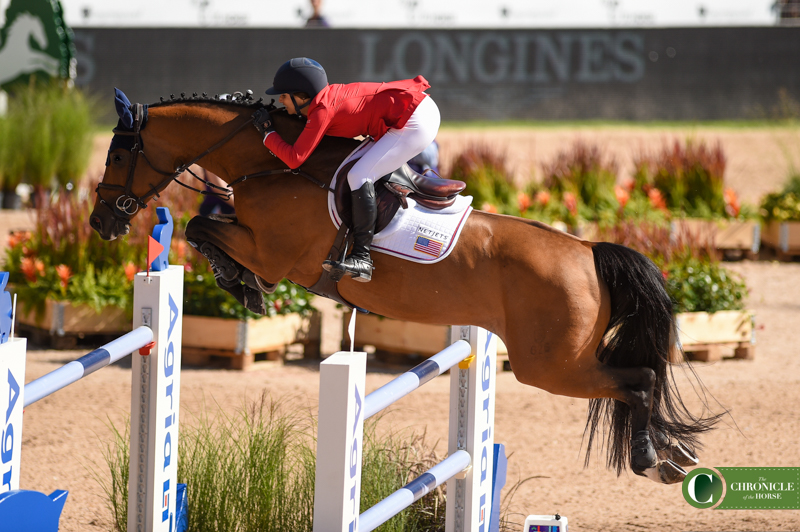 Adrienne Sternlicht and Cristalline ticked two rails to finish in 68th, but she was happy with how her team gold partner from the 2018 Tryon World Equestrian Games (North Carolina) performed.
"I was a lot calmer in myself going into today, which was something that was important for me, to genuinely just enjoy this," she said. "So often, it's easy to forget that as competitive as we are, these animals bring so much joy to our lives and so much love, so I wanted to really focus on that.
"My horse always fights for me; she has the tremendously biggest heart of any animal I've been around," she continued. "I think that she and I are both a little bit rusty at this highest level. I think four years ago, we were definitely more in the rhythm. While I was quite inexperienced, I had no idea what I couldn't do, and so four years later, I just have a deep appreciation for my horse and really genuinely want to do her justice in the ring. I know the two of us will get better every day. I made two mistakes today that were both based in anxiety of just wanting to help her, not being patient enough with my upper body, and so as riders we can literally always be better, and sometimes the sport doesn't reflect how you feel, and I am happier today than I was yesterday."
Like Moggre, Lillie Keenan is riding in her first senior championship, and she tacked up Argan De Belliard for the occasion. She and Ward swapped places, so she rode late in the day in the anchor position, finishing 69th in the standings.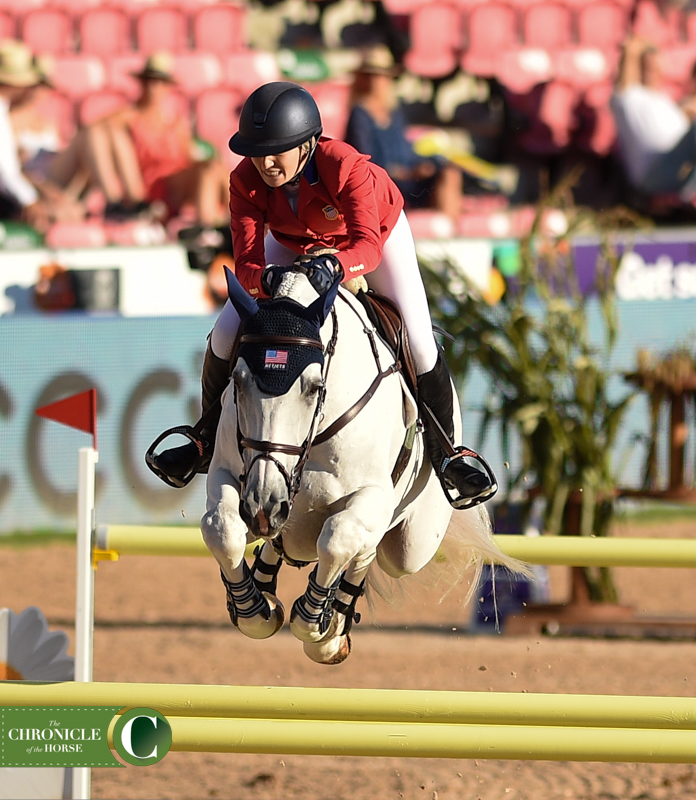 "He jumped really well today," she said. "Yesterday I obviously went in the beginning. This time of the day is a little bit different because it's a little more shadows. I'd say for myself I was expecting him to be more green. He's never jumped a course that's this big, so I was expecting him to be a bit more backed off. The jumps are a bit wide today, so I definitely rode a bit aggressive. The line going away from home to the triple combination, we've seen a few horses stop inside there. Mine is not a stopper by any means, but I just didn't want to ride him without momentum. And I just overrode the line, which cost us two [rails]. … Obviously for the team that's not what I needed to do, but I can't be disappointed in my horse. I just need to know for next time that I need to believe in him that much more."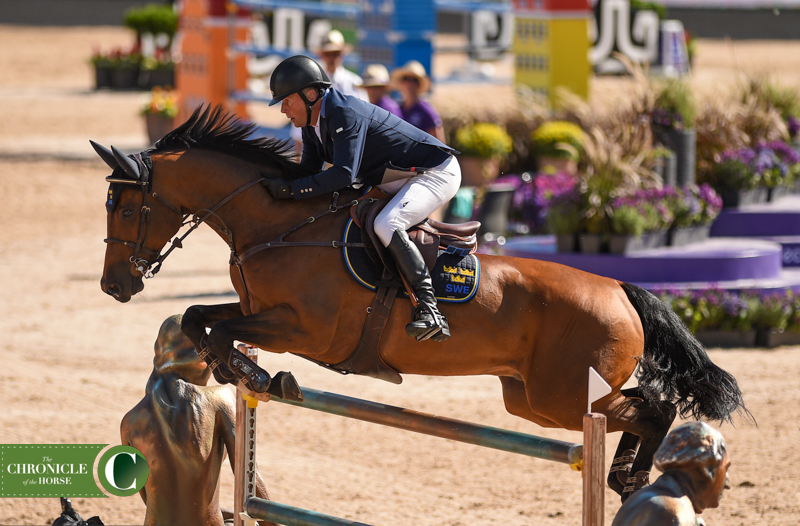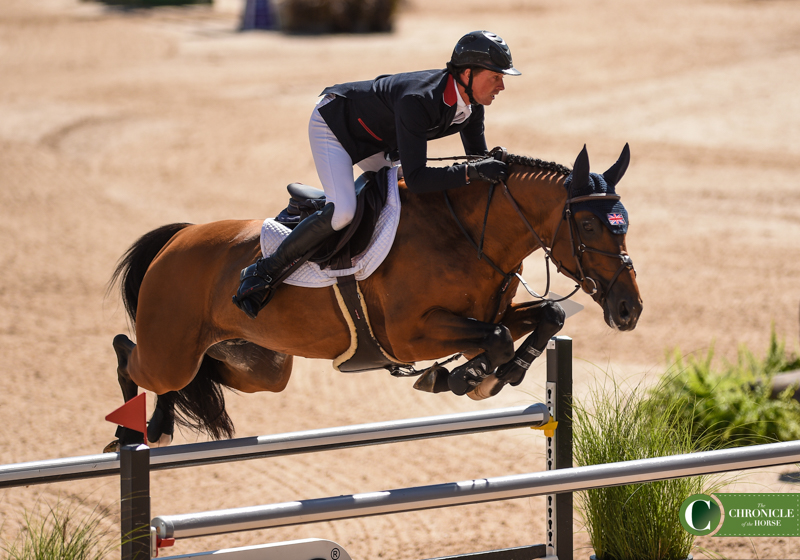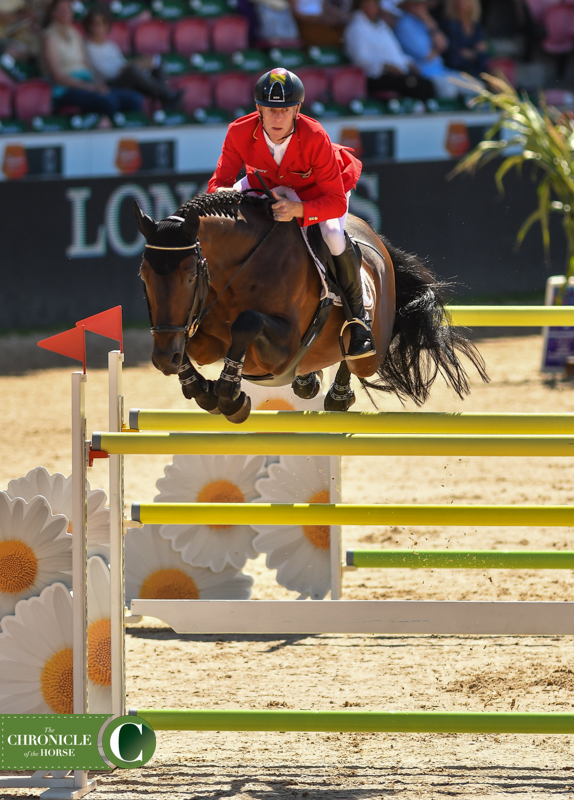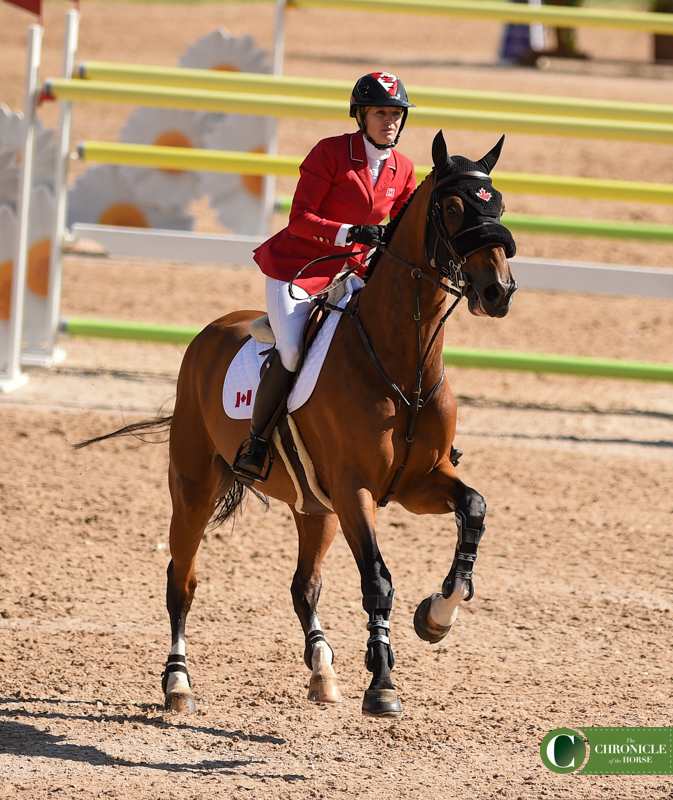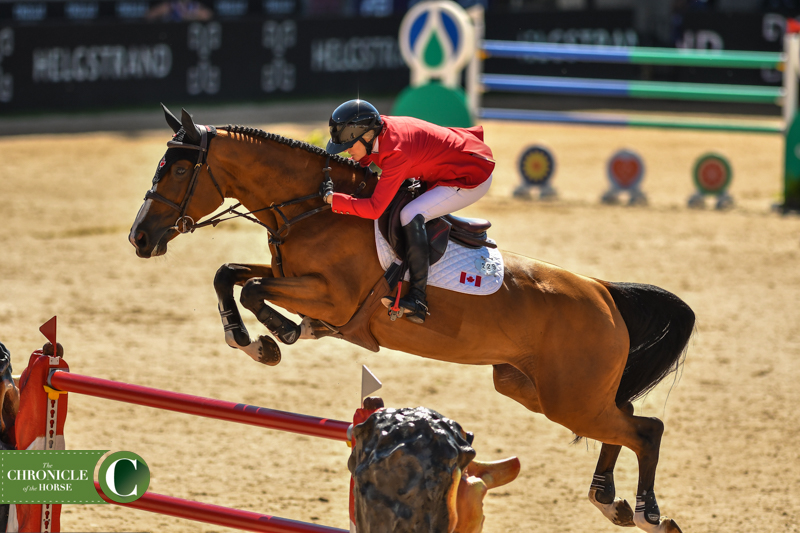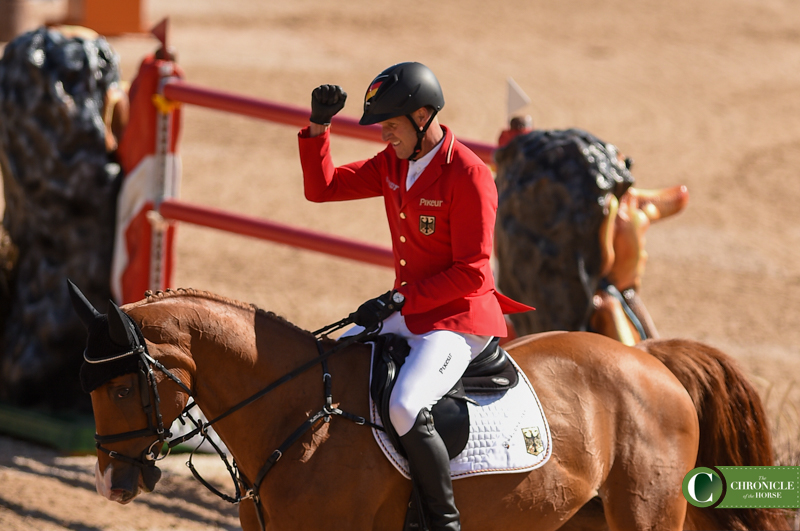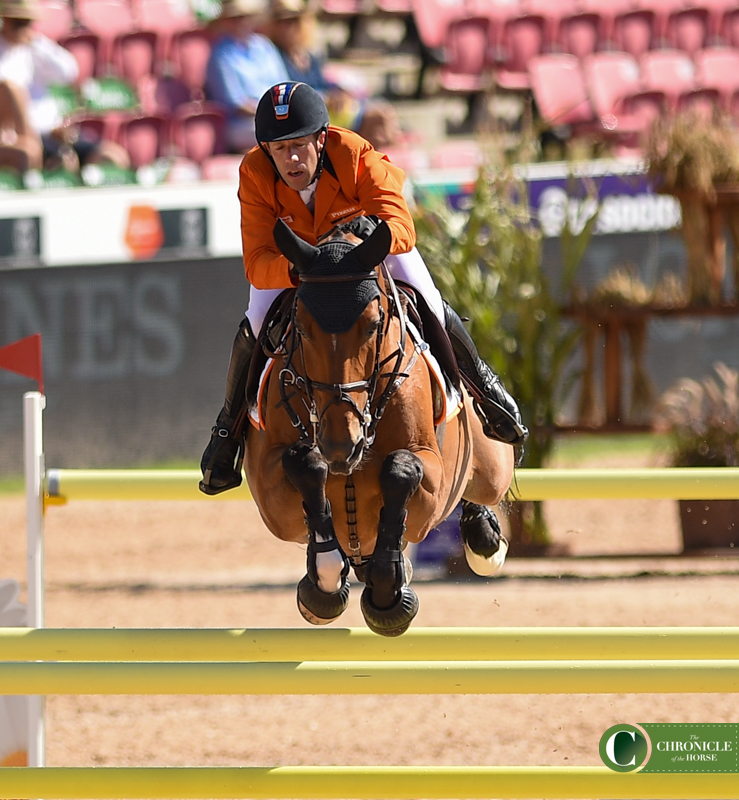 Find full individual results here and team standings here. Want more from the ECCO FEI World Championships? Click here. Check out the Sept. 5 issue of The Chronicle of the Horse magazine for analysis from the competition.