Herning, Denmark—Aug. 12
Four years ago Sweden missed out on world championship gold by a hair's breadth in a jump-off against the U.S. team. Today they finally got to the top step of the podium when they earned the Agria FEI Jumping World Championship title. They clinched their medals in style, earning gold after just three riders jumped.
"It's just been an amazing year, from [winning the Tokyo Olympic Games gold medal] to make the plan to come here," said Swedish Chef d'Equipe Henrik Ankarcrona. "We knew we had a good chance and wanted to be on top of the podium. We were quite clear that we knew we had the capability and skills and horsepower to do it. Thanks to these four riders and [reserve rider Rolf-Göran Bengtsson] who's not here."
Henrik von Eckermann kicked things off with a clear round for Sweden aboard King Edward, followed by Malin Baryard-Johnsson who put 4 faults on the board on H&M Indiana around Louis Konickx's technical, delicate course. Jens Fredricson's clear on Markan Cosmopolit clinched the win for the team before Peder Fredricson and H&M All In even rode.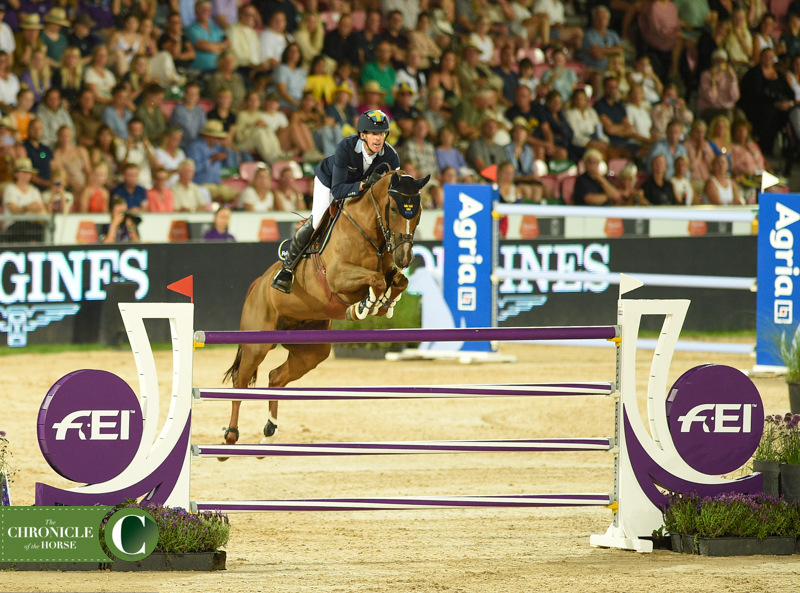 "Tonight it was very good," said Jens. "My horse jumped easily with confidence, relaxed with a lot of power. I was a bit lucky on the last fence, which we needed, and the time was tight. You had to think about it the whole way around and put a little bit more pressure on everyone."
France came into the day in medal position, but fell to sixth when none of their riders managed to find a way around the course fault-free. And Germany, seated third yesterday, fell out of contention when Andre Thieme was unseated from DSP Chakaria.
The Netherlands moved up the leaderboard to finish on the second step of the podium, clinched by Harrie Smolders' clear round on Monaco N.O.P.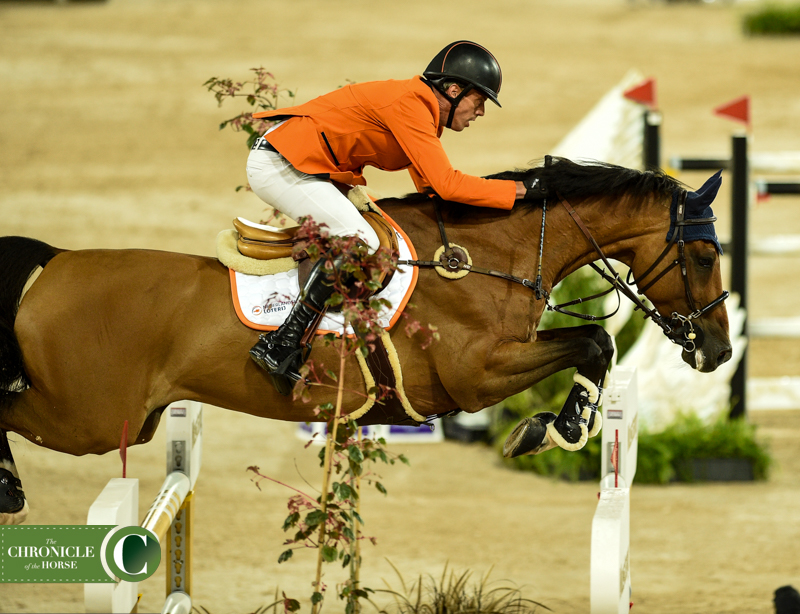 "He was fantastic today," said Smolders. "He was a little nervous, I must say, in the warm up with the lights and all the noise, but when he came in he was totally focused, and I'm very proud of him. I think he came back strong. In [Round 1 of the team final] we started out in eighth place, and we moved up to fourth, but even halfway today we kept believing, and we go home with a medal."
Great Britain leapfrogged up the standings from sixth to bronze medal position.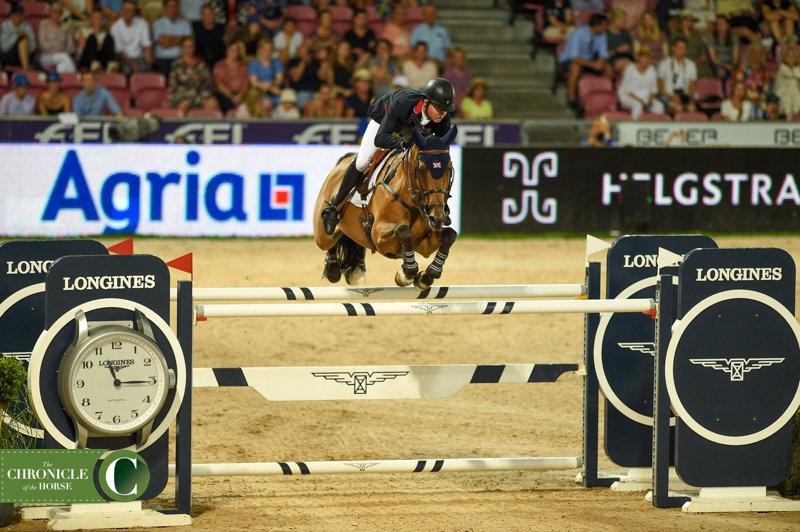 "We've been really looking forward to this for last 12 months," said British Chef d'Equipe Di Lampard. "The plan was to come here and go away with a  medal. We came with the ambition to get a medal and qualification along with it. I'm delighted how this team formed."
While Team USA didn't qualify for the team final, Brian Moggre (Balou Du Reventon) and McLain Ward (Contagious) did advance as individuals, but it wasn't their day. When Moggre made a snug turn back to a maxed-out plank Balou Du Reventon put on the brakes coming out of the turn and reared up several times. Eventually Moggre got him going forward, taking down the plank but jumping clear the rest of the course.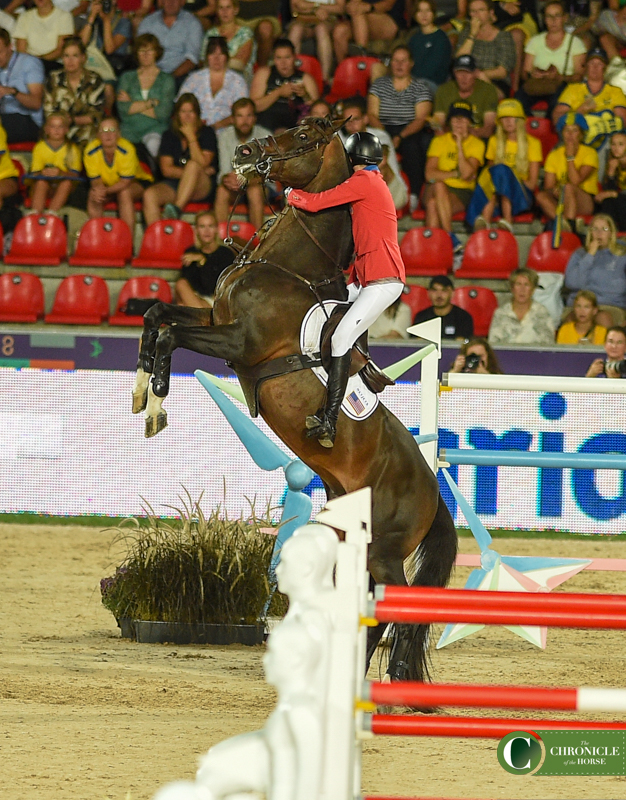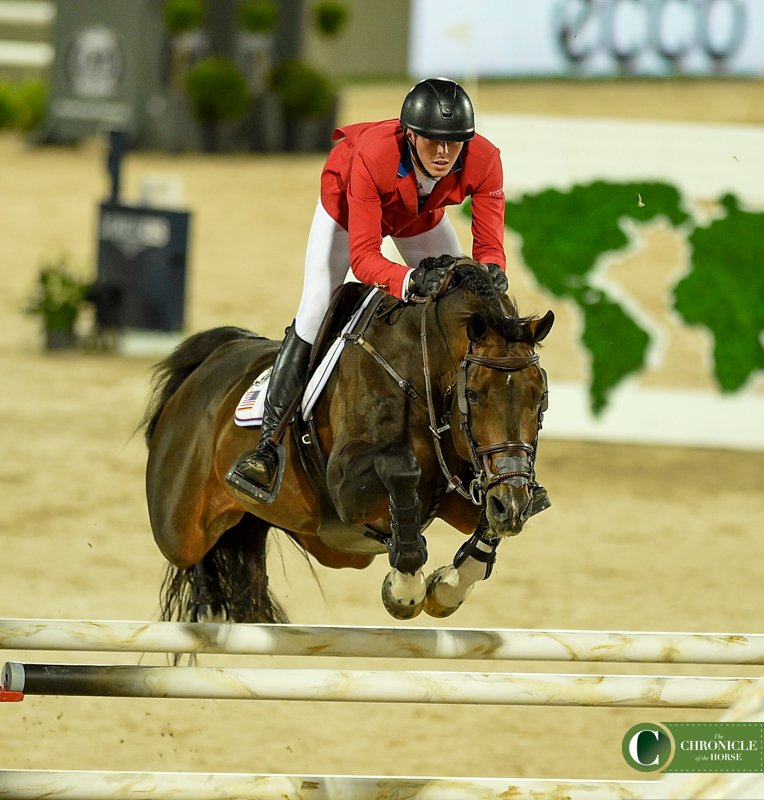 "Show jumping is such an unpredictable sport," said Moggre. "I think the first three fences, I might have put a little too much pressure on him, and I was really thinking of time allowed. He came around that turn and I think maybe he didn't like so much pressure and [we had] a little bit of a miscommunication, but after that he jumped absolutely lights out. He felt incredible. Honestly, I'd go as far to say, as it felt like one of the best rounds he's ever jumped after that happened."
A few rounds later Ward took a turn with Contagious, but after the gelding had three fences down early on course, he elected to retire.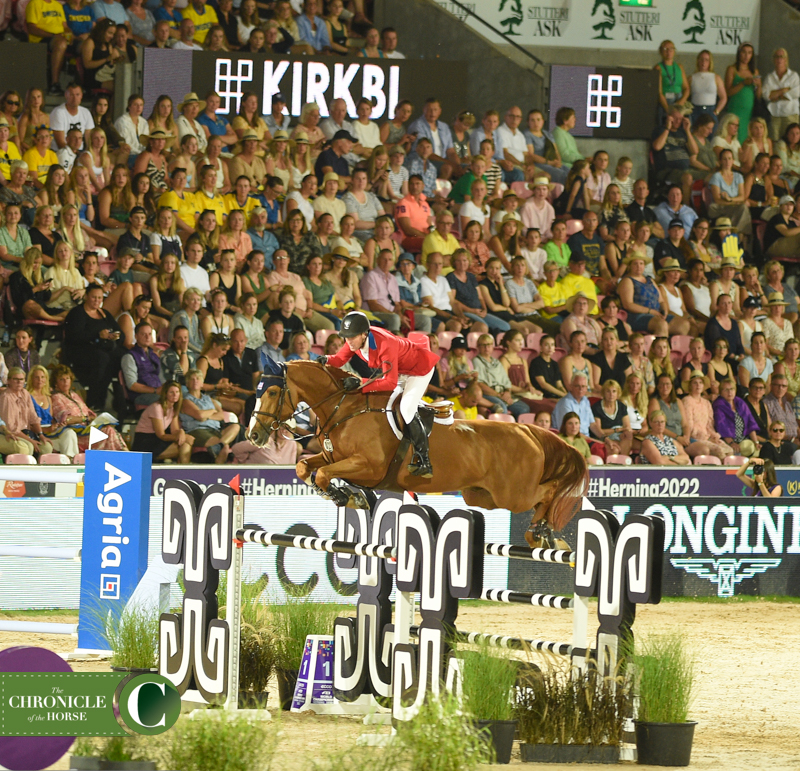 "You know, nothing bad [happened]," said Ward. "This horse has given so much over the last several seasons, making it to Tokyo last year, pulling off being part of that medal-winning team, which was I said afterwards an incredible feat. And, you know, when you have weeks like this, you realize how difficult it is to win those medals and not to take it for granted.
"It was a disappointing week result for sure," he added. "You can't duck that. But you know, the young riders that were here who have great futures and gained a lot of miles and that'll pay back down the road. It's a good wake up call."
Saturday is a rest day for the jumpers, and the top 25 combinations will return for two more rounds of jumping on Sunday to vie for the individual title.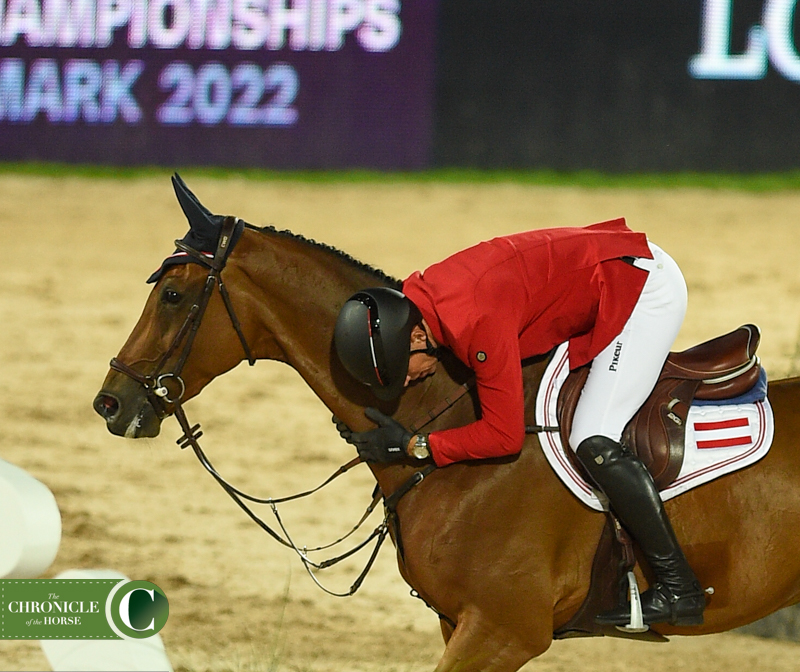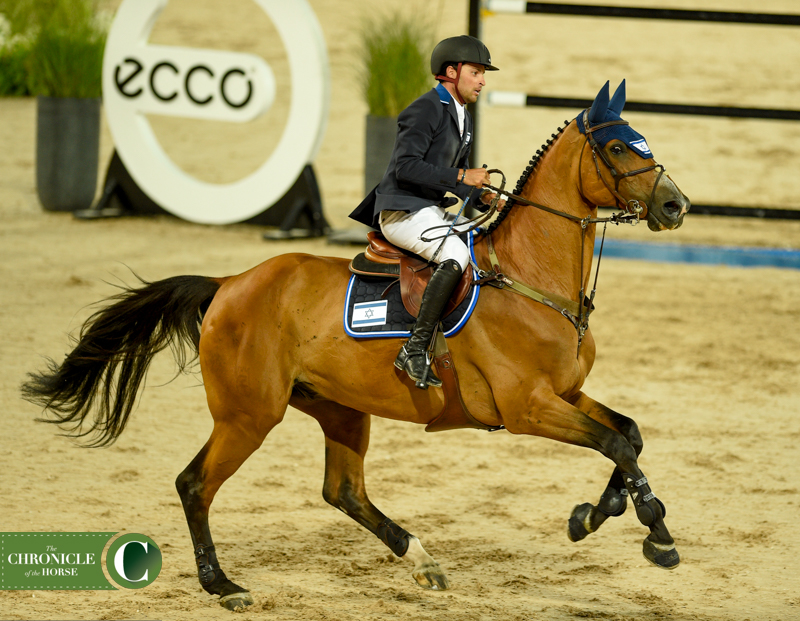 Click here for team results and here for individual standings. Want more from the ECCO FEI World Championships? Click here. Check out the Sept. 5 issue of The Chronicle of the Horse magazine for analysis from the competition.