New York City—Sept. 24
If you could keep your eyes trained solely on the horses jumping the fences, you could mistake this for any horse show. But that's impossible to do when you're watching a show jumping competition in Central Park. Your eyes wander up to the sun setting behind the skyscrapers, to the carefully manicured greenery outside the ring, to the passersby perched on rocks on the nearby hillsides, hoping for a glimpse of the horses from a distance.
This is the second year for the competition—which is hosted in the Wollman Rink, a venue that more often serves as an ice skating rink for New Yorkers but is wholly transformed for this event.
For Ireland's Conor Swail, it was the scene for his win in the $40,000 Canadian Pacific Railway U.S. Open Speed class tonight. Swail piloted Simba de la Roque to first in the class with a time of clear round time of 57.36 seconds. Todd Minikus was second on Quality Girl (58.10 seconds), and Daniel Bluman was third with Conconcreto Believe (59.33 seconds).
"It was great to be here again, to start with," Swail said. "I was here last year and won this class, though it was a different format. It was nice to come back and win the class again. The venue is just amazing, and it's great to have a sponsor like Canadian Pacific as well."
When Swail walked Guilherme Jorge's course tonight, he felt there was only one way to tackle the fences, without many options for different lines, strides or inside turns.
"I was talking to the guys, and I think first, second and third place are all very careful horses," he said. "They're quick across the ground, and that's why we're sitting here."
For Minikus, he'd planned to take it a little easier than he did with his experienced partner, the Quality Group's Quality Girl.
"When I came into the ring, Quality Girl seemed like she woke up a little bit. I kind of over-rode jump 1 because she wasn't that good in the warm-up," said Minikus. "After that, she seemed on the game, so I stayed on the same pace all the way around. I don't think it was too fast to undo anything for tomorrow."
Bluman also left all the rails up.
"It's a shame Todd didn't stick to his plan, or else I would be in second place," said Bluman, who rides for Colombia. "I think he didn't learn from George Morris when he said to always stick to your plan. But it was a suitable course for my horse; she's fast like Conor said. I was hoping to finish in the top five with a nice, clean ride without going crazy. It worked out great."
Tomorrow night the jumpers contest the $210,000 U.S. Open Grand Prix.
Bellissimo Bests $25,000 U.S. Open Under-25 Grand Prix
Headed last into the jump-off for the $25,000 U.S. Open Under-25 Grand Prix, Nicole Bellissimo needed only a clear round. But she also didn't want to go too slowly in case she had a rail later in the course.
"I tried to ride the plan I would have had going in anyway," she said. "The only place I changed the plan was to the last jump. I would have taken a shot there if someone else had been clear. I knew I could take one more stride there by the time I went in and really set him up to clear the back rail, and I was a bit lucky with that."
Bellissimo and Harley David's clear round scored them first in the class over Kelli Cruciotti and Serenity Equestrian Ventures' Chamonix H and Hayley Barnhill and the ISB Group LLC's Beezie.
"I'm just so thrilled to be here, and I want to say thank you to The Chronicle Of The Horse and to Rolex for putting on this fantastic event," said Bellissimo, 21. "To come into New York City and have all the skyscrapers in the background—it's a really unbelievable experience. My horse is only 8, and he really stepped up to the plate tonight. It's a smaller ring, but Guilherme Jorge did a great job building the course. I'm a little biased, but it was a fantastic course and evening."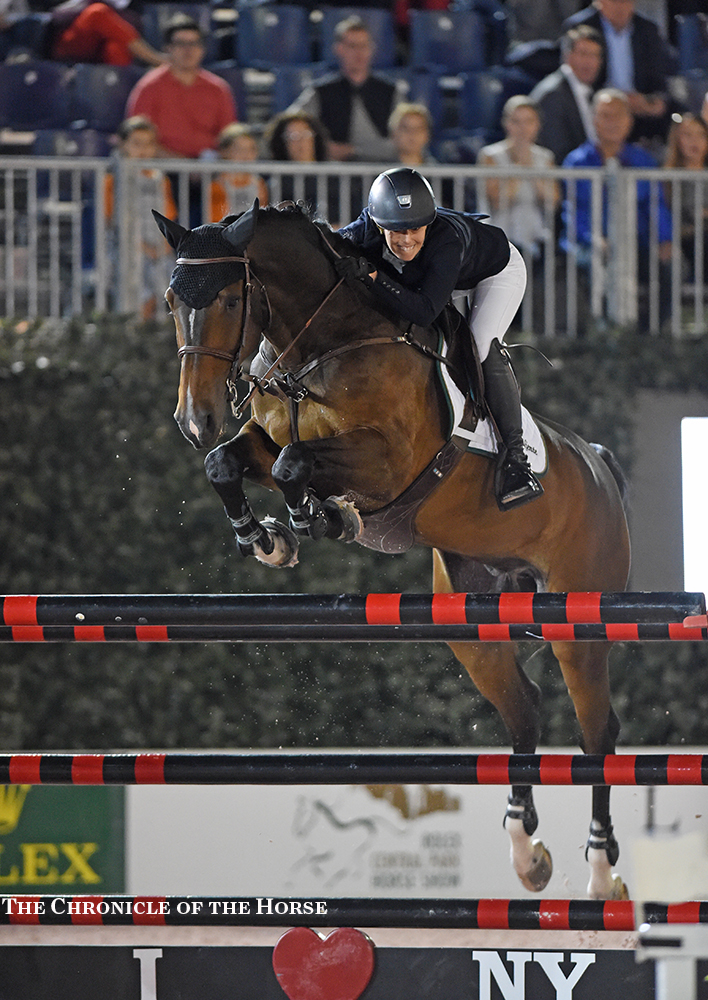 (Nicole Bellissimo and Harley David. Photo by Josh Walker.)
Fifteen riders started in the class, and four qualified for the short course. Faults fell throughout, with the most riders faulting at fence 2, an oxer after a turn, and fence 4, a tall vertical also off a turn.
In addition to the course, riders also dealt with the unique location of the class; horses are stabled about a five-minute walk from the arena, also in Central Park, and they hack over after warming up by the barns. (See how horses are living here at the competition.)
"My horse has a lot of blood," said Cruciotti, 18. "For me, the walk from the warm-up to the show ring was a nice little calm down for her. She could take a deep breath, and she got focused on what she was doing. The logistics were really quite easy. We left Gladstone [N.J.] at 2 am and got here at 5 a.m., and then we rode this morning and showed here tonight. It's very well-organized, and everyone executed their jobs."
Bellissimo is the daughter of International Equestrian Group CEO Mark Bellissimo, the mastermind behind this competition, and he was thrilled to witness her victory.
"I was very proud of all three riders—and especially the winner," joked Mark. "It was so fun to watch her, and as a father thinking of strategy, with no clear riders before her I thought she'd just go slowly. I don't ride, but she took some turns I wouldn't have taken. I thought it was a great kick-off to a great event. I'm excited to see the under-25 division really emerge. We started doing this class [at the Winter Equestrian Festival] in Wellington a few years ago, and it's turned into something really special for a group of riders who needed a place to be."
The Central Park action returns tomorrow with the U.S. Open Dressage Grand Prix at 1:30 p.m., and then the $5,000 junior/amateur class at 6:30 p.m., and the $212,000 U.S. Open Show Jumping Grand Prix at 8:30 p.m.
See full results from the under-25 grand prix and the speed class. Or check out a photo gallery from last night's U.S. Open for Arabians.