Olympic dressage rider Steffen Peters recently acquired the ride on Suppenkasper, a 9-year-old gelding previously competed by Germany's Helen Langehanenberg. The Dutch Warmblood (Spielberg—Upanoeska, Krack C) was previously owned by David Lichtenberg, and Peters' longtime sponsor Akiko Yamazaki purchased him as a potential team horse for Peters.
Peters first saw him showing in Germany last year.
"I was immediately impressed with his big gaits," Peters said, "and by how lightly and quietly Helen was able to ride him. I was definitely very interested in him from the start."
Peters famously partnered with Legolas 92 and Ravel to earn Olympic and World Equestrian Games medals and currently shows Rosamunde, a 10-year-old Rhinelander mare, at the Grand Prix level. He said his team had been looking for a horse to add to their string as a serious Grand Prix prospect, and Suppenkasper stood out as an exceptional candidate.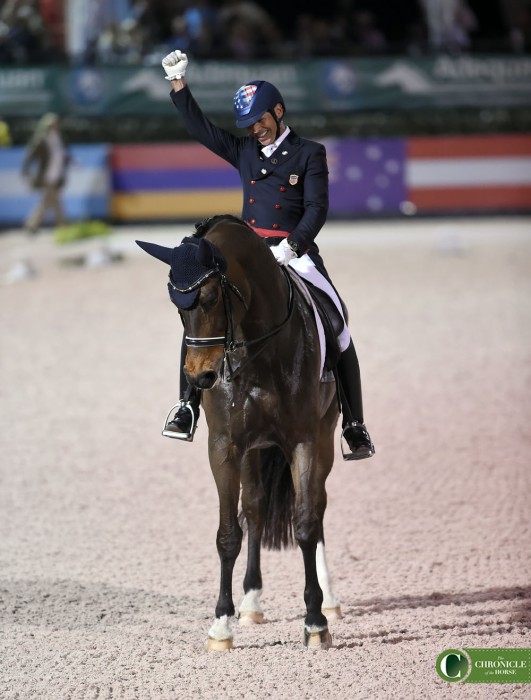 "We were looking for something that was confirmed in the piaffe," Peters said. "We wanted to have no questions about Grand Prix ability, and it is a bonus that he may possibly be a team horse someday."
Suppenkasper has won every CDI competition he contested this year, all of which were Grand Prix level, and his highest score was a 75.97 percent in a freestyle.
"This is the first made horse I've had, and it's an extremely luxurious honor," Peters said. "I simply cannot put into words how grateful I am to Akiko and Jerry [Yang] for this incredible opportunity and all their continued support."
Suppenkasper will arrive in the United States on July 25 and head to Peters' facility in San Diego after clearing quarantine.
"I expect a relatively short adjustment period," Peters said. "We've clicked since the first day, and Helen is a very gentle, effective rider, which is similar to the style I ride and teach here."
Peters aims to debut Suppenkasper at a national competition in October and then consider a CDI in January.
"I would say it was a little bit of a long sale," Peters said. "But with horses of this caliber, everyone has to do their homework. The vets have to be on the same page, the owners and everyone else need to coordinate, so it can take some time. Again I want to thank the owners and the rest of my team for their tireless work. I'm very excited to get started with him; I only hope I can ride him as well as Helen did."