Last weekend we attended our last show of our summer season. The competition season here in Virginia starts in April, revs up through May and June and culminates in one big show mid-July, after which it gets beastly hot and unpleasant, and it's terrific to be able to give the horses the rest of July and all of August to basically flop around and have a breather.
I also taught my last get-on-a-plane clinic for a while, which means that other than a few events on the farm, and a one-day show about 15 miles from my farm, I get to be HOME, with a NORMAL SCHEDULE, until September.
This. Is. Awesome.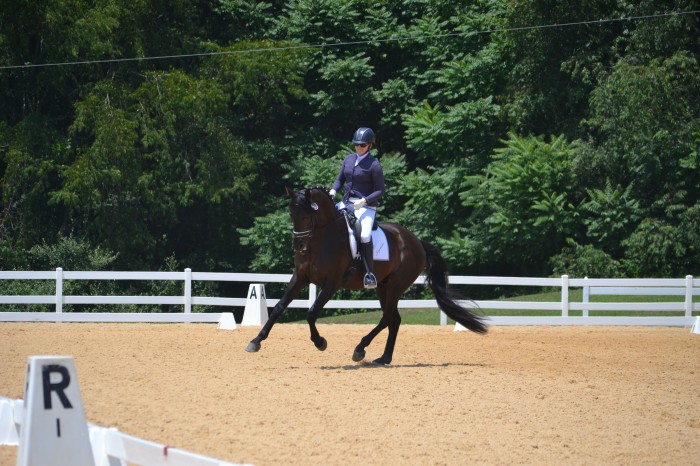 I love the hustle; I do. On our craziest days I'm game for it all; I love the showing, the running through airports, the travel, the frantic laundry before heading out again. But one of the reasons I love it is because I know that it's temporary, that it ends for a few weeks. And this is one of those chunks of quiet time.
It doesn't mean I'm just sitting around, though admittedly I am writing this blog from my couch, rewatching Studio 60, in the same clothes I wore to the gym seven hours ago. (It's Monday. I do what I want.) I'm taking advantage of the quiet time to reciprocate the same to my horses.
Swagger, my 4-year-old, has been to a few shows, where he's won a bunch at training level and generally behaved in a very mature fashion. This most recent show I even got on him without popping him on a lunge line first; he's an energetic horse, and he's BIG, but he's also given me no reason not to trust him as much as I trust any 4-year-old. And that was really the last hurdle I wanted to clear for him in his 4-year-old year. So… we're done, really. There's nothing else I feel he needs to achieve, and he's been sleeping a lot and looking very shiny and healthy but also sort of reedy and weird, so I'm thinking he's going to hack and do some groundwork and basic things until Sept. 1.
Puck is getting smart. He spent this spring learning how to go away from home and not be a completely unrideable jackass. At this most recent show, I did lunge him before I got on on Thursday—I'm not a complete moron—but it was boring, and then he was mostly boring from the saddle, culminating in rides on Friday and Saturday as if he was at home, hacking quietly around to and from the ring, and mostly being very boring. Hoorah! He's officially graduated from competition tag alongs and as such he can stay home and train.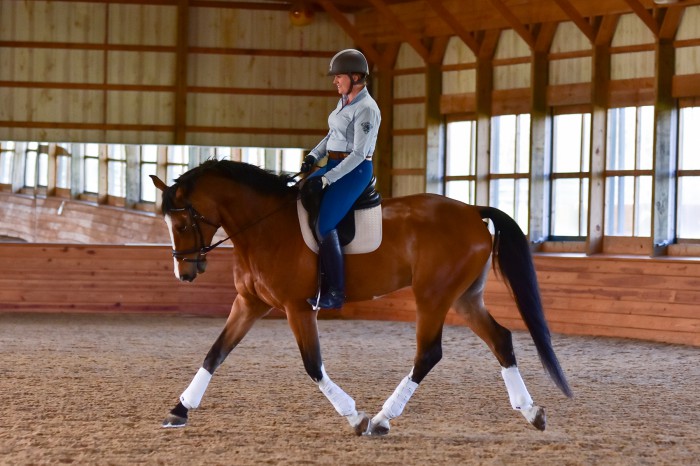 Train, during these hot summer months, means Flying Change Boot Camp. If you all will indulge me in a little ego, I'm pretty handy with the changes, and I like to introduce them when the horse has the ability to make shoulder-in and renvers in canter with relative consistency and stability. I like the renvers because it helps slow horses' front ends down; lots of horses like to change late behind, so that's something I like to address early. And I really like introducing them in the summertime, because a) when I get a clean change each way I stop the ride, which means that if I've done my job right the horse works for about 15 minutes, and that's swell when it's 95 degrees and 100 percent humidity; and b) the horses tend to leap around less when it's hot. A win all around!
Another thing I like to do in the summer is introduce the double bridle. In my entire career I've only had two horses be stupid their first time in a double, but I like to hedge my bets, and so the first few rides are just hacking around on marginal contact then a few rides of really light work. Summertime is a great time to do those things.
I'm also making trips up to my trainer Michael Barisone's every month now. I took both boys up the first time, and now I'll just take Puck. It's always good to reinforce his good Field Trip Behavior, but I also really like going up because I get to watch Hurricane work. I've even heard a rumor that I'll be able to sit on him pretty soon! I have no shame about admitting when I'm in over my head, and H was one of those times, but I am so, so grateful, both for my amazing coach and my amazing co-owner, Beverley Thomas, for being so understanding in our non-traditional path to our partnership.
The last thing I'm up to this summer is doing some continuing education off the horse. I'm expanding my groundwork toolbox with the help of our student and friend Sarah Drew. Sarah came to me for lessons a few years ago and told me that she'd been pursuing the Parelli system for a few years and wanted to combine what she knew with help from my assistant trainer, Lisa, and I into showing her horses in dressage.
I know the Parelli system is the system the internet loves to hate, and I have no dog in that fight, but Sarah's done a few clinics for my amateur students, and recently she helped both Lisa and I work with our own horses. We both really had our little minds blown! We did really super basic work, just moving the horse forward, backwards and sideways from the lightest touch, but it was fantastic how relevant everything she said to us sounded verbatim like what we say to our own students in lessons. It was also more than a bit embarrassing about what a boob I was about getting Puck and Swagger to do what I wanted them to do! I was truly blown away by how helpful it was, and it's paid off: I'm able to do some basic things with both of them to help them focus when they're a little distracted, and with Puck, as I'm just starting to introduce the very most basic ideas of half steps on hand, it's been helpful in that work, too.
Sarah will be back for a clinic in mid-August, and I'm excited to work with her again. We've also got a cool bit fitting clinic in about two weeks with my friend Beth Haist from The Horse Of Course. Bit fitting is one of those things where all of my experience is anecdotal, so I'm eager to apply some actual science. My awesome saddle fitter and longtime sponsor Colleen Meyer of Advanced Saddle Fit will be here this week to do fittings and dropping some good knowledge. And I'm working on a clinic with our veterinary team about the care of the older schoolmaster.
So for a not busy time, it's a busy time. But it's a different busy, and I'm grateful for a little break before we ramp up again this fall!
SprieserSporthorse.com
Lauren Sprieser on Facebook