Elkton, Md.—Oct. 20
If you want to move up the leaderboard at the Dutta Corp. Fair Hill International CCI***, you'd better be fast.
But even on a day like today, when the going was nearly perfect, only two riders managed to get inside the time over Derek di Grazia's course, and the leaderboard was significantly different by the end of the day.
Forty jumping efforts and a time of 10 minutes 7 seconds over a course that many riders refer to as a 3 ½-star whittled the field down to 33 from 39, and six of those pairs had jumping penalties.
Dressage leader Frankie Thieriot Stutes was hoping for a good go today after failing to complete the course her last time at Fair Hill in 2009, and she ended up being one of the two inside the time. Buck Davidson and Archie Rocks were the other, moving up from ninth to second.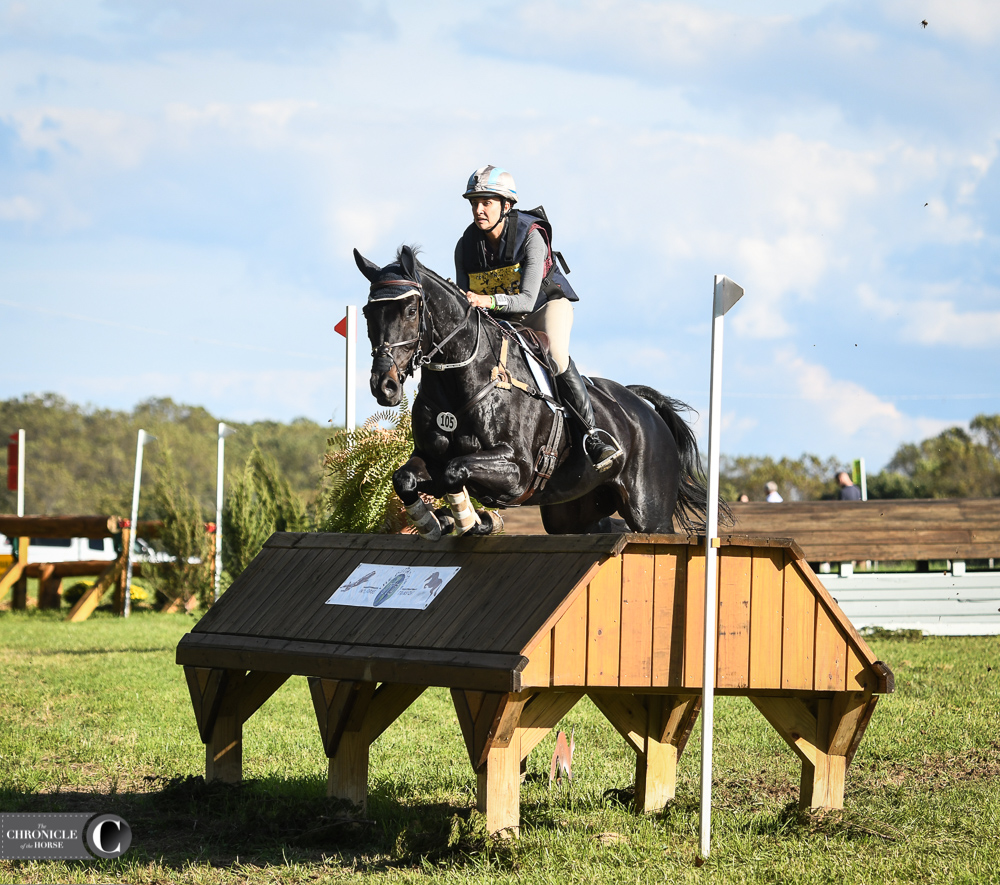 "I just wanted to attack the course," said Stutes. "I think it was mentally tough the whole way around for me and for my horse too, but he has just so much heart, and I was really proud of him today and really lucky to be on him the whole way around."
Stutes was leading a strong California contingent, but when things started to unravel for her friends, including CCI** leader Heather Morris and Charlie Tango who retired on course, she had to make sure to focus her energy back on her performance as one of the last pairs of the day to go.
Watch part of Stutes' round via USEF Network.
"[Trainer Tamie Smith] was like, 'Just ride scrappy and ride the plan. You know him, and you know what to do, so do what you know how to do, and you'll be fine.' It's good to have them in your corner," she said. "It was a really rough morning for California. I just wanted to get back in my mental zone and focus on my horse.
"I got through the big brush table to the skinny hedge [fence 22ab], and I kind of thought, 'Wow, we're almost back.' Then I caught myself, and thought, 'Not yet, Frankie.' You just have to stay committed the whole way around, both your horse and you. I don't do it on 10 horses like [the top professionals], so it takes a little more focus for me probably!" she said.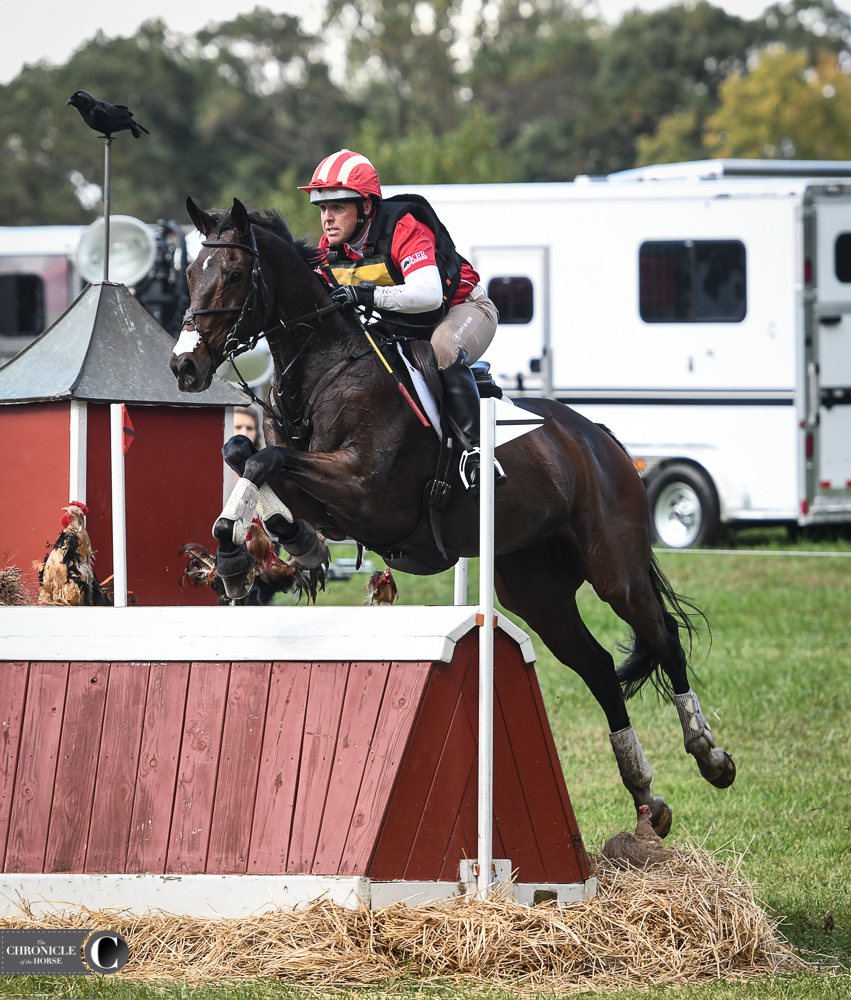 Stutes, who's an amateur and mother to two children under the age of 3, said she doesn't think about her children when she's riding Chatwin, a 10-year-old Oldenburg gelding (Contendro I—Oktav, Oltimer) owned by The Chatwin Group.
"I joke that I'm better when I'm pregnant because I did Bromont [CCI*** (Canada)] with him almost five months pregnant," she said. "I'm a little braver, something like motherly survival instinct! Once I get on I just think about Chatwin. I think about them at the finish."
Davidson's only had the ride on Archie Rocks, a 10-year-old Thoroughbred gelding (Le Monde—Unbridled Diva, Unbridled Jet), since the spring for his owner Maya Simmons to help sell him.
They're coming off a big win at Davidson's hometown event, the Plantation Field International CIC*** (Pennsylvania).
"He's a true Thoroughbred, and he really tries hard," said Davidson. "He trusted me right away, and we developed a partnership. He's very fast, and he's very honest. He gave me a great ride today. I was just so far ahead after the last water that I slowed down and butchered the second to last! If you get out of your rhythm it messes you up. But he was terrific today. I'm happy."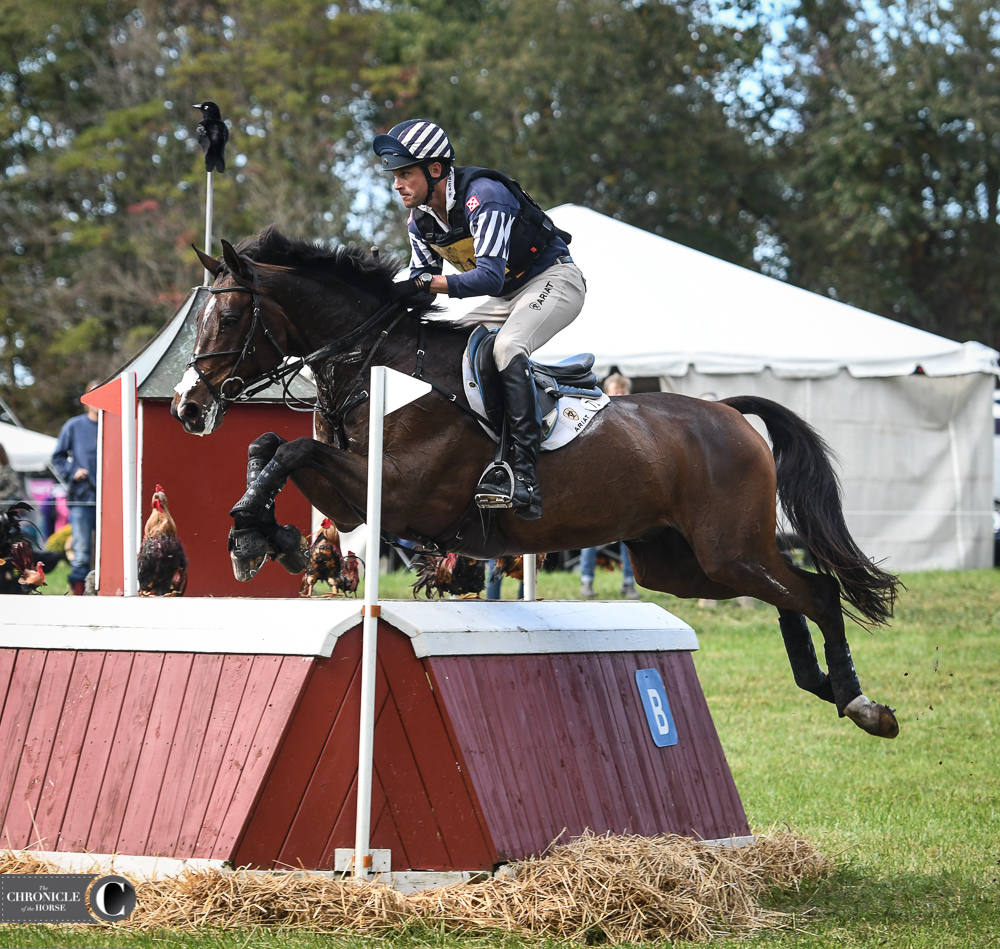 Boyd Martin and Long Island T moved up one place to third by adding 4 time penalties. The 12-year-old Oldenburg/Thoroughbred gelding (Ludwig von Bayern—Highlight, Heraldik xx) owned by the Long Island T Syndicate, won the Jersey Fresh CCI*** (New Jersey) in May, but he's had a few blips on his cross-country record.
"He was brilliant," said Martin. "He's really come on this year. I did the CCI*** at Jersey and sort of just scraped around, and six months later he's felt bigger and stronger. I think he'll be set up well from this course for [the Land Rover Kentucky CCI****]. He usually does a little bit better in the dressage, but the biggest challenge for us has been the cross-country and the jumping. You know around Fair Hill if you've got a four-star horse, and today he showed me that he's good to go to Kentucky or Luhmühlen next year."
Two riders in the CCI*** retired on course after refusals, and there was one horse fall. Autumn Schweiss' Oakport Strauss fell at 23b, a narrow log on a bending line from a log drop, but both horse and rider were up quickly.
There were two rider falls. Meghan O'Donoghue fell from Palm Crescent at fence 5b, a brush in the first water, and Caitlin Henderson fell from Creative Dreamer at 24a after the horse twisted. Both riders were up quickly.
Fence 17b, a brush chevron in the arena that came after a log drop, caused the most refusals with three pairs faulting there.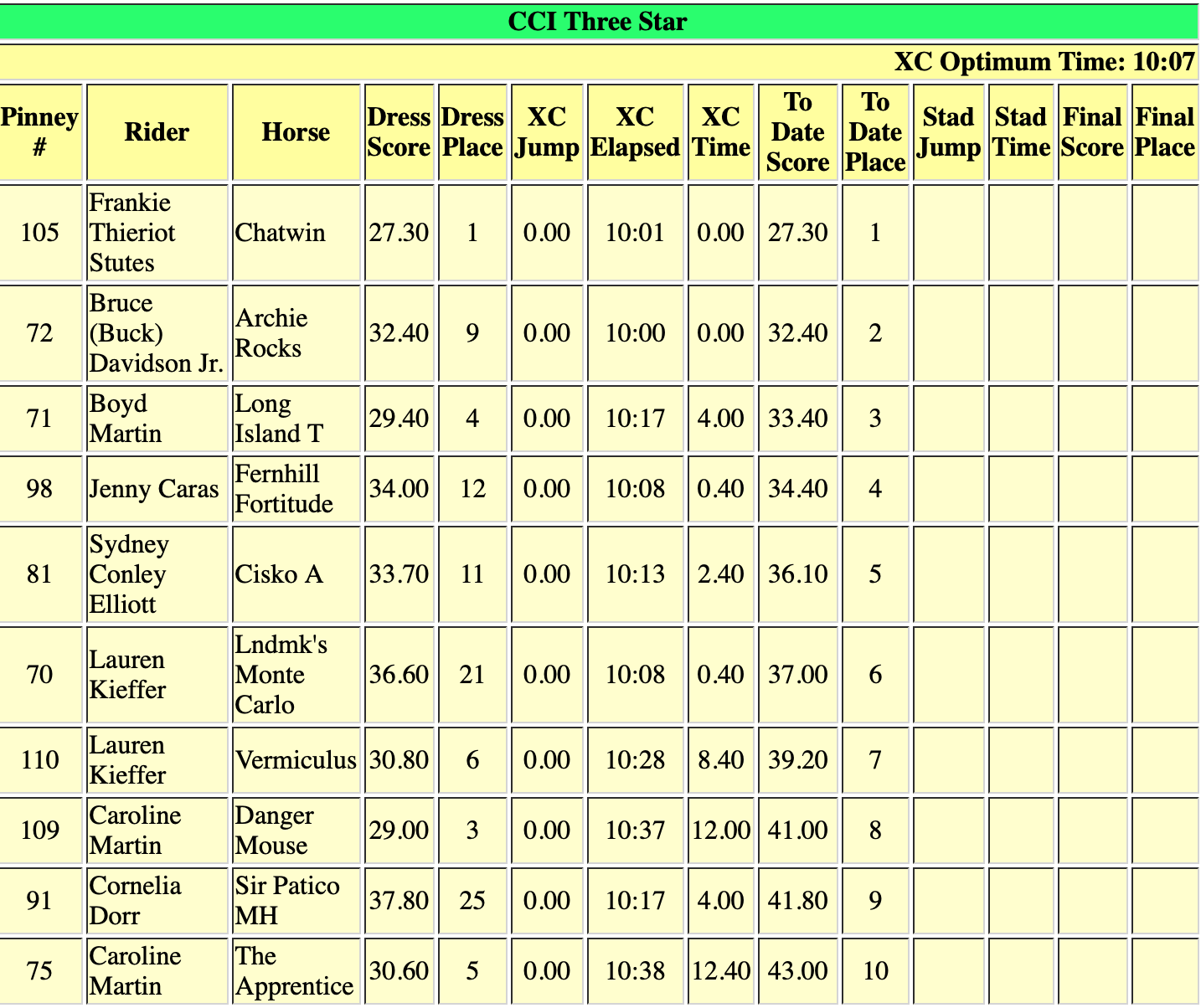 The first horse inspection starts at 8 a.m. tomorrow, followed by CCI** show jumping at 10 a.m., and CCI*** show jumping at 1 p.m.
For all of our Fair Hill coverage, head to this page.
The Chronicle will be on site at the Dutta Corp. Fair Hill International all weekend to bring you news and photos from the fall's premiere three-day event. Check back at coth.com all weekend and be sure to read the Nov. 5 print edition for much more.
2018 Fair Hill International - CCI*** Cross-Country
Lindsay Berreth / Oct 20, 2018 7:54 pm