Elkton, Md.—Oct. 19
The last time Frankie Thieriot Stutes came to the Dutta Corp. Fair Hill International in 2009, she ended her day on the cross-country course with her long-time partner Fric Frac Berence.
As one of the wettest, muddiest and most miserable Fair Hills in the event's history, Stutes decided the mud was too much and pulled up.
But this year she's back, with the aid of the Jacqueline B. Mars National Competition Grant, and she's hoping for some redemption.
She's off to a good start after dressage, leading the 38-strong field in the CCI*** with The Chatwin Group's Chatwin, a 10-year-old Oldenburg gelding (Contendro I—Oktav, Oldtimer), on a score of 27.3.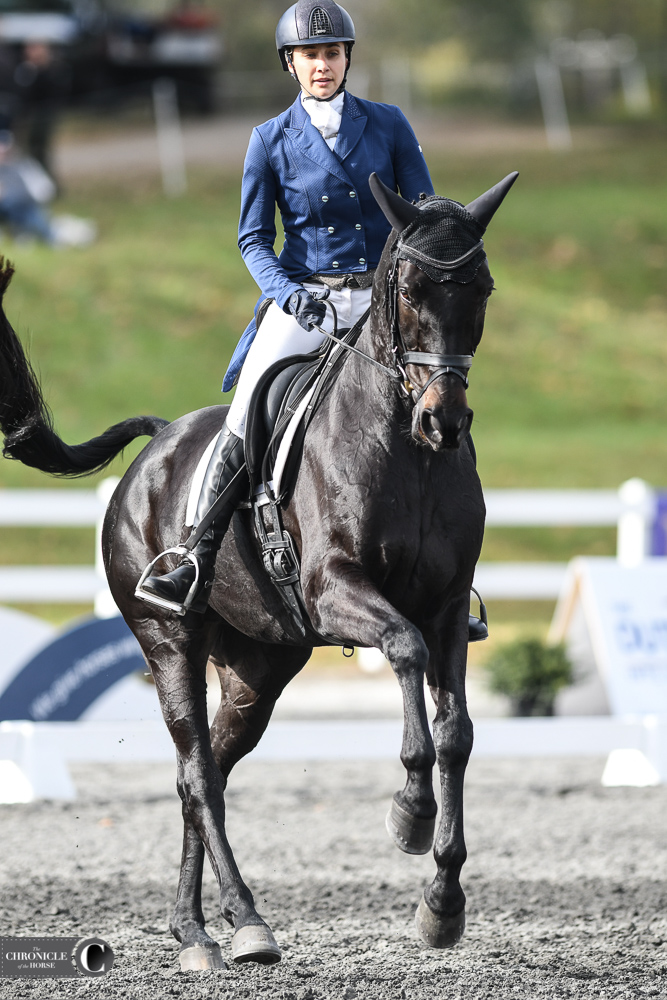 Stutes is leading a West Coast charge, as Heather Morris is currently sitting atop the CCI** with Charlie Tango, and Tamie Smith won the USEA Young Event Horse 5-year-old championship today with MB MaiStein. California rider Emilee Libby is competing in the three-star, and Amber Levine is in the two-star as well.
Stutes trains with Smith and Morris' at their NextLevel Eventing, and the three are sharing a room.
"I was shocked to receive [the grant], and I'm unbelievably grateful to have been given help to get here, because it's a really long way to come," she said. "It was a really great day for hotel room 206 at La Quinta. I didn't want to be the one who wasn't leading in our room because that would be really unfortunate!"
Chatwin and Stutes have spent plenty of time in the dressage ring, especially while Stutes was pregnant with both of her children. She's no stranger to the winner's circle either, most recently having topped the CCI*** at Rebecca Farm (Montana).
Stutes was proud of her ride, even though Chatwin had a hard look at a man outside the ring with garbage bags in his pockets who was standing right on the line for the walk work in the test.
"I was so proud of him for that because a couple of years ago he would have just come completely unglued," she said. "It was a special thing seeing how far our partnership has come and how much he trusts me now. For him to come back from that and be so good in the canter work was actually a really big deal. I was really proud of the horse."
An amateur rider, Stutes, Occidental, California, runs her own public relations company, Athletux, and a handbag company she founded called Frankie Cameron. So does she feel any pressure being at the top of a leaderboard full of Olympians and four-star riders?
"I feel really lucky to ride Chat every day, and here's no exception," she said. "This division and the people I'm sitting next to are world-class, and it feels amazing for this moment, but after I walk out of here I'm going to focus on tomorrow and not view it like I'm leading anything. It's an entirely different day, and there's an entirely different thing to do.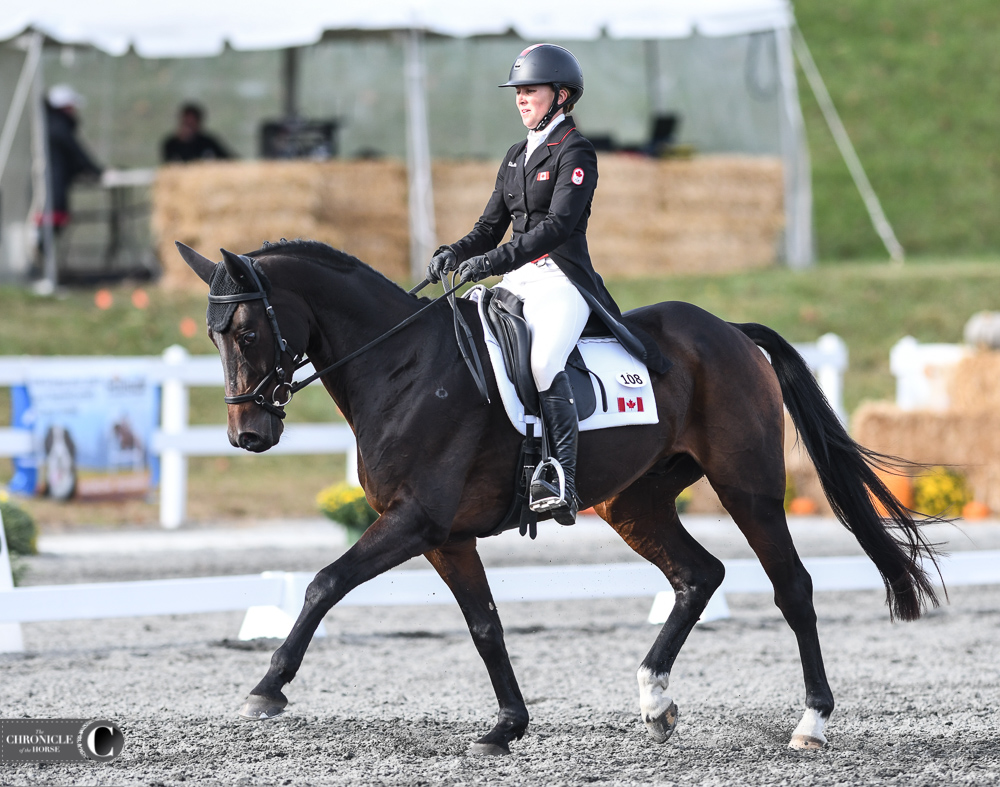 "I always just want to do right by Chatwin, and I've kind of struggled a little bit mentally with times where I'm sure there are professionals who could do better with him, but he's my family, and I feel grateful to ride him," she said. "I hope the rest of the weekend we can do our personal best and wherever that leaves us among these Olympians and world-class riders, I'll be thrilled. My son just told me I have to bring him home, so that's the first goal!"
Stutes feels ready to tackle Derek di Grazia's course tomorrow, and will be riding in honor of "Fric," who's now retired at home.
"I'm just glad to be here, and it's not raining," she said. "I hope to have a little redemption for my buddy Fric tomorrow. He's having kind of a hard time at home right now. It was really hard to leave him. He had a really bad cut on his leg, and it got a really bad infection. I told him I was going to try to come here and kick ass tomorrow. I hope I have a little bit of Fric with me when I leave the box. It's a different year, and this is a very different horse, but I hope he takes care of me the way Fric would."
Looking to the rest of the three-star, Canadian Jessica Phoenix and Pavarotti, rerouting after a rider fall at the FEI World Equestrian Games (North Carolina) in September, are in second with 28.7, while Caroline Martin and Danger Mouse moved into third with 29.0. Martin is also fifth with The Apprentice on 30.6.
Boyd Martin and Long Island T were the only other pair to finish under 30. They're in fourth with 29.9.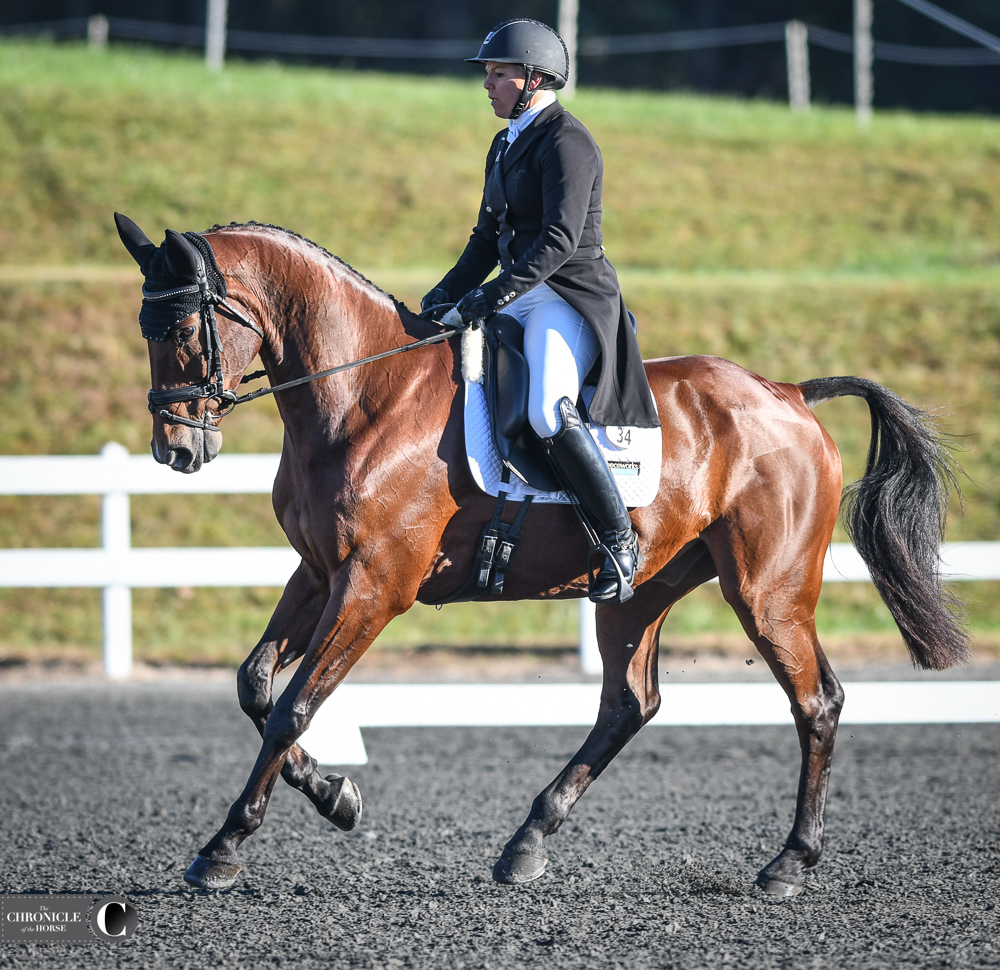 Morris and Charlie Tango, a 10-year-old Irish Sport Horse gelding (Shannondale Sarco St. Ghyvan—Our Queen Bee, Ricardo Z), are no strangers to the top of the leaderboard either, but Fair Hill hasn't been lucky for them.
The gelding moved up the three-star level in 2016, but came to Fair Hill that fall and retired on course. Last year they were eliminated, so Morris has spent the year bouncing between the two- and three-star levesl. They've won their last three outings, including the CCI** at Rebecca Farm.
"We've been at the three-star level, and he's really good with the atmosphere," she said of her test today, which scored an impressive 22.9. "I had a couple of bobbles in there, so I was a little bit nervous, but Tamie was really happy, so I was happy."
Morris, Wildomar, California, is hoping for a positive go tomorrow.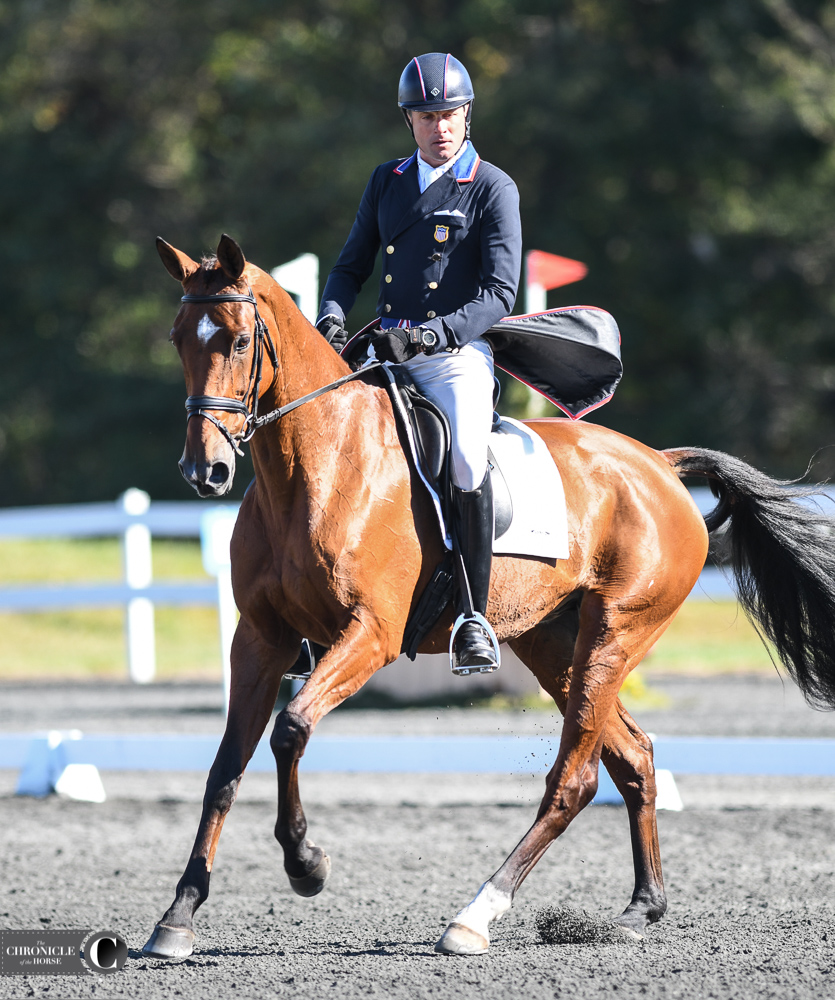 "He was really good in the two-star several years ago, and we moved him up and probably moved him up too early," she said. "We found out he has a cataract in the middle of his eye, and when there's skinnies, and there's something spooky on the right side, I've learned he just doesn't like that. We moved him back down, which he finds quite easy. We'll see how he goes tomorrow. We've walked home a few years in a row now, so I just want to get him around this year. From there, we'll see how he is and maybe move him back up next year. He's still young."
Boyd and On Cue slotted into second with 23.7, while Anna Losciavo and Spartacus Q are third with 25.8.
Cross-country starts tomorrow at 9:15 a.m. with the CCI**, followed by the CCI*** at 1:10 p.m.
Cross-country start times/Schedule/Live Stream
For full results, click here.
For all of our Fair Hill coverage, head to this page.
The Chronicle will be on site at the Dutta Corp. Fair Hill International all weekend to bring you news and photos from the fall's premiere three-day event. Check back at coth.com all weekend and be sure to read the Nov. 5 print edition for much more.
2018 Fair Hill International - Friday
Lindsay Berreth / Oct 19, 2018 8:25 pm