Harrisburg, Pa.—Oct. 15
The riders from Zone 2 won gold as a team the night before, but during the Neue Schule/USEF Junior Jumper Individual Championship they went head to head in a battle for gold.
Three of the gold medal-winning Zone 2 team from the Prix des States team championship—Lauren Fischer, Madison Goetzmann and Katherine Strauss—sat on top of the individual leaderboard coming into the individual final. And less than a rail separated their scores. Any mistake would be costly.
But just as they had the night before, the three girls all turned in clean rounds. Strauss ended up with the gold aboard All In, with Goetzmann claiming silver on Wrigley and Fischer taking bronze with her Tosca du Feugre.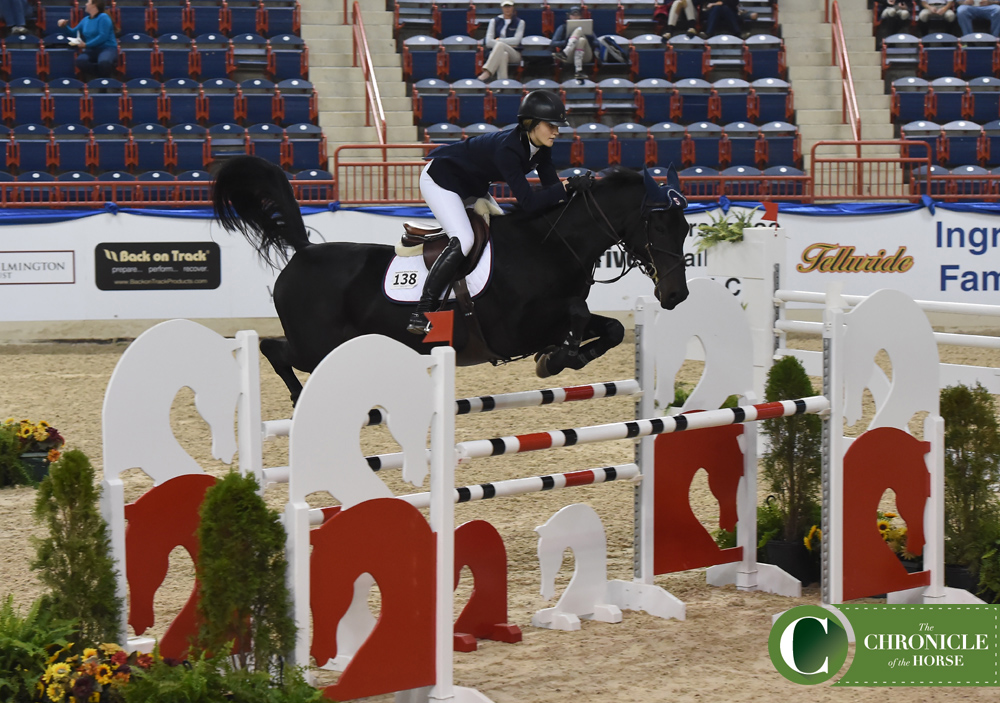 Katherine Strauss and All In added individual gold to their Zone 2 team gold. Photo by Molly Sorge
"It's an amazing feeling just being here with my teammates. No matter what the end result was going to be, I would be happy because we all did well," Goetzmann said.
Strauss admitted that she felt the pressure a bit when Fischer and Goetzmann both jumped clean and left her with no margin of error. "These two definitely put the pressure on me! It's such an honor to be here with these riders who are so talented and hard-working and accomplished," she said.
"I had total confidence in my horse; if there was one horse I could have to bring me here, it would definitely be All In. He's such a special horse and he jumped great all week. He jumped great in the warm-up today so I felt good about going in the ring."
Strauss, 17, rides in the jumper ring with John and Beezie Madden. "The two days before the Prix des States I got to go up to Jon and Beezie's farm [in Cazenovia, N.Y.] and practice. I don't usually get to go there much, so that was great. Their indoor is very small, especially compared to this ring in Harrisburg. Practicing having everything come up so quickly definitely helped the way he rode for me this weekend," she said.
Goetzmann, the silver medalist, also rides with the Maddens. She's piloted Wrigley, a former grand prix mount of Beezie's, for two years. "It's such an amazing accomplishment. We just continue to grow and grow together. Each show gets better and better," said Goetzmann. Both she and Strauss were also on the gold medal Zone 2 team last year at Harrisburg.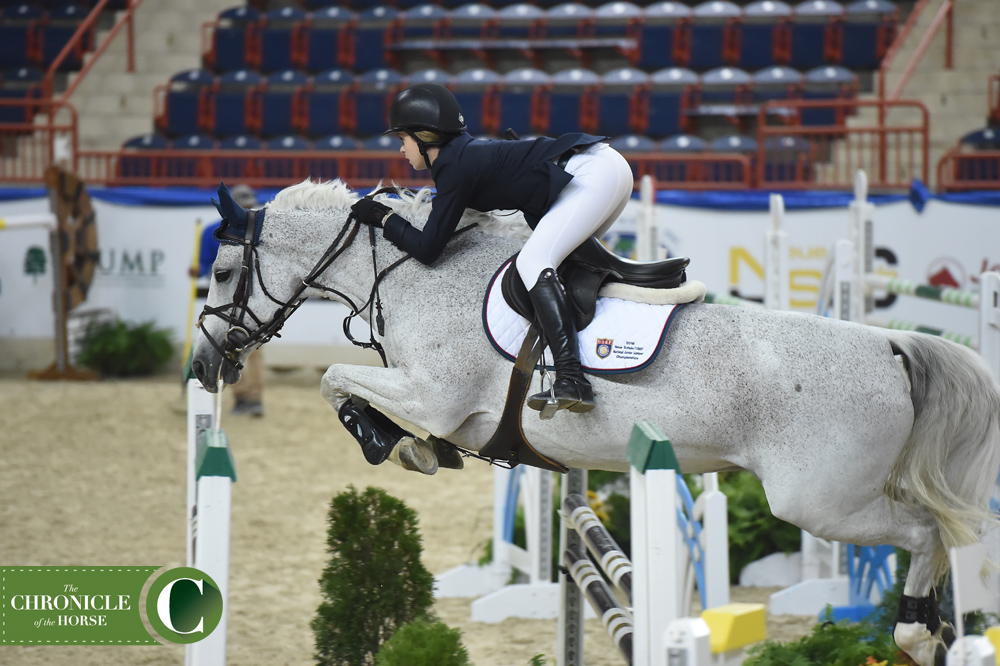 Madison Goetzmann on Wrigley. Photo by Molly Sorge
Fischer had the crowd on the edge of their seats in the final round as she took a flier of a distance to the last oxer aboard Tosca du Feugre, but when they landed safe and sound and clean, she gestured to the crowd to applaud for the mare.
"I didn't see anything!" Fischer said of the long distance. "I thought, 'It's the last jump, I can't have it down!' and I panicked. But I knew she had my back. I said, 'Come on Tessa, let's go,' and she cleared it."
For Fischer, who trains with her mother, Cheryl Fischer and McLain Ward, it's been a bit of a long road with "Tessa."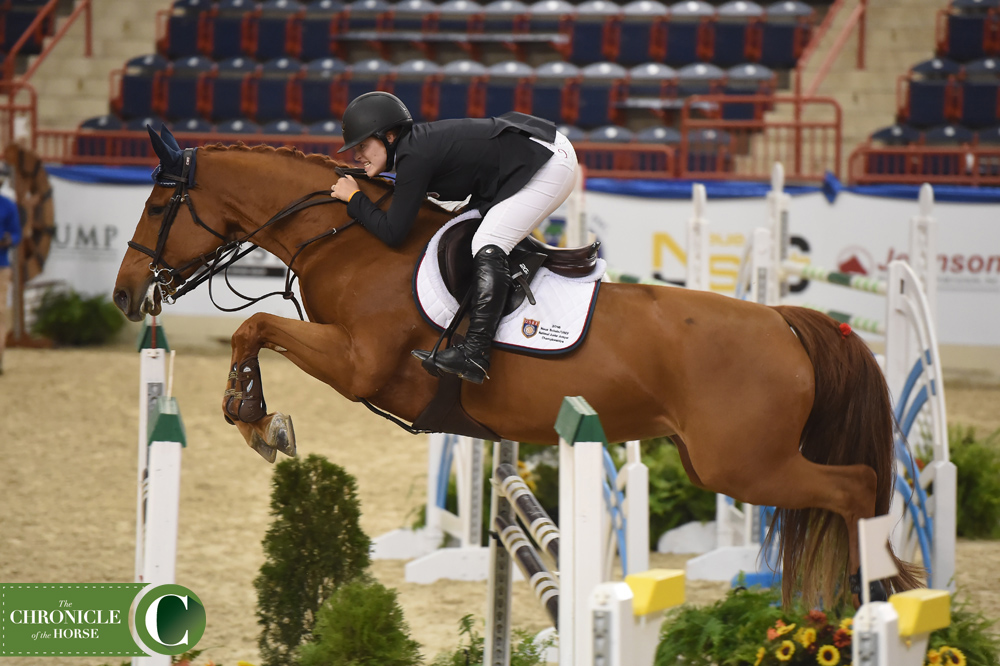 Lauren Fischer and Tosca de Feugre. Photo by Molly Sorge
"I've had her for about a year now and in the beginning she didn't like me very much! It took my just about a whole year to figure out how to ride her, so it makes this moment more special because we worked a long time to get to this," Fischer said. "She's a chestnut mare—she has a big opinion. I had to learn how to do more what she wanted and less what I wanted. And I had to learn how to convince her."
See full results from the Pennsylvania National. See more photos from the Neue Schule/USEF National Junior Jumper Championships. Keep up with all of our Pennsylvania National coverage. And remember, we'll be doing a round-by-round blog on the action in the Pessoa/USEF Medal Final on Oct. 16.
And don't miss the Nov. 7 issue of The Chronicle of the Horse, where we'll have more in-depth coverage from the Pennsylvania National.