Upper Marlboro, Md.—Sept. 30
As Catch Me cantered around the indoor arena at the Prince George's Equestrian Center during the World Champion Hunter Rider Professional Challenge, he looked every bit a seasoned hunter. But the first-year green horse piloted by Scott Stewart is anything but.
It's somewhat of a miracle that the gelding even made it to indoors this season. After a stellar Florida circuit and a good start to his spring season at Kentucky Spring, he fell ill.
"We don't know if he ate something, but he was in the clinic for almost two months, and he almost died, so we're very lucky he came back," said Stewart. "His first horse show back was Kentucky Summer where he was reserve champion, and then he did the Hampton [Classic (N.Y.)] and this is his third horse show back.
"He was this close to dying," Stewart finished, holding his fingers close together to demonstrate.
The Holsteiner gelding owned by David Gochman might not seem like an obvious choice for a class like the Pro Challenge, but for Stewart, the decision was easy. The gray took home top honors in the first years after topping all the over fences classes and second in the under saddle to take the championship in the first year green hunter section b.
"He's never done a class like this before," said Stewart. "He's probably never done a one stride or things like that. This is my first time jumping him inside. I'm not even sure how much experience he has inside."
Stewart certainly knows how to produce a horse. In the awards prior to the second round, he returned to center ring time and time again to accept awards with Catch Me, Lucador and A Million Reasons.
Looking at his accolades, he definitely didn't have a wrong choice in the bunch, but his decision to ride the first year horse paid off. With scores of 92.66 and 88.00 for a grand total of 180.66, they had a wide margin of victory over second-placed Leslie Steele and Triumph (177.32) and Nick Haness on Countdown in third (176.41).
"I always look forward to this class and this horse show," said Stewart, Flemington, N.J. "I don't know the last time I won it; I don't remember. It's a great class and I think there were a lot of really good rounds this year too, so it's exciting."
A Pleasant Surprise
"I am overwhelmed. This is just more than I could ever have anticipated in such a short time," said Alexis Silvernale after winning the WCHR Developing Professional Challenge.
Silvernale traveled all the way from Washington State to compete for her very first time at Capital Challenge. Silvernale's Aleron Training Stables is coming up on it's second year, so her win in this class was a surprise.
Silvernale rode Citation, a 9-year-old Wurttemberger gelding owned by her client Camille LeBlond, to the top of the class with a final score of 172.00, but the competition was tough. Second placed Sara Green and third placed Alexandra Wedemeyer both finished on 171.33, but Green's higher second round score put her above Wedemeyer in the final standings.
Coming into the second round, Silvernale was fifth, but hard rubs and late changes affected the leaderboard, which allowed her to win by a narrow margin.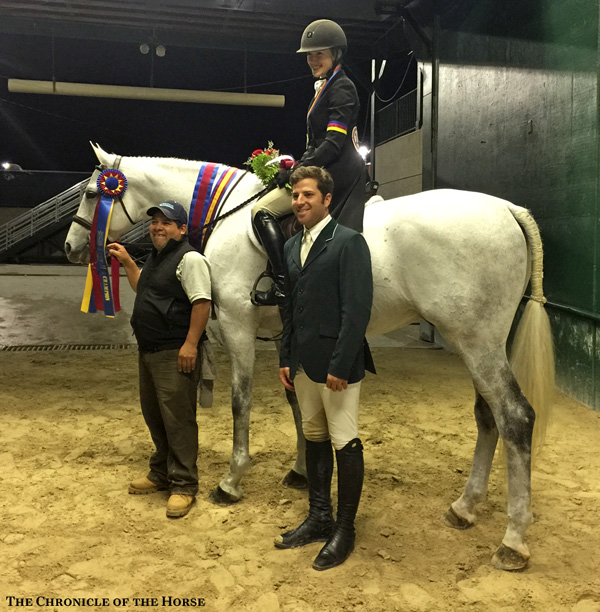 In her first attempt at the WCHR Developing Pro Challenge Alexa Silvernale piloted Citation to the top prize. Pictured with her groom Luis Jiminez (left) and Nick Haness. Photo by Katie Allard.
As a junior, Silvernale competed a lot on the East Coast, and rode as an amateur under Hunt Tosh. She turned professional in 2013 when she started her business, hoping to introduce Washington State to the high caliber horse shows of the East Coast.
"I think this class is incredible," said Silvernale. "I think this program is amazing. I think we need to be developing young talent in our sport—just to continue the growth of the sport and encouraging more people to become part of the United States Hunter Jumper Association."
Citation will be competing in the junior hunters and the WCHR Junior Challenge this weekend with his owner LeBlond. Silvernale looks forward to showing Citation again in the high performance hunters at the Pennsylvania National Horse Show.
Want more from Capital Challenge? The Chronicle is here in Upper Marlboro, Md. covering all the action from the WCHR Challenges and the equitation. To read in-depth coverage pick up the October 19th issue.
See full results here.