Wellington, Fla. – Feb. 20
Mimi and Sophie Gochman stood with bated breath as their father David's horse Catch Me and Scott Stewart entered the ring for the first round of the $100,000 WCHR Palm Beach Hunter Spectacular.
Mimi handed over her camera to a friend. "I don't know if I can watch," she said.
"Was that too long?" Sophie asked when Stewart rode a bold distance.
The Gochman girls' nerves subsided as Stewart rode a beautiful first round with "Snoopy," the family's 9-year-old Holsteiner gelding, and they erupted, whooping like a couple of seasoned trainers, when they saw scores of 91, 94 and 81 light up on the board for a first-round total of 91.33.
That score would put Stewart and Catch Me at the top of the leaderboard for the time, and although they sat in second place at the end of the first round, they returned for a jaw-dropping second round that sealed them the victory (total combined score of 185.16) in the Winter Equestrian Festival's premier hunter class. Kelley Farmer and Like I Said (181.49) finished second, while Christopher Payne and Truman (180.66) were third.
"It's amazing," Stewart said. "I'm thrilled."

Scott Stewart and Catch Me
A total of 29 riders—professionals, amateurs and juniors—contested the Palm Beach Spectacular. The majority earned berths in the class by earning championships throughout WCHR Week, while another few were invited based on results in the WCHR National Awards program. Stewart, traditionally dominant in nearly ever hunter division in recent memory, had contested the Spectacular in nearly ever year of its 20-year history, but he had never before won.
"I have shown in this class a lot and I have been second a lot, and lower, so I am thrilled," Stewart said. "[Catch Me] is an amazing horse."
But Stewart did add, "If you had asked me last week who I would ride in this [class] this week, it would not have been this horse. He is a great horse, but he is really careful and I thought he would be too spooky." He credited Terence Prunty, who trains privately for the Gochman family, for preparing the horse for the evening.
"He really deserves most of the credit," he said. "I just got on."
Catch Me, the WCHR Hunter of the Year for 2015, proved himself deserving of Stewart's ride by earning the tricolor in the second year green hunter division earlier in the week, winning two of the three over fences classes and placing second in the under saddle. The gelding's outstanding jumping technique and scope were on full display in the Hunter Spectacular, no doubt leading to vaunted scores from the judging panel of James Clapperton and Tammy Provost (panel one), Scott Williamson and Rachel Kennedy (panel two) and Karen Healy and Mary Lisa Leffler (panel three).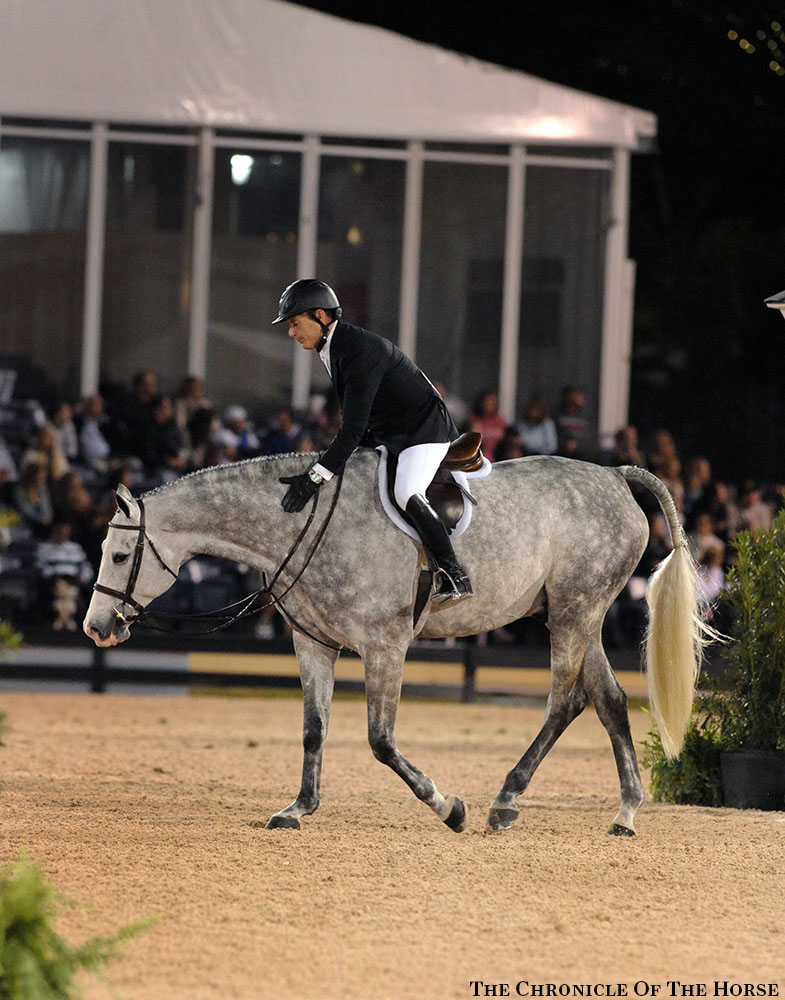 Stewart had many pats for Catch Me throughout the night.
"He was actually better under the lights than during the day," Stewart said of Catch Me. "I thought he felt awesome. Round 1, he was great. He was maybe this much long to jump one because he was so relaxed and quiet. He could not have been any better in the handy."
It would be hard to argue that sentiment. Stewart and Catch Me's handy was nothing short of brilliant. Stewart fought to move up one last spot to catch Payne, who led after the first round with a 92.16 score, on the leaderboard, and he took chances, especially to the final fence, a hand gallop oxer. Stewart put it all on the line; Catch Me's stride opened up massively, and they caught the fence in dramatic fashion. They earned second-round scores of 95, 93 and 93 for an average score of 91.33 that put the duo on top for good.
"I was a little nervous going to the last jump because it was almost too much, but he came up with it," Stewart said.
Perhaps most remarkable about Catch Me's victory was the path the gelding took to even get to the competition. The gelding came close to losing his life last year after becoming ill with botulism, a rare condition caused by a toxin that causes paralysis.
"The week before Devon, he apparently came down with botulism, and Terence caught it right away," Stewart explained. "He went to Mid-Atlantic Equine Medical Center immediately, which is pretty much what saved his life. He was in there for two months. He was in bad shape, but he made a comeback. He kept going from there."
After three months off, Catch Me returned to showing and won classes at the Hampton Classic (N.Y.), the Pennsylvania National and the Washington International (Md.). The grey took home championship honors at the National Horse Show (Ky.) and Capital Challenge (Md.), where he won every class he contested except for one, when he finished second in the first year green under saddle. Stewart also rode Catch Me to victory in the WCHR Professional Challenge at that show.
"He is really a fun horse to ride, and he is probably the most careful horse I have ever ridden," Stewart said.
That is saying something, but it goes without saying that Catch Me definitely made a bold statement Saturday night. Now the gelding will get some well-deserved rest.
"He'll have a couple weeks off not showing," Stewart said of Catch Me. "I don't know if I'll do a little bit at the end of circuit or not, and then he'll probably go to Kentucky Spring. But he'll have a pretty light schedule I think."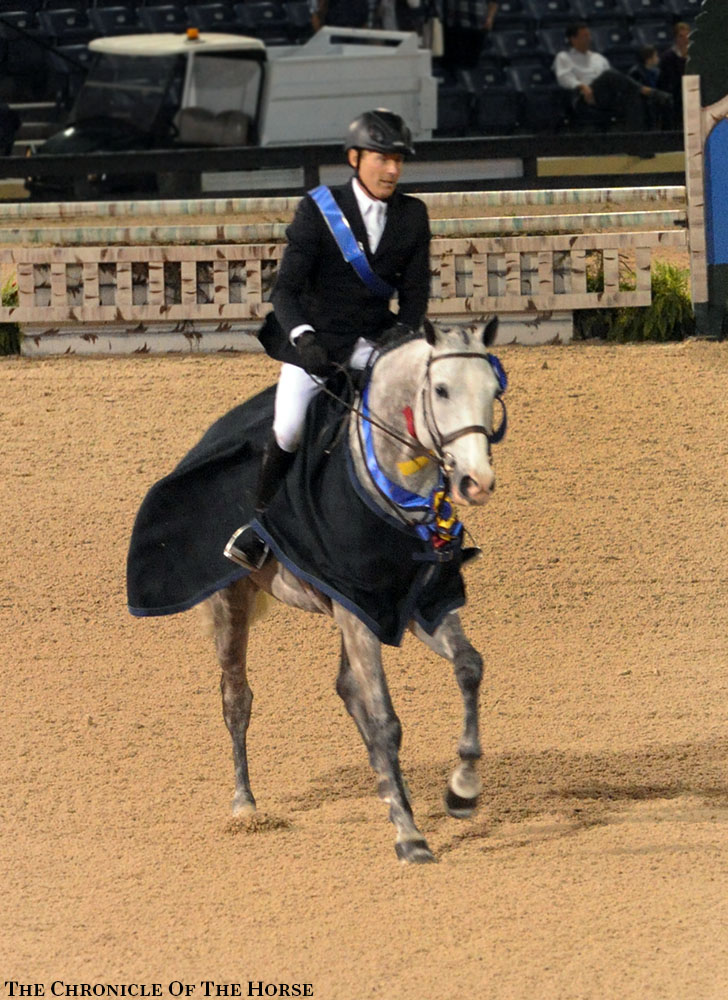 Stewart and Catch Me take a victory lap.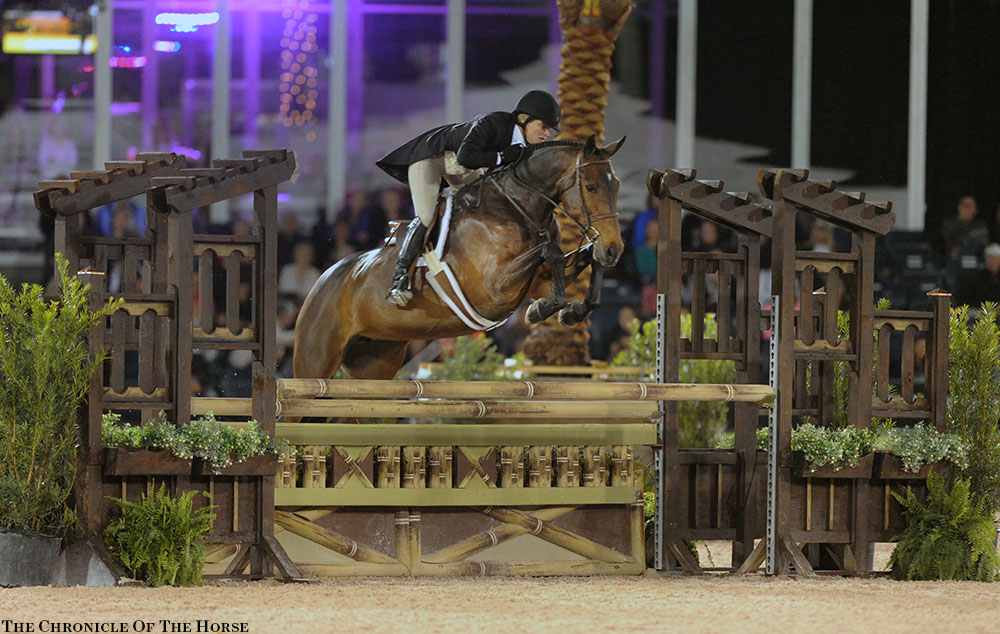 Runners-up Kelley Farmer and Like I Said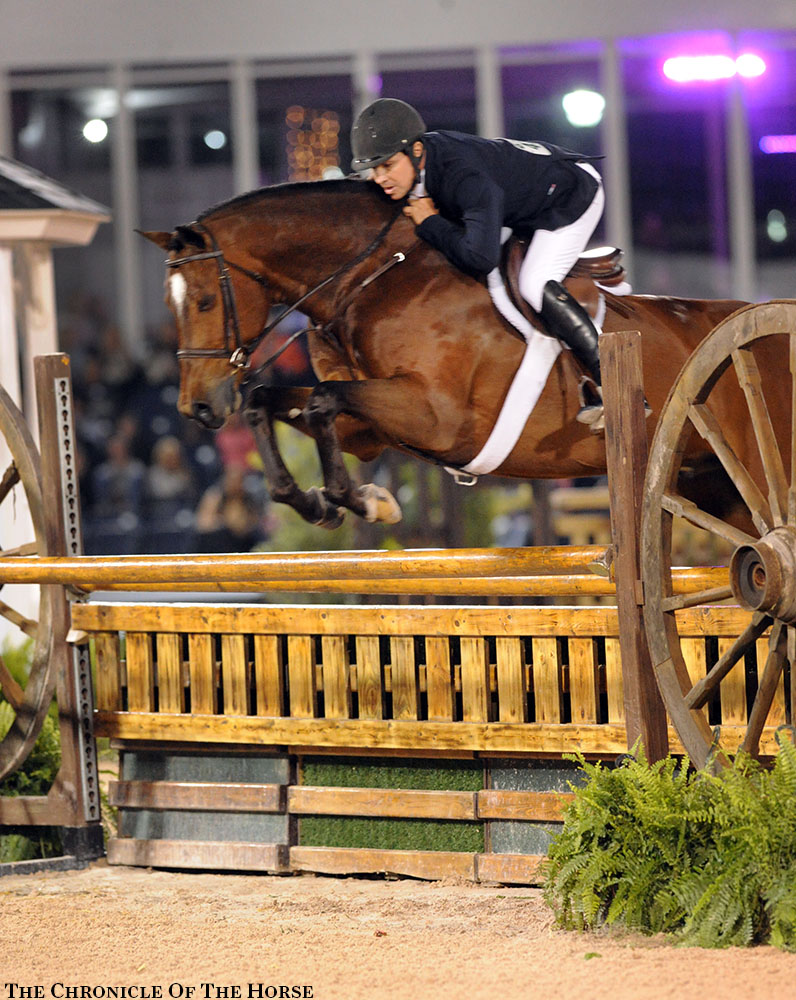 Christopher Payne and Truman finished third.