You'll see this Florida-based course designer's experience and creativity showcased in the show jumping arena in Hong Kong.
Around this time two years ago, Steve Stephens, of Palmetto, Fla., was told that he would be the co-course designer for the 2008 Olympic Games. Designing at the Olympic Games will mark the crowning achievement for Stephens, an established and highly regarded U.S. course designer.
Stephens, who has spent those two years with co-designer Leopoldo Palacios of Venezuela, is ready to get started.
"All of the jumps are already constructed and have been delivered to the site. You can only look at a picture for so long. It'll be different to see them all out on the field," Stephens said. "It's going to be exciting to put it together [and] get the courses up in the air and decorated. That's always part of the excitement of being a course designer; taking it from paper to reality is always a delight for us."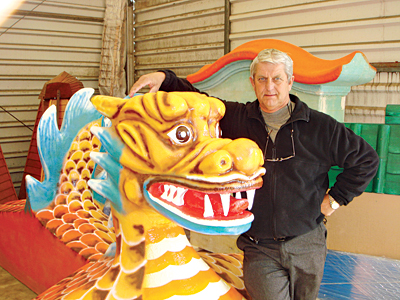 Stephens has made courses come to life for more than 30 years. After a successful career as a rider—which included representing the United States on Nations Cup teams and winning the American Gold Cup Grand Prix (which he now designs), Stephens became more interested in course design and building jumps for events. He's married to grand prix rider Debbie Stephens and owns and runs Stephens Designs, which supplies some of the most prestigious events in the country with the jumps for their show rings.
Stephens' teachers and mentors include the former U.S. Chef d'Equipe Bertalan de Nemethy and legendary course designer Dr. Arno Gego of Germany. As Stephens became an accomplished course designer, he worked at some of the most prestigious events in the world. He was a technical delegate for FEI World Cup Finals in Sweden, Germany and Switzerland and has been the course designer's assistant at two World Cup Finals and two CHIO events in Aachen, Germany.
Stephens was awarded the American Course Designer Award in 1981 and 1982 and was certified by the Aachen School of Course Design in 2004. He's a U.S. Equestrian Federation and Fédération Equestre Internationale lecturer and clinician as well.
A Team Effort
Stephens' experience with the Olympic Games isn't just limited to this year, though.
"I was involved with the Olympic Games in Los Angeles in 1984. I was the assistant course designer with Bertalan de Nemethy. I was [also] on the design team in Sydney in 2000 with Leopoldo. I have some Olympic experience behind me. This is the first time I've had the title responsibility, though," Stephens explained.
He was quick to point out that it's definitely a group effort that will carry out the biggest course-designing job this summer.
"This is a team of Leopoldo Palacios and me. We put together a team of manpower and assistants. We're doing this as a team, together. With his experience and my experience put together, we are really confident that we can create a wonderful result."
A close working relationship was key to making their job successful. "Leopoldo and I are almost like brothers," Stephens said. "We get along really well. We've already worked on a team together. We both have the utmost respect for each other, and if I have an idea and I present it, he listens. We've never had any disagreement, even through the long process of gathering the looks for the jumps."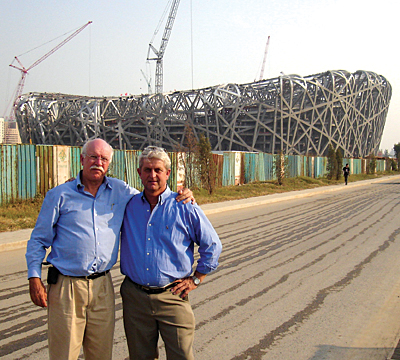 Due to the decision to run the equestrian events in Hong Kong, Palacios and Stephens have had half the time that past Olympic course designers had to put things in motion. Whereas most would start after the previous Games and have four years to make their vision a reality, the decision to hold the Beijing Olympic equestrian events in Hong Kong was made two years ago.
In addition to designing courses, the two were responsible for designing the jumps and finding a way to get them manufactured. "The minute we got the appointment from the FEI, we had to make a project bid to what it would cost them; we had a budget," Stephens said.
Although Stephens and Palacios aren't financially involved in manufacturing the jumps that will be used in the Games, they must oversee the process and make sure that they're up to standards and are safe. A company in Germany was hired to make the jumps (see sidebar).
Intrinsic Challenges
In addition to designing the courses for the show jumping discipline and the show jumping element of the three-day event, Stephens and Palacios took on the added responsibility of being the Field of Play managers for the whole of the equestrian sport at the Sha Tin facility.
The decision to be the FOP managers was a matter of logistics. "Before we can go into the arena, somebody has to give the order for the guy with the tractor to come in or if the arena surface needs water," Stephens said. "There would have been someone who could tell us, 'You can't put jumps in the arena until 7 p.m.' because of protocol, and because his schedule says that. We're the ones who are in the arena the most. We wanted to be able to decide when to set the course and when we could be in the arena."
Having been at two previous Olympic Games, Stephens knew the level of riding that he would see in Hong Kong. While there are many strong riders from countries like Germany, the Netherlands and the United States, there are also riders who qualify from countries not known for their equestrian programs.
"You do have different levels," Stephens acknowledged. "Every participating rider has to have a certificate of capability that the rider had some kind of qualification result over a large course. The rider is supposed to be coming with the capability of jumping a 1.50-meter to 1.60-meter course. This will not be the case. It never is, and it never will be. There will always be horses and riders of lesser ability."
While Stephens will design with that in mind for the opening courses, he must also focus on challenging courses for the team and individual finals. Stephens attended the Aachen CHIO (Germany) in early July, to see how riders would tackle one of the hardest show jumping tests in the world.
"The ability of show jumping is stronger at Aachen than a lot of other places. I was doing what they call in football a little 'scouting.' I was observing to see where the top international riders were. It's almost the last big show before the Olympics. I wanted to see the 'famous riders of Europe' and how they're handling Aachen," he said.
"There were, for example, 12 clear in the grand prix. We sure don't want 12 people jumping off for a gold medal in the Olympics. We have to be more difficult than what I saw in the final round for the individual championships. If we had three [in a jump-off]—one for each medal—that would be ideal. That would be a storybook finish. That would be our ultimate goal to achieve, which is what happened in Sydney. We're hoping to do a repeat."
No Rickshaw Or Great Wall
While course designing is largely a matter of deciding where and how to place the jumps in the arena, it can also include deciding what the jumps themselves will look like.
For the Olympic Games in Hong Kong, Steve Stephens and Leopoldo Palacios, the co-course designers, had a big challenge in the fine line between politics and creativity.
Between Stephens and Palacios there were no arguments on how the jumps should appear. Stephens said that the hitch was between their visions and what the "Olympic looks department" would approve.
Their first idea for a jump was that of a
rickshaw, one of the symbols of China.
"We were going to give a little bit of a history lesson and a storyline in the jumps of China," Stephens said. But the rickshaw jump was not to be. "At the first meeting, they said, 'No rickshaws. We don't want to see one at all.' We thought, really?
"They said it was old China, and they don't want old China. 'We want you to use modern China,' they said. 'We want you to display the future China.' We shot ourselves in the foot. We didn't know what the future China is going to be," he added.
After more research and brainstorming, the course designers came up with lots of ideas to present to the looks department. The pair designed 54 jumps, knowing that not all of them would be constructed.
"We figured that they would approve the look of about 40, and with 40 jumps we would be OK," Stephens mentioned.
One of the most well known images in China and in the world will not be used as a jump in this Olympic Games.
"Another piece that was very difficult, and what everybody is going to expect to see, is the Great Wall of China. The problem is that the wall we create is a fence. A horse has to be able to knock it down. If a horse got in trouble, this whole Great Wall jump has to be able to fall apart for the sake of the horse," he explained. "The insult to the Chinese people seeing the Great Wall lying all over the floor of the arena when a horse runs into it… it would be an insult to their culture.
"So, when we went over and over this in our heads, we decided that we had to do it for the safety of the horse and be in little blocks so it would fall apart. If that happened, what would the press do with that? We went away from it. We might be criticized for not having it, but we [would] be hung by having it fall. We came to the conclusion that if they wanted the presence of the Great Wall there, they can just show it in one of the lower corners of the arena," Stephens continued.
Another balancing act came in designing jumps that not only represented the host city of Beijing, but also the host city of the equestrian events, Hong Kong.
"We did have a little bit of a juggle," Stephens said. "If we threw everything [that represented] Beijing into the Hong Kong arena, what will [the people of] Hong Kong think? That was quite a challenge, keeping the Hong Kong companies and the Beijing organizing committee on a balance, so that we didn't overdo either one."
Because of the heat and humidity in Hong Kong in August, the show jumping events will be held at night. This situation entails more challenges for a course designer, and there was one element that Stephens and Palacios had to solve.
Stephens joked, "We have a problem called a water jump—a water jump at night. The lights are reflecting into the water jump, no matter where you put the jump in the arena. It's just one of those things that you can't help. We had to try and find a location in the arena where we think the lights won't be a direct hit. We may not necessarily put the water [in a spot] where we want to; we put it there because it was the best place we could find for the reflection."
In addition to the water jump, Stephens and Palacios also dealt with a change in the time allowed. A decision from the FEI changed it to 375 meters per minute, down from 400 meters per minute. "I'm sure when we wheel it, we will wheel it really, really accurate at 375, and it will still be a snug time," Stephens said. "It won't be ridiculously tight, but for sure everyone needs to be right on their leg."
Nerves All Around

With the difficult elements presented at the Olympic Games, Stephens knows that both rider and horse must be focused and ready.
"We won't have to build mountains at every jump," he conceded. "We can build a nice, strong course. We're not going to build an easy course. You're going to see fences tall, you'll see fences wide, you're going to see fair and inviting courses, but the horses are going to have to step up. It's going to have to be their day if they're going to get a medal."
Stephens and Palacios will not only use their creativity to set a unique and difficult course, but they will also consider the horse and rider.
"This is the Olympic Games; this is not a grand prix on the weekend," he pointed out. "This will separate the mediocre riders from the great riders. This is definitely in some people's career, the most challenging thing they've ever done. For another strong percentage, it will be the most important thing they'll ever do. When those riders enter the in-gate and enter the Olympic arena, they're going to have twitching in their stomach. That works for us. Their nerves are only another element we're working with. We have the jumps, the time allowed, the placement of the jumps, the ability of the horse and the look of the jump that can create a new appearance for a horse."
He added, "Nerves for an athlete sometimes have a tendency to work against you, especially in equestrian sport. If you run track and field, it might hype you up and make you run faster. But with riders, it can get in the way of your thoughts, your mood and your communication with your horse."
While Stephens said he and Palacios used the riders' nerves as a design element, he also mentioned that he's not without a little anxiety himself.
"I think if you're not [nervous], then you probably won't do a good job. You always are uptight about doing the ultimate job. I think every course designer that I know goes to an event and wants to do a good job, get a good result, make a good presentation, and at the same time, wants to be entertaining for the people who are watching. You have to be nervous, but not afraid," he revealed.
After a long two years filled with ideas, hard work and lots of travel, Stephens is really ready to put it
together.
"It's not that I want to get it over with, but I want to see it come to life," he said. "I've seen it on paper for a long time now, and I want to see the reality. I want to get it put out there, see it decorated and put together—all of these two years of work come together."
Jennifer Wood