Harrisburg, Pa.—Oct. 20
As of Tuesday, Stephanie Fabiano wasn't showing at the Pennsylvania National Horse Show. While she entered on her own Neato, the pair only had seven horse shows under their belt as they sat on the waitlist. But by Tuesday night she had jumped onto the entry list.
"So we body clipped him, took a lesson really quick on Wednesday and came to the horse show," said Fabiano.
As a native of Mechanicsburg, Pa., Fabiano used to travel to the horse show with her mom to watch the pony hunters. She competed for the first time in her hometown's big event in 2011 with her then low amateur-owner mount What If. But since her second go-round in 2012, Fabiano hadn't stepped in the ring as a competitor.
"I've been busy being a mom," she admitted. She is a mother of a 3-year-old son, Logan, and a 2-year-old horse-crazy daughter, Ellie. "This was my first year of really showing a lot since my kids were born."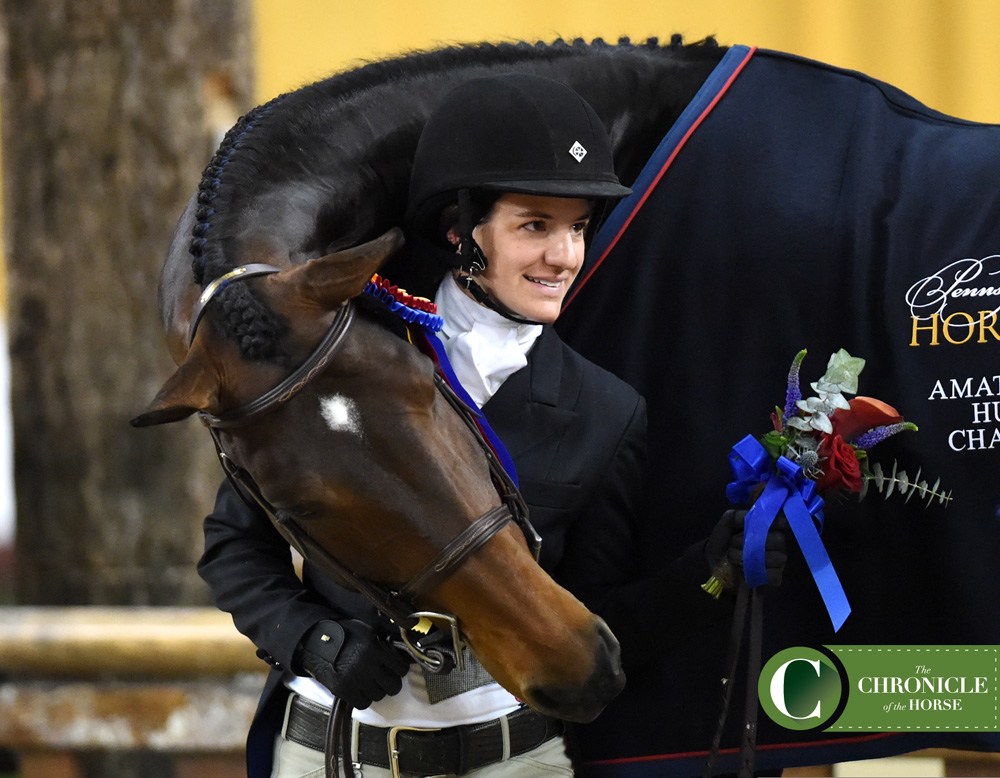 Chad Keenum partnered up Neato and Fabiano earlier this year, and with longtime trainer Jill Shull, the pair changed gears to make it to Harrisburg for their low amateur-owner, 18-35, class on Thursday.
With two over-fences wins, Fabiano was finally able to capture a hometown tricolor.
"[My kids] came today. They watched my last trip," said Fabiano. "[I have] a lot of help and support. My husband is super supportive, and my mom and my aunt—my mom's sister—they have the kids today."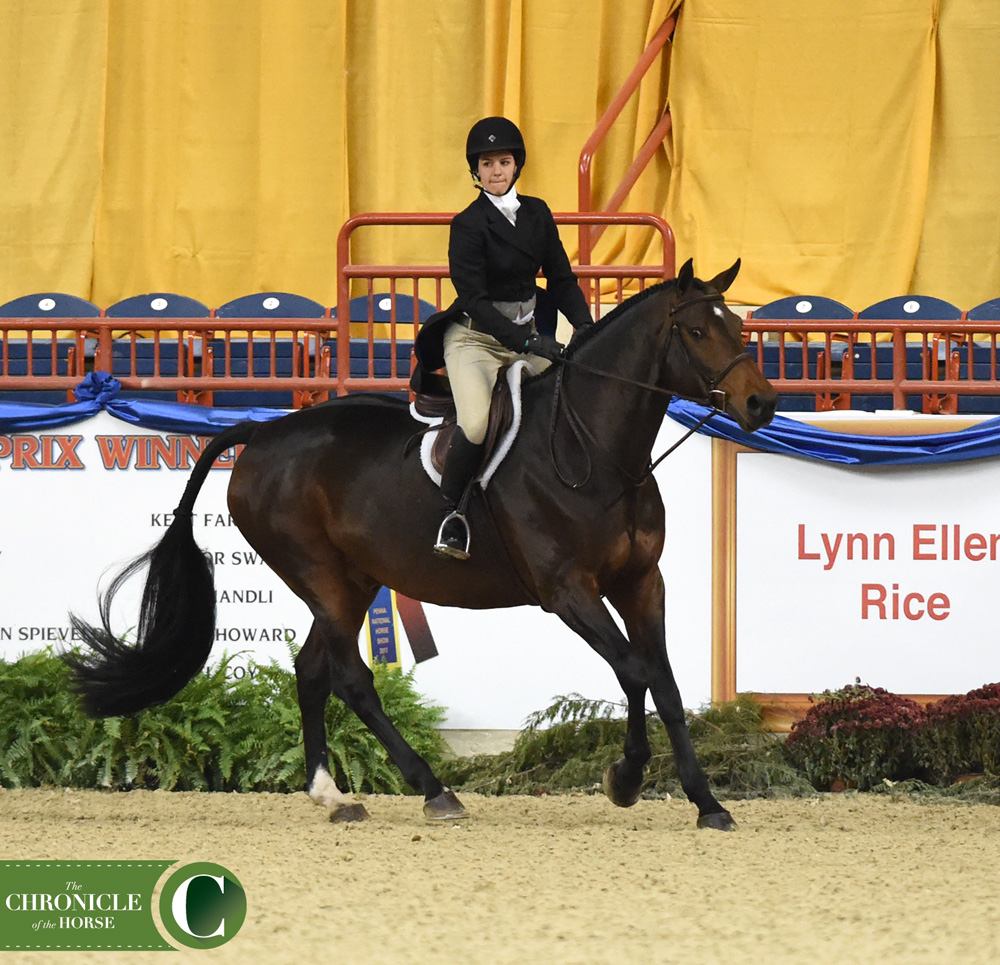 But they didn't just stop at that championship. With Neato and Fabiano's consistency, they also earned the grand low amateur-owner title.
"I got a pony when I was about 7 and been doing this a long time, but I've never done that," said Fabiano of winning at the Pennsylvania National. "So this is like an amazing fairy-tale. It's a dream.
"There are no words for it," she continued. "I'm speechless about it; I don't know what to say."
Moran Continues Her Harrisburg Lucky Streak
Going into the final round of the low amateur-owner, 36 and over division, it was almost anyone's game on who would be champion or reserve.
"I'm not really good at counting points but it seemed to me like there were three of us that were pretty much tied going into the last round," said Caroline Moran.
With an over-fences win yesterday, Moran knew she needed to nail her final course in order to capture the tricolor with her trusted mount Bacardi.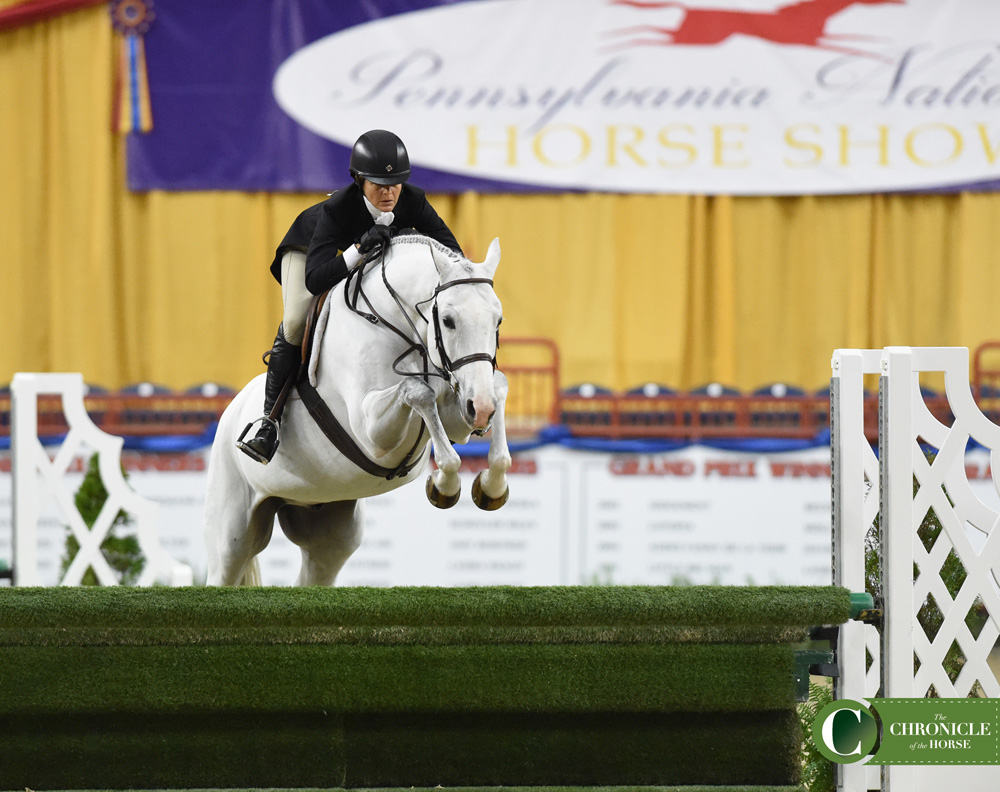 "I got a little angry at myself after the third class. It wasn't anything major—he started to cut in a little bit after the out of the five. And when I went to push him over, I think I caught him with my spur and he got a little sassy," said Moran. "He was great all week so that was just a minor problem.
"So pretty much it was all or nothing going into the last round, which I've done here before," she continued. "You kind of go into the last round with 'Whatever happens happens.' "
As another last-minute edition to the entry list from the waitlist, Moran and Bacardi were just happy to enter the ring. And after jumping the final oxer and pulling Bacardi to a walk (with trainer Havens Schatt finally breathing), Moran leaned down to kiss his neck. Even before she heard the score, she knew she had laid it all down. Her smile proved right as the pair earned a 91 from the judges, sealing the championship.
"This has always been a really good luck show for me," said Moran. "It's one of my favorite horse shows. I've champion on pretty much every horse I've ever had here. And more than once I've had to go into the last round sort of 'win or lose,' which adds a little pressure—but I kind of ride better when there's a little pressure. This is a tough class. The top five or six in every class are super riders and really nice horses so it's everybody's class when you go in there really. If you win you're really happy because it's great competition."
IMPORTANT LINKS:  All the COTH Pennsylvania National coverage  |  What You Need To Know  |  live results/order of go  |  live streaming  |  show website