Stephanie Cook's goal for the year with Texas Checkmate was to top the Take2 Thoroughbred League's jumper standings, but a rotational fall from another horse in May resulted in a broken pelvis, a broken C-5 vertebrae and 12 broken ribs and seemingly ended that campaign.
But with the help of good friends and a lot of determination, Cook endured 12 weeks of rehab, "Checkers" continued earning points, and she was back in the saddle in time to finish out the season and win the 2015 year-end standings.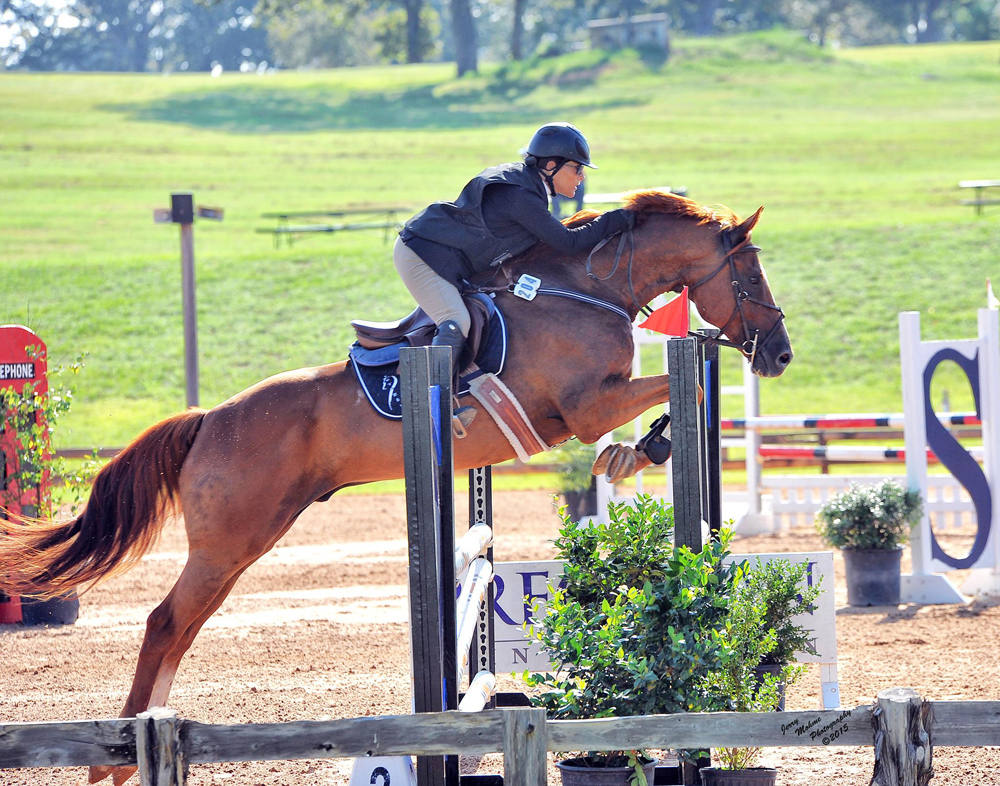 Stephanie Cook and Texas Checkmate competing in the jumper ring. Photo by Jerry Mahone Photography
A fan of Thoroughbreds since her junior days riding project horses from Monmouth Park racetrack (N.J.), there was never any doubt to Cook that they were her breed of choice.
"If given any kind of choice, I'll pick a Thoroughbred first, no doubt, because I understand how they think. I can figure out what makes them tick because I've known them my whole life growing up."
Cook's taken a varied path to become the professional trainer she is today with a barn full of riders ranging from age 5 to nearly 60 in the hunter, jumper and pony rings.
Growing up in Bradley Beach, N.J., she was a working student for Nadine Higley, and regularly helped her retrain Thoroughbreds to sell. She taught up-down lessons, including to her most famous student, grand prix rider Ray Texel.
"That's kind of my only claim to fame as a kid! I feel pretty proud of that—look at him now, he's like a rockstar," she said with a laugh.
Coming from a family of teachers, college was "not optional," and Cook dreamed of going to Centenary College (N.J.), but her father didn't agree that becoming a professional was a logical career option. So Cook chose the U.S. Military Academy at West Point, mostly because of their Intercollegiate Horse Shows Association team.
Upon graduation, Cook was stationed at Fort Hood in Texas and served five years in the Army. During that time, she found any way to ride that she could, but then marriage, five children and a few career changes put serious riding on the backburner.
Cook served as a police officer for five years, then went into corporate fraud investigation, which paid a lot, but wasn't very inspiring.
"My Crosby Prix Des Nation Sovereign that I spent my very first West Point paycheck on, the saddle I dreamed of for years, stayed in my attic in my subdivision house while I was raising my kids because they were too small," she said.
It was 12 years before Cook decided she couldn't handle corporate life anymore.
"My friend said to me one day, 'What do you want to do with your life?' And I said, 'I don't get to pick. I've got five children. I'm the primary breadwinner.' And she said, 'Don't you think God has a better plan? Don't you think you should be happier?'" said Cook.
"The corporate life is hard. It's not any fun. She said, 'What does your heart tell you to do?' And I said, 'I want to ride,' and she said, 'Ride what?' This lady was one of my best friends, and she never even knew I rode because I couldn't even look at a horse or a barn without my heart literally breaking. When you try to shut it out of your life like that—like I think a lot of women probably do when they have a family and the kids are little—you just think, 'I don't get to do that anymore.'"
Two weeks later, Cook quit her job and got a job teaching lessons at a local barn. She eventually put together a business plan and set up her own farm, Hill Country Riding Academy, near San Antonio, starting with a few lesson horses donated by her friends.
"Once I just let go and said, 'OK God, tell me what to do," everything just fell into place and it's been an amazing eight years," she said.
He's The One
About a year after she set up her business, Cook, 51, came across Checkers when he was 5 at Gerry Castleman's farm. He'd bred the gelding (Eetoo—Two Time Lover) to be a jumper, and while Cook wasn't really in the market for a project, her husband Dave, a casual rider and 27-year Army veteran, liked the look of him so she bought him.
Checkers' progress was an important point of conversation while Dave was deployed. "He was a very quick study. When my husband deployed in the Army to Iraq, we talked a lot about how Checkers was doing. That was kind of a safe topic," she said. "We have five children, and it was much more fun to discuss the progress of the horse a lot of times!"
Stephanie started Checkers out in the hunter ring to teach him style over fences.
"I just feel like you should start there," she said. "I understand not forcing them, and I understand if you want to make a Thoroughbred a jumper, probably the worst thing to do is to run him to the jumper ring right away. It's too inbred in them to run and jump and play and buck and fart and all that, so why would you want to set them up for more of that? The hunter ring is definitely where I think they gain the mileage and the patience and the maturity to listen to you and wait for you. I had a ball doing derbies with him, because the handy round was made for the Thoroughbred if you ask me."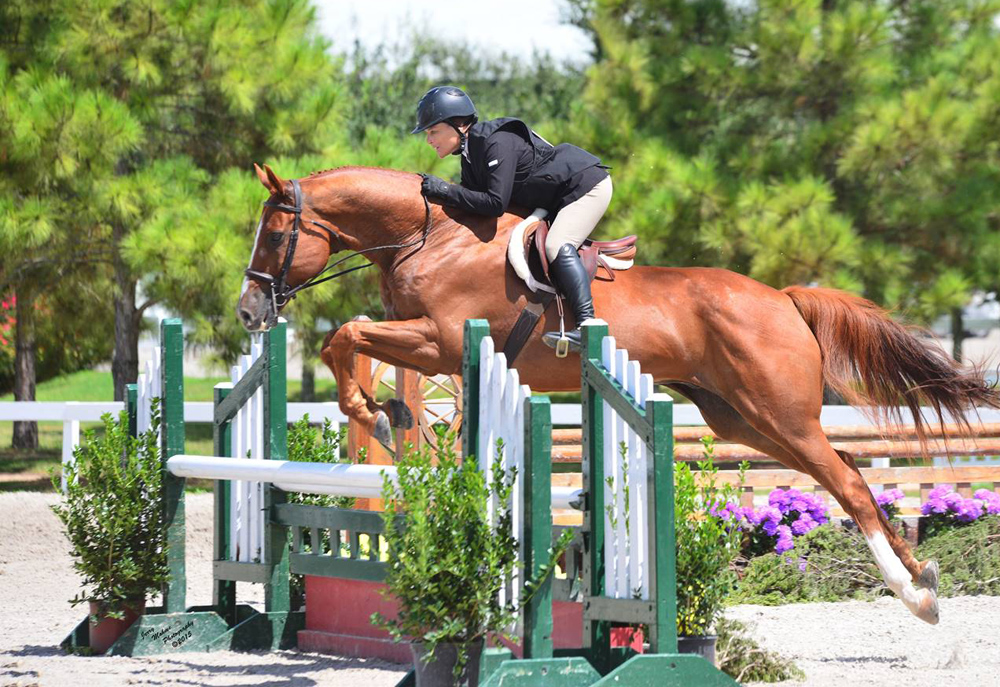 Stephanie Cook and Texas Checkmate showing in the hunter division in 2013. Photo by Jerry Mahone Photography.
Stephanie stressed the patience made all the difference for Checkers. "He has so much scope and so much talent, a lot of times I just try to hang on!" she said. "I tell people all the time, you cannot rush the Thoroughbreds, you just can't. You have to do it right, you have to take your time, you have to be patient. Sometimes I would have an agenda of what I wanted to work on that day, and he just had a different idea. Then you have to meet in the middle."
Stephanie and Checkers tried the jumper ring early in his career to work on their handy rounds and she enjoyed it so much, she started focusing on it more. The pair have jumped up to 1.20-meter, but have bounced back and forth between the hunter and jumper rings. Next year Stephanie hopes to focus more on the jumpers and move up another level. She also keeps busy coaching the Trinity University (Texas) IHSA team.
"He definitely has the scope to go higher, it would be me who's holding him back. If a grand prix rider was riding him, there's no doubt he could do much more," she said.
They were doing well in the Take2 jumper standings this year when Stephanie fell at the last fence in a jump-off with another horse in May.
"They weren't even sure initially if I was going to walk again," she said. Stephanie went through 12 weeks of rehab and was out of a wheelchair by Aug. 18. She had planned on riding in a clinic with George Morris in October, and that served as her inspiration to get better.
"My alarm every morning to get up and go there was the thought of George Morris. It was the clinic. I had a countdown to the October clinic and that's what I wanted to do. I wanted to be well enough to ride, even in the 3' division. That's what kept me going," she said. "You have that horse that you ride, that's like the old slipper or old shoe that fits you perfectly. [Checkers is] like that. You just get on and ride. He's so comfortable for me. When I got cleared to ride, he was the first one I rode."
With the help of trainer friends Claudia Conn, Laura Hoover and some of their students, Checkers was able to stay in the show ring, and Stephanie was on and showing by September, although her doctor advised her to wear an airvest until her ribs are fully healed, which could take two years. She even made it to the clinic.
Stephanie has no regrets about changing her career path late in life. In fact, she feels like she's just getting started.
"I don't feel like I'm working everyday," she said. "I'm like, 'Oh my gosh, who do I get to ride first?' It's amazing. It's never too late. I thought for sure after my 12-year hiatus that riding was just a thing I used to do. I just didn't think I would ever go take lessons or anything again. But here I am. If I can do it, anybody can do it."