When Mark Beecher moved to the USA from Ireland in 2010 he put his show jumping roots aside to pursue a career as a steeplechase and timber racing jockey. It took an event rider to get him back in the show jumping ring on May 26-27 for the George Morris clinic at Boyd and Silva Martin's Windurra Farm in Cochranville, Pa.
Beecher joked that when Boyd approached him about riding in the clinic, he told him he'd let him know if he survived the races at Fair Hill (Md.) over Memorial Day weekend. He called Boyd on Saturday night to let him know it was a go.
"Mark's from a great show jumping family, and I'd seen him ride," said Boyd. "A good horseman is a good horseman, so I thought I'd throw him in the deep end and put him in the top group of the George clinic with myself, Matt Brown and Phillip Dutton. I've got to say, I don't think he's ridden in a ring for about a year, and he looked as good as any of us. After talking with Mark, a lot of the theories and techniques are the same in jumping a show jump to a 5' timber fence, and by the second day of the clinic Mark was jumping a lot of the exercises better than the rest of us. He's a wonderful horseman, brilliant rider and great trainer and has a fantastic open mind to improving himself in his own game."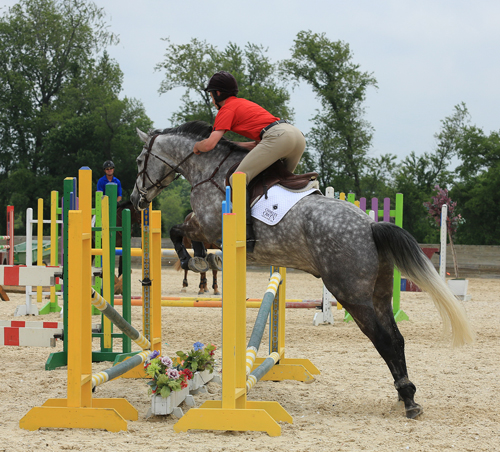 Despite not jumping in an arena for a year, steeplechase jockey Mark Beecher had no trouble doing the exercises in the George Morris clinic. Photo by Amber Heintzberger.
Beecher is no stranger to the show jumping arena. His family owns Loughnatousa Sport Horses, with more than 500 horses in County Waterford, and his brother Paul won the Hickstead Derby (England). After Mark claimed a silver medal in the Junior European Championships, he wanted to try his hand at something new and leave the jumpers to his two brothers. He had done some racing back in Ireland, and he was approached by an American owner to ride a couple of races in the States.
"He figured with my background I might be a good timber rider," said Mark. "That doesn't always work out, but in this case it did."
At over 6' tall and of a muscular build with "massive hands and size 12 feet," Mark is not what you typically picture as a jockey, but his size hasn't held him back. He has won the Maryland Hunt Cup twice, the Virginia Gold Cup twice, and the International Gold Cup (Va.) three times.
"I still don't tell people I'm a jockey when I meet them because they look at me funny," he said with a grin. "Jockeys here are leprechauns!"
Originally Mark planned to stay two weeks in the USA to ride in a couple of races. Two weeks turned to eight, and after winning a few races he applied for a visa and has now been here for five years.
"I was 24 coming 25 and had reached a point where you start thinking about what you're going to do with your life," he said. "As a jumper, every time I produced a nice horse it was sold from underneath me; I figured if I was good at racing, other people would pay for the horses. Also, I'd been show jumping for a long time, and when you do the jumpers you have to travel a lot."
Last year Mark met Boyd after Boyd went to the races, and then Mark started coming to a few CICs to spectate.
"Obviously I admire wonderful riding in any discipline, and I was elated to find out Mark was training his steeplechase and timber horses in Aiken [S.C.] this year, so we were both in the same town for two months," said Boyd. "Then we started knocking around together, and he actually came along cross-country schooling a few times and gave me advice on galloping fences out of stride, which was a great lesson. He helped a few of my crew who ride with me and gave very good advice on conserving horses' energy and making them as efficient as possible across country."
At the time, Mark had an Irish Sport Horse named Reinier (by Cranagh Hero out of a Spring Diamond mare) that his family had bred in Ireland. Reinier was just a little too spicy as a foxhunter. Mark thought Boyd would be a good match for the gelding, and indeed after a couple of months' training with Boyd, Reinier has had three starts, one at novice and two trainings.
"He's a very nice horse. He was a May foal, so he's just turned 6, and Boyd thinks he could do a four-star one day," said Mark. "That's rewarding, as a breeder, to know that he's in good hands."
When Mark rode the handsome gray in the Morris clinic he made it look easy. "I hadn't been in the ring for a good while, but it's not every day you get George Morris to help you out, so why not," he said. "We all need critics on the ground; just because you're at the top at the moment doesn't mean you don't still have a lot to learn. Still, you go in the ring with Boyd Martin and Phillip Dutton, and it's just as nice to watch them ride as it is riding in the clinic."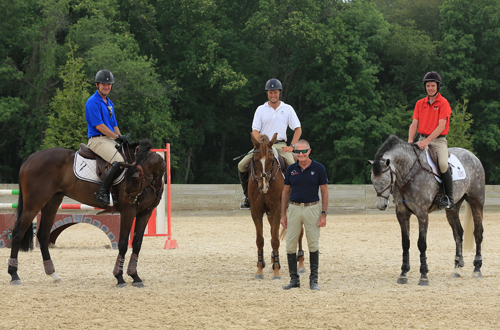 (From left) Eventers Phillip Dutton and Boyd Martin joined steeplechase jockey Mark Beecher for a two-day clinic with George Morris (center). Photo by Amber Heintzberger.
The two-day clinic focused on the basics. In the second day's session riders started with adjusting their stirrups, then moved on to foundational exercises like shoulder-in and haunches-in, lengthening the stride across the diagonal, and a serpentine involving trotting cavaletti, cantering a pole on the ground, and trotting more cavaletti. Eventually they worked up to a course that included a challenging triple combination, but even through the trickiest exercises Morris reminded riders to keep their leg in the correct position, carry their hands, and maintain correct posture in the saddle.
Morris also seems to be a Mark Beecher fan. During the clinic he joked, "Look at that position! He looks young. We should get him some fake papers and enter him in the [ASPCA] Maclay [Finals]."