Rick Rockefeller-Silvia's Oldenburg stallion takes top honors at the prestigious Pennsylvania show.
When Rick Rockefeller-Silvia launched his breeding operation four years ago, he chose the name Dream Street Stallions for more than just the charming alliteration—the Wellington, Fla., business truly began as a gamble on a lifelong dream. So when his top stud Starlight won a trifecta of breeding championships at Dressage At Devon on Sept. 24, Silvia needed a few pinches to make sure he wasn't just dreaming anymore.
"It's one of those things I'll definitely never forget," Silvia said of winning in the historic Dixon Oval in Devon, Pa. "At the time it was happening I just couldn't really believe it. It took until the next day for it to really sink in. It was really special."
Handled by Jens Richter, Silvia's 8-year-old Oldenburg (Sandro Hit—Giora, Cordeur) won the stallion, mature horse and overall grand championships on a score of 86.75 percent. The black, 17.1-hand stallion was also the 2007 USDF Dressage Sport Horse Breeding Horse of the Year.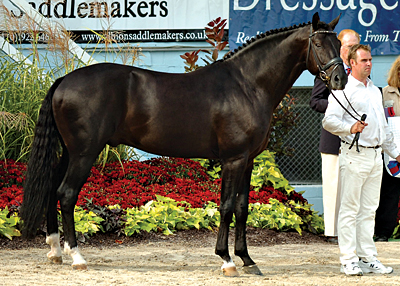 "My Dream Street logo is, 'It began with a dream,' and it really did," said Silvia, who learned the breeding ropes in Germany as a young rider. "When I saw that it could really be a business, I thought it was something I could do if I really had top quality and could bring it to America."
Silvia returned to Germany on a buying venture four years ago, where he found Starlight with the assistance of the U.S. Oldenburg Verband's director, Holly Simensen. The imposing youngster wasn't exactly what he was looking for at the time, but the risk he took in buying him has since paid off in spades. This year Starlight covered more than 100 mares, and his U.S. foal crop came at 100 percent premium.
"It's been my dream for a really long time to have a horse do well at Devon, and I really thought that this would be his year," Silvia said. "We were so stunned with the way he was moving. It was just spectacular. It was obvious that he was the best horse there."
Silvia first showed Starlight at Devon in 2007, after being encouraged to enter by various judges' comments and a solid record of scores over 85 percent. But Silvia decided to school the stallion under saddle on the morning of the in-hand class at Devon; the judges placed him third, commenting that he was a bit too quiet on the line, didn't show his most brilliant gaits, and appeared to have more of a hunter mentality.
"This year we didn't work him the day before or the day of [competition] so that he'd have plenty of energy," Silvia said. "There was a lot of talk about him being rambunctious on the line, but it made a huge difference. And we did hire Jens to run him because he's a professional and would get the most out of him, and he did an incredible job."
Starlight, who routinely scores in the high 60s and low 70s at Prix St. Georges and Intermediaire I, received 9s for his trot and general impression in the Devon in-hand competition.
"Carter Bass called his performance 'hair-raising,' and Janet Foy said she thought he was 'absolutely spectacular,' " Silvia said proudly. "She also commented to the audience at the end of the grand championship that this was the best group of horses she'd ever judged."
Starlight will begin competing in small tour CDIs this winter in Florida, though Silvia said he already has a firm grasp on Grand Prix movements. But the owner-rider is opting to compete in bigger shows against tougher horses instead of moving up prematurely.
"I'm going to try to get my feet wet in a little bit bigger pond with him down in Wellington," he said. "I'm really kind of anxious to get him in the ring at Grand Prix, because I feel like his highlight is really the piaffe and passage, but at the same time I don't want to bring him along too quickly and I want to maintain a high show average for him."
Silvia said he's overcome several unexpected private struggles in the past year, and he was touched to receive more than 300 congratulatory e-mails after winning the Devon title. He credited the support of the U.S. Oldenburg Verband for helping Dream Street turn a corner, and he intends to manage the progress of Starlight and his three other stallions carefully, as he's already noticed a slow-down in breeding due to the stalled economy.
"Breeders aren't able to sell the foals very easily right now," he said. "I think people are a little concerned that they'll breed to a stallion when it's hot and then by the time they have the foal to sell at age a few years later, the stallion has disappeared or done badly in the show ring. In a tighter economy, people are really looking down the road and want to make sure they're breeding to something that's going to work.
"We've been very lucky in that this is the first foal crop for Starlight, but the breeders have had success in selling them," he added. "A few of them have even sold abroad back to Germany. [This business] isn't always super easy, that's for sure. But it really seems like this year is the year it's taking off."
Kat Netzler