Pam Fowler Grace takes home her second Grand Prix championship in a row.
Pam Fowler Grace has ridden some extraordinary animals during her career, but no horse puts a smile on her face
every day like Star In Stripes. That smile grew even wider when she won the Great American/USDF Region 9 Grand Prix Championship, held Oct. 17-19 in Guthrie, Okla.
"I live to ride that horse," said Grace. "We have a really special chemistry. Every time I ride him it's exciting and fun."
Grace knew from the first moment she sat on "Kossini" that she'd found something special. Never shy about
her emotions, Grace had been coached by her business partner to maintain a poker face while trying horses in
Germany, regardless of how much she liked them.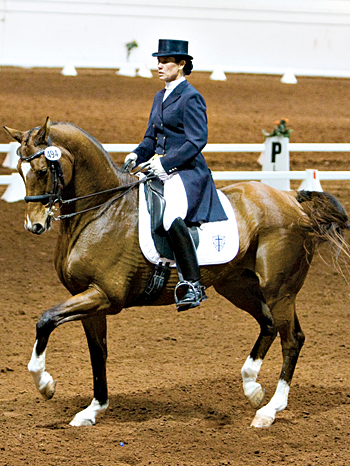 "We had this code. If I liked the horse, I was supposed to ask How he does in large auditoriums. Then she would know to negotiate the deal," said Grace. "I got on this horse and went into another world. I had a big old ear-to-ear grin. Within about 10 minutes I did what I wasn't supposed to do, threw my arms around his neck and said, 'He's perfect! I love him!' Then I sat up really straight and asked, almost in a British accent, 'And how does he do in large auditoriums?' "
Fortunately for Grace, Kossini's owners were willing to sell the Dutch Warmblood (Rossini—Ulissa) for a reasonable price despite her eagerness, and she hasn't looked back since.
He was schooling fourth level when she started riding him five years ago, and the pair moved up to Grand Prix two years later.
"He's gotten stronger every year, and his scores have gone up," said Grace. "I have more control in the piaffe and passage. In the beginning when you train a Grand Prix horse, they need a lot of help from the rider, and now I feel like he's come into his own. He's become a seasoned Grand Prix horse."
This is the 16-year-old gelding's second Region 9 Grand Prix Championship in a row, and Grace said she was extremely pleased with their ride this year (65.20%).
"He gave me everything he had. You can't ask more than that. His pirouettes were nice and tight. I was really happy
with his piaffes and passage. He nailed his tempis and zigzags. It was a pretty nice ride," she said.
Kossini, owned by Seek His Grace, has a distinctive pattern of ridges in his skin that make him hard to miss. "That's why I named him Star In Stripes, because he's a star and he's wearing stripes," said Grace with a laugh.
But Kossini isn't the first unusual looking Grand Prix horse for Grace. A lifelong horse trainer, she's worked with all breeds and types, including Friesians, Welsh ponies and Gypsy Vanners. Her first Grand Prix horse was a loud leopard Appaloosa named Pay N Go.
"Now people are a little more open-minded to color," said Grace. "Pay N Go and I really paid our dues before we started to see scores, but once the German judges decided to give him scores, everybody else followed suit. I had several successful show tours in Florida with him at Grand Prix. I enjoyed riding him. I just wanted to show him and have fun."
One of the highlights of Grace's career with Pay N Go came when Paul McCartney asked her to ride at Linda McCartney's memorial service in Manhattan, New York, in 1998.
"Linda had a passion for Appaloosa horses. She had an Appaloosa stallion named Blanket that she adored, and Paul wanted to honor her passion," said Grace. "Because Pay N Go was the highlight of the evening, Paul wanted that to be a surprise, so I couldn't take him [to the church] to let him see it. He had a ramp with rubber matting put on top of the stone stairs so we could get into the church. There were thousands of people outside that church—New York police, photographers, reporters, people jumping over the barricades. He walked by all the photographers and posed. He very regally walked up the ramp and into the church. He wasn't afraid at all. We did the Spanish walk across the transept. I halted, did a pirouette and saluted and then Spanish walked back out."
A Breyer Horse has been made from the 24-year-old gelding, and Grace still rides him at her farm in Katy, Texas.
Another famous horse from Grace's past is Floriano, Steffen Peters' 2006 World Equestrian Games mount.
Grace formerly worked as the head trainer at Melanie Pai's Canaan Ranch and helped select Floriano in Germany. Grace was training with Ralf Isselhorst at the time and competing Pai's horse Gucci.
"I took Floriano on to Grand Prix and showed him in his first show season at Grand Prix," said Grace. "We started out with the scores not very high, and as he got more solid, we were getting mid 60s to low 70s. I ended up leaving Canaan Ranch, and that's when he went to Steffen."
Now Grace, 54, believes she has another chance for international success with Kossini. She campaigned him in the spring CDIs with the goal of qualifying for the Olympic Selection Trials. Although she didn't make the cut this year, Grace has set her sights on the qualifiers for the 2010 World Equestrian Games.
"He's very sound, and I'm going to go as far as I can go with him," she said. "He's the one, and I feel very blessed to have him. I want to do everything we can do. I'm not going to put a ceiling on that. I feel like the sky's the limit."
Sara Lieser