Devon, Pa.—June 1   
Maggie Jayne just couldn't stop raving about Standing Ovation after the $25,000 USHJA International Hunter Derby at Devon. "He has the smoothest canter I've ever ridden. It feels like cheating," she said.
"He just floats. It's no effort. He's constantly balanced; he constantly just leaves the ground effortlessly. He has a perfect lead change and he never spooks. It feels like riding a ballerina—he's that elegant."
The judges agreed with her rave reviews, as they gave Jayne and Standing Ovation scores that vaulted them to the top of the derby, making it Jayne's second Devon derby win—she won in 2015 aboard The Answer.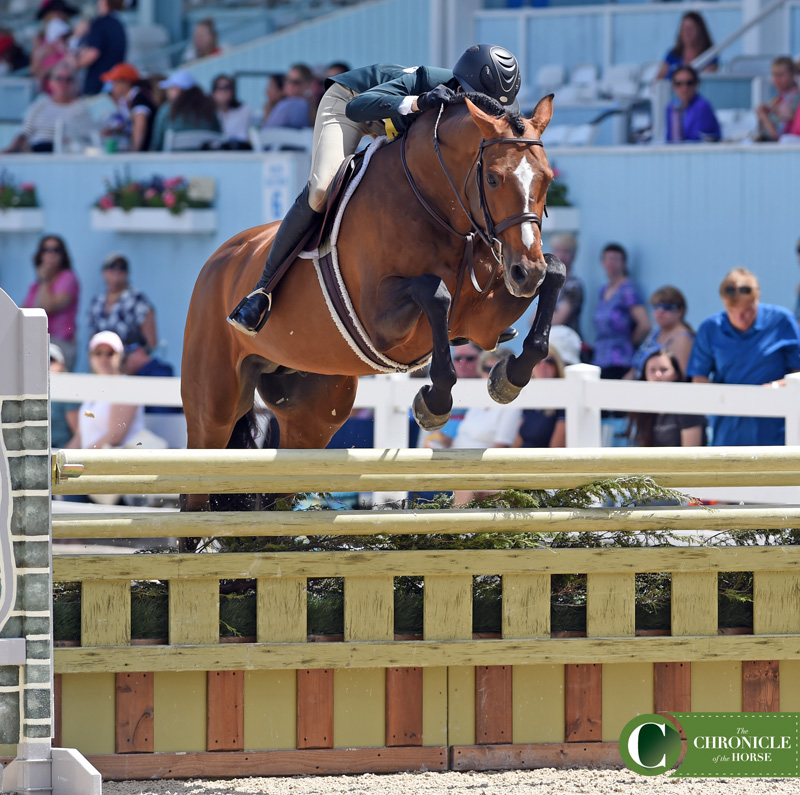 Earlier in the week, Jayne and Standing Ovation claimed the green conformation hunter reserve championship. "He had a great week. He really didn't put a toe out of place," Jayne said. "I wasn't pleased with myself in the first round [of the derby]. I got him a little riled up for one of the in-and-outs."
Jayne and the flashy bay stallion stood in second after Round 1 of the derby, with Tracy Fenney holding the lead with MTM Outbid. But in the handy round, Fenney had a few mistakes and dropped to fifth overall. Jayne and Standing Ovation had a smooth trip that earned scores of 88 and 89, with 4s and 6s added for high options and handiness.
"The second round, my goal was just to have him be slow and tight but nothing crazy," Jayne said. "He did do jumpers before, so he can get a little excited. One of his best features is that he can jump out of slow lopey canter because he does everything so effortlessly. I thought in the second round I got him to take a breath and showcase that a little better."
The Thatchers of Pony Lane Farm bought Standing Ovation, a 10-year-old Oldenburg stallion, late last fall. His original name was Last Man's Hope (Last Man Standing—Caletta, Conteros) and he competed to the 1.40-meter level of jumpers in 2015 and 2016 Europe with a few different riders. He stood at stud at Shockemöhle's stud. Kelley Farmer and Larry Glefke imported him, and Maggie and her father Alex Jayne tried him in quarantine; the Thatchers' Pony Lane Farm bought him soon after he was released.
Tori Colvin, who won the first USHJA International Hunter Derby held as a junior rider in 2013 with Inclusive, took second behind Jayne this year. She rode the Ingram family's Cuba to the red ribbon. "In the first round he swapped at an oxer. I felt it coming, so I was trying to protect it and didn't help, but the rest was amazing," Colvin said.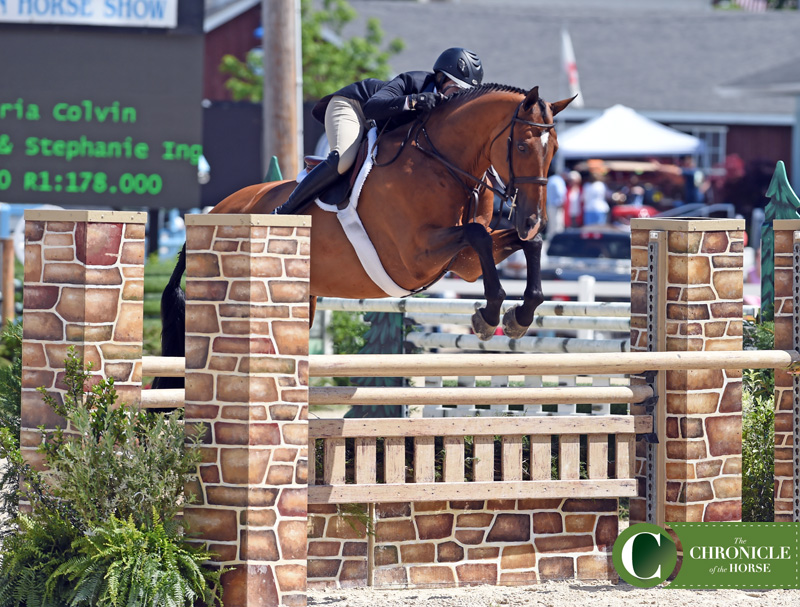 "I think he would have gotten a really big score if he hadn't done that. Then in the handy, I love to go handy, and he's really handy, so I was planning to go as smooth and handy as we could go. He went a little handier than I wanted. He turned a little tighter and the jumps were very close to my face. He had a couple rubs but he was really great today and I was happy with his performance," Colvin continued.
Cassandra Kahle made the biggest move up the standings, catapulting from eighth after Round 1 to third overall with a stellar handy round aboard Baranus. "The first round I think I started off a little nervous at the first couple jumps," said Kahle.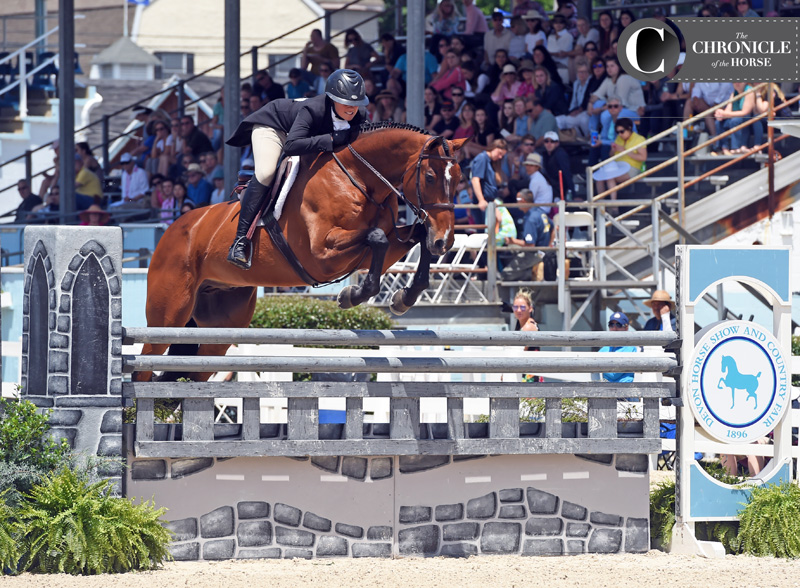 "I got to the second jump a little too deep, so I think that hurt my score a lot. Luckily I got that bump out of the way and the rest of the course was super. Then in the handy round I had nothing to lose, so I figured I'd give it a shot. As Emil [Spadone] said, 'You're either going to be first or last, so give it a go.' It all worked out. The horse jumped awesome. He's a really brave, honest horse and he throws a great jump so it was a really fun round to take a shot."
See full results of the $25,000 USHJA International Hunter Derby and from all of Devon. To see all of the Chronicle's coverage from the Devon Horse Show, click here. And make sure to read the June 19 issue of The Chronicle of the Horse for more in-depth coverage from Devon.
2017 Devon $25,000 USHJA International Hunter Derby
Molly Sorge / Jun 1, 2017 4:43 pm