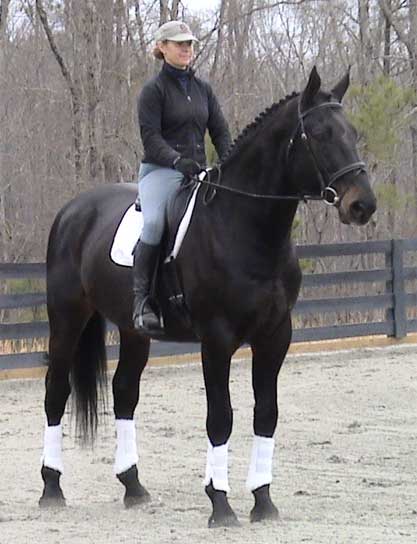 Cherokee County sheriffs in Georgia presume a 19-year-old stallion named Venus Du Vey was stolen from his pasture in Canton, Ga., on the night of Sept. 30. Anne L. Dupard owns the horse.
Initial reports state that Venus was left in his pasture overnight and stolen through a gate that was found closed after the horse was discovered missing. No other horses or property have been reported missing.
Venus Du Vey is a 17.3-hand black Selle Francais weighing 1500 pounds with no distinguishing marks except for bits of white around the noseband and brown around his muzzle and under his flanks from sun bleaching. He also shivers his hind legs if they are picked up by hand.
Any information regarding this case (number 06-92843) can be directed to Deputy McNeal at the Cherokee County Police Department at 770-844-6777; or to Anne L. Dupard at 770-889-9687 (home), 678-849-4308 (other), or by email aladrette@yahoo.com.
Visit http://www.netposse.com/stolenmissing/venusGASept06.htm to view complete details and updates.