A bold move gives Jessica Springsteen the winning edge in the ASPCA Maclay Final.
Jessica Springsteen's long-time trainer Stacia Madden knew that to win the ASPCA Maclay Finals her student would need talent, hard work, proper preparation—and a little luck. So the day before the Final, Madden was on the lookout for any indication that the stars were aligning.
"I have a big thing about fate," said Madden. "When they were doing the draw [to determine order of go], John [Madden] said, 'Pick a good one.' And the next number they pulled was Jessie's. Then she went eighth, which is a good friend's lucky number. When that started happening for Jessie, I said, 'I think there's a chance this will go our way if we don't make a mistake.' "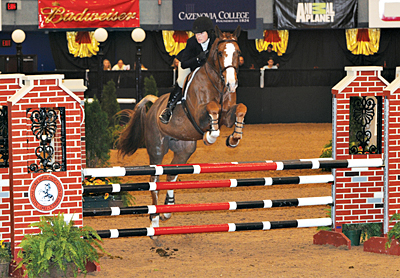 So Madden wasn't entirely surprised when her student bested 149 riders at the National Horse Show at the Syracuse Invitational Sporthorse Tournament, Oct. 29-Nov. 2. Springsteen, 16, edged Victoria Birdsall, who placed second, and Zazou Hoffman, who rode a strong second round to leapfrog from fifth to third.
According to judges Jimmy Torano and Leo Conroy, standout performances by Springsteen and Birdsall in the first round and on the flat kept them neck-and-neck all day. Both riders rode beautiful second rounds, leaving the judges with a race too close to call.
"We felt that if Jessica came in [to the second round] as the last rider and nailed it, we weren't going to test," said Conroy. "But she had one fence that was weak. So we wanted to give the girls another chance to show us what they could do."
The judges called back Springsteen, Birdsall, Hoffman, who trains with Missy Clark of North Run, and Christy DiStefano for a short test (see sidebar) that required riders to jump a fence just a few strides from the side of the ring then immediately rollback and counter-canter a second jump off a tight turn.
Last to test, Springsteen sealed victory when she landed on the counter-canter after the first fence and held the lead rather than needing to perform a simple change like the previous three riders. The crowd started roaring before she had even cleared the last oxer or halted.
"I watched the three riders before me, and they were all really good," said Springsteen. "I wanted to do something different, and I didn't have enough room for a flying change. I just hoped he would hold [the counter-canter], and he did."
Even the judges couldn't believe her bravura.
A Hand-Me-Down Winner
Colby Eisen's favorite part of winning the low junior/amateur-owner grand prix with Rosanne van de Withoeve wasn't the check or the accolades, but the prize that came with it. "I just won my first scrim at Blainville [Que.] this summer, and this is my first cooler," she said with a smile.
But course designer Leopoldo Palacios made Eisen work for that blanket. He set a demanding track that only two riders managed to negotiate fault-free. Eisen and her tidy partner stayed clear in the jump-off, while Emily Pope and Seize The Moment picked up 4 faults to take second.
Eisen, Bedford, N.Y., started in the jumpers just as her sister was retiring, inheriting her sister's hand-me-down horses for the past three years. "All of my horses have been hers first—including Rosanne—and they're all fantastic," she said. "I'm very lucky to have them."
A student at The Ethel Walker School (Conn.), Eisen trains with Eric Hasbrouck most of the summer and with Linda Langmeier during the academic year. "It's a great situation," said the 16-year-old. "My friends and I pretty much live at the barn when I'm not in class."
"It was amazing," said Torano. "I think everyone in the place knew it was over [after she held the counter-canter]. When she came out of the turn and hunted the last jump we wanted to stand up and whoop."

Whittling It Down
Springsteen, who went eighth in the first round, had no problem serving as one of the pathfinders for the class aboard equitation veteran Papillon 137.
"I was glad going earlier, because sometimes I over-think things," she said. "My horse is able to extend and collect so easily, and that's what the course asked a lot."
The judges and Richard Jeffery designed the first course, which asked questions right off the bat. The course started over an oxer-vertical-oxer line that separated the undermounted, unprepared and just plain unlucky from contenders. There were few spooky fences—though a skinny pair of rolltops did gave some greener mounts pause—but plenty of smaller questions added up to a course littered with mistakes.
"I thought the course was one of the better courses we've seen in a long time," said Andre Dignelli of Heritage Farm, who trains 15-year-old Birdsall. "I think any good horse and rider could do it, and even a weak horse and rider could survive it."
The judges kept it simple in the flat phase, inviting 33 riders to return in three groups to perform at the walk, sitting trot, posting trot and canter. "We didn't want to cheat the kids, but, unfortunately, we were on a very tight schedule," said Torano. "But we didn't need to make it too tough. Most of the kids in the top group can counter-canter and all that. We really wanted to see style and position."
Jeffery's second round gave the top 25 riders a few chances to show off, including an option for an inside
turn, and both galloping and quiet lines. The second-to-last fence proved hardest, tripping up several riders as they tried to find a distance off a tight turn.
When the judges called for the test, Madden and fellow Beacon Hill trainers Krista Freundlich and Max Amaya issued specific instructions to Springsteen and DiStefano, directing them to consider a calculated risk if they could move up, but to be more cautious if they came back on top and the other riders made errors. But, as always, Madden told her students that at the end of the day, they had to go with how they felt at that moment.
ASPCA Maclay Tidbits
• Samantha Senft's strong flatwork and no-holds-barred second round catapulted her from 30th up to 10th. "She was so relieved to make it back in the second round she just made a big charge and went for it," said trainer Alan Korotkin.
• Jessica Springsteen picked up the other big horsemanship title at the National Horse Show when the judges named her best child rider. She rode Stone Hill Farm's Tiziano to the large junior and grand junior hunter championships, their second consecutive after picking up the same accolades at the Washington (D.C.) International Horse Show (Nov. 7, p. 32). She also piloted her small junior hunter, Sublime, to reserve honors, picking up the Blue By You Memorial Challenge Trophy for the best junior hunter trip of the show.
• The judges honored Victoria Birdsall with the Iris McNeil Perpetual Trophy, awarded to the junior rider who has made an outstanding contribution to the sport.

"I was happy with how Christy did [the simple change] but a little surprised that Jessie took the risk," admitted Madden. "But any time I've given her an option and left it up to her to see how the horse is feeling, she's always made the right choice. Her confidence, experience and judgment always get the right answer for her."

From Leadline To Winner's Circle
Madden should know. Springsteen is one of Beacon Hill's rare students who started there from an early age.
"I have a photo of Jessie showing a black-and-white pony named Half-Pint at Meadowlands in the leadine," said Madden. "It's really unusual that we get to work with the kids from that stage on. Usually the kids come to us after they've graduated from the ponies and want to get serious about the equitation. The Springsteens were friends and neighbors, and frankly they didn't trust anyone else, so we started with her very early."
According to Madden, in addition to Springsteen's passion, talent and self-confidence, the Colts Neck, N.J., rider developed focus and maturity early.
"Jessie is one of the fundamentally most organized riders I've ever worked with," she said. "I don't think I've ever had to reprimand her for being late or at the wrong ring or not knowing her course or not having her equipment. It's really bizarre for a kid at that age."
After an impressive pony career, including a win at the Washington International Pony Equitation Classic Final, Springsteen started turning heads aboard bigger mounts in the hunter, jumper and equitation rings, with top-10 finishes at the USEF Talent Search Final-East, the Washington International Equitation Classic Final and the Pessoa/USEF Medal over the past two years.
Jessie's parents—rock-and-roll icon Bruce Springsteen and Patti Scialfa—and her two brothers, Evan and Sam, sat on the sidelines to watch as Jessie clinched her biggest victory to date.
"After you have been to so many shows year after year, you realize how difficult it is and what an achievement it is," said Bruce. "You also realize how good the other riders are and how much work has gone into it. You see a culmination of 13 years of riding come down to 1 minute and 30 seconds. That is a tough lesson in life. Musicians always get to sing it again; riders get one shot."
---
Dealing With Nerves
The pressure-cooker situation of an equitation final can catch up with even the most seasoned of riders. In the first round this year's USEF Medal Final winner, Kels Bonham, suffered a stop mid-course when she missed the distance to an oxer, and Shelby Wakeman, third last year, caught a tight distance at the first fence and had to add a stride coming out of the line. Julianna Fischer, fresh from her fourth-placed finish at the USEF Medal Final, lay 12th heading into the second round but veered off course.
Trainer Stacia Madden offered her formula for helping students overcome their nerves and excel during the fall indoor season.
"The biggest thing we do is try to treat Finals like it's a normal horse show and have the kids focus on what got them there," she said. "There's a lot of unfamiliarity for the riders. But if you can keep things the same: walk the course the same way, have your group meeting the same way and prep the horses the same way, you're in good shape. You need to try to keep the same structure so that a bunch of things aren't being thrown at them that are unfamiliar."
---
The Test
The riders lined up in the ring across from the judges before the announcer read the test. The final work-off required riders to canter fence 1, a natural triple bar, then counter-canter fence 2 off a tight turn. Riders then cantered fence 3 away from the in-gate to fence 10, the APSCA wall, then turned left and hand-galloped fence 8B, a sizeable red-and-black oxer (8A was removed for the test). Riders finished with a halt and returned to the line at sitting trot.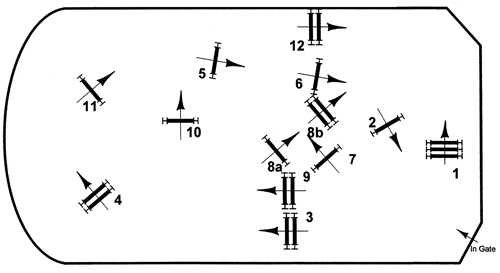 Mollie Bailey