Ocala, Fla.—March 10
On looks alone, Davendy S is not the horse you would pick out of a crowd to win a speed class.
"She's so calm, you'll see her walk around and she doesn't look like she can go fast," Jessica Springsteen said. "She's got the big belly and she's kind of slow and lazy, but when she gets in the ring she's just focused and she's such a competitive horse. I've really learned a lot from her."
Springsteen outran a field of 68 other pairs to take the win in the $35,000 Hollow Creek Farm speed class at the Live Oak International  on Friday afternoon. The class was a qualifier for Sunday's $100,000 Longines FEI Ocala World Cup Qualifier, the last chance for riders to earn coveted World Cup points before heading to the Longines FEI World Cup Final in Omaha, Neb., at the end of March.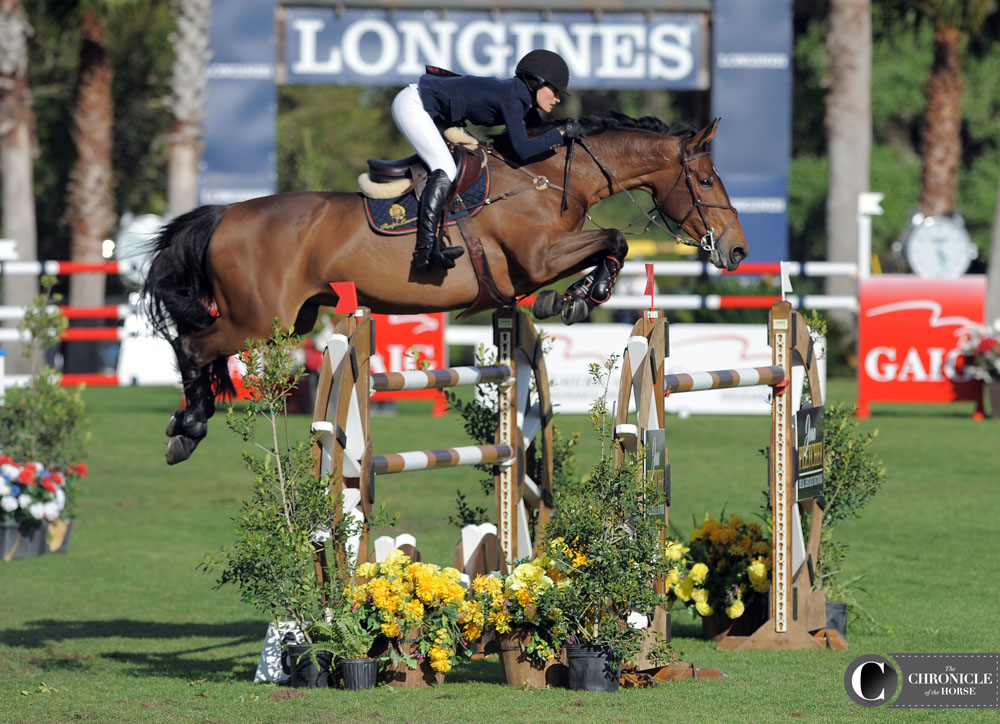 Springsteen doesn't have her eye on this year's World Cup Final, but she did have it on the top prize in Friday's speed class—some riders played it safe to qualify for Sunday, but not Springsteen.
"Well I was riding my speed horse so I as definitely going to give it a little bit of a go," Springsteen said. "But I think my plan was to kind of go fast in the beginning and then slow down a bit at the end, because the triple was coming down a lot. I wanted to hold it together there, and it worked out."
The triple combination, the penultimate test on course, caused a lot of issues and a number of rider falls as pairs found the final one-stride long and either swam through or stopped at the C element.
"I think it was just really tough because at that point in the course you have a lot of speed and the verticals are really careful," Springsteen said. "So I think I at least tried to really pull it together. Luckily I have a very careful horse but it was definitely tricky."
All three of the top finishers were young riders, with young professional Mattias Tromp taking second aboard Avon.
"I was aiming for the qualifier today and the [1.50-meter] class tomorrow; my horse is a very competitive at that 1.50-meter 1.55-meter level," Tromp said.  "I think when the jumps get to 1.60-meter I think it has to be the right week. It feels it, so we'll see how Sunday's [1.60-meter class in the World Cup qualifier] goes."
Lucy Deslauriers took third place aboard Hester. It was a good Friday for Desluriers as she also took second in the $10,000 Waldorn Private Wealth Power And Speed class earlier in the day aboard Hamlet.
"I'm really lucky, both of my horses did really well today," Deslauriers said. "It's pretty incredible."
Deslauriers has recently made the move to the top open FEI levels and the honor of competing against Olympians as a young rider is not lost on her.
"I guess in the schooling area I see it the most when I'm warming up next to Beezie [Madden] and McLain [Ward] and then I get to compete against them, that's pretty incredible," Deslauriers said.
Click here for full results from the class, and check the March 27 issue of The Chronicle of the Horse magazine for more in-depth coverage from the Live Oak International Horse Show!