Lexington, Ky.—April 29
The other riders tried to get close to him—him being Germany's Michael Jung, who won yesterday's Rolex Kentucky CCI**** dressage with 34.4 penalties—all day.
Marilyn Little and RF Demeter, who went before the lunch break on Day 2, earned 42.5 penalties and closed the gap slightly. But it took the last rider of the day, Allison Springer on Arthur, to get even remotely close with a 39.7.
"There's always so much emotion, and it's so wonderful to be here," Springer said. "I have such a long partnership with that horse. He's tricky, but it's…it brings a tear to my eye to just be here and hear the crowd cheering you on.
"I don't think people realize how difficult it is to get him in the dressage ring," she continued about the notoriously spooky Arthur, who's now 17. "But I just love our partnership. I know he was really anxious today, but I felt so much good quality, and I'm really pleased with his effort."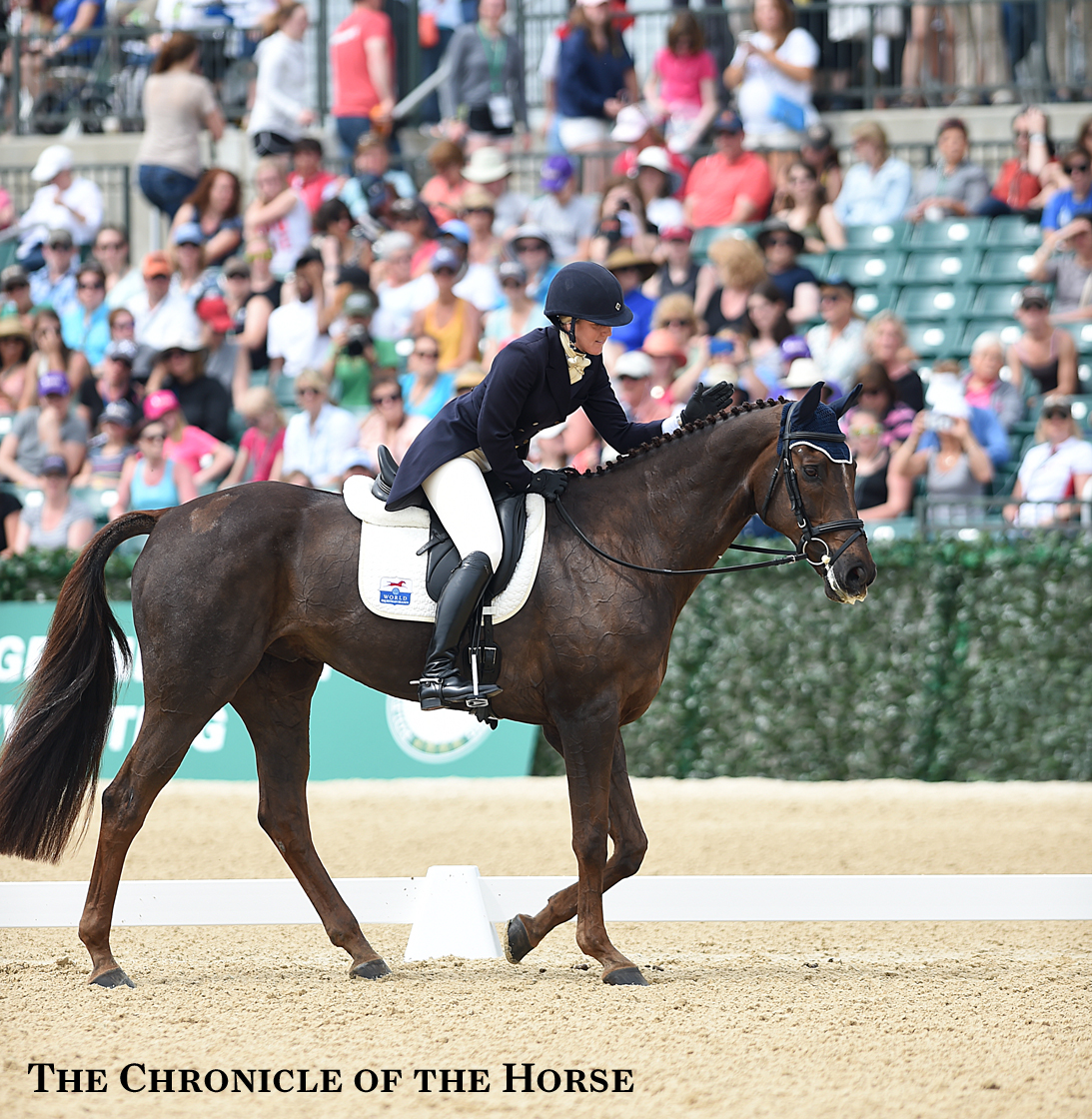 Allison Springer and Arthur. Photo by Lindsay Berreth.
The score gap still exists though. Jung and "Roxie" will start cross-country tomorrow more than 5 penalties away from their closest challenger. But as Jung reminded everyone at today's press conference, anything can happen on cross-country day, and he experienced that at least year's Land Rover Burghley CCI**** (Great Britain) when Roxie slipped and fell in a water complex.
He's also not giving anything away.
"It's a very long trip here," he said with a smile. "I'm not coming here to just have a nice holiday. When I come here, I try to win. But it depends also, every time, on the horse. The horse says to you if he's ready in the dressage—really concentrated—and you can try your best from the first medium trot. Maybe you have a very good feeling on cross-country, but the weather is not so good, or the horse feels not so good later on course, or maybe he lost a shoe. In the end, it's very important that you finish the competition with a healthy horse, and then the season can go on."
The weather report for tomorrow is looking grim, with a 90 percent chance of storms through the day, and the potential boggy footing that heavy rainfall might bring was weighing on the riders as they discussed Derek di Grazia's 11 minute and 14 second course.
"I've walked it three times now," said Jung. "I'll do that one more time tonight and once more tomorrow morning. At the moment I definitely have a plan, but I always have, for every fence, two or three plans. You have to know the other options if something happens."
This position—way up the leaderboard—is familiar for Springer and Arthur. They won the Rolex dressage in 2014 and in 2012, and they won the first day of dressage in 2011 and placed second in the phase in 2010. But cross-country day doesn't always go the pair's way. Last year and in 2013 and 2010 they picked up a stop and some time, and they were eliminated on course in 2011. But in 2012 they finished second, and Springer is hoping for at least a repeat of that experience.
"I think this is the most tiring track I've seen at Rolex," she said. "They changed it last year, and this year again is a little different. We had this nice long downhill through the tents and by the steeplechase hill, and they could catch their breath and kind of catch up on time there. There's nowhere to make time at the end now. You have to be smart in your turns and quick away from the fences.
"My horse is 17 now, and he's very fit and hasn't had to miss a canter this year, but he had a very light season and hasn't done a CCI in a couple of years," she added. "I hope he remembers and will go the distance for me."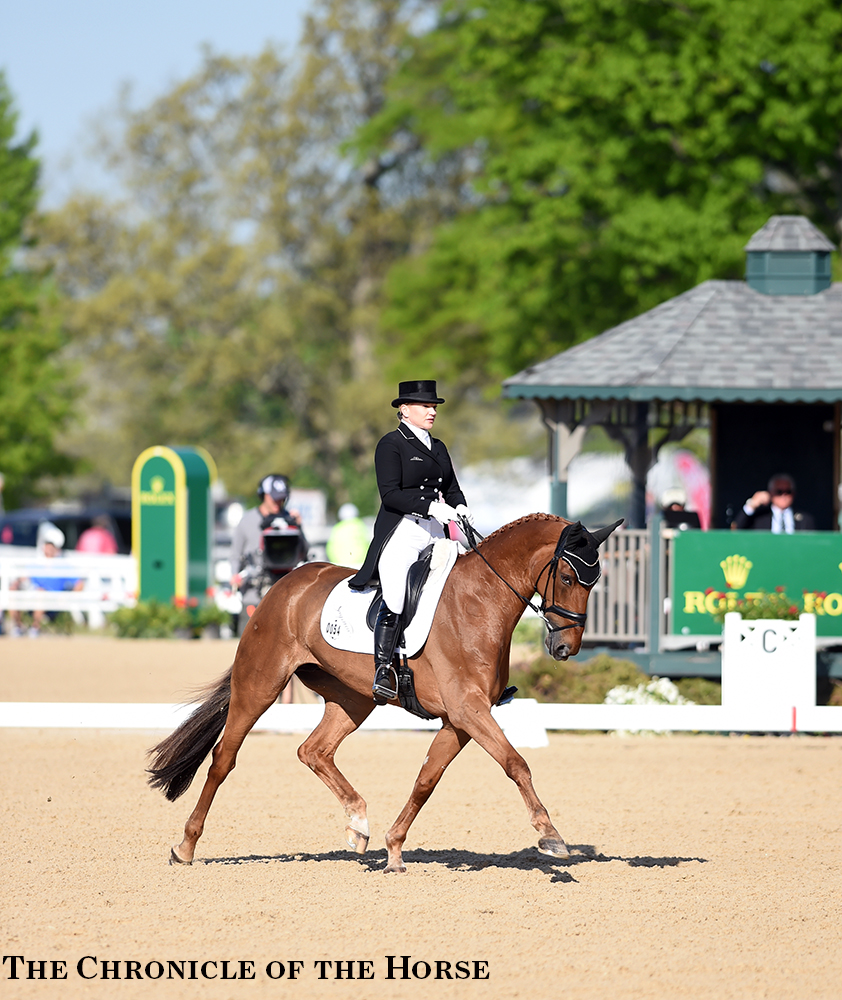 Marilyn Little and RF Demeter. Photo by Lindsay Berreth.
The 42.5 penalties that Little earned with "Demi" was the pair's best score at the four-star level. They'll start tomorrow's phase in third, not far in front of Liz Halliday-Sharp on Fernhill By Night (43.0).
"I've had tests where there were more moments of brilliance with a few mistakes," she said. "This was one of her more relaxed tests, and I was pleased to see that. She's been wonderful all week. She wants to be a reliable horse in dressage, and I'd like to be able to carry that relaxation into future tests and also bring back a little sparkle I felt before."
Cross-country begins tomorrow at 10:00 a.m. Check out all the Chronicle's Rolex coverage and full dressage scores.