Mill Spring, N.C.—April 7
Allison Springer was a little ouchy when she show jumped her two horses early this morning at The Fork CIC**, but she managed two clear rounds over Chris Barnard's course, and took the lead on Lord Willing (42.3) when dressage leaders Cornelia Dorr and Louis M dropped a rail.
Springer said she was headbutted by a horse she was hand grazing when he stepped on his lead rope and pulled his head up quickly, knocking her hard in the thigh. Even so, she pushed on and rode five horses.
"I am really lame and really painful. I was in a lot of pain riding this morning, and was pretty psyched that my two-star horses jumped so well because I was not ring well. I could tell in warm up—I was not up to par," she said.
"He's a really fun little horse. He jumped really well," she said of Lord Willing, or "Liam," a 9-year-old Holsteiner gelding owned by the Lord Willing Syndicate.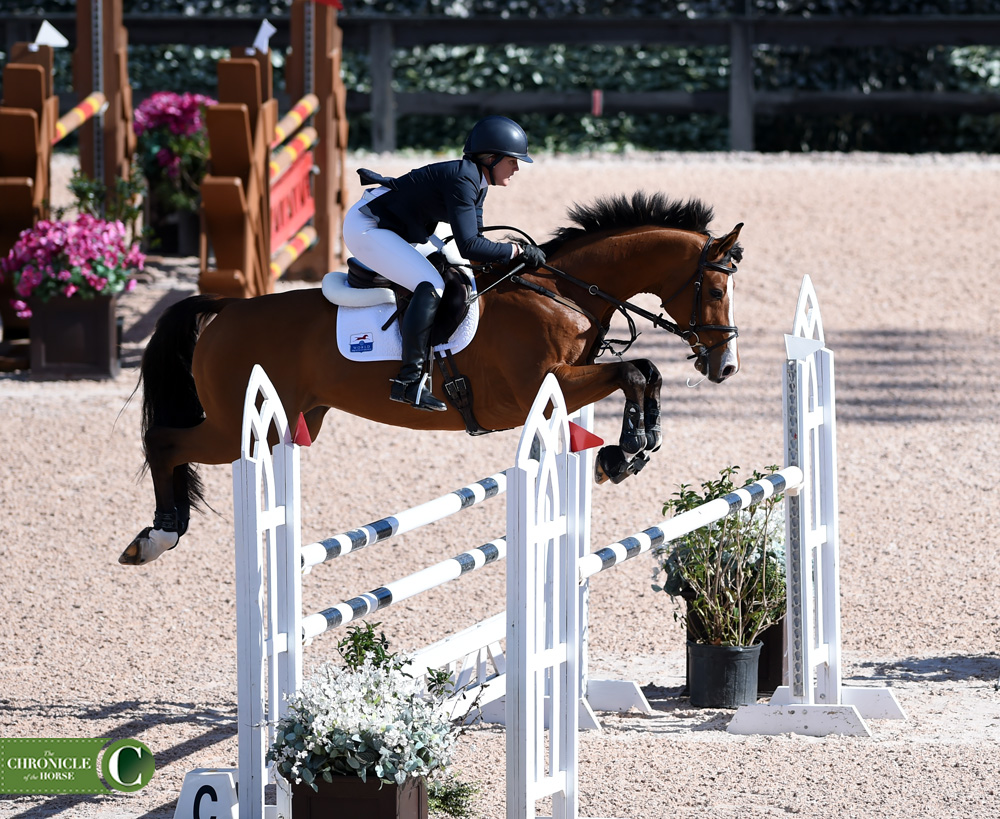 A former amateur horse, Springer and Liam paired up in late 2015. They won the Plantation Field CIC* (Pa.) last fall and have completed two CIC**s.
The gelding moved up to intermediate with Kurt Martin last summer while Springer was out of the saddle with an injury.
"I'm really excited about him. He's a neat horse. I jumped him down in Wellington, and I get a lot of people sniffing around about him because he's really catty and adjustable and wants to be careful. He's definitely a horse you don't mind sitting on Sunday after cross-country. He's a very good dressage horse too. Cross-country would be his weakest phase," she said.
Even so, she'll tackle Mark Phillips' and Tremaine Cooper's course tomorrow, which is held on the main property of the Tryon International Equestrian Center.
"I think everyone was hoping the two-star would be out on the new property. I think it's going to be similar feeling to the [Nutrena/USEA American Eventing Championships]—it's wind-y and hilly, and I think there's some stuff that isn't going to feel awesome riding out there. It's going to feel tough—like the new big drop and two trakehners. I did the modified today, and you have to go really, really fast to make time because you're turning and going up and down the hills. I think Mark's a great course designer—I think the distances and all that make sense, but it's probably not going to feel as awesome as maybe across the street is going to feel."
But she'll still have a chance to tackle the new course on Sunday on her veteran partner Arthur.
Ten out of 20 pairs jumped clear today. Second-placed Liz Halliday-Sharp and Deniro Z withdrew after jumping as planned since she's aiming for the Ocala CCI** (Fla.). Dorr and Louis M moved into second as a result with Boyd Martin and Kyra close behind in third.
For full results, click here.
We're on site all weekend at The Fork! Make sure to follow us at www.coth.com and on COTH's Facebook, Instagram and Twitter! Check out a full report from The Fork in our April 24 print edition.
2017 The Fork CIC - Friday
Lindsay Berreth / Apr 7, 2017 10:38 pm