Raeford, N.C.—March 26
The last time Allison Springer and Arthur galloped around the CIC*** at the Cloud 11-Gavilan North Carolina International, their weekend ended early with Springer sitting on the ground stunned after the notoriously spooky gelding shied at something in the galloping lanes between fences.
But this year they returned, took a hold of the lead and never looked back, taking home the win with a fantastic cross-country ride over Ian Stark's new track.
Maya Black and Doesn't Play Fair, who were co-leaders with Springer and Emily Beshear and Shame On The Moon after dressage, rebounded from two rails in yesterday's show jumping that dropped them to 18th place. They went double-clear to finish second, while Lynn Symansky and a keen Donner moved into third.
"I'm thrilled with him. We had a great weekend. I certainly had to work for it, but I always do with him. He's a horse that's so capable of winning," said Springer. "This is not a horse that's easy to go fast on a short course like this, but why not do it? I'm thrilled with him. The show jumping wasn't easy—I worked for that hard. I think everything can always improve, but I'm really thrilled for the horse."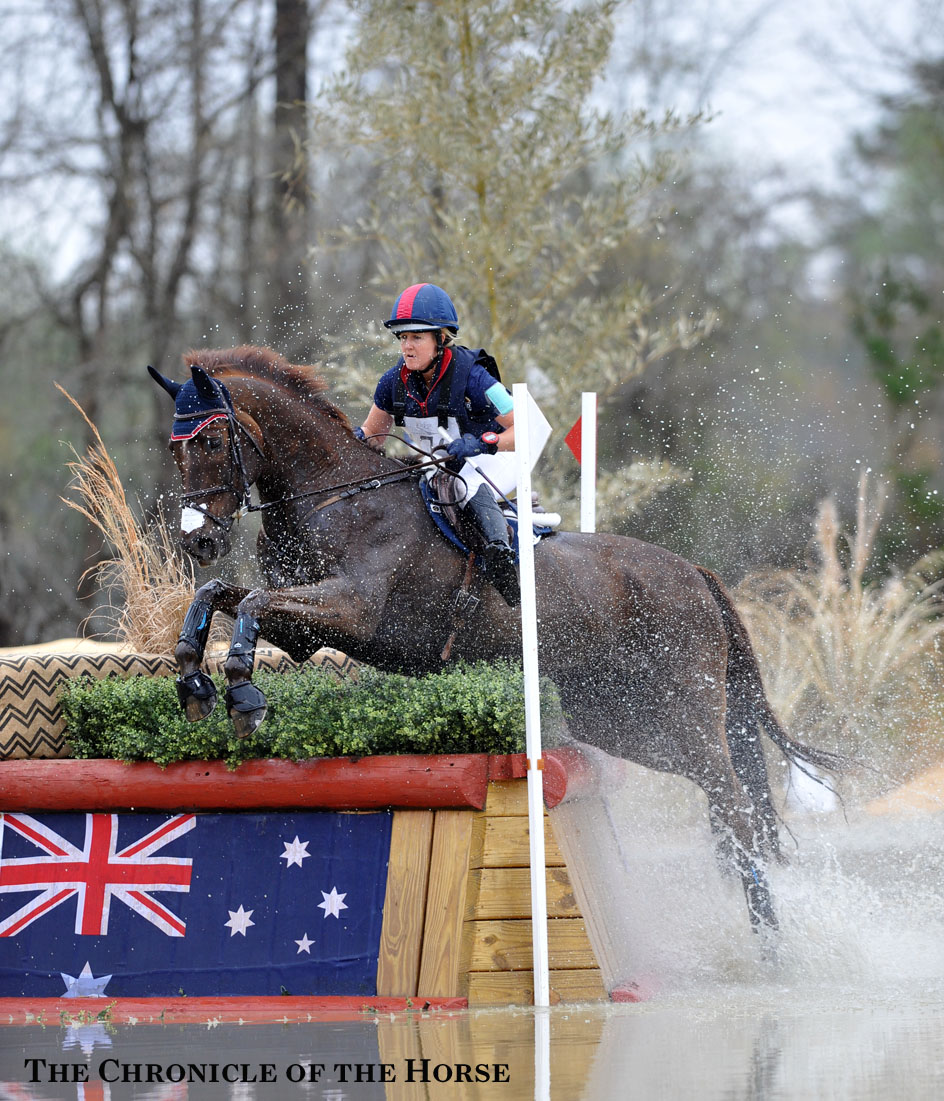 Allison Springer and Arthur. Photo by Lindsay Berreth.
As the last to go, the pressure was on Springer, who wanted a good prep run before the Rolex Kentucky CCI****, but she didn't let it get to her.
"I went out so screaming fast anyway, so he never got to really settle, and the first water jump was pretty awful!" she said with a laugh. "Then I'm like, OK, let's keep it in check until get through the tobacco barn [at 8ab,] because that was probably my least favorite thing to be going to. After that I kind of went cruising. I think the new water [fence 13ab] rode surprisingly similar for a lot of people. I think it was a great course because it tested your ability to respond and make the next right decision. I really liked the course for that. I had a bit of fun."
Springer noted that since the 2012 Olympics in London, where she was short listed with Arthur, she's really changed her program to become the rider the gelding needed all along.
"It's only been in really since London that I've had more horses to ride," she said. "I came back that summer like, you have to have more horses. It gives you such experience. I think just that, just more experience as a rider, is what I kind of need to make him a winning horse, because he's fully capable of winning. It's not always pretty, and that's what Phillip [Dutton] had said years ago—you want Plan A to work, but the best riders in the world recover and get it done. I perhaps haven't been great at that in the past, and I think this was fun today."
Black was a little miffed with her two rails yesterday on Dawn Dofelmier's "Cody," but he was a machine on cross-country—just what she'd hoped for as she prepares for her second Rolex.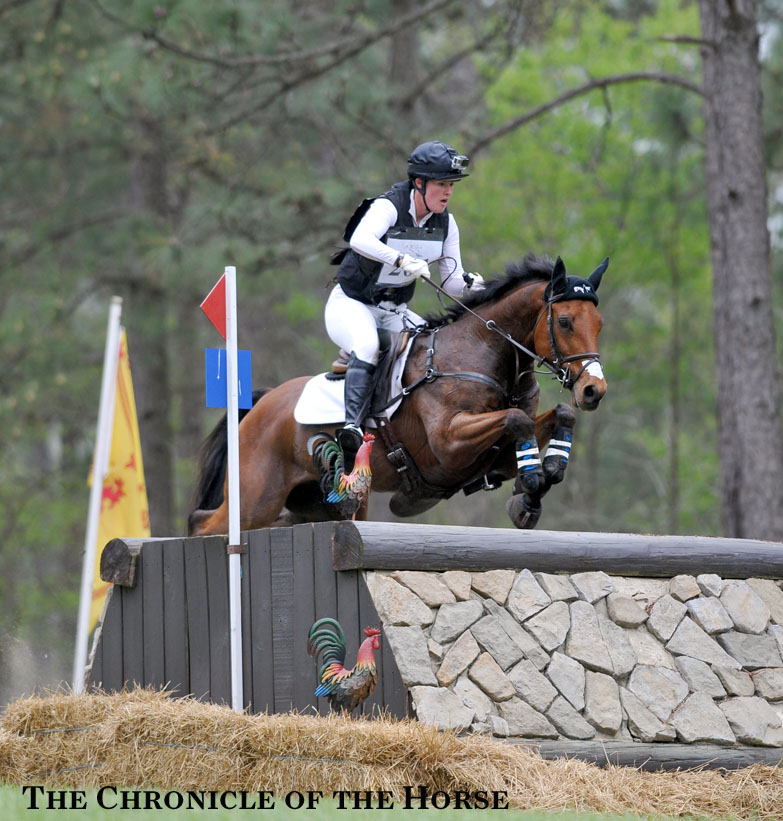 Maya Black and Doesn't Play Fair. Photo by Lindsay Berreth.
"He's not really an easy horse to go out and canter around on. Because I don't have a lot of upper level horses, I kind of need to practice galloping and jumping out of speed," she said. "My plan was to go out and ride it how I needed to ride it. Knock on wood he's a pretty sound horse so far, and both of us just need to practice, especially going towards Kentucky. It was a lot of fun. There was definitely a lot to do.
"It was kind of interesting coming back to another Ian Stark course," said Black, who's originally from Washington. "When I was bringing Cody along, he designed at Galway [Downs (Calif.)]. I've kind of brought Cody along with this kind of course in mind because that's what we've dealt with. He does well with it."
Symansky has kept Donner's prep light this year for his spring four-star. She hasn't decided on Rolex or the Mitsubishi Motos Badminton Horse Trials (England) yet, but Donner is cross-entered in both.
"This type of course doesn't suit him quite as well. I think sometimes having a few more gallop fences and then having it hit hard towards the middle and end suits him a little bit better; he's more of a long course type of horse," she explained. "In the beginning he was just a little bit sticky and a little bit surprised. I haven't done much with him this year. I did Wellington [Fla.] and an intermediate at Rocking Horse [Fla.], so this was his first real, proper run. He needed it, I needed it too. It was great. He got better and better as the course went on. There was certainly enough to do, and then it let up as the course went on. I think that's his style as a course designer."
Of 64 starters, 59 completed the cross-country. Stark's course rewarded forward riding and if your horse didn't like ditches, you may have had a problem.
Three pairs were double clear—Black, Katherine Coleman and Longwood and Holly Payne Caravella and Never OutFoxed.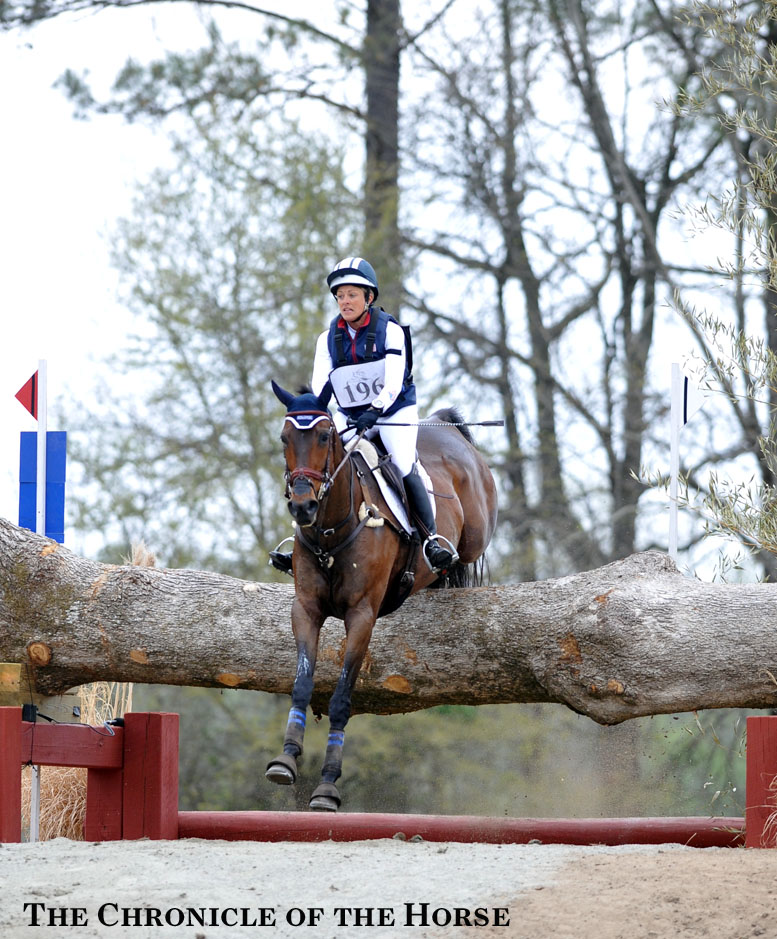 Lynn Symansky and Donner. Photo by Lindsay Berreth.
Doug Payne and Vandiver broke the frangible pin at Stonehenge (10ab) and incurred 11 penalties, while 14 pairs picked up one stop. Buck Davidson and Park Trader has two stops but completed, while Kate Chadderton and Buckharo and Jessica Phoenix and Bentley's Best retired after one stop.
Rachel McDonough and Irish Rhythm parted ways at fence 2, while Daniela Moguel fell from Cecelia at fence 8, and so did Davidson on Carlevo.
Davidson was down for a few minutes while the medical team saw to him, but was up and talking. He withdrew the rest of his horses, including Ballynoe Castle RM, who was in third in the three-star.
"I am fine, hit my head and the officials said I get the rest of the weekend off," he said on his Facebook page. "That is their job and they made the right call. Tough day, things could be worse. But on the upside, I am headed home to see [my new baby] Aubrey."
A Fitting Comeback
Will Faudree made an amazing comeback in his first FEI event since breaking his neck in a fall at the Carolina Horse Park in September. He won the CIC** with Caeleste and finished third with Hans Dampf.
Unfortunately, his win came after he fell from his first horse in the two-star, Socialite, but he was up immediately and the mare walked away fine.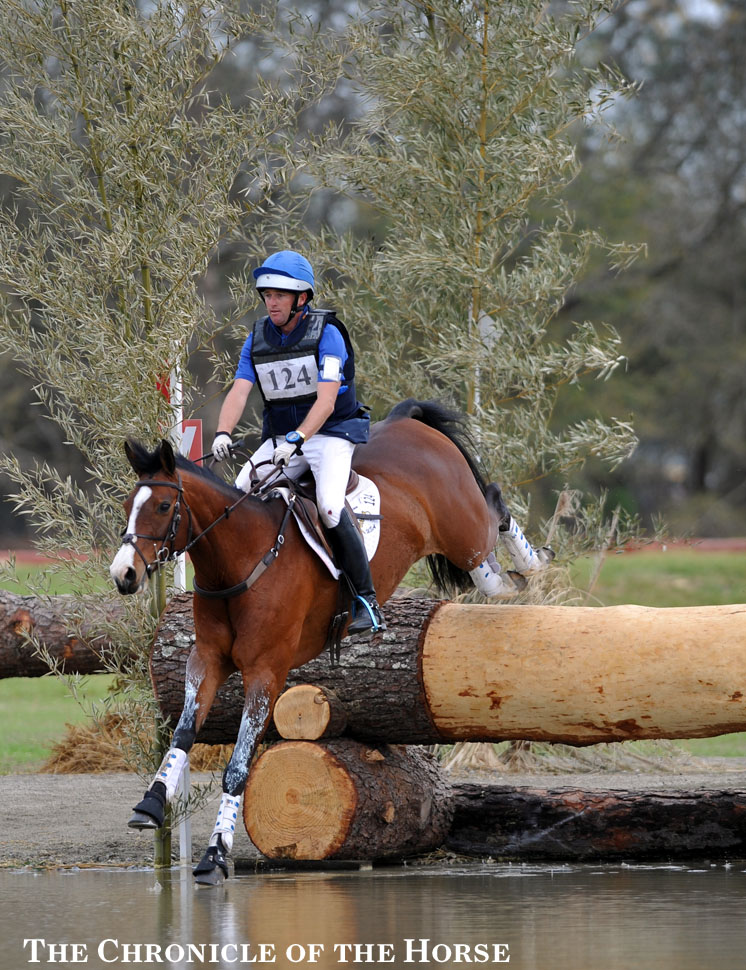 Will Faudree and Caeleste. Photo by Lindsay Berreth.
"It was nice to be back riding. It was nice to fall and get up!" he said. "That's the first time I've fallen since the accident. I'm feeling really good. [Caeleste] was fantastic and Hans was super as well. I started out quiet on him, just getting to know him since this is my now fourth cross-country on him."
Paired with "Mouse" since 2013, Faudree said he knows her well, and they'll be looking at an advanced move up at The Fork (N.C.) next month.
"I knew the time was tough to get, but Caeleste, I know her very well," he said. "She is a funny horse because on some of the longer tracks she's gotten tired on me. I've struggle with her breathing, for her to take a deep breath. A lot of times she won't take a deep breath until minute six or seven, and then at the CCIs I think that's a bit too late, and she's knackered by the end. She hasn't ever lost jumping form. But today when I went to set her up for the second jump, she took a big, deep breath. I actually think it was really educational for me on her. She's not one I can start quiet and let her start breathing and going because she won't. I'm excited to take that away from this event."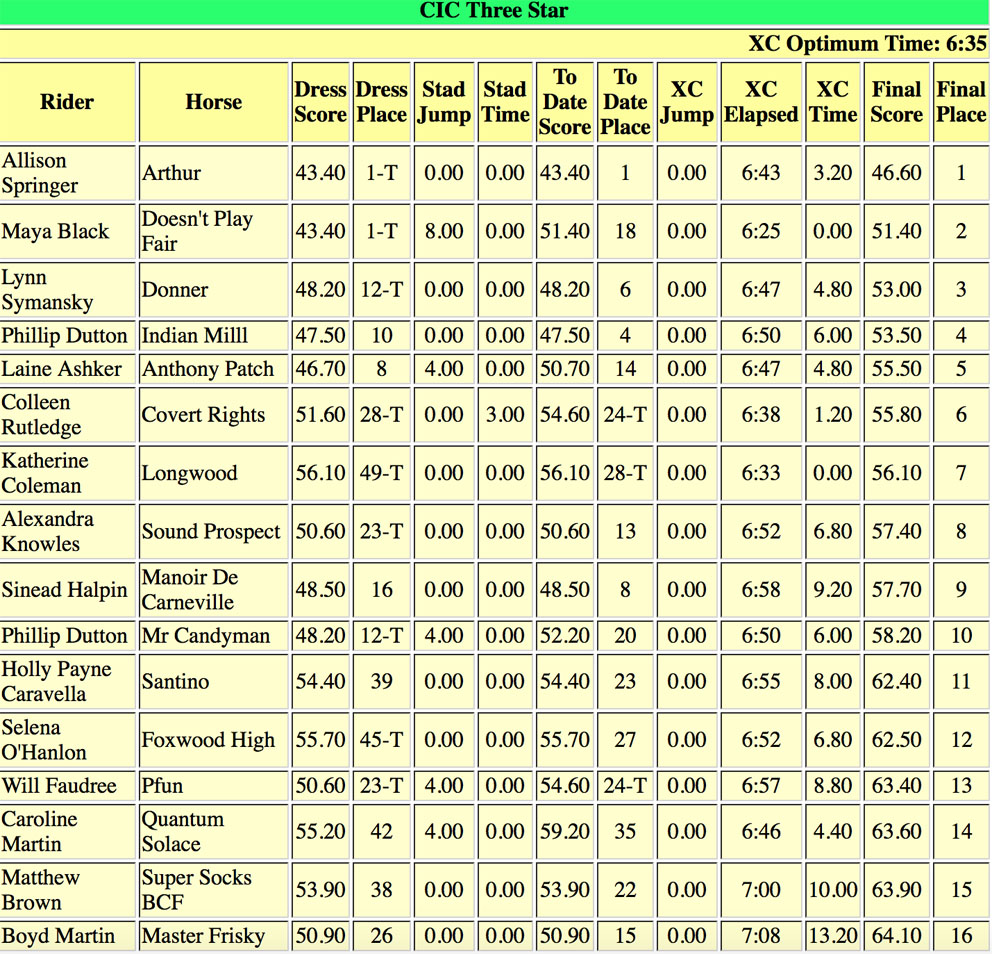 Full scores can be found here.
For more from the Carolina International, visit our hub page.