George H. Morris was flipping through the Oct. 24 & 31 issue of the Chronicle when a photograph stopped him and inspired him to call into the Chronicle office to sing the praises of the rider.
It wasn't a photo of a famous equitation rider or a grand prix jumper. It was eventer Kelsey Horn riding Swingtown to the win in the 4-year-old division of the U.S. Eventing Association's Young Event Horse West Coast Championship (Calif.).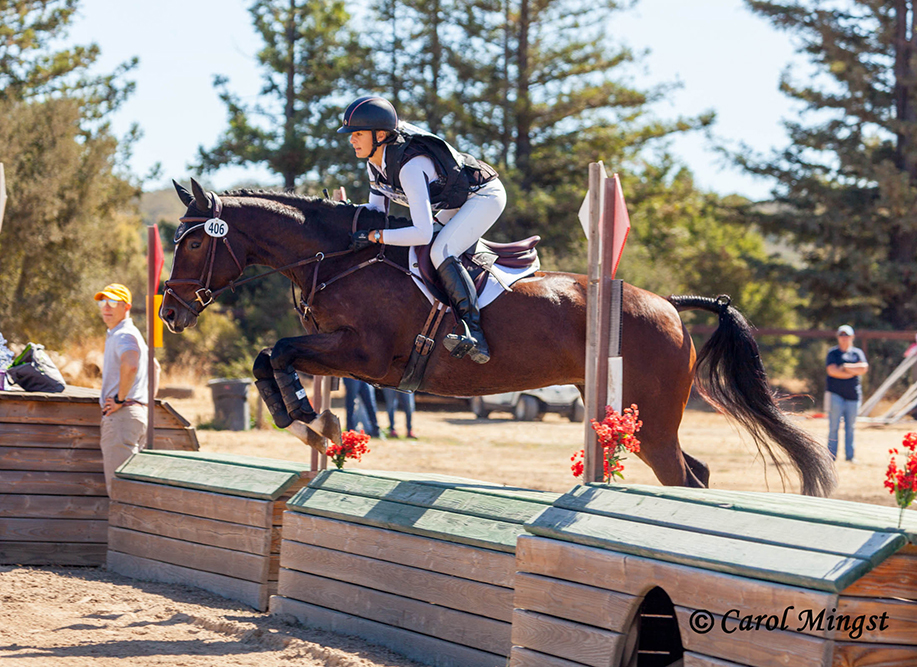 Kelsey Horn and Swingtown. Photo by Carol Mingst
"When a picture really stands out like this, I feel the need to draw peoples' attention to it. I don't care that it's a 4-year-old horse. I don't care that it's a little fence. We need to recognize how correct this photo is in every aspect," said Morris.
"She's very tidy and in balance. Her basic position is ideal," he continued. "She's with her horse. Her heels are down. Her ankles are flexed; her calves are on her horse. Her posture and eyes are perfect. There's a straight line from the elbow to the bit. Her hands are soft with light contact. It's a picture of perfect form. And this horse is jumping like a good hunter.
"If you look through the rest of the magazine—any issue—there are so many that are in horrendous form, even over simple fences," he added. "It's not the photographer's fault or the magazine's fault—that's what the riders are doing."
While Morris noted that many hunter, equitation and jumper riders display form that indicates they're ahead of the motion, some event riders show the opposite problem.
"Some people ride so grossly behind the motion. I can see when necessary—when you're jumping down a drop or into a water jump—on occasion you lean back. But it certainly doesn't help the horse; it makes him very defensive in his back," Morris said. "If a horse is defensive in his back, he'll become hollow. It's second only to being defensive about his mouth in making him hollow.
"You wonder why some horses jump so terribly the third day [in show jumping] at an event," he added. "But if they're defensive in their back, they're hollow and upside down and have fences down. When a horse's topline is soft and relaxed, he's far better with his legs over a jump.
Morris emphasized that, across the board, correct form leads to the best performance. "Even Nick Skelton, with his English position, still rides in a very light, forward seat, as does Peder Fredricson of Sweden, and Kent Farrington, and so many successful riders," he said. "It's a system of riding that works, the forward seat system. I am a defender of the system. That's why I make examples of these success stories, to show how this system does work.
"Riders don't need to re-invent the wheel," he added. "We had the best system for fast riding—jumping and galloping—for 80 years. I was not a talent, but I was correct in form. That's how we were taught. That is impeccable style."