You might be a good enough horse trader to sell a Miniature Horse to a basketball player, but can you sell your farm?
You never get a second chance to make a first impression, as the saying goes, and never more so than when someone is looking to make the biggest purchase of their life—real estate.
If you're in the market to sell your farm, you need to do everything you can to make your property attractive to potential buyers. Horse properties are a special niche market—here, three realtors who specialize in equestrian real estate talk about what matters most when putting your farm on the market.
"It's that first impression that counts, and you get that before you ever even get into the house," said John Coles of Thomas & Talbot Rest Estate in Middleburg, Va.
"Most people who end up buying a property drove up the driveway and just had a feeling about it. They say it felt right before they even set foot in the house. If a potential buyer gets a bad impression driving in the driveway, you're going to have a hard time getting them to have that gut feeling of 'This is it.' "
You've probably put hours of hard work and buckets of sweat (not to mention money!) into making your horse property just what you wanted. But the key to selling it is to get buyers to think it's just what they want too. And they won't be wearing your rose-colored glasses of pride when they come through the gates.
It's All About Elbow Grease
Cleanliness is the name of the game when selling a property. "Get it clean!" said Lori Ross, of Michigan Land & Home Realty in Howell, Mich.
"I can't emphasize enough how important it is to have the whole place clean. Even if things are in a bit of disrepair, buyers can look past a lot if things are clean. Horses always do some damage to property, but if it's clear that the property is cared-for, it counts for a lot," Ross said.
There are a variety of shows on cable television teaching you how to present, or "stage" your house, and all of that advice can apply to your barn as well.
Your house should be spotlessly clean, with all knick-knacks and personal photos stored. "If you haven't used it within six months, pitch it or pack it up," Ross said. "People want to walk into a house and see their stuff and be able to visualize their things there."
Don't make the mistake of thinking that your potential buyers will overlook problems with the house just because they walk through the barn first.
"They'll say that the house isn't really important, that the barn is the priority, but they do care about the house. They'll have to live there! You can't ignore one or the other," said Courtney Conger of The Carolina Real Estate Company in Aiken, S.C.
Just as they want to walk through the house and see their photos on the walls and furniture in the rooms, potential buyers will want to visualize their horses looking out over the stall doors and grazing in the paddocks. Getting the barn, indoor and other outbuildings as clean and organized as possible creates a clean slate for that vision.
"If you walk into a barn and there are cobwebs everywhere, it gives the impression of being dirty and doesn't look good," said Ross. "Walking into a barn that reeks of urine is a major turn-off. And, then potential buyers will think 'What else hasn't been taken care of?'
"If you know you're showing the farm, all of the stalls should be clean, with fresh shavings down. It all comes back to clean. When someone opens the door and looks into the tackroom, it should be organized and neat in there. Any kind of clutter is bad," Ross continued.
A Few Things To Remember
• "If you have animals there while the property is being shown, make sure they're in good condition. Potential buyers want to see that their horses would thrive on the property." –Courtney Conger
• "It's nice for potential buyers if the seller has a list of recommendations for essential services in the area, such as vets, farriers, feed and hay suppliers, that kind of thing. Not all buyers' agents will have knowledge of those needs." –Lori Ross
• "You also need to have a list of equipment that you're willing to part with. Most lenders do not want to see a tractor or other equipment rolled into financing, so it's better to make that a separate issue. So, if you have a tractor that you're looking to sell with the farm, you'd better have some idea of what kind of price you'd want for that and handle that separately. If they see that shiny Kubota tractor sitting out there, they're going to want it as part of the deal." –Lori Ross
• "You should also be prepared to address the issue of any hay that's left on the property. If the loft of the barn is full of hay, are you going to want to take that with you or sell it to the buyer?" –Lori Ross
• "Having an accurate survey available is very important. You need to know where your property lines are, so that anyone looking at the farm can know where the land ends. If you have it clearly marked with pegs or flags, that's even easier for buyers and their agents." –Lori Ross
One kind of clutter is an absolute no-no—the manure pile. "There's nothing worse than walking through a nice clean barn and then coming upon a huge manure pile behind it," said Coles. "Have it taken away."
Pick Up A Hammer
While sometimes the buildings get all the attention, keep in mind that the first thing potential buyers will see of your property is the land—fencing and pastures are a major priority.
Coles recommended that you have a minimum of horses on the property while it's on the market, even if that means finding a temporary home for some of them.
"The worst thing that can happen is if the property is overhorsed, and the pastures are mud holes with no grass. It's very easy for a place to look shabby like that," he said.
All three agents emphatically agreed that fencing must be in good repair. Broken boards, sagging posts or gates off the hinges are major eyesores and relatively simple to fix.
Don't underestimate the power of paint, Coles added. "Fixing and painting are the two places to spend money. What scares buyers most when they drive into a place is signs of neglect. It might only be a few thousand dollars worth of painting, but if you haven't done it, they're going to wonder what else you haven't done," he said.
"You have to make the place look like it doesn't need a lot of money spent on it," he added. "You want to make people think that all they have to do is turn the key and walk in."
Greet Them With A Smile
Do everything you can to make a potential buyer's time on your property as pleasant as possible.
"In this market there are fewer buyers, so every showing needs to be a priority for the seller. You need to make the effort to show the property at every request. Being accommodating will go a long way," said Conger.
You might be proud of your farm and eager to show it off, but most real estate agents prefer if the seller of the property isn't present at showings, especially first showings. "Buyers want to be able to talk to each other and discuss what they're seeing; they won't relax if the sellers are there,"
said Coles.
And while you might not mind a pack of canine friends yapping at your heels as you walk to the barn, remember that not everyone feels the same. "Worrisome dogs are distracting; dogs should be out of the way, in a garage or pen, when buyers come to look at a property," said Coles.
Buyers can't come look at your house if they don't know it's for sale—effective marketing is essential.
The first step in that process is finding a real estate agent who can help you find a buyer. "Every buyer comes with a list of parameters that they're searching for, and when they're looking for a horse farm, they become much more specific," Conger said.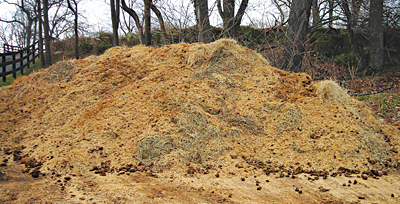 "Be clear what kind of farm you're selling—is your farm a gentleman's farm with a few horses or a professional facility? Hire a real estate agent who is familiar with the horse industry," said Ross.
"The three components that are variable are the house, the barn and the land. And a trail rider is going to look at a property completely differently than a Saddlebred breeder or a hunter/jumper trainer. If you're talking about someone who has backyard horses and rides casually, their requirements are going to be very different than a professional trainer with 20 head of horses."
Search out a real estate agent who knows local and national equine publications and will advertise your property in them. Also, ensure that your farm has a web presence.
"The property needs to be online; the new drive-by is the Internet. You also need excellent photography of the property," said Conger.
And in a down real estate market, the bottom line is all-important.
"Price it appropriately," Ross said. "People love to say, 'Oh, I have thousands of dollars in fencing,' but the key is whether that's important to the buyer. If they're going to tear down and re-do the fencing, they don't care how much you spent on it. You can't think 'I've put this, this and this into the farm and I should get it back out of it.' There are some things you have to let go to price a property realistically."
Molly Sorge