Over a difficult track that bested some of the best horse-and-rider combinations in the world, it was 21-year-old Spencer Smith who took home the top prize with the only clear round in the $132,000 Horseware Ireland Grand Prix CSI*** on March 17, in Wellington, Florida.
There were 44 entries in the feature event of the week, but only one of them was able to find the key to a clear round over the track by Pan American Games course designer Michel Vaillancourt of Canada.
Smith and Theodore Manciais, an 11-year-old Selle Français gelding by Kashmir Van Schuttershof, went sixth in the order. They finished clear in 75.09 seconds, and Smith, who trains with Olympic gold medalist Eric Lamaze of Canada, watched as rail after rail fell for the following 38 riders.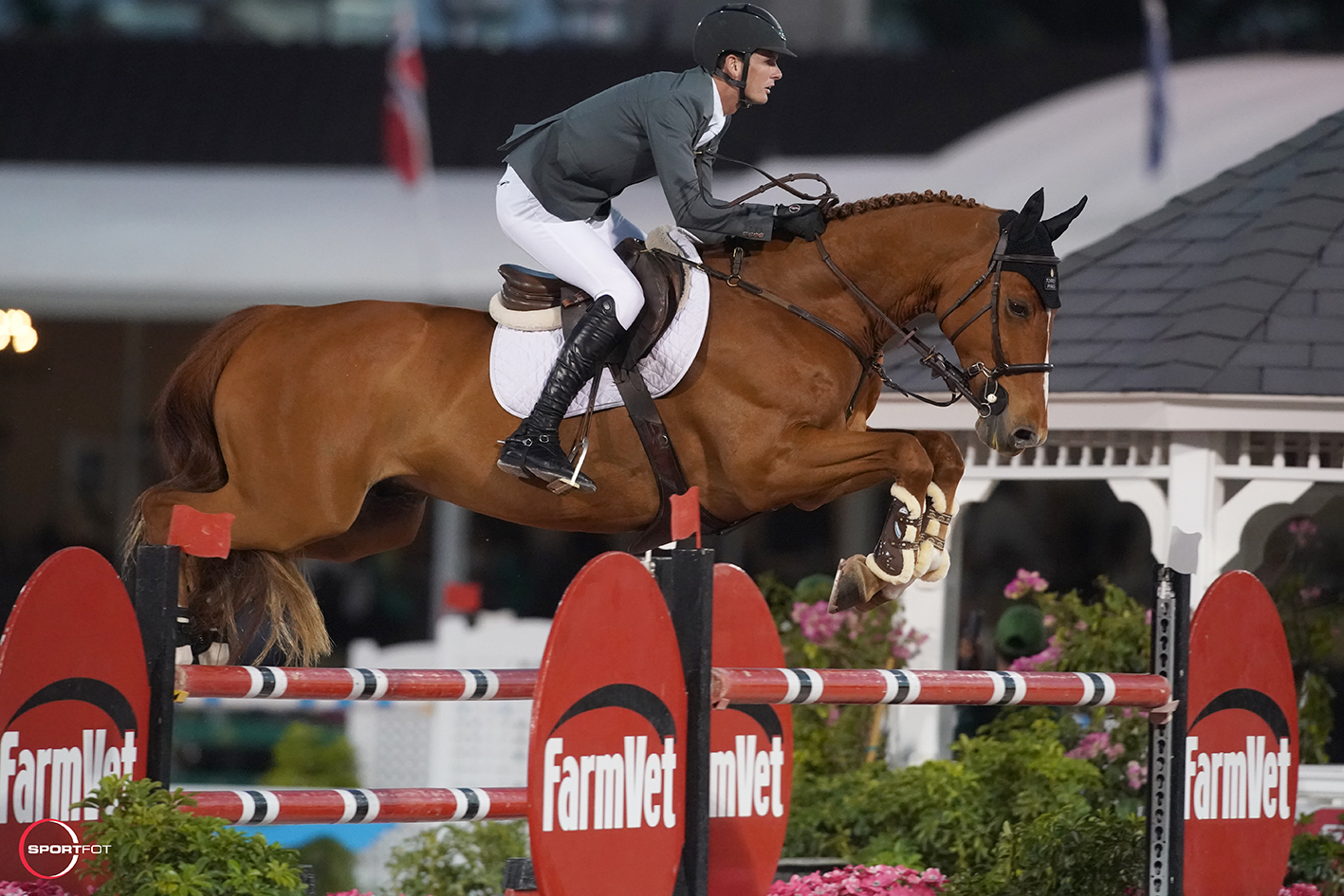 "I think the course was difficult," said Smith. "I think I had an advantage going early and not knowing how the course was unfolding. I just kind of went in and did the plan that Eric and Yann [Candele] told me exactly. I just did what they said, and it worked out.
"I've been training with Eric now for about a year and a half," Smith continued. "I really have to say that he has changed not just my riding, but my life forever. I'm indebted to him for the rest of my life for sure."
This was not only the young rider's first international grand prix victory, but his first win in an FEI-ranking class.
"This is amazing and unreal to be here," he said. "To be showing in these competitions anyway is a dream come true. To win one like this is amazing."
With an early rail on course, Canadian legend and Olympic team silver medalist Ian Millar picked up the pace on course with Ariel Grange's Dixson to finish second with four faults in 72.23 seconds.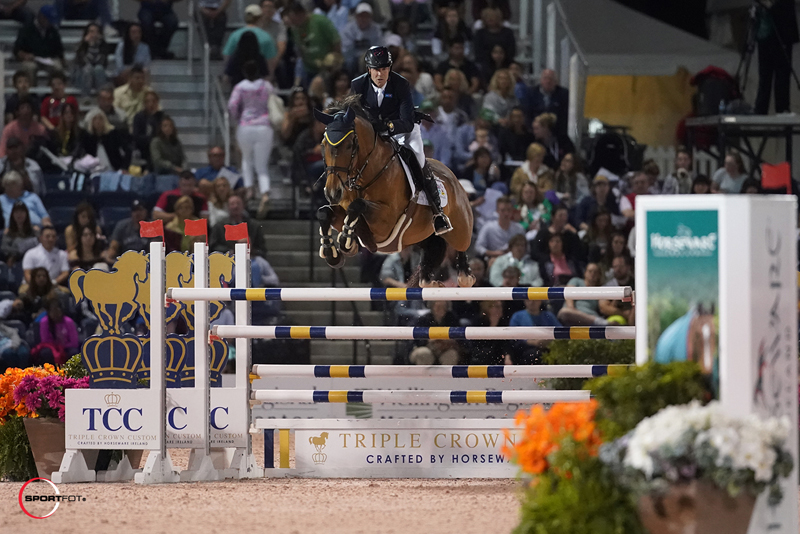 "Dixson had a regrettable early rail," said Millar. "Actually that turned into an advantage, because then I knew I really had to pick it up to get to be a fast four-faulter. It was a very uncharacteristic rail for him. It was just one of those things that happens, and sport is sport, and horses are horses."
Millar said it was a case of "you have to pick your poison" on the challenging last line of jumps on course – whether to be conservative to the liverpool oxer ("a lot of people then had it down doing that") and add a stride to the next vertical, or be direct and risk a rail at the vertical.
"The course was quite excellent," Millar said. "I'm a big fan of Michel Vaillancourt. We saw so many faults at the liverpool and the plank, the last few jumps; you wonder what set that off. I suspect that the effort required at the triple combination, even if they jumped it well, was a bit of a fraying effect on the horses mentally. Then they started getting into trouble. But I thought the course certainly did the job more so than Michel ever intended for it to do. I would think he was looking for five or six clean tonight."
Georgina Bloomberg and Manodie II H, owned by Gotham Enterprizes LLC, were also quick in 73.53 seconds with four faults to finish third. With theirthird place in Thursday's Equinimity WEF Challenge Cup, Bloomberg was named the Martha Jolicoeur Leading Lady Rider.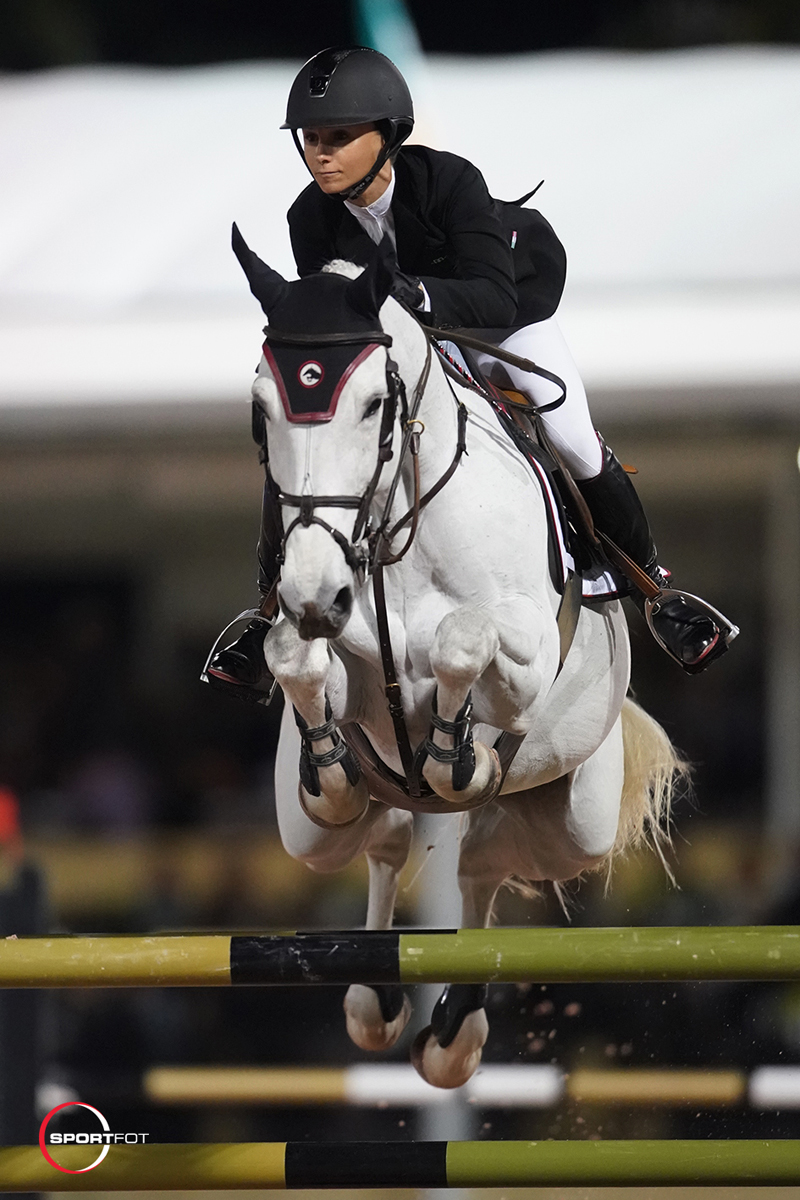 Bloomberg is getting onto a rhythm in the later weeks of the Winter Equestrian Festival after a late start to the season.
"I was up in New York for my son to finish school," she said, "so it took a little bit longer for me to get back in the groove and get back to jumping bigger jumps. I sort of decided to take my time and come back when I was ready, so therefore my horses were a little bit late peaking."
She was pleased with Manodie II H, a 13-year-old Oldenburg mare (Carthago—Monodie, Zeus)  she started riding in the spring of 2016. This was their first grand prix under the lights together.
"I don't have a solid grand prix horse at the moment, so she's my best horse," said Bloomberg. "I think that she will take that next step up, but she just needs a little bit more time. I was a little nervous, and I think as Ian pointed out, a lot of the horses had trouble focusing on the plank, as she did. It got us a little bit off track coming around to the oxer, and I made a mistake as a rider which cost us the rail. She put in a great effort, and it was really nice to have her go for the first time under lights and know that she can do it confidently and that I just need a little bit more time coming back to knock the rust off."
Both Millar and Bloomberg were happy to see Smith take his first grand prix win.
"I've always said that I believe in the future of the sport," said Bloomberg. "I know that people have said that there's a gap coming, and the future is doomed. I've always said that I completely disagree. I'm a big supporter of the [FEI North American Junior and Young Rider Championships] and the next generation. I think this proves it, and it's really just wonderful to see younger riders coming up and showing what the next generation is going to have."
"I couldn't be happier for anybody than I am for this young man tonight," said Millar. "I know what this means to him, and I talked to his grandparents and to his father. It probably means more to them even than it means to him. Your grandparents are beyond words. I'm almost happy enough to take the rail down, but not quite!"
See full results from the grand prix.