Mill Spring, N.C.—Sept 13
As he dropped his reins after his final halt and salute, Germany's Sönke Rothenberger smiled wide, ducked his head down and gave Cosmo 59 a huge pat, then waved his top hat to the adoring crowd.
Scoring an 81.44 percent, he's taken the lead on Day 2 of the Grand Prix at the FEI World Equestrian Games at the lunch break.
The 24-year-old rider is already a veteran of the 2016 Olympic Games (Brazil) and the 2017 European Championships (Sweden), and he's a hot favorite this week for an individual medal.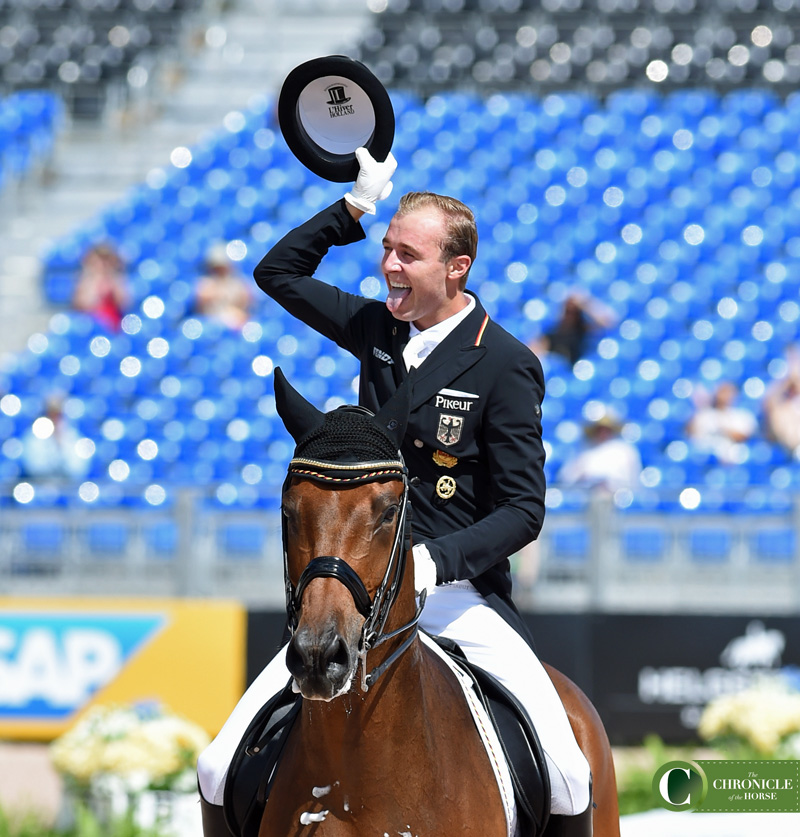 "I had an amazing feeling when I rode outside around the ring," he said. "I felt he was sharp and ready to perform, which is not something you expect in this weather. It's really tough on the riders and the horses, so I'm super happy with him. I had bits and pieces that could go better like the halt and rein back but also had some amazing highlights."
Cosmo, an 11-year-old Dutch Warmblood gelding (Van Gogh—Lady, Fruhling/Landjonker), had an infection at the Aachen CDIO (Germany), so he was unable to compete in one of Germany's final outings, but he's back to full health now.
"He had an infection during Aachen and of course, I would have loved to go to Aachen, but the wellness of the horse is priority, and if we had gone with him not 100 percent it would have taken a toll on his health," he said.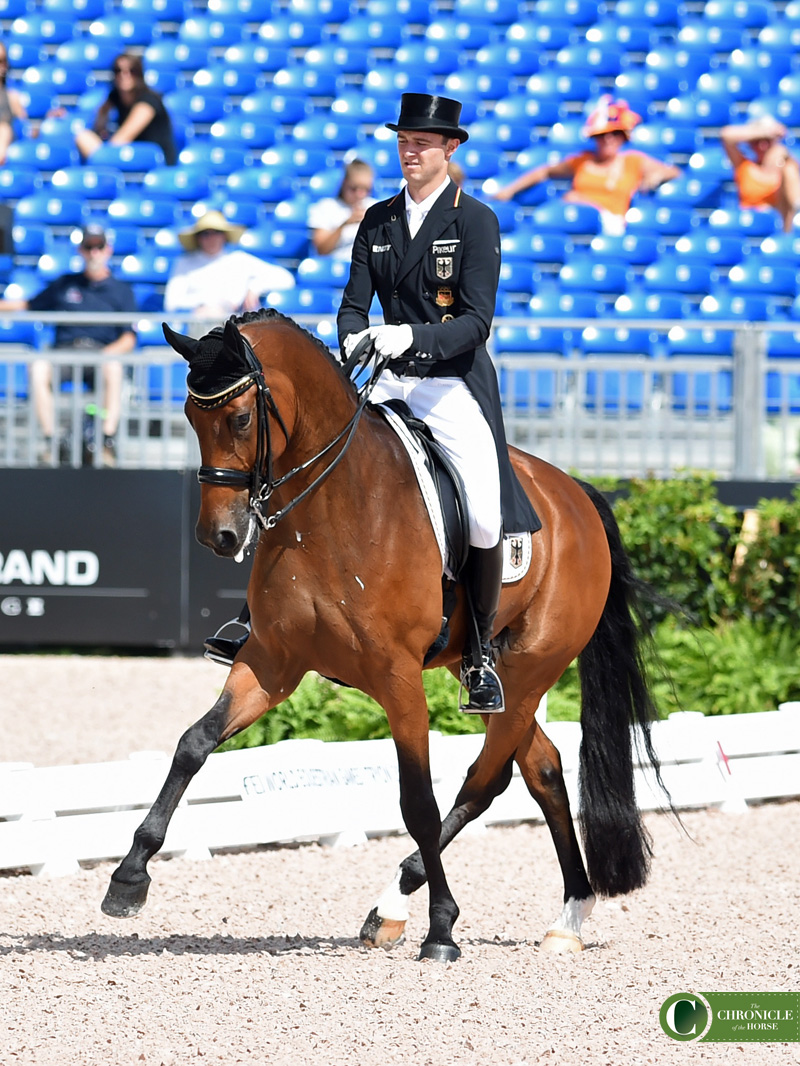 Germany is in gold medal position with the final team rotation to go this afternoon. Great Britain's Carl Hester slotted into second place with Hawtins Delicato on 77.28 percent to keep Great Britain in silver medal position with Charlotte Dujardin and Mount St. John Freestyle yet to come.
"Del" has only done five Grand Prixs and hasn't competed outside of Great Britain at an international competition. He started his international career with Dujardin on the small tour before Hester took over the ride this year.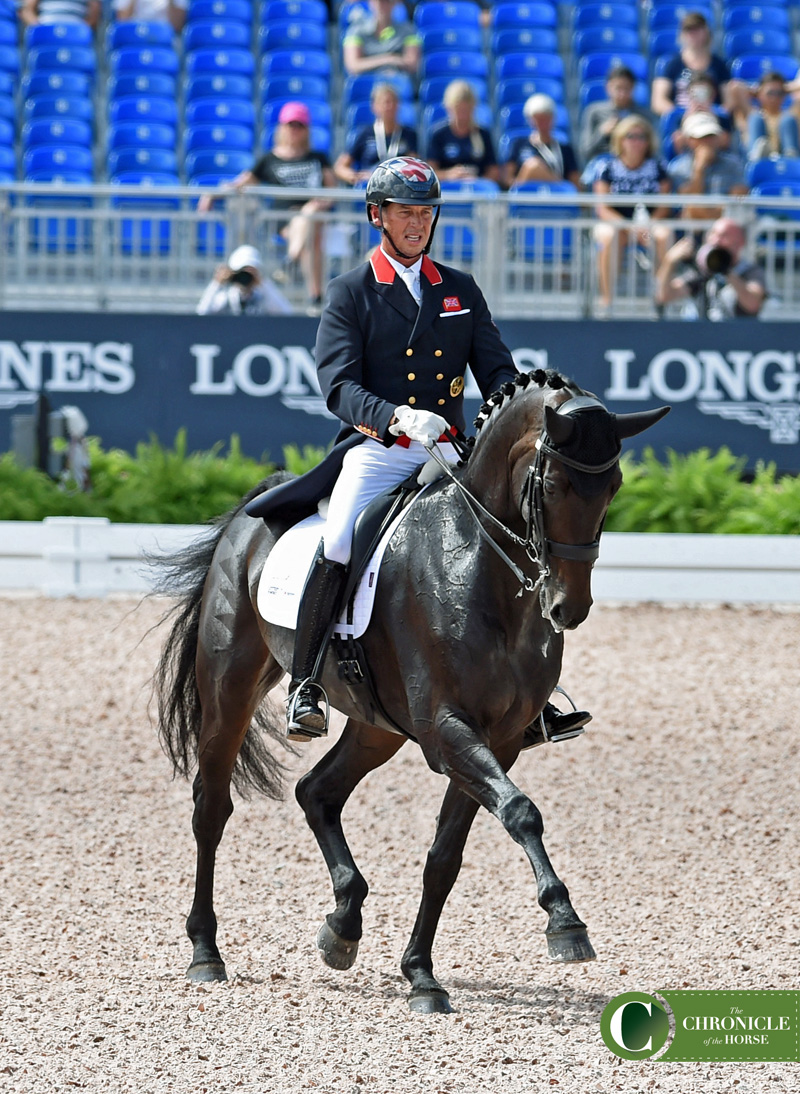 "[This week] it's been a bit tense because the horse hasn't really walked yet, and this morning, one week later, he walked into the ring on a long rein," said Hester of his newly minted championship mount. "He walked round the edge twice, and I thought, 'I'm going to have a good ride today.' And I did, because he had such good paces. He might not be the superstar flash of some of the others, but he's so good with his hind legs. I think he's got such a good walk as well."
The home team is hot on Britain's heels after the United States' Kasey Perry-Glass turned in a stellar test aboard her 2016 Olympic Games mount Goerklintgaards Dublet. The 15-year-old Danish Warmblood (Diamond Hit—La Costa, Ferro) scored a 76.73 percent to slot individually into third at the lunch break.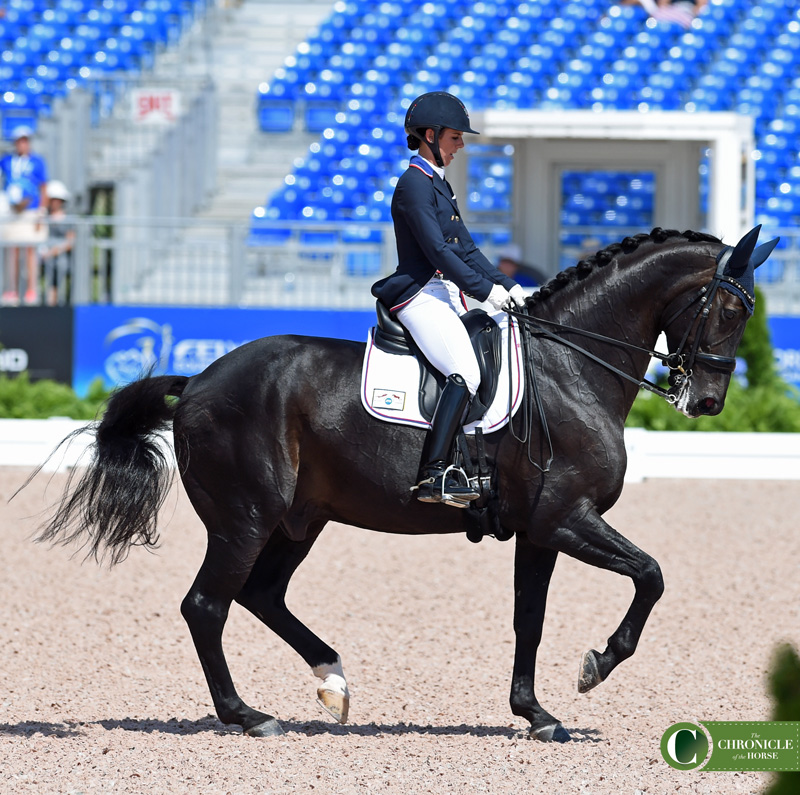 "It felt great," said Perry-Glass. "He was 100 percent in warm-up, and I really felt like he brought the power and everything that we were looking for in the test, just a little bit of a rider mistake on my part. His changes are so big, and sometimes he can get a little away from me in the changes, and that's kind of what happened in the ones."
The U.S. still has its heavy hitter in Laura Graves on Verdades who will be the last combination in the team competition, heading down centerline at 5:15 p.m.
For full results, click here.
For everything you need to know, including broadcast schedules, click here.
For all WEG coverage, click here.
We'll be onsite for the full two weeks of WEG to bring you all the news you need to know plus gorgeous photos and insight into the competition. Be sure to check out the Oct. 8 issue of the Chronicle for detailed analysis.