The Event at Rebecca Farm is my destination event of the year. I don't take tropical vacations; those are not conducive to a horse show budget. Rather, I plop the Queen Of Cairo in her chariot (the slant load trailer I tow with my nearly 20-year-old Ford) and drive 12 or so hours to Montana in the heat of July instead of lounging on a palm tree-strewn isle.
Earlier this year when I was awaiting test results on the lesion in my eye and lump in my breast, and my friend Linda was finishing chemo for her breast cancer and about to start radiation, we decided I'd go ride at Rebecca, and she'd come check out the show. When you're feeling low, it's good to have a fun plan.
As we bought her ticket, I was picturing Linda cheering as Cairo and I finished up a snazzy show-jump round. I was not picturing Linda looking at my once-pristine white breeches and wondering if the dirt was going to come out, but you know what they say about the best-laid plans…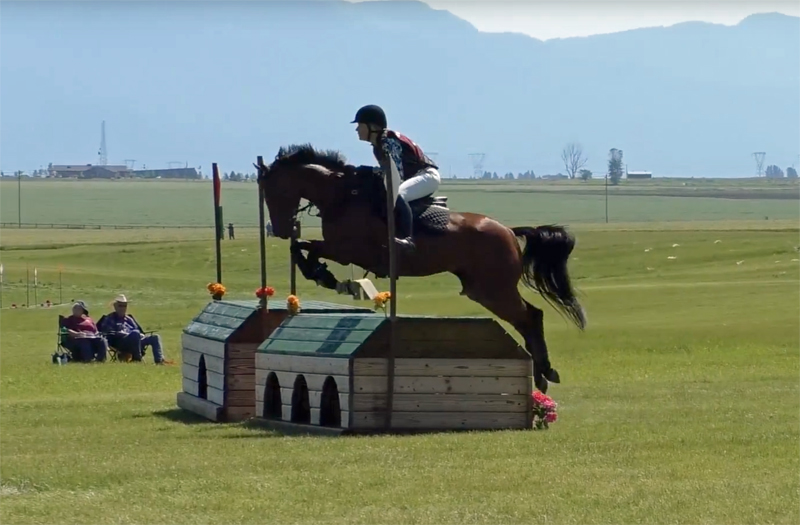 Unlike last year, where I left a trailer axle somewhere in Washington, my trip there was uneventful, and I'm practically calm these days about driving my heart-horse over the Rocky Mountains. Cairo and I got to Rebecca and settled in. OK, well actually, she took a little longer to settle in, and what was supposed to be a pleasant hack through the fields was punctuating by leaping about and pig-snorting on our first day there.
I have told Cairo she is too pretty to pig-snort, but she's not impressed.
The Prep
I signed up for the training three-day long format because I have not yet met my goal of qualifying for the CCI* at Rebecca. The long format gives some of that same fun and is good practice for Fédération Equestre Internationale events with its jogs, in-barn checks and 10-minute box.
The in-barn check was easy. And it was made easier by the fact that my friend and vet Dr. Ellie back home had practiced taking Cairo's temp with me. I told the show vet that as she eyed Cairo's red tail ribbon suspiciously. She was not comforted by hearing the ribbon was for geldings, not people, but when I said a vet had practiced, she clearly felt better. "Tell your vet 'thank you,' " she said, after successfully prying up Cairo's clamped tail and getting a temp of 99, adding, "Your vet's a woman, isn't she?"
The long-format three-days also have educational components that are super useful. I missed the instructional session for the jog, as I was busy taking Cairo out for a second, more quiet ride, but lucked out because my friend Kim is hugely experienced at these things, and she took Cairo and me under her wing. By the time she was done with her mineral oil magic, Cairo was glowing. She looked like a contestant in a beauty pageant and seemed to enjoy the attention.
Some jog tips I learned from Kim:
• Baby oil the eyes, ears and muzzle, as well as the points of knee and hock. Then rub the oil well into your hands and polish the horse all over with it. Cairo was so polished you could not even tell I don't clip her whiskers or ears!
• Wash the hooves before you oil them. They look better without poop on them.
• If you braid the tail, use egg whites to make it shine and stiffen. (I chickened out of tail braiding.)
• Go easy on the fly spray if you can—it dulls the coat.
Tip from me:
• If your mare has to wear a red ribbon in her tail, then make it decorative by wearing a red dress to match!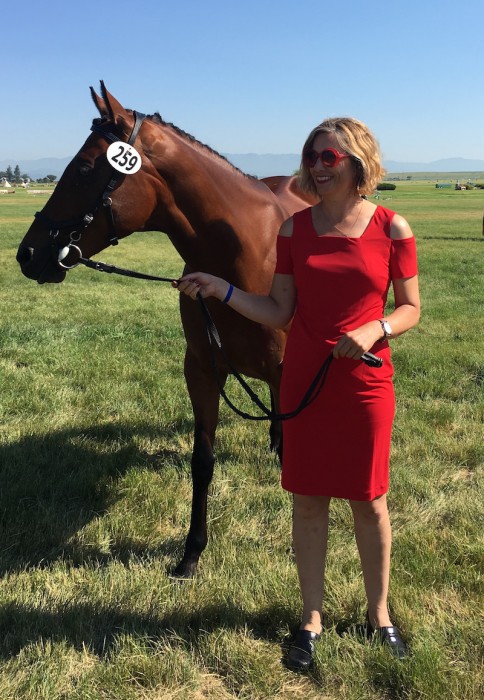 After hearing the glorious "Queen Of Cairo, accepted," I zipped back to the barn to take the braids out for steeplechase schooling, another educational component. As we headed back, one of the kids' moms puzzled over all the gussying up for about 30 seconds of jogging. I do admit I feel like they should schedule a little tea party after the trot-up, so we can all hang out in our party dresses a little longer.
I told her that it felt longer to me and even more so to the people whose horses didn't pass, and I'm sure interminably long to the girl whose horse got loose and galloped away!
We headed out to steeplechase next. Four-star eventer Sharon White was schooling my group, and she gave an amazing pep talk about steeplechase and how it gets the slow horses going, builds confidence for the more timid ones, and calms the ones with the busy minds. We popped out of the start box at what I thought was a good clip but wasn't fast enough and came back for another go in which Cairo took the bit and flew. Afterward I made a point of making Cairo chill and mind her manners, as I remembered back when she was very green, and we did steeplechase and then dressage the next day, and all Cairo could think was "steeplechase!!" leading to a wild dressage ride.
Dreaded Dressage
The next day, Linda flew in just in time to see us lay down our best dressage test ever. She was calm (for Cairo), listening (as much as Cairo can while wearing a dressage saddle), and while there was at least one pig-snort during a canter depart, no drama. 
My theory is that this was because Cairo wasn't aware we were doing dressage. You see we waited until after our test to do the bit check. But the moment the nice volunteer stuck her gloved finger in Cairo's mouth, the jig was up. Cairo was mad. A mare betrayed.
Cairo snorted and danced and head tossed. Normally, Cairo loves my trainer Meika Decher and creeps up to her for cuddles. Now she was having none of it in her post-dressage tantrum. No pets, no scratches. If you believe a mare can look scornful, then you can picture Cairo. 
"This is the face of a mare who just figured out we tricked her into doing dressage," I told a passerby who looked a wee bit wide-eyed at the fury.
"Where am I in the placings?" I asked Meika after we got back and Cairo was tucked away. "Well," she hedged, "they aren't done scoring yet. And you are not too far behind the leader."
Uh huh.
"So I'm last, right?"
More hedging. 
I grabbed my phone and looked at the scores. Nice try to spare my feelings, Meika. Yup, I was last, and I stayed last with a 42.7. Not our worst score. Watching the video, I could see where Cairo needed to be deeper through her neck and of course more relaxed. And our stretchy walk and trot was stretchy for us, but not in the eyes of judges who don't give gold stars for "most improved." 
But that said, it was a test where instead of managing Cairo's tension, I felt like I was working with her, and improvement didn't seem out of reach. 
It's All Fun And Games Until…
Friday morning Meika sat down and helped me figure out my roads and tracks times and how briskly we should be moving. I kept myself occupied until my 10:36 a.m. start time by organizing things and chatting with Linda and my friend Reb. I admit I tend to get really silent before I compete, and I'm trying to learn to breathe and talk like a normal person.
Meika is sponsored by Kerrits, and I got to wear an outfit supplied by them for photos for their upcoming line. This meant I wore a sparkling white pair of breeches instead of my usual "white except for all the places I ground the dirt in too deep" pair. You see where this is heading, right?
Since I was doing the training three-day, there was no warm-up. I hopped on Cairo, headed over to the start gate for road and tracks, and we were off. The first trot was about 18 or so minutes, and it was a brisker pace than I seem to have remembered from when I did the novice three-day, which followed almost the the same road and tracks course. Cairo is brisk by nature, so we go to the start of steeplechase in plenty of time for her to have a breather.
Into the box and off. Steeplechase is one of Cairo's and my favorite things. Run and jump, run and jump! Then, out of nowhere, Cairo grabbed the bit and veered wildly left, running out on the fourth and final steeplechase fence. 
I was floored. She loves to jump; she loves steeplechase. I circled; we jumped it and zipped through the finish flags of Phase B and started Phase C, the second roads and tracks. Reb gave me a thumbs up that all our shoes were on; I gave Cairo another breather, and we trotted off again through the fields of grain, but now I was puzzled. And rattled. Twelve minutes of trotting feels extra long while you are mulling a problem with a fence and about to jump again. 
I made an effort to smile and tell the other riders I passed to have fun. But I fretted.
We got to the 10-minute box with only a moment or two of "OMG am I going the right way?" and Meika efficiently headed up a team of my friends to get Cairo cooled off after the vets did the initial temperature, pulse and respiration (TPR). Cairo runs hot, so 102 degrees or so after all that work on a hot day wasn't bad.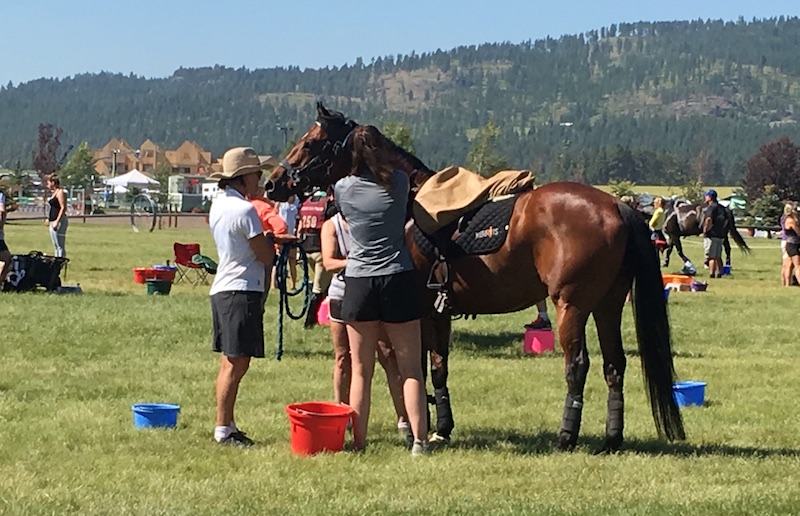 As Cairo got cooler, I was able to grab Meika and tell her what happened. She reassured me, reminded me to ride, and when they called out that we had 2 minutes, had me back on, less rattled and headed for the cross-country start box (Phase D). I was glad I had Meika because Cairo, who normally has some start antics, actually acted like she was pondering a bolt back to the barn!
We were off, and Cairo sailed over fence 1. Heading to fence 2 though, I could feel her brain spinning. She felt sound and strong, but anxious and tense. "Does she even see fence 2?" I found myself thinking. I could feel her pulling left—toward the barns again, and I concentrated on getting her straight. I don't think she really focused on the fence, a flowery ramp, until we were at the base of it. 
And she spun out. A last-minute, at the base, run-out. She spun fast to the left and added a little hop. I  found myself hanging off her neck with my feet in the air. 
"I did NOT come all the way to Montana to fall off at fence 2!" 
I pulled off an epic save and plonked myself back in the saddle. Watching the video later, it looks like at one point the only connection between Cairo and me was my face firmly planted in her mane.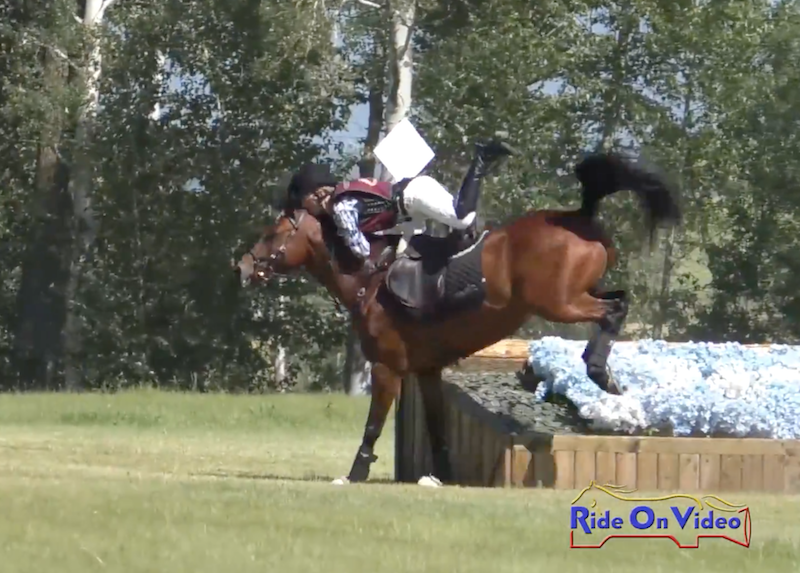 I found my right stirrup as I circled, fished for the left one unsuccessfully, and jumped fence 2. As we headed to fence 3 I fished again for my left stirrup. Nope. Nothing.
I glanced down. There was no stirrup. It was gone. 
Clearly there was only one thing to do.
Keep going without the stirrup.
(Yes, you rulebook-reading people, I have since been told that you can go back and ask the jump judge for your stirrup at the lower levels. I am pretty sure, however, even had I known it,  I would still have just charged on.)
We sailed over fence 3 and down a steep hill to fence 4AB. About halfway down the hill I was really missing that stirrup, but I was game. 
Fence 4 was offset houses set on a two-stride, up against some trees. We jumped 4A, got in big, and Cairo decided to exit stage left again at 4B, and as she ducked out, I tumbled off.
Cairo cantered away, circled back, gave me the hairy eyeball and then decided to head on out.
I clambered to my feet, no damage done, and lit out after Cairo. But when I got to the top of the hill, I was stopped and checked out to make sure I was OK. Yup, not a scratch. At least when Cairo dropped me, she did it softly. 
Cairo meanwhile was headed not back to the barn but back to road and tracks, giving my fellow competitors no doubt a bit of a panic as they saw a small, reddish-brown, red-ribboned mare heading at them.
"At least," I thought, "Cairo has a strong sense of self-preservation. She's not going to go wild and hurt herself."
Meika commandeered a golf cart and caught her at the far corner of the grain fields near an old cemetery, after Cairo played a couple rounds of, "Hey, sure you can catch me. Whoops! Changed my mind!" with folks along the way.
I on other other hand completed the walk of shame alone carrying my vest and crop and found my way back to the 10-minute box, where I met up with Meika and my horse and got Cairo checked out. She cooled out, and I took her back to the barn, where I kissed her, told her I loved her and wondered what the heck happened.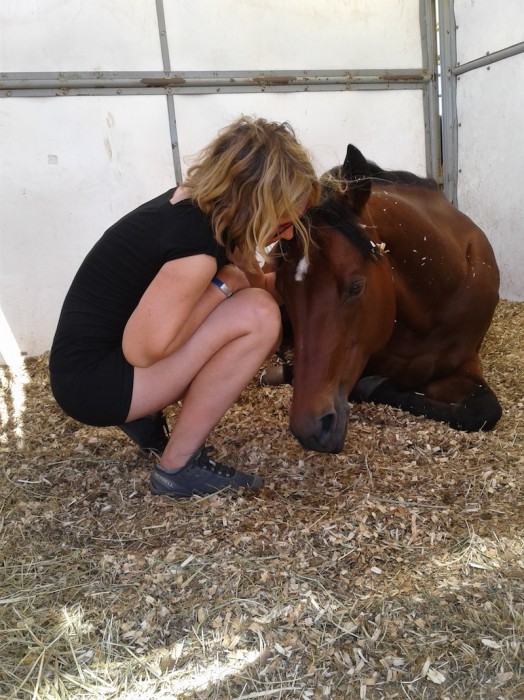 That's where Linda found me. She eyed my not-so-white breeches and said, "Do you remember what you said when I sent you a photo of Ludwig at his baptism party?"
Ludwig is Linda's toddler. He's adorable, and the photo in question was of him in his white baptismal clothes covered in dirt and blue cake icing.
My exact words to her were, "Nothing says 'fun' like getting white clothes dirty."
We both began to snicker. "They aren't THAT dirty," I protested mildly. Linda just snorted. If I can't stay on my horse, at least I have a friend who can help me laugh about it. And six months ago, she and I were pretty down when we made our plans to go to the show, and here we were in the summer sunshine at Rebecca Farm. 
I've ridden at Rebecca four times now, last year at preliminary. Yes, I want to go there and do a one-star, but I'm not in a rush. Falling at one show—even my biggest show of the year—is, in the end, just a life experience and kind of an epic one. I mean, at least if I was going to fall, I did it doing my best Mark Todd impersonation, and I did gallop three cross-country fences with a stirrup missing before meeting my downfall. 
Cairo and I headed home; I started her on ulcer treatment, since refusals are not her thing, and we'll take it from there. 
Some shows you go home with a ribbon; some shows you go home on a number not a letter, and some shows you practice your good sportsmanship, kiss your pony and cheer on your friends and hug them after they cross through the finish flags sweaty and happy—and you hope someday soon you will do the same.
---
Camilla Mortensen is an amateur eventer from Eugene, Oregon, who started blogging for the Chronicle when she made the trek to compete in the novice three-day at Rebecca Farm in Montana. Camilla works as a newspaper reporter by day and fits training and competing Cairo around her job.

Read all of Camilla's adventures with Cairo.