Mentor, Ohio—Nov. 11
So often, connection is drilled and drilled into many young riders' heads as they practice their equitation on the flat and their handiness over fences. But what does connection really mean and how is it done properly?
Peter Wylde sought to answer this question—a question perhaps many of the participants at the USHJA Emerging Athletes Program National Training Session didn't know they had.
"Rather than think about getting their neck shorter, think about pushing them forward and actually making their neck longer," Wylde said as he returned as the lead clinician for the eighth year at EAP Nationals, this year hosted by Lake Erie College. "A lot of times I see flatwork cramped and shortened."
So instead of connection being handsy, which leads to a high, cramped head carriage, Wylde asked for softness and forwardness from each rider, allowing their assigned horses to be pushed into the poll instead of pulled. And in fact, at first Wylde asked each rider to not even think about connection, and instead think softness.
"Sensitivity of a rider comes through the fingers," he said as he explains that hands shouldn't be closed into a fist around the reins.
Before even considering working and connection, Wylde stressed that the horses need time to breathe and warm up, starting at the walk.
"The best thing you can do is to keep them moving," he said. "Walking helps their body, their fitness and their digestion.
"Walk for a bit then start off on a loose connection—not a frame," he continued. "In general, just let them trot and let their heads go where they want to go. The first thing I think of when I start working is soundness. How does my horse feel?"

Peter Wylde explaining a concept to Kendra Duggleby. Photo by Laura Lemon
Wylde commenced each of the four team sessions this soft way by working first on the flat, where the riders asked more roundness and connection gradually the more they worked their horses. After first mastering impulsion, riders where asked to apply inside aids and leg yields to work on each horse's lateral movements.
"Start asking more when the horses are warmed up," said Wylde as riders reversed directions at the trot. "Not high and closed in a frame, but low and soft in a frame. Ask for a little flexion but give and allow to follow."
And in addition to asking riders to transition up and back down between various gaits, Wylde asked riders to work on extension and collection along the long sides of the George M. Humphrey Equestrian Center to further work on elasticity before introducing the gymnastic jumps.
And several times when riders' horses proved to be hot on the flat, Wylde said to not just be holding them.
"Keep finding places where she softens, then you soften as well" said Wylde when Drew Arnold's original horse got anxious.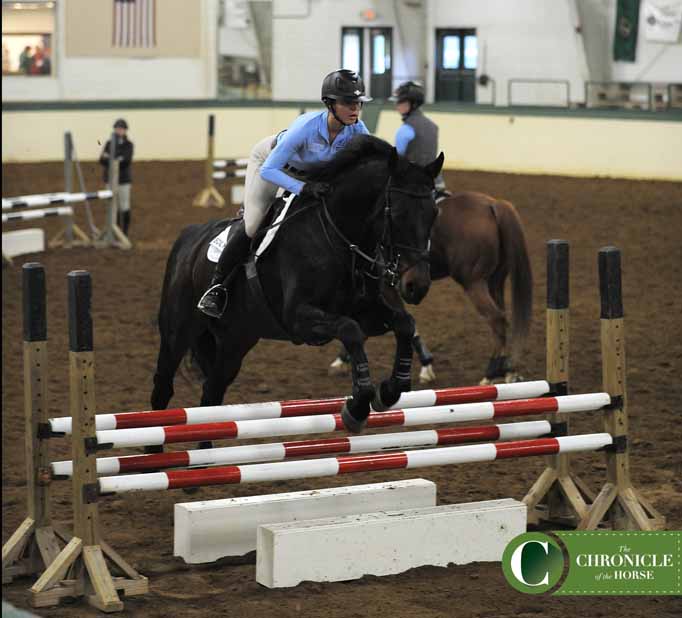 Cecily Hayes on Charlie. Photo by Laura Lemon
The softness theme continued onto the jumping, where each rider started incorporating a small vertical in a right hand turn before moving to the other end of the ring for the same exercise on the left.
"Go over and follow with your hand," said Wylde. "Think about melting to the jump.
"It doesn't always have to be a perfect distance, it's just the way you present the distance to your horse," he continued in the first team session.
Wylde then incorporated an oxer along with the vertical—creating an "S" curve track between the two jumps. And after riders mastered those two fences, Wylde introduced a bounce that riders rode into through a circle—again repeating the circle on the opposite direction. Each gymnastics course Wylde asked of the horse and rider combinations were mirrored on the other lead—maintaining balance and symmetry.
And when Grace Grove's horse View kept resisting her elastic aids, Wylde hopped on for a few moments—reminding the mare of her ability to bend over the bounce exercise.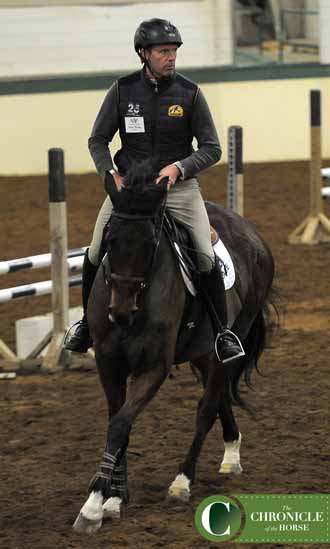 Peter Wylde demonstrating on "View." Photo by Laura Lemon
Wylde then asked for the riders to jump a vertical with a bending six strides to the bounce followed by another bending six strides to a vertical, after which they jumped the diagonal oxer to reverse and do the same exercise off the other lead.
After Kendra Duggleby held too much in the six strides after watching teammate Carly Hundley have difficulties making the six strides with her big horse "Pogo," Wylde explained the importance of watching others but also understanding how your horse compares.
"Part of being a competitor is watching. But think, 'the horse I just watched in the grand prix—is it Sapphire or is it Authentic?' " Wylde explained. "Then factor that into your ride."
Wylde then complicated the exercise by requiring the riders to do an initial five strides to the bounce then shorten back again to a six strides to the end vertical.
Throughout these collecting and lengthening gymnastics, Wylde stressed the importance of maintaining the horses' leads throughout.
"Ride a little bit on the lead you're on," Wylde said when Duggleby's horse "Telly" kept switching leads in the middle of the bending lines. "You're much more successful [with shortening for the six-stride line] if you ride the left bend."
In addition, when Olivia Woodson executed the quiet add stride with her horse Stilt Walker, Wylde reminded her to be watchful of her release.
"Be careful that fitting six in isn't taking away from the jump," he said. "It's an art form of arriving at the jump, getting there, melting, and still being able to do six strides. It's a high level of riding to get the six done without interrupting too much."
To cap off Day 1 and the gymnastics exercises, Wylde set up a simple five-stride line.
"After waiting and waiting and waiting all day, I want you to know what a normal five-stride line feels like on your horse," he said.
In addition to having a training session with Wylde, the finalists also learned about stable management from Anne Thornbury, which also included an anatomy portion from Laura Stockhaus, an adjunct professor in the College of Equine Studies at Lake Erie College. They also got study equine physiotherapy from Janus Marquis, who served as the equine physiotherapist for the United States show jumping team, as well as attending a lecture from sports physchologist Kip Rosenthal.
Meet This Year's Emerging Athletes Program Finalists:
Ashley Scott Armstrong, age 17, Atlanta, Ga.
Drew Arnold, age 17, Carmel, Ind.
Kit Cunningham, age 16, Thermal, Calif.
Gage Curry, age 16, Boise, Idaho.
Caroline Dance, age 17, West Chester, Pa.
Kendra Duggleby, age 16, Cleveland, N.Y.
Grace Grove, age 17, Naperville, Ill.
Bridie Hamilton, age 19, Calgary, Alberta, Canada.
Cecily Hayes, age 15, Brentwood, Calif.
Paige Humphrey, age 21, Colchester, Conn.
Cary Hundley, age 20, Ellicott City, Md.
Amanda Lamore, age 18, Wethersfield, Conn.
Gracie Marlowe, age 20, Lake Balboa, Calif.
Christina Meeks, age 18, Lexington, Ky.
Lara Shelokov, age 18, Dallas, Texas.
Olivia Woodson, age 17, Wellington, Fla.