Last year, Ella Tarumianz tried So Enchanted and didn't really click with the pony mare.
"I wasn't quite sure it was going to be a match," 13-year-old Tarumianz said. "She wasn't my ride when I first rode her, and I wasn't sure that I liked her, but when I came home and I rode her for the first time there, I kind of fell in love."
From that moment on, the pair has dominated the small regular pony division, and on Saturday they snagged the small pony championship and grand pony championship at the Pennsylvania National Horse Show in Harrisburg.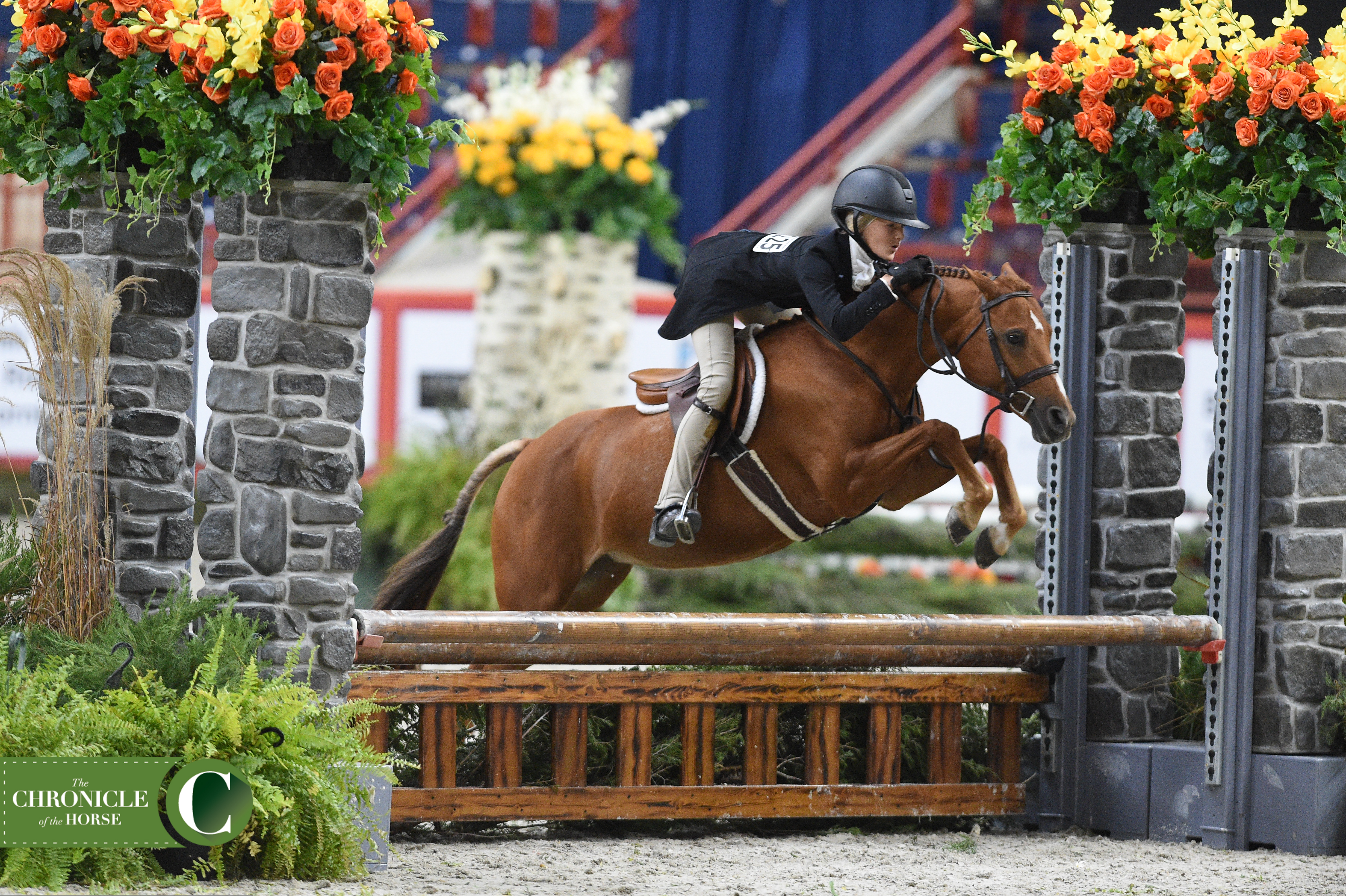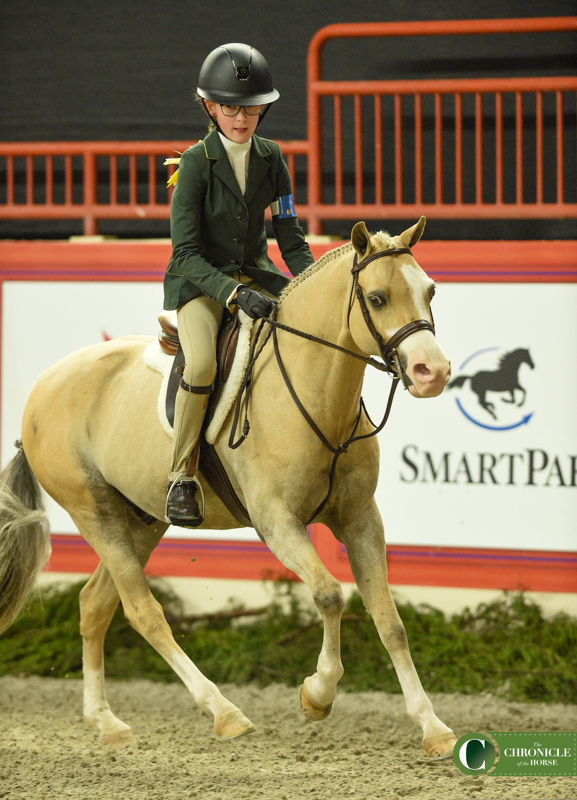 The most important aspect of competing with "Lex," Tarumianz said, is keeping the opinionated chestnut mare happy at all times.
"She can get a little bit sassy when we don't feed her treats," she said. "We have to make sure we do that before we go into the ring—and after."
Trainer Samantha Schaefer keeps the Welsh Pony cross (Maple Side Mr. Magic—Sophisticated Lady) at her Shadow Ridge Farm in Westminster, Maryland, while Tarumianz, who lives in Charlotte, North Carolina, meets the Shadow Ridge team at shows for the most part. She also rides a bit at home so she can practice and keep her legs strong. When she and Lex do get together for lessons, they focus on the basics.
"We work on keeping her happy all the time and me riding to the best of my ability on her," said Tarumianz. "We do a lot of adjustability with her canter and her pace, and sometimes some no-stirrup work, which isn't the best."
In the ring, Lex knows it's her time to shine.
"They've been a very good match, and she's been the pony to put her on the map," Schaefer said. "[Lex] gives her a lot of confidence. It's very simple when she's in the ring: Just get her going. There's not a whole lot of instruction—just riding."
The pair's big wins at Harrisburg come after being  bridesmaids all season.
"I was reserve at Devon [Pennsylvania], USEF Pony Finals [Kentucky], and Capital Challenge [Maryland]," said Tarumianz, who is in her last year in the small ponies. "So it's nice to be champion here, to break that streak."
"We would've been happy with a blue ribbon today, but it was a great turn of events," Schaefer added.
An Unexpected Champion
When JJ Torano first sat on 14-year-old Welsh Pony Paris Charm (Halifax—Telynau Dawn Chorus), his ride didn't go as planned.
"He fell off getting on her," his father and trainer, Jimmy Torano said.  "She's a little quirky. She came to us with a little bit of history."
"She's a little weird," added JJ. "Certain people can't touch her. Some can't get near her, and when I'm on her I can't pet her or anything."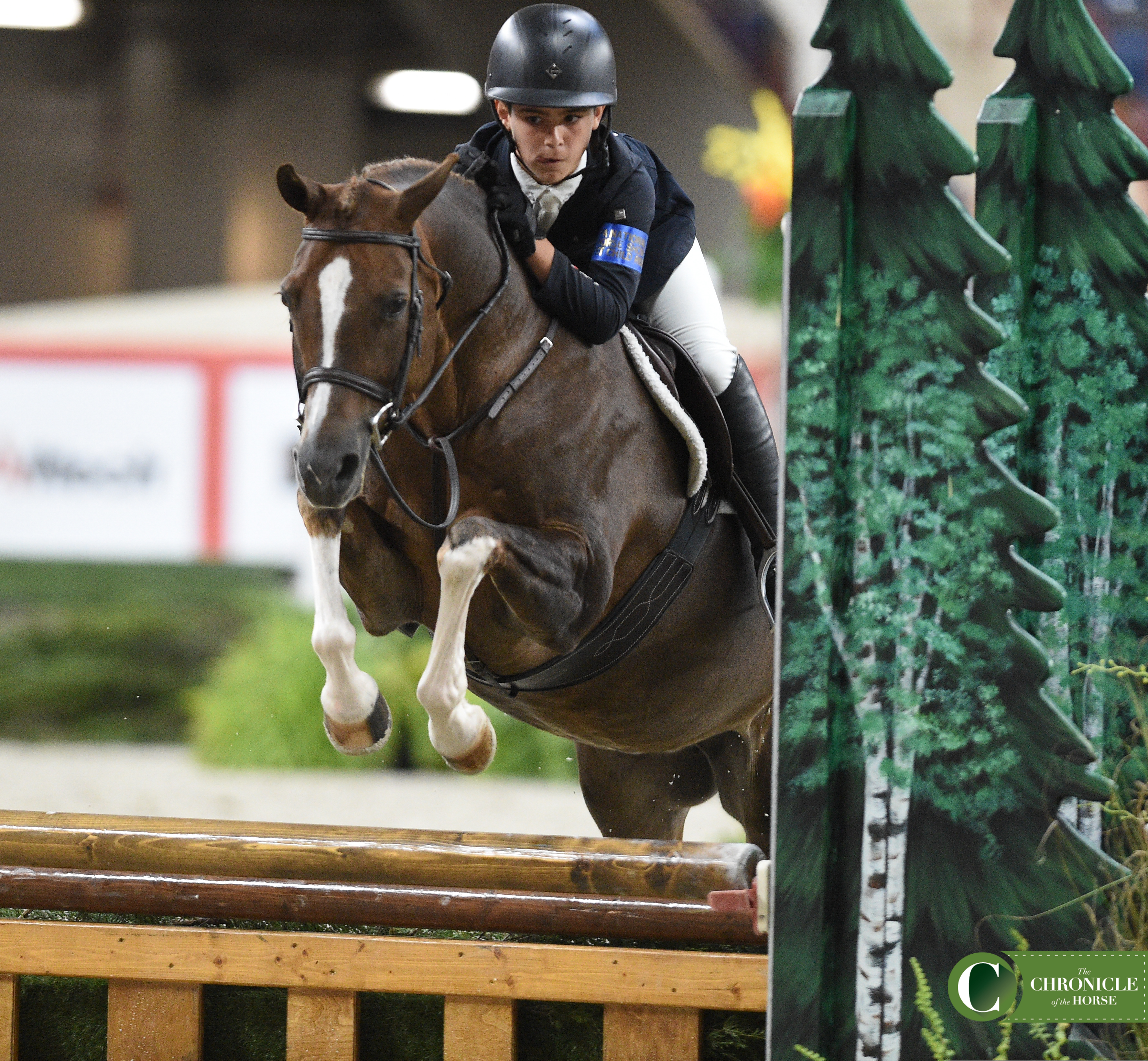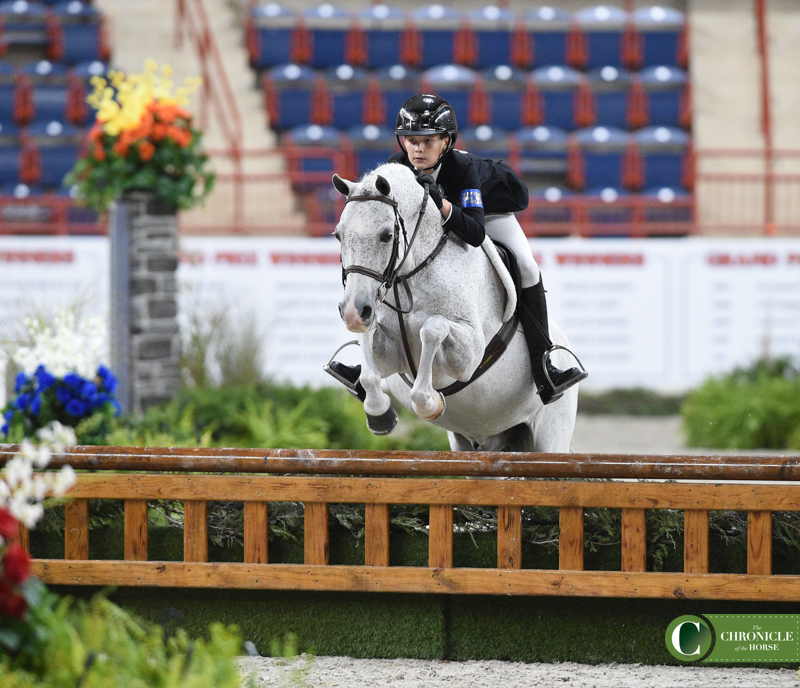 "JJ's so good with the animals," said Jimmy. "He really likes the animals, and I think the pony trusts him. I don't think she's for everybody. I think you've got to do a lot of things her way. But I've got to say, in the ring, she's a hundred percent, she just never lets you down. And she's repeatedly proven it over and over every big event. She just goes in the ring to win."
JJ began showing the mare in January at the beginning of the Winter Equestrian Festival (Florida), generating top results almost immediately.
"I didn't show her until about Week 2 or 3. She started out nice, and from there it just picked up and we started winning a lot."
Their most recent win was the medium pony championship at the Pennsylvania National.
"It went well in the first round," JJ said. "We won. The second round was also good, I think we got a top-10 ribbon. We came into today, not in the lead by much at all. We were all close in points between everyone. I went in, she was good, and we ended up winning the class and champion."
They won the last medium pony over fences to clinch the win.
"For her, I just have to keep a lot of leg throughout the whole course," he said. "Leg over the jump and after the jump. Just leg all around."
JJ's been dabbling in the other pony divisions as well. He competed a small pony, Manhattan, and a large pony, Sports Illustrated, alongside Paris Charm this year in Harrisburg, and he's started riding horses as well.
"I have a jumper now," he said. "I'll probably end up doing more jumpers and probably still a little bit of pony hunters and hopefully some equitation. But winning here feels really good. Back when I was 9 I won with my small [HG] Mud Puddles and was grand [pony champion]. So it's nice to be back in the ring winning again."
Paris Charm's future with the Toranos is somewhat certain.
"We're going to keep her at least through Devon," said Jimmy. "We've only had her this year. A lot of people are asking for her, but, you know, I really want to keep a winner for him. He loves the animals and he's so good with her. She trusts him."
A Golden Opportunity
When Vivian Golden stepped into the ring on Betsee Parker's Royalist (Cappuccino Royale G—Valido's B Sunshine) in the last over fences class of the large pony division at the Pennsylvania National, she had only herself to beat. She'd laid down a top score on Parker's other pony, Brixton, a few rounds earlier, and her trip now would determine whether or not she'd receive grand pony hunter champion.
"My round on Royalist was the one that bumped me down to second [on Brixton]," said 13-year-old Golden. "I missed out on the grand championship. But he still ended up being champion because we had more points over fences."
Despite just narrowly missing the grand championship title, Golden's dual-ride success earned her the title of Best Pony Rider at the Pennsylvania National.
Golden began riding Brixton (Charivari—Vorr) in January, under the tutelage of both Scott Stewart and her long-time trainer, Amanda Lyerly.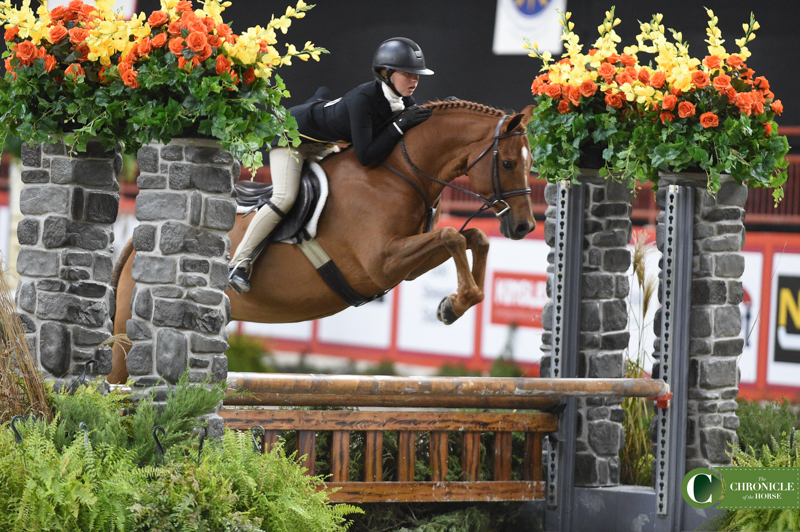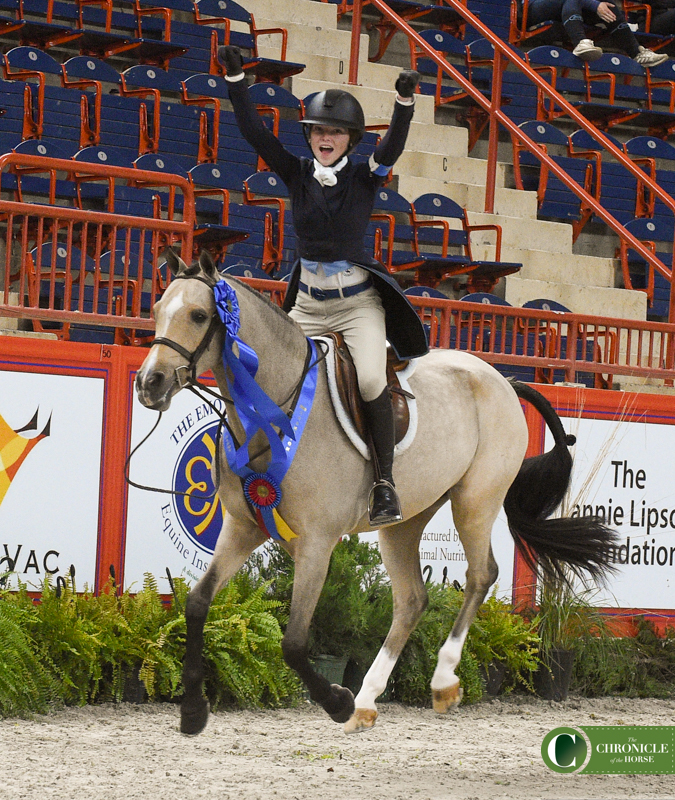 "I've worked with Vivian pretty much since she started riding," said Lyerly. "Her mom helps her at home, but I've been helping her at the shows since she was little. Her mom and I grew up together. We rode together. We've been friends forever. So [Vivian's] kind of like my child."
Golden's mother, Olivia Golden, runs Double G Stables, a pony sales barn out of their hometown of Wyomissing, Pennsylvania, where Vivian helps as a pony jockey. Vivian meets up with Lyerly at shows and travels to Stewart in Flemington, New Jersey, about three times a month since taking the rides on Parker's ponies.
"This is a new thing for her," said Lyerly. "No one puts pressure on her, of course, but you feel like you're doing this for someone else, you're riding for someone other than yourself. She's really adaptable, and she's been handling that beautifully in every situation."
Brixton and Golden have seen some remarkable results since pairing up. They were reserve large regular pony champion at Pony Finals and placed ninth in the USEF Pony Medal Final there, too.
"Brixton is really good," she said. "He's super soft. You can kind of like leave him alone and he'll be really good. He looks for the jump. And he knows when it's a championship, he knows when it's a big show and he wants to win."
In the wake of her successes on ponies, Golden has begun dabbling in horse divisions as well.
Under Lyerly's supervision, she recently stepped into the equitation and jumper rings, competing in the 3'3" medals and children's jumper divisions, placing second in the 3'3" USHJA Hunt Seat Medal Final at the Capital Challenge Horse Show last week.
As she begins to include horses in her long list of rides, Golden is particularly thankful for this win with Brixton.
"I've always wanted to win at Harrisburg," she said. "This is a really big show. I didn't do very well last year, so it was so much fun to go in and have a really good round."
See full results here. Want more Pennsylvania National? The Chronicle will be on the scene through grand prix night bringing you photos and stories. Plus see more analysis from the Pennsylvania National in the Nov. 7 issue of The Chronicle of the Horse magazine.